It's been a little while since I participated in Top Ten Tuesday, but I'm excited to be back and I'm super excited about this topic! This week I'm sharing the Ten Things That Make Me Pick Up a Book. I had to give it a little more thought than I expected, probably because my TBR at this point is so full of books, I rarely have to think about what to read next (and why).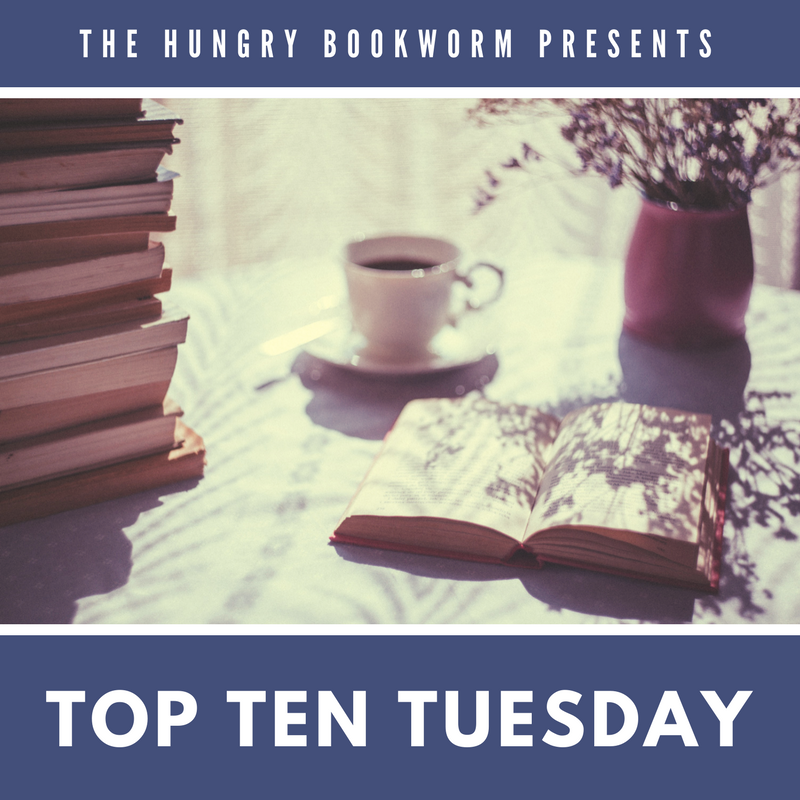 But, I examined how my TBR got to be as long as it is, and this is what I came up with! I'm also looking forward to seeing what influences others' reading decisions, so I definitely plan to make lots of time for blog hopping on this one. Without further ado, here are the Things That Make Me Pick Up a Book:

It's been compared to a book I loved.

It's really hard to pass up a book that the descriptions, reviews or blurbs say is like [insert favorite book title here], and even harder if it's [fave book title] meets [another fave book title]! Honestly, these comparisons sometimes work against the new book I pick up— and this method has led to some disappointments — but more often than not, it puts me in the right mindset for the book's content or style. And it always amps up my excitement!

Some recent comparison picks: The Water Cure, The Farm, Care and Feeding of Ravenously Hungry Girls

A book about books

As an extremely hungry bookworm, books about books are my kryptonite. I automatically relate to the undoubtedly book-loving characters, I'm in awe of the book-filled settings, and more likely than not, I know I'll spend some time with a book that speaks to me — because it loves books as much as I do!

Some of my favorite books about books: How to Find Love in a Bookshop, The Bookshop of Yesterdays, The Storied Life of AJ Fikry

It has feminist themes.

I love novels (and non-fiction, actually) that look at women's rights and the role of gender. Strong female characters are irresistible. Honestly, I can't get enough.

Feminist reads: Women Talking, The Female Persuasion, A Spark of Light

It's dystopian. (Bonus: feminist dystopia)

If you've visited my blog before, it is no secret that I love dystopias. They are horrifying and eye-opening, thought-provoking and sometimes mind-boggling. If they happen to tie in some feminist what ifs, I'm there.

Some favorite dystopias: Bird Box, The Word Exchange, and I'm currently reading Internment
...And feminist dystopias: The Handmaid's Tale, Vox, Red Clocks

It has a beautiful cover.

I know we're not supposed to judge books by their covers, but an eye-catching cover sure does make a book hard to resist! It's usually not the only reason I choose a book, but often it gets me to stop and read the rest of the description.

Beautiful covers: Good Morning, Midnight, Rainbirds, How to Walk Away

I think it might have interesting food tie-in.

I've always appreciated books about other cultures, and in them, you'll usually find lots of interesting food mentions. But, honestly, since I write a book blog to which food is very central, I often have no choice but to take that into consideration when picking my next book. I read a lot of books that I don't do full recipe/reviews on because there just isn't a recipe tie-in and I don't want to force it, but I will admit that I do sometimes try to pick books to read because I'm in the mood for a specific type of food, or just because I've been in a book-food drought and really need to get a post up!

Books about food: Delicious!, Bread and Wine, The City Baker's Guide to Country Living

The synopsis is intriguing / It's about a topic I find interesting.

This covers a whole host of things, honestly. The "intriguing" part of it is often how I find myself reading most dystopias (plus, I can't resist dystopias!) and other science fiction-y books. Topics I find interesting are probably no surprise: books, food, feminism. They also include books in which I can immerse myself in a different culture or learn something new.

Books that fit this bill: Dark Matter, The Power of Habit, The Milk Lady of Bangalore

The author is one I've previously enjoyed.

I'm not really a "favorite author" type person, with the exception of J.K. Rowling, who I think we can all agree is a talented, amazing human. Still, once I've read a book I've loved by someone, I'm much more likely to look for more by them in the future.

Authors I need more of (and the reason why): Jodi Picoult (Small Great Things), Ann Patchett (Bel Canto), and Alice Hoffman (The Rules of Magic)

Liberty Hardy recommends it.

For those of you who don't know who Liberty Hardy is, I highly recommend the All the Books! Podcast; you'll quickly get a sense of her book tendencies. She is a senior contributor for Book Riot, a Book of the Month judge, and a bookaholic (I think she reads over 600 books a year). She honestly has the best taste in books, and though we don't always agree, her recommendation will usually bump something to the top of my list.

Books on which Liberty and I agree: Sleeping Giants, The Heart's Invisible Furies, The Wedding Date

It has a decent rating (3 stars or more).

I try not to be a book snob, especially since I often disagree with other popular beloved 4- and 5-star reads. But I don't want to waste my time either. If a book doesn't have a decent rating, I'll usually pass it by — or at least put it off for a long while in favor of others. I know some people have policies where they only read books with four stars or higher, and here's why I don't:
Most of the books I rate are 3-star reads, and I like them!, so it would be unfair of me to ignore books with lesser ratings.
I'm in a few book clubs and I find that books that everyone likes make for far less interesting conversations. If we all love it, we're just nodding in agreement and not having meaningful discussions.
Basically all of the above -- if a book sounds interesting to me, sometimes I don't care what other people think. I have some kind of random, lesser-known favorites and that's just fine.
What makes you pick up a book? I'd love to hear some of your reasons in the comments below!

_______________
Top Ten Tuesday is an original weekly blog meme that was created at The Broke and the Bookish but is now hosted over at The Artsy Reader Girl. I participate about once a month, but each week there is a fun new bookish topic for bloggers to create literary lists about. If you'd like to know more about it, check it out here.
This post contains affiliate links. This does not increase the price you pay, but I may receive a small commission for any products you choose to buy. Purchases made through affiliate links help to cover my blogging costs. Thank you for helping to support The Hungry Bookworm! Full disclosure here.