If you visit The Hungry Bookworm often, Leni Zumas' Red Clocks should be somewhat familiar to you. Despite my disappointment in a similar book late last year, I was super excited to read this upcoming feminist dystopia - I included it on my list of most anticipated books this year and added it as a selection in one of my reading challenges.
In Red Clocks, the United States has granted every unborn child full rights to life, liberty and property, resulting in countrywide bans on abortion, in-vitro fertilization and single parent adoption (because every child deserves to be raised by a traditional mother-father combo).  Zumas explores how such laws could affect everyday women as she follows the journeys of the biographer, the mender, the wife and the daughter, with bits about a 19th century female polar explorer peppered throughout.
Zumas' female characters are strong, and they really demonstrate what has been true for centuries - that determined women are more than capable of working together to overcome societal limits and expectations. Like any dystopia, it raises a lot of questions and provides few answers, but that is not to say it's not a worthwhile journey. It is always worth looking at the world from the perspective of what might become - not to worry us, but to prepare us to recognize it when it arrives (and do something about it).
While the majority of the characters and storyline are contemporary, the sections about the female explorer's life and struggles provides an interesting viewpoint (and is especially relevant after this recent piece of news). The biographer is determined to write and publish this Faroese woman's story, so she spends a lot of time getting into the nitty-gritty of her lifestyle, including some of the cruder explanations of hunting and rustic food prep.
I decided to make a meal in honor of this admirable character, who forged her way in a man's world in a time when that was even less common. At one point, the biographer makes a "Faroese meal," which instead of the traditional version of boiled puffin eggs, wind-dried whale blubber and Shrovetide buns, contained regular chicken eggs, pork bacon and canned-dough biscuits.
Instead of plain scrambled eggs, I decided to make green-chile scrambled eggs, since those were one of the biographer's favorite foods. To do this, it's quite simple - whisk some eggs (2-3 for one person, or 4-6 for two), add a Tablespoon or two of chopped green chiles (drained), then cook in a skillet as you normally would. Once the eggs are almost cooked through, add a bit of shredded cheddar cheese, stirring and cooking until melted. Serve with a couple of slices of bacon and a homestyle biscuit.  
Together, it was an easy, satisfying meal, perfect for a lazy Sunday morning.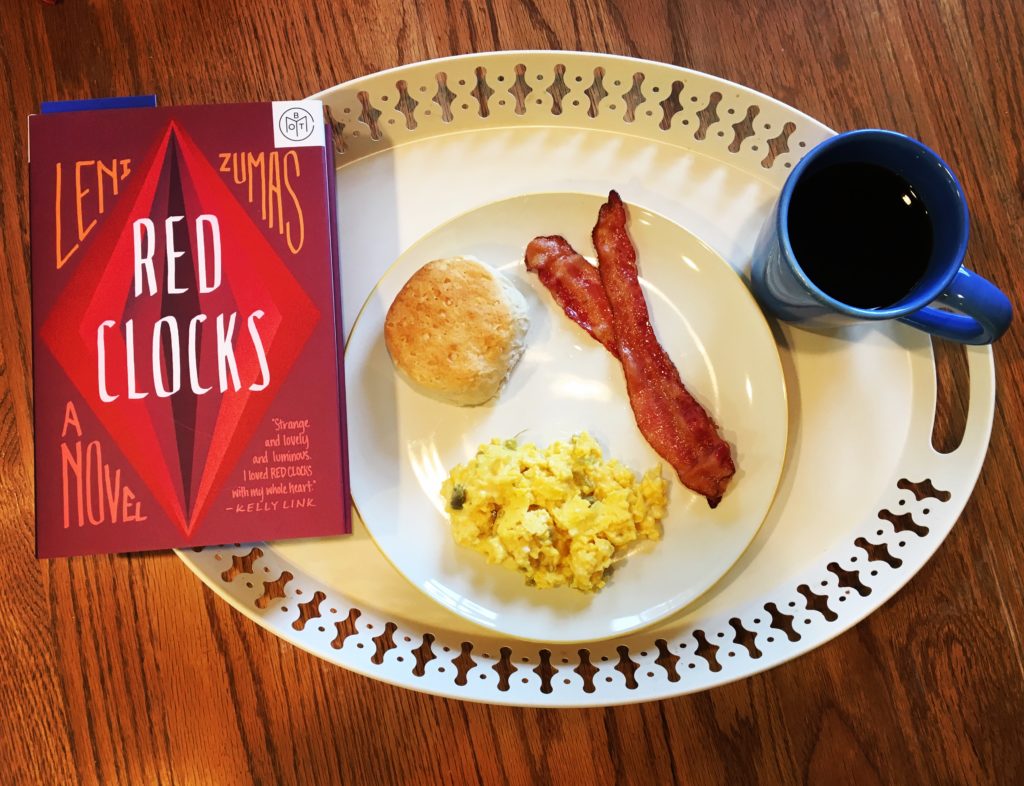 Have you read Red Clocks? What did you think?
This post contains affiliate links. Full disclosure here.