We received Sometimes I Like to Curl Up Into a Ball second-hand. I didn't realize it's part of a Little Wombat series and is quite popular! Either way, it is quickly becoming popular in our house. Henry will often grab it and bring it over to have it read to him, and with the fun story and cute pictures, we are more than happy to oblige.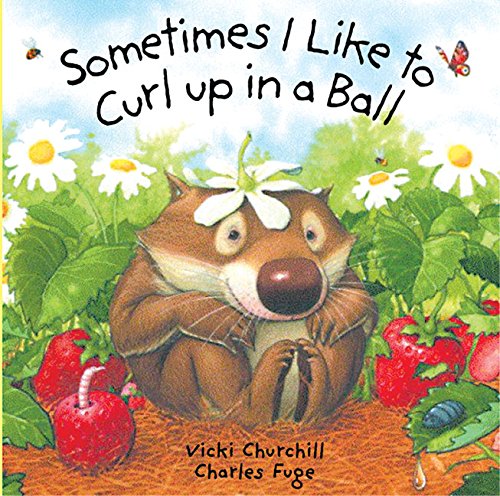 In it, a wombat takes children through his day, where he plays with his friends — all sorts of animals including a koala, turtle and rabbit. He likes to make funny faces, jump as high as he can, play in the mud, and of course, sometimes, he likes to curl up in a ball.
I drew inspiration from the page where the little wombat plays in the mud with his friends:
"Sometimes I like to get in a real mess, 
with mud on my feet and my hands and my chest." 
In the illustration, he is sitting in the middle of a garden with his friends a rabbit, frog and a worm. He is completely covered in mud and smiling.
It reminded me of a dessert I made once as a kid — we called it a dirt cup. It was actually pudding with crushed Oreos on top and some gummy worms too.
I found a recipe that required no cooking or hot ingredients, so Henry could help me make it.
First, I made the pudding, which I did by whisking 2 cups of cold milk into a packet of instant pudding and allowing it to thicken for 5 minutes. Then, I combined it with the thawed Cool Whip. (This is where I let Henry help, though I gave him his own small bowl and spatula.)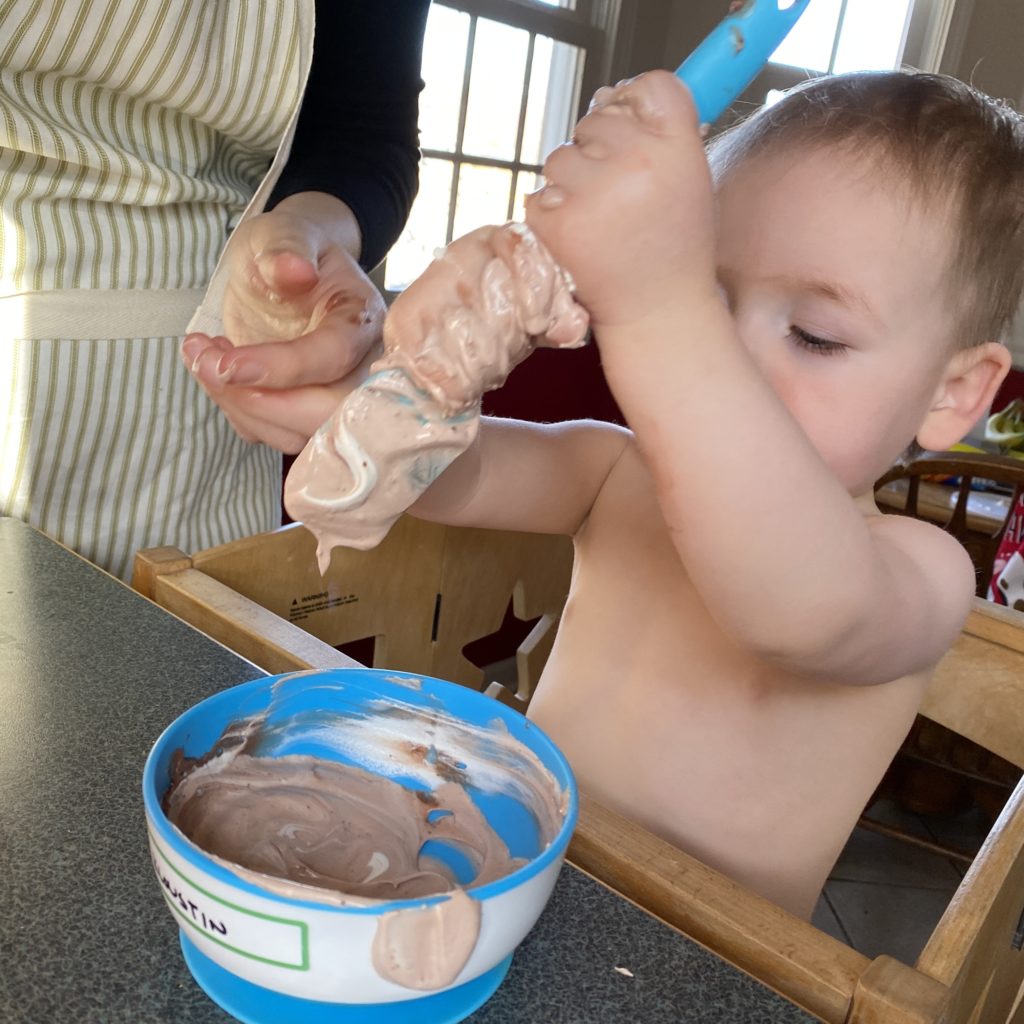 He also, of course, wanted to help me mix the big bowl of pudding.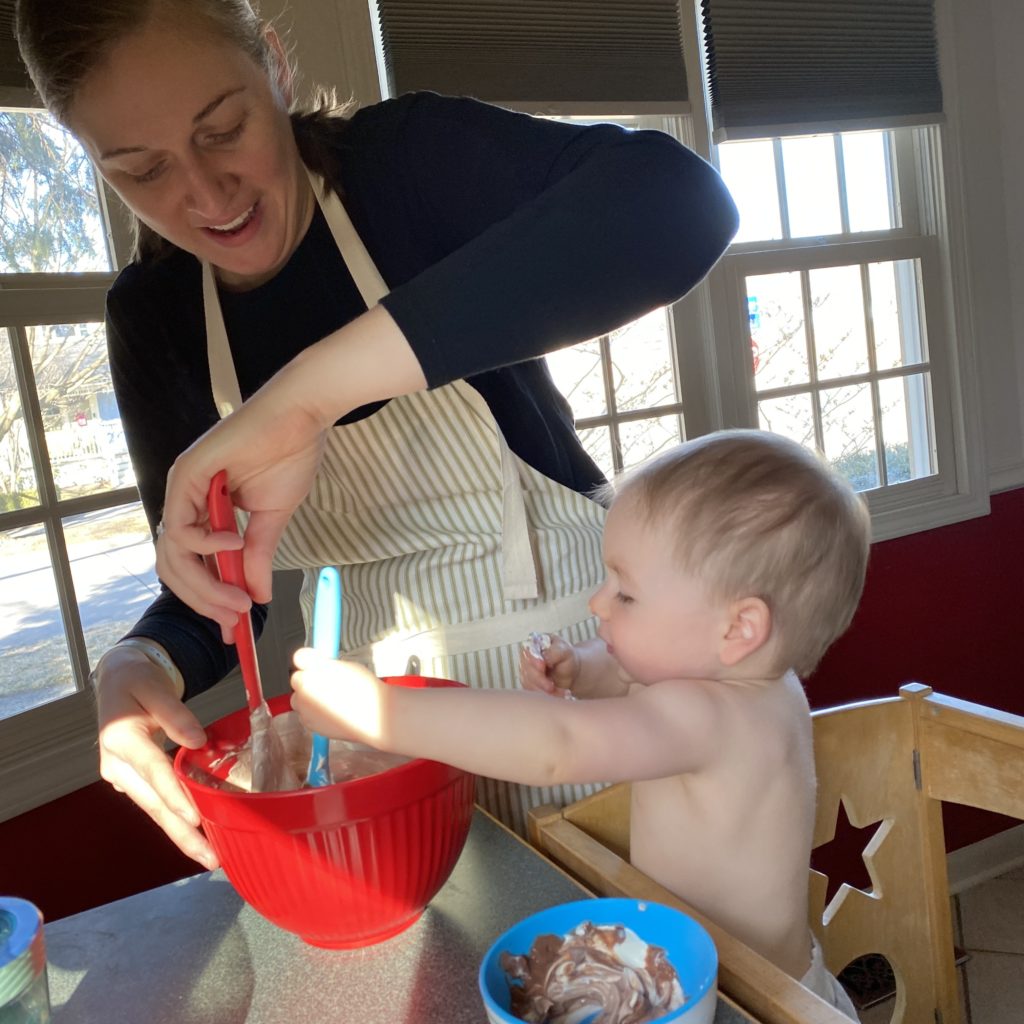 Once the pudding and Cool Whip were mixed, I scooped it into clear cups.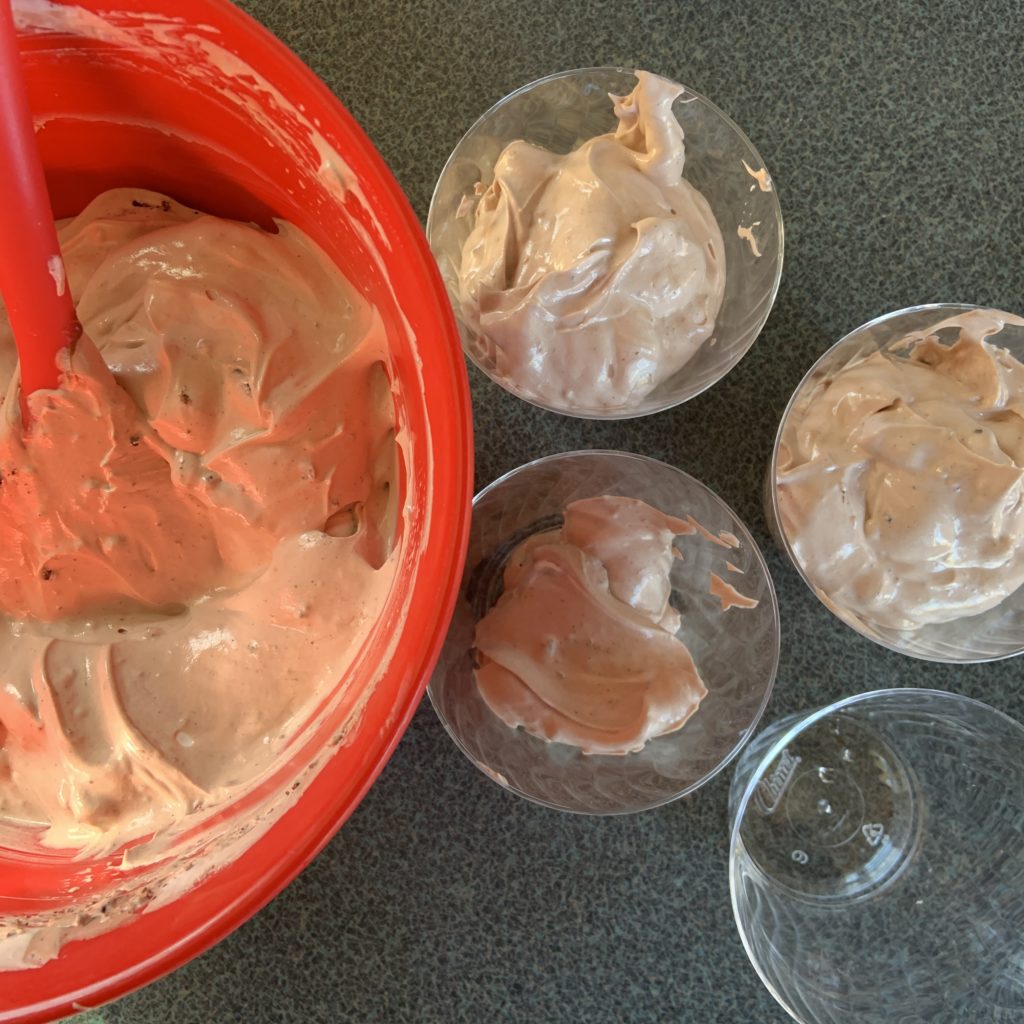 I topped it with crushed Oreos, which I crushed by breaking them up in a large Ziploc bag. (This could be a great activity for older kids, or more interested toddlers — I tried to have Henry help but he wasn't very into it.)
Then, I added a couple of gummy worms to make it look like the messy scene in the book.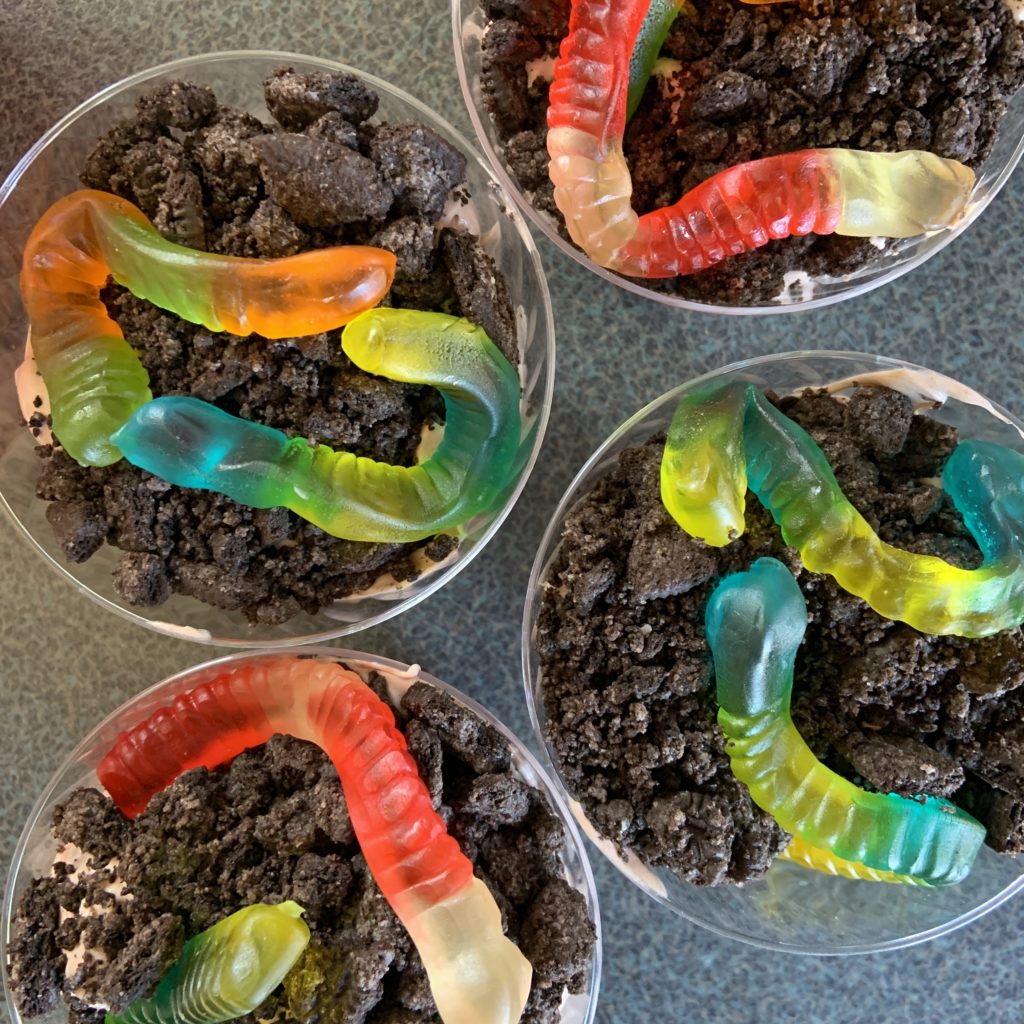 Not only was this an easy-to-make snack, it was delicious too. A perfect pairing for this charming children's story.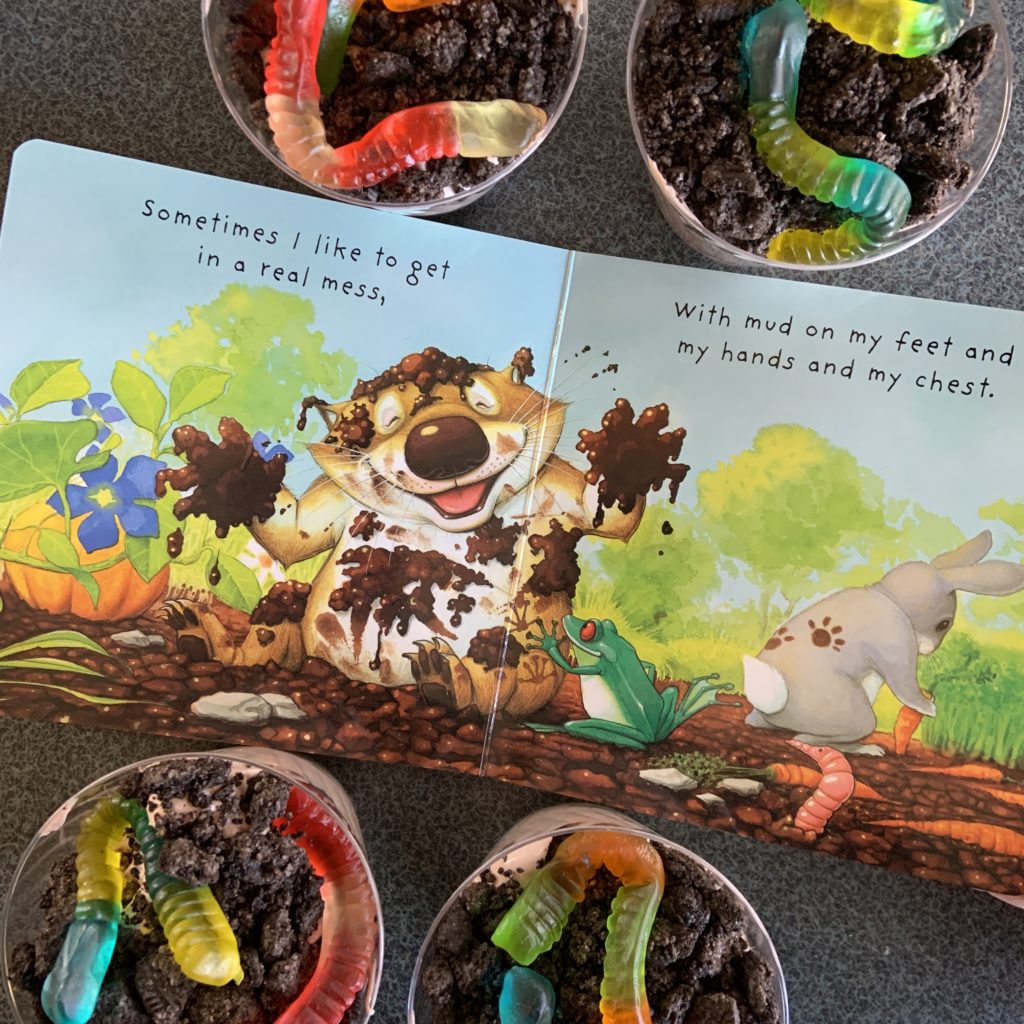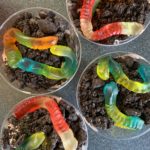 Print Recipe
"Dirt" Pudding Dessert Cups
Ingredients
2

cups

cold milk

1

3.9-ounce package instant chocolate pudding, 4 serving size

8

ounces

frozen whipped topping

such as Cool Whip, thawed

1 1/2

cups

crushed sandwich cookies

such as Oreos, about 16, divided

Gummy worms
Instructions
Whisk together the milk and instant pudding for 2 minutes, until pudding is completely dissolved. Let stand 5 minutes to thicken.

Stir in frozen whipped topping and 1/2 cup of the crushed cookies.

Spoon into individual (clear, if possible) cups.

Sprinkle remaining crushed cookies over the pudding mixture. Top each cup with 2 gummy worms. Chill for at least 60 minutes or until ready to serve.