Is everyone else looking forward to Hulu's The Handmaid's Tale as much as I am? The trailer gives me chills. I had read the Margaret Atwood's dystopian novel about three years ago, but anticipating the upcoming series, I was excited for the chance to re-read it with one of my book clubs.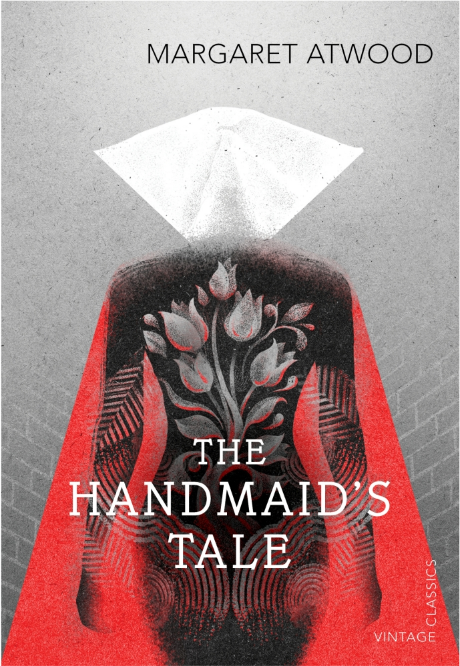 The first time I read The Handmaid's Tale, I thought it was interesting, but I don't think I fully appreciated it. This time around, I was able to read it through different eyes; it felt more relevant to me than it did a few years ago, and frankly, it was a little scary.
In Atwood's imagined Republic of Gilead, Offred is one of the Handmaids placed with a Commander and his barren wife for the sole purpose of having his child and giving them a family. In her red dress, she is limited in who she's allowed to communicate with, and even more so by the restrictions forbidding her to read or write. When Offred is not alone in her room, she runs errands with her partner Handmaid and occasionally attends birthings and special ceremonies designed to remind her and every woman of their place in this new totalitarian society.
Offred's diet, and presumably that of all Handmaids in Gilead, is controlled in its amount and restricted to that which is nourishing. Though Offred is the one to pick up the household's groceries, it seems she has no say in what she eats. When shopping one day, she muses on the smell of fresh strawberries and the memories of summers past they recall.
Living in a society so much like the one Offred used to live in - where women work outside of the home, have freedom of movement and choice, and can make their own decisions to have children or not - it was hard to see how easily it was all taken away. Many American women believe we have come a long way. And we have. But until we are truly equal and are equally represented in society, women are not in control of their own destinies. For me, the fact that these rollbacks are not inconceivable was the most eye-opening part of reading this book.
In the end, Offred's story left me with more questions than answers, but it was one that sparked a lively conversation with my fellow book club members and one that I heartily recommend.
Capitalizing on their bright red color, strawberries seemed like an excellent choice to represent The Handmaid's Tale. I found a recipe for Fresh Strawberry Pie that looked too good to resist.
Using a storebought crust proved to be a lifesaver for me as I had some issues and had to bake it three times before I got it right (don't forget your pie weights!). While that was a bit frustrating, I was happy I didn't have to re-make crust from scratch just as many times. Before it went into the oven each time, I made sure to scallop the edges to create a pretty design.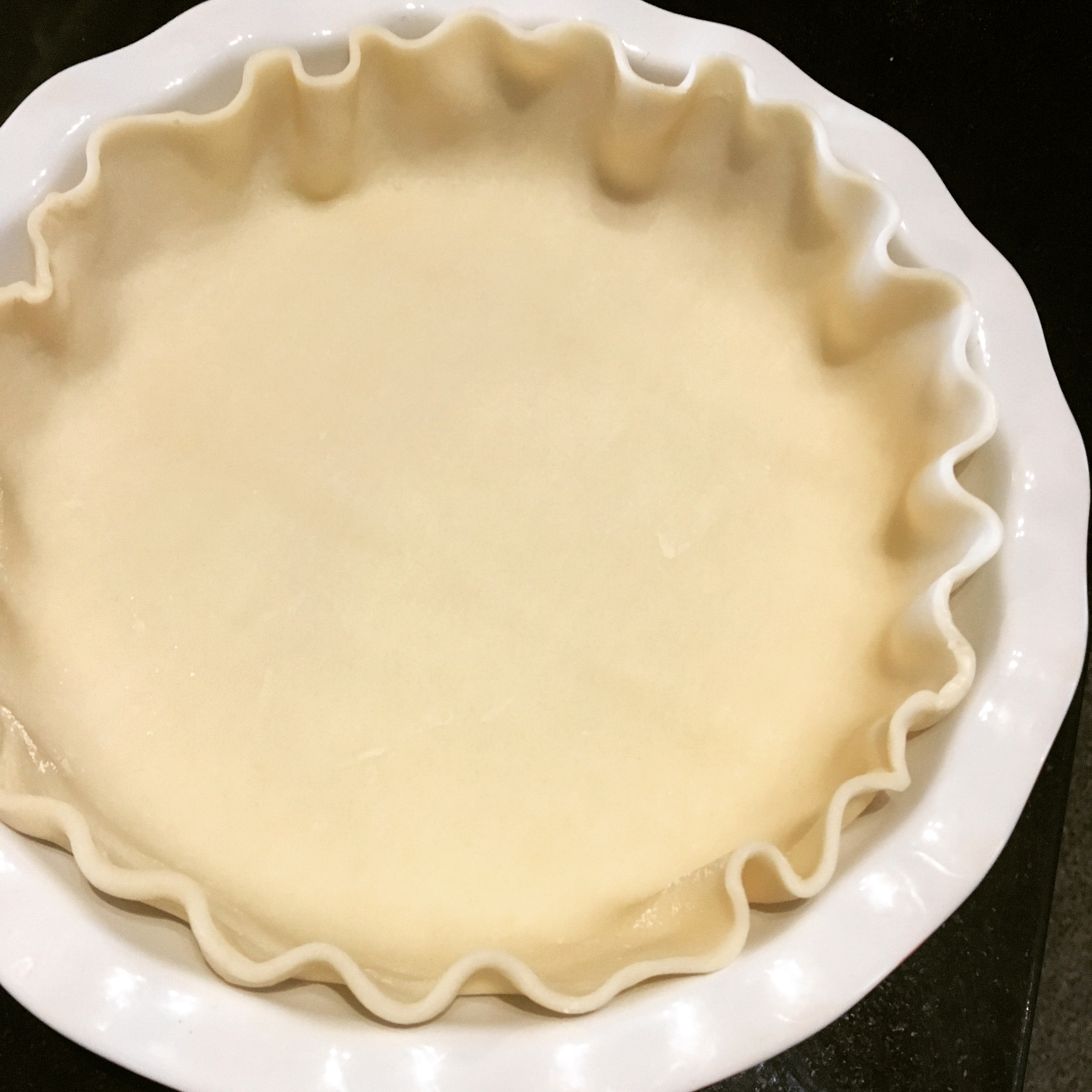 While it baked, I washed, hulled and quartered the fresh strawberries - I used 4 cups in the end, though I had prepared 6 cups. It will ultimately depend on how deep and wide your pie dish is, but I don't think it hurts to have some extra prepared strawberries around.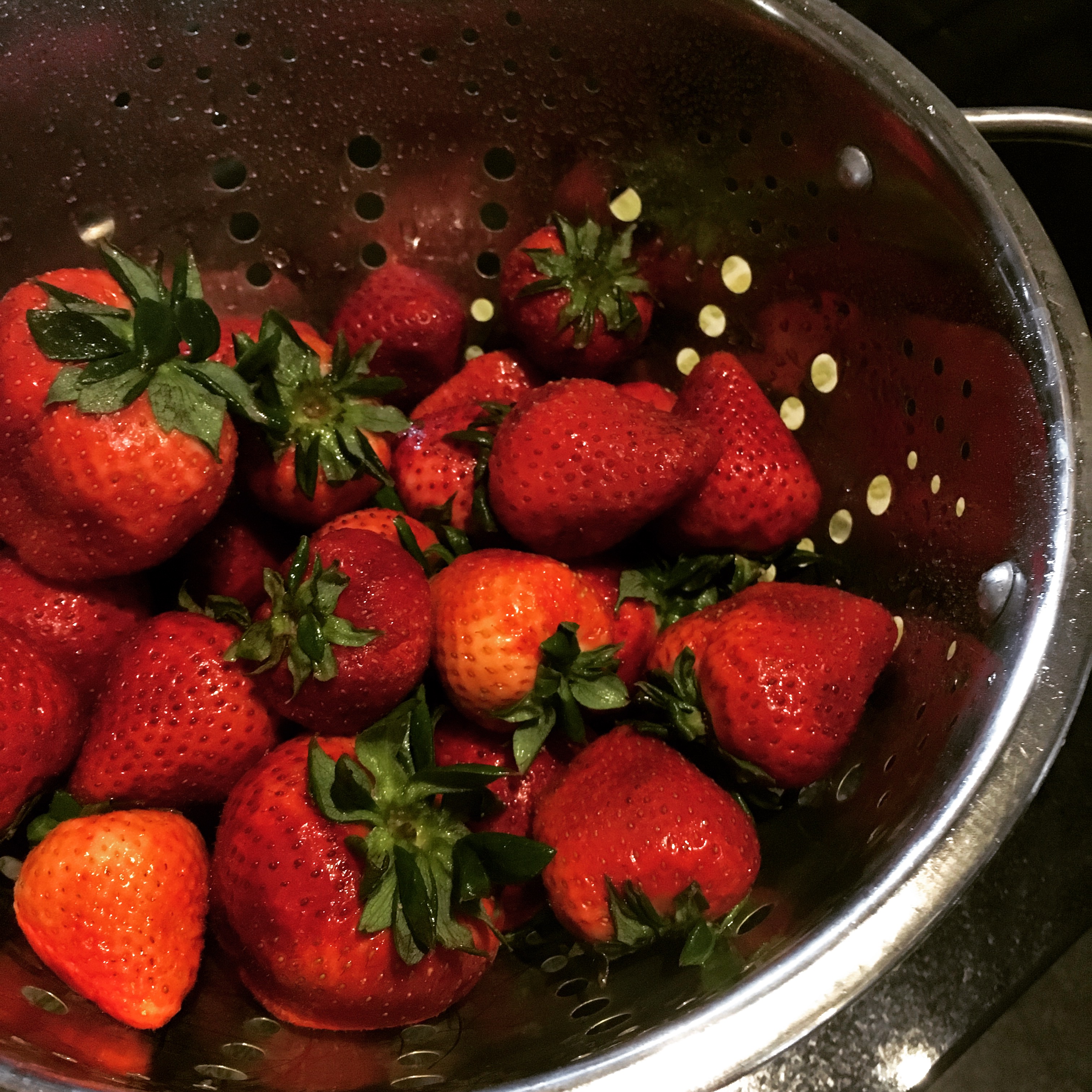 When my successful crust was finally cooling, I got to work on the glaze. I combined 1 cup of water, 1 cup of sugar and some cornstarch in a small saucepan and brought it all to a boil. Then, I whisked until the glaze began to thicken, about 3 minutes. Last, I added the box of strawberry Jell-O and whisked that for another minute or so. The finished glaze also had to cool about 15 minutes before filling the pie.
When assembling the pie, I first added the prepared fresh strawberries to the cooled crust. I did my best to keep the top relatively even, but you could certainly create a thicker middle if you wanted to. (That option might require additional glaze to get good coverage.) Then it was time to pour on the delicious glaze, again doing my best to get even coverage over the strawberries.
The finished product was absolutely beautiful - and SO red. I couldn't wait to dig in. This pie will definitely be making future appearances over the summer.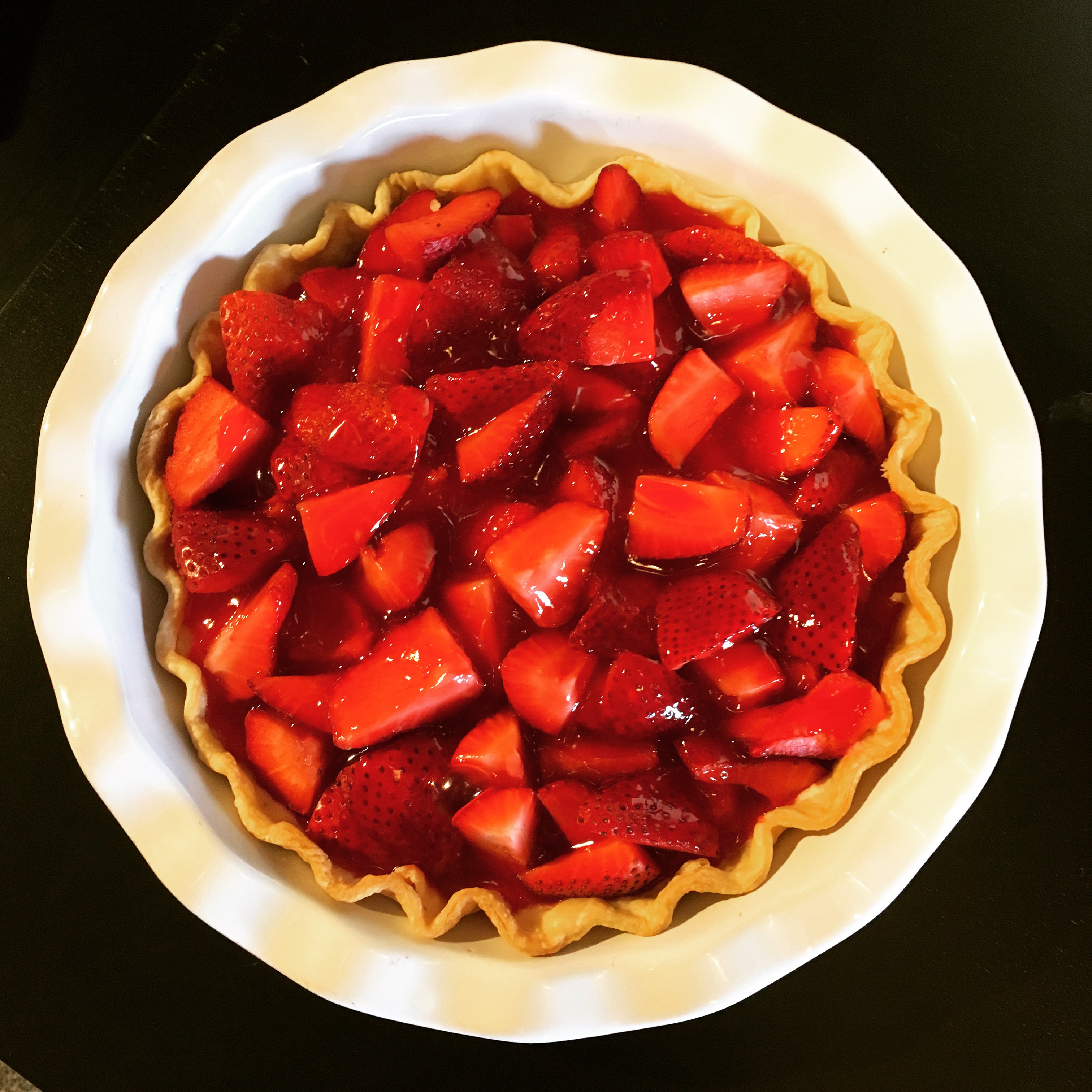 Fresh Strawberry Pie
Ingredients
9 inch pie crust (homemade or storebought)
4 to 6 cups fresh strawberries, quartered and hulled
1 cup water
1 cup sugar
1 3oz. box of strawberry Jell-O
3 tablespoons of cornstarch
Directions
Bake pie crust in 9-inch deep pie dish and set aside to cool.
Put the water, sugar and cornstarch in a saucepan and bring to a boil. Whisk constantly until it becomes thick, about 3 minutes.
Whisk in the Jell-O and cook for a minute longer. Remove from the heat and let cool for about 15 minutes.
As the glaze cools, place strawberries straight into the pie crust.
Pour the glaze over the strawberries.
Refrigerate until set. Serve with whipped cream if desired.
From:
Sugar Apron
When baking the pie crust, be sure to use pie weights or dry beans to ensure that the sides of your crust doesn't fall. Poke holes in the bottom of the crust with a fork, add weights or beans and bake according to directions. After half the baking time, remove weights and allow to bake for the remaining time without them.
This post contains affiliate links. Full disclosure here.