Joanne Ramos' novel The Farm comes out on May 7, and I'm so excited that I was able to get an advance readers' copy from NetGalley. Golden Oaks Farm, or the titular "Farm," is a blissful paradise where women live during pregnancy to ensure they they deliver the healthiest baby in the safest environment. For nine months, the women are pampered with spa treatments, custom menus, and the best medical care. But these women are not allowed to leave the grounds, and they not even allows to keep the babies they carry.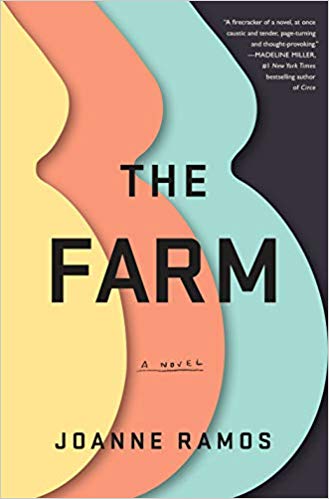 These women are "hosts," chosen and paid for by super-wealthy patrons who can't or won't have their babies themselves. For the hosts -- mostly immigrants, becoming a surrogate opens up a world of possibility, but it's not always an easy choice. Jane, a Filipina host, makes the decision to be able to better support her family, a daughter of her own and an elderly cousin, Ate. But it also means she will be leaving her newborn behind so she can bring someone else's into the world.

Ramos is able to provide us with a thought-provoking story about capitalism, wealth inequality, race and class. She raises questions about women's roles as professionals, providers and mothers, and the trade-offs they make for themselves and for those they love. I thought it was well-paced and super readable, and it would make an excellent book club discussion.

Though the novel jumps across multiple points-of-view, it most often lands on Jane, and occasionally on Ate, both immigrants from the Philippines. Ate is a highly sought after baby-nurse, helping other women's newborns to sleep and eat in the first few months of their life. She is also a caterer, specializing in meals from her own culture, including lumpia, pancit and various sweets.

Often, when I read about food from other cultures, I don't know what they are until I look them up, but I was excited to recognize several of the dishes Ramos mentions throughout. I have a Filipino co-worker, Elmar who is an amazing cook like Ate, and thankfully, he often brings his dishes in to share with us. In fact, the recipe I'm making today -- pancit -- is a noodle recipe he gave me for this post. A huge thank you, Elmar, for sending me the recipe from afar and giving me the confidence to make it!

First, I had to make a trip to my favorite local Asian market, where I picked up the Chinese sausage and rice sticks/noodles. Elmar sent me pictures to go by, and I was able to find exactly what I needed.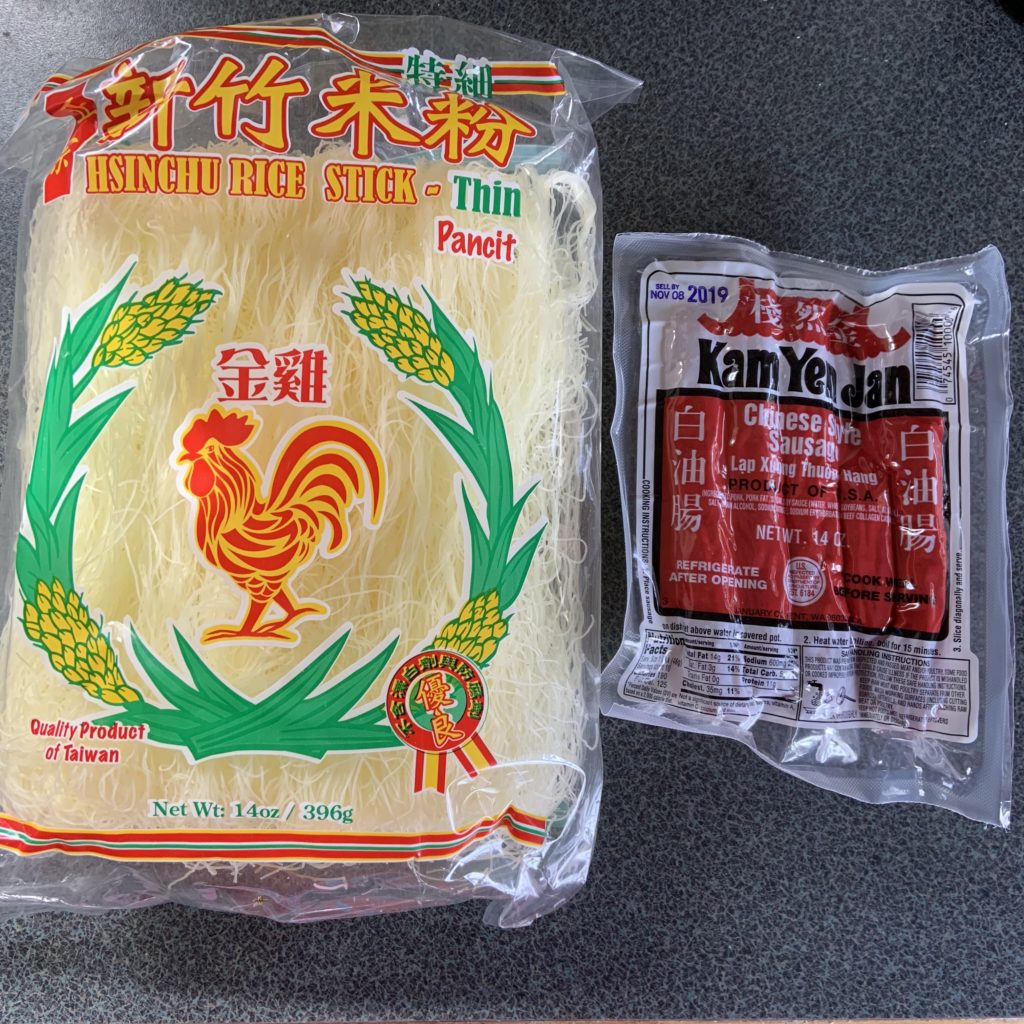 If you can't find the products locally, they are available on Amazon -- these are the noodles Elmar typically uses, and here is the sausage. Chinese sausage is sweet, so it adds a nice balance to the rest of the dish.

The recipe goes pretty quickly, so it's important to prep all the vegetables and meat ahead of time. I chopped the onion, celery, cabbage and sausage and minced the garlic. (I opted for a bag of matchstick carrots, though you could certainly shredded them yourself with a food processor.)

For the chicken, you can shred rotisserie chicken or make your own. You'll need about 4 cups. I had some ready in the freezer, which I thawed. I like to keep it on-hand for soup, tacos, or things like this -- here's my go-to recipe.

I sorted the veggies and meat according to the order in which they'd be added to the recipe: onions and garlic in a small bowl; chicken, sausage and celery in another; cabbage, snow peas and carrots in a medium bowl. (If you don't have prep bowls, I highly recommend these.)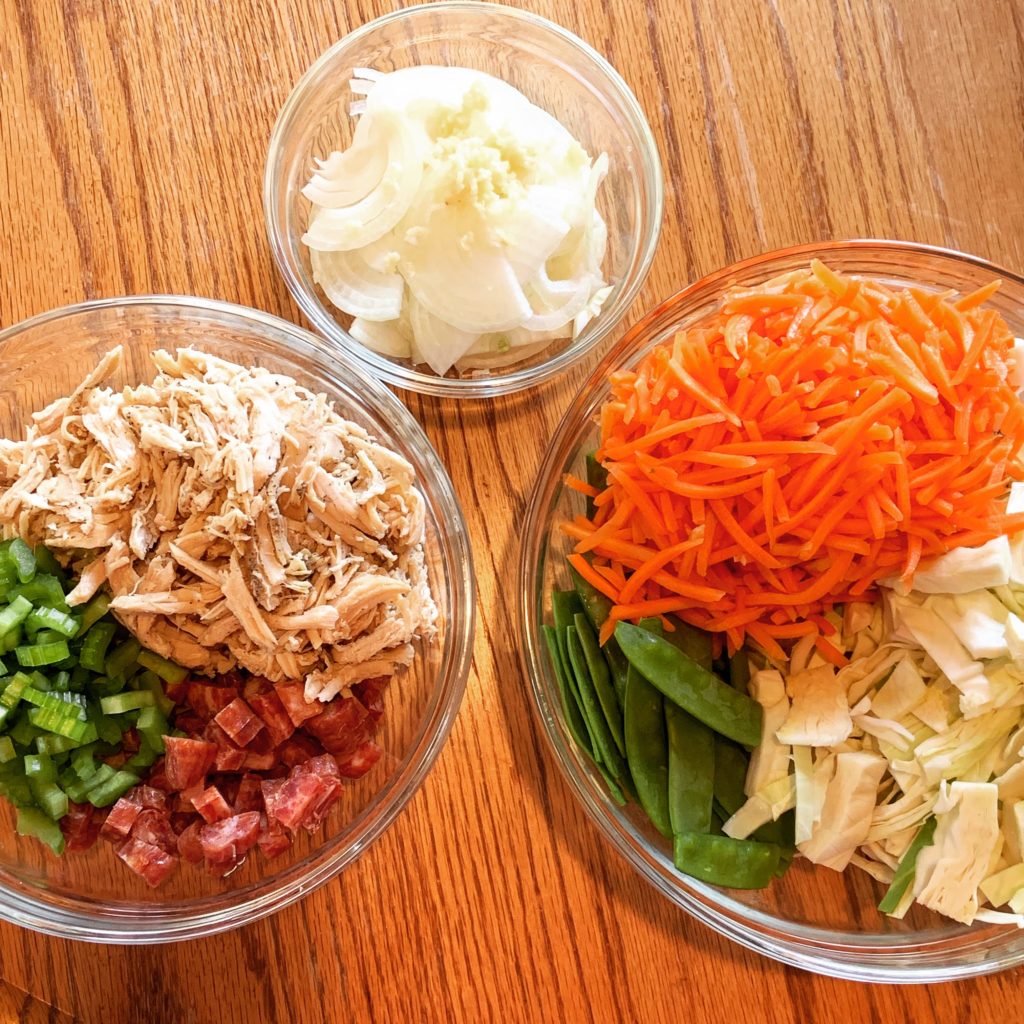 I added oil to my wok and heated it over medium-high heat, adding the bowl of onions and garlic. I cooked those for a few minutes.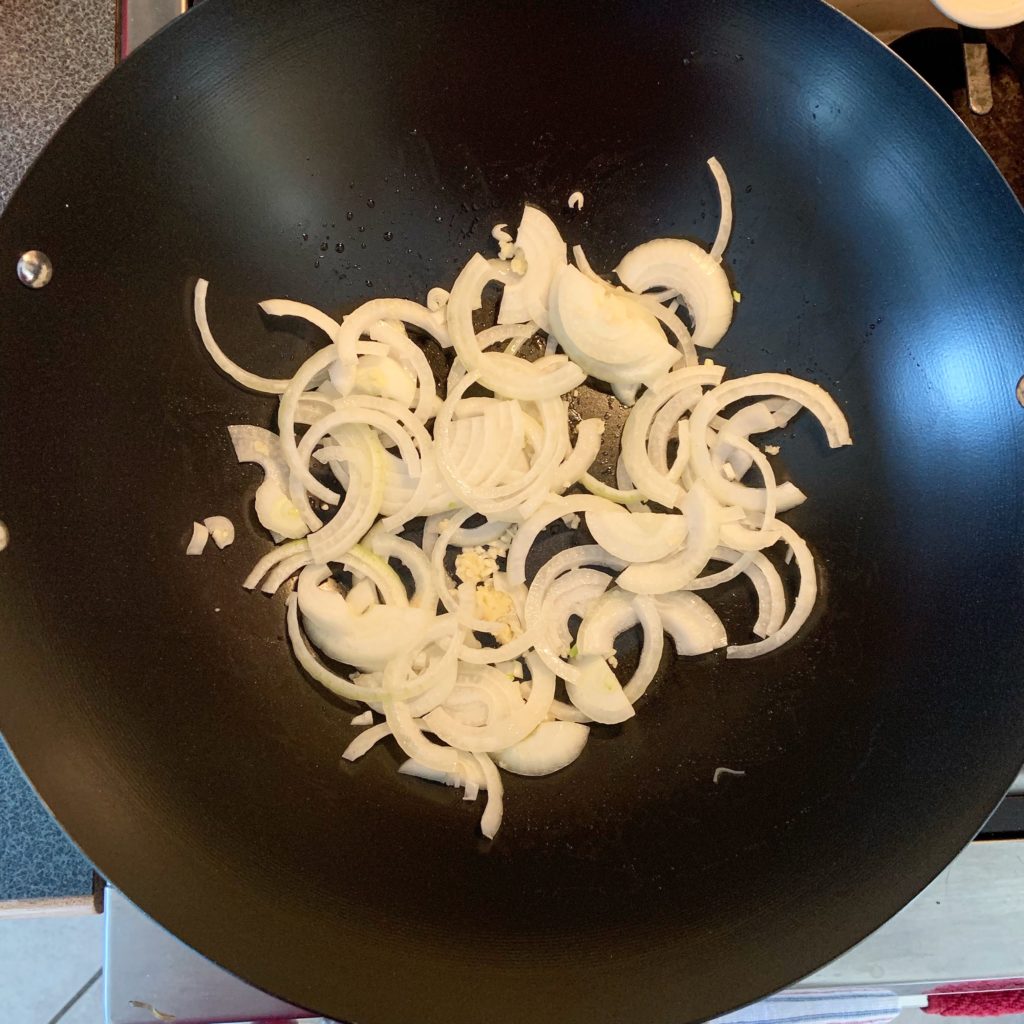 Then, I added the chicken, sausage and celery, sauteing for a few minutes. I added some soy sauce, stirred to coat and cooked for a few more minutes.

I added chicken broth, salt and pepper and brought the mixture up to a boil, and then reduced it to a simmer.

To that, I added the rest of the vegetables, stirring until the vegetables were just cooked through, still retaining some of their bite.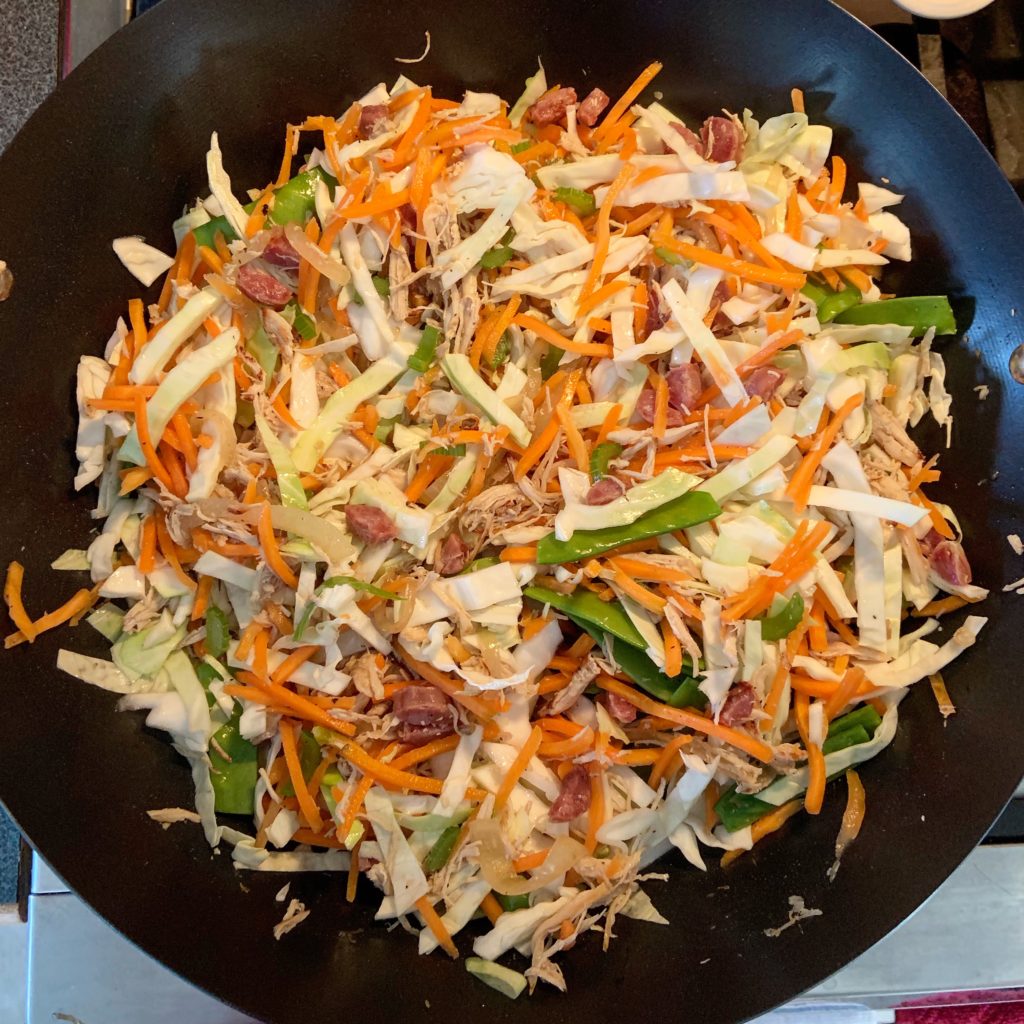 I put the mixture into a large bowl and set those aside while I cooked the noodles. I added about a cup and a half of chicken broth into the wok and added about a quarter of the noodles.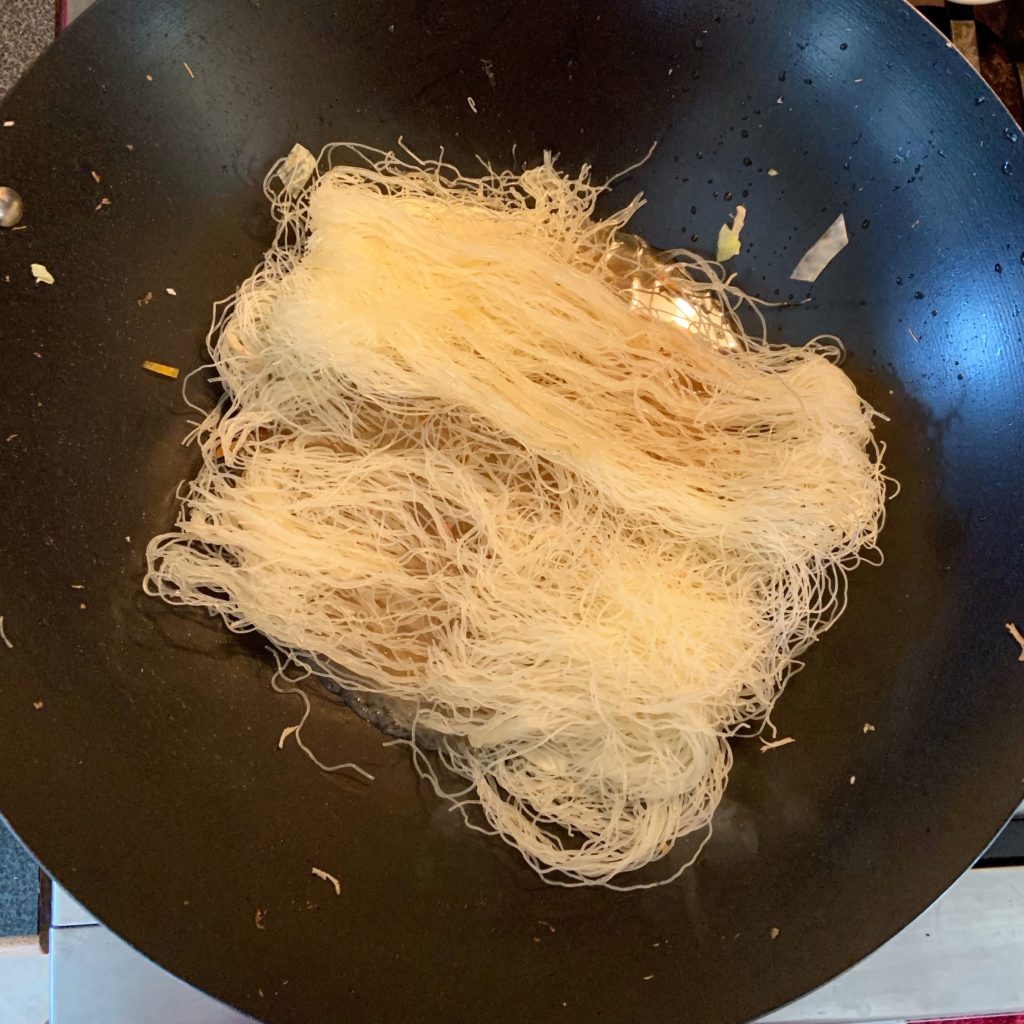 As the noodles started absorbing the broth, they became malleable and I was able to add additional noodles, stirring to make they were cooking evenly. The goal was to keep them pretty al dente. (I did have to add additional broth as I went.) Once the noodles were cooked, I added the vegetable mixture back into the noodles.

I stirred the mixture, along with some soy sauce, making sure it was all cooking evenly and getting well-coated with the sauce. When it was all done, I was left with a massive amount of pancit (make sure you have a large wok!); it felt like enough to feed a small army.

I poured it into a large serving dish and we were ready to eat!

I still think Elmar's is head and shoulders above mine, but he has had years of practice! Nevertheless, it was a pretty quick and easy dinner and super delicious. I would love to try making this again.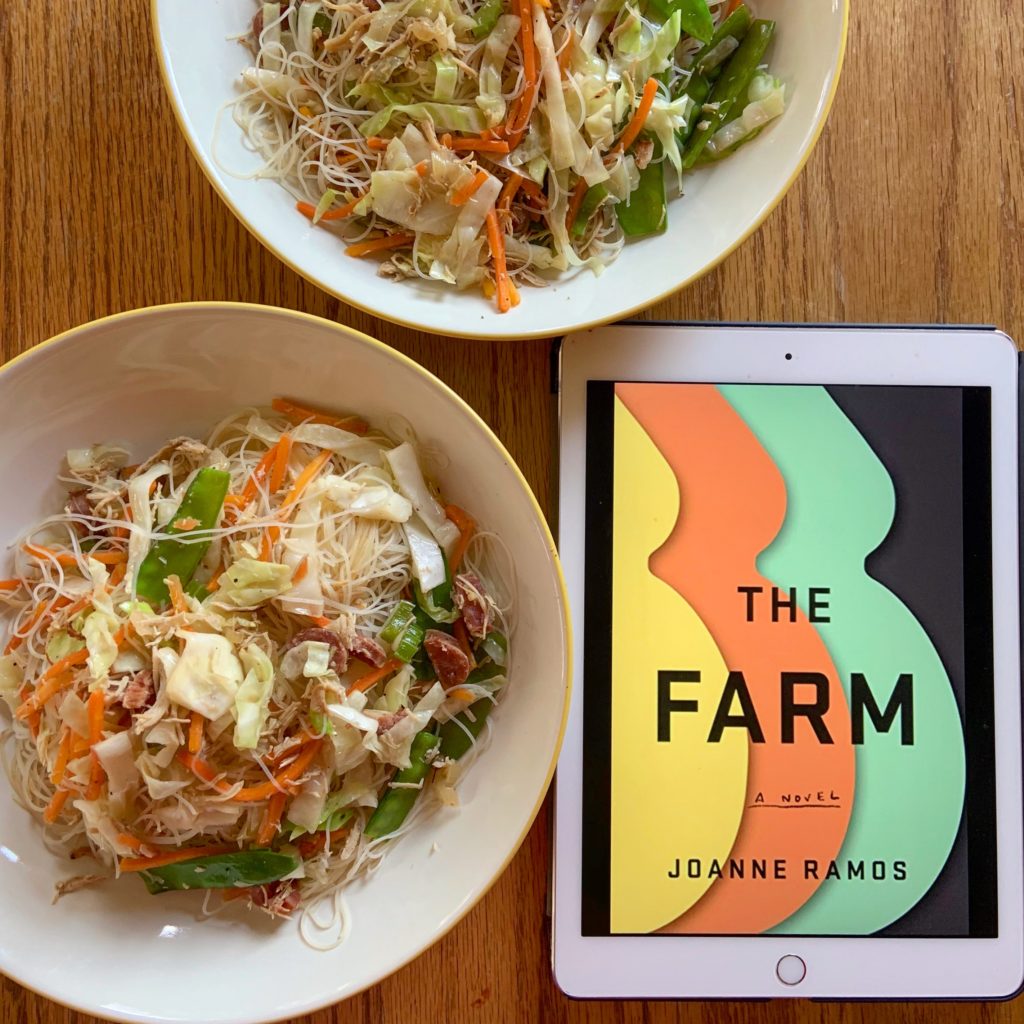 Pancit
Ingredients
14

oz

rice noodles/sticks

6-8

cloves

garlic

minced

1

medium onion

halved then sliced

3-4

stalks celery

sliced about ¼ inch

8-10

oz

shredded carrots

2

cups

snow peas

tips removed

1

small cabbage

or half large, chopped into bite-size strips

4

cups

shredded chicken

4-5

links

Chinese sausage

halved then sliced to about same thickness as celery

4

cups

low sodium chicken broth*

1

tsp

salt

1

tsp

pepper

¼

cup

soy sauce

plus more as needed to taste

Oil

Lemon wedges

for garnish
Instructions
Heat oil in a large wok over medium-high heat. Add garlic and onions and saute for a couple of minutes.

Add chicken, Chinese sausage and celery. Saute for a few minutes. Add soy sauce (1-2 TBS) and saute for a few more minutes.

Add 1-2 cups chicken broth, salt and pepper and bring to a boil, then reduce to a simmer.

Add carrots, snow peas and cabbage. The goal is to cook through and still retain texture.

Remove the meat and veggie mixture from the wok into a large bowl. Set aside.

Add about 1.5 cups of broth into the wok and slowly incorporate the rice sticks (I did mine in about 4 batches). The noodles will begin to absorb the broth and become malleable. You can add more broth as needed to cook all the noodles to al dente.

Once the noodles are cooked, start adding the veggie mixture and keep mixing to prevent overcooking and ensure that it cooks evenly.

If the noodle-to-veggie ratio is good for you, add some soy sauce. The noodles should start taking on some of that color and become beige. If the noodles are well cooked by there is too much sauce (broth/soy), just ladle it out and keep stirring.

Serve with lemon wedges.
Notes
Recipe courtesy of Elmar Stewart
*It may be helpful to have additional chicken broth on hand, just in case.
There isn't really a proper amount for the vegetables; you can easily add more or less of any of them. Try to keep the ratio about 2 cups of vegetables per 1 cup of noodles.
_______________
*I received a free digital copy of this book from NetGalley in exchange for an honest review.
This post contains affiliate links. This does not increase the price you pay, but I may receive a small commission for any products you choose to buy. Purchases made through affiliate links help to cover my blogging costs. Thank you for helping to support The Hungry Bookworm! Full disclosure here.