In May, the task for The Literary Feast Reading Challenge was to read a book you've seen someone reading in public. Now, this may be an easy task for people living in large cities, where public transportation is rampant, or even people who frequent coffee shops. I neither live in a large city nor do I visit many coffee shops, so I counted myself lucky when, in March, I finally stumbled upon my first person reading "in the wild." Or, more accurately, she was walking in the hallway between my office and the parking garage. She is still the only person I've seen reading this year, and she was reading The Power of Habit.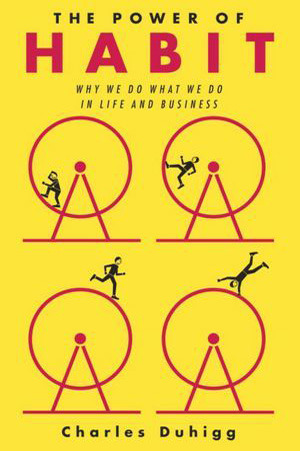 Charles Duhigg's nonfiction book explores the science behind why we do what we do, or how we create and form habits. I'll admit, I thought the title sounded interesting, but I was not expecting to love it as much as I did. It probably helped that at the same time, I was attempting to undergo a personal transformation - and still am - to become healthier. So, much of what Duhigg covered about how we can change bad habits and create new, good habits really resonated with what I was focused on anyway.
I'm sure it's no surprise that I love eating, and I have no intention whatsoever of giving up the joy I get from trying new foods or eating old favorites. But I am doing my best to build new habits around eating, primarily incorporating more of the healthier foods (fruits, vegetables, whole grains and lean proteins) and less of the foods that aren't so healthy (processed foods, fast food and baked goods). Most importantly, I learned from The Power of Habit that focusing on building keystone habits can improve your likelihood of picking up other good habits than can change your lifestyle.
One of the keystone food habits I've found to be very effective is meal prepping and planning. So much of what we eat is mood-based, time-based or environment-based. If we're stressed out, we reach for something comforting. If we're in a rush, we reach for something quick. If we're out to eat, it's highly likely we'll consume more calories than if we ate at home instead. Meal planning and prepping can help solve some of these problems.
For example, I often ate the snacks I found around the office: usually processed snacks like candy or Cheez-Its, or some tasty treat a coworker brought in, or often, leftovers from a client meeting. Even if I wasn't hungry! But I got stressed out or needed a break from my desk, and I would get up, search out a snack, and eat it without even really thinking. I started taking the time to bring healthy snacks to work, like fruits and veggies, and suddenly, if I got the urge to eat, I had something ready for me; it's become easier to turn down the food that isn't as good for me. And if I'm not actually hungry and just need a break, I usually go for a walk instead of seeking out something to eat.
The key to meal prepping and planning is not to make it over-complicated. It's to make your healthy eating easier. If you, too, are an office snacker, try taking the time in the evening to prep some healthy snacks. You'll be much more likely to actually take them with you to work than if you wait to prep them in the morning when you're rushed. Or, if you get in the habit of making twice as much food as you need for dinner and setting the leftovers aside, you can bring them to work the next day for lunch or plan to eat them the next night for dinner. It can help you avoid buying a last-minute lunch or give you a night off from cooking after work.
Another healthy habit I've picked up - and the one I chose today's recipe around - is substitution. I love tacos, and while I will still definitely enjoy tacos now and again, it's not a food I should be eating as much as I used to. So, a few years ago, I found a recipe that would still let me enjoy tacos, but be a bit healthier about it. From Persnickety Plates, it's substitutes ground beef for ground turkey, and instead of using tortillas, they're served in zucchini boats. We've made this recipe several times, and it's always delicious. Plus, there are leftovers for an easy lunch, or dinner the next night!
First, I cleaned the zucchini, cut off the tops, cut them in half and then hollowed them out with a melon baller. Then, I lay them cut side up in a 9x13 pan that I had already covered with about ½ cup of salsa along the bottom. (This will result in a crunchier zucchini when you're finished. If you prefer a softer, more cooked-through zucchini, follow the directions in the full recipe below before setting them in the baking dish.)
In a large skillet, I cooked the ground turkey. Once it was browned, I added the seasonings and stirred well. Then, I added chopped onions and zucchini (from the middle part I removed), tomato sauce and water. I allowed that to simmer for about 15-20 minutes, stirring occasionally, until the onions and zucchini had softened.
Finally, I scooped the taco mixture into the zucchini boats, covered them with about a tablespoon of cheese each, and slipped them into a 400-degree F oven. They baked for about 30 minutes or so before they were finished.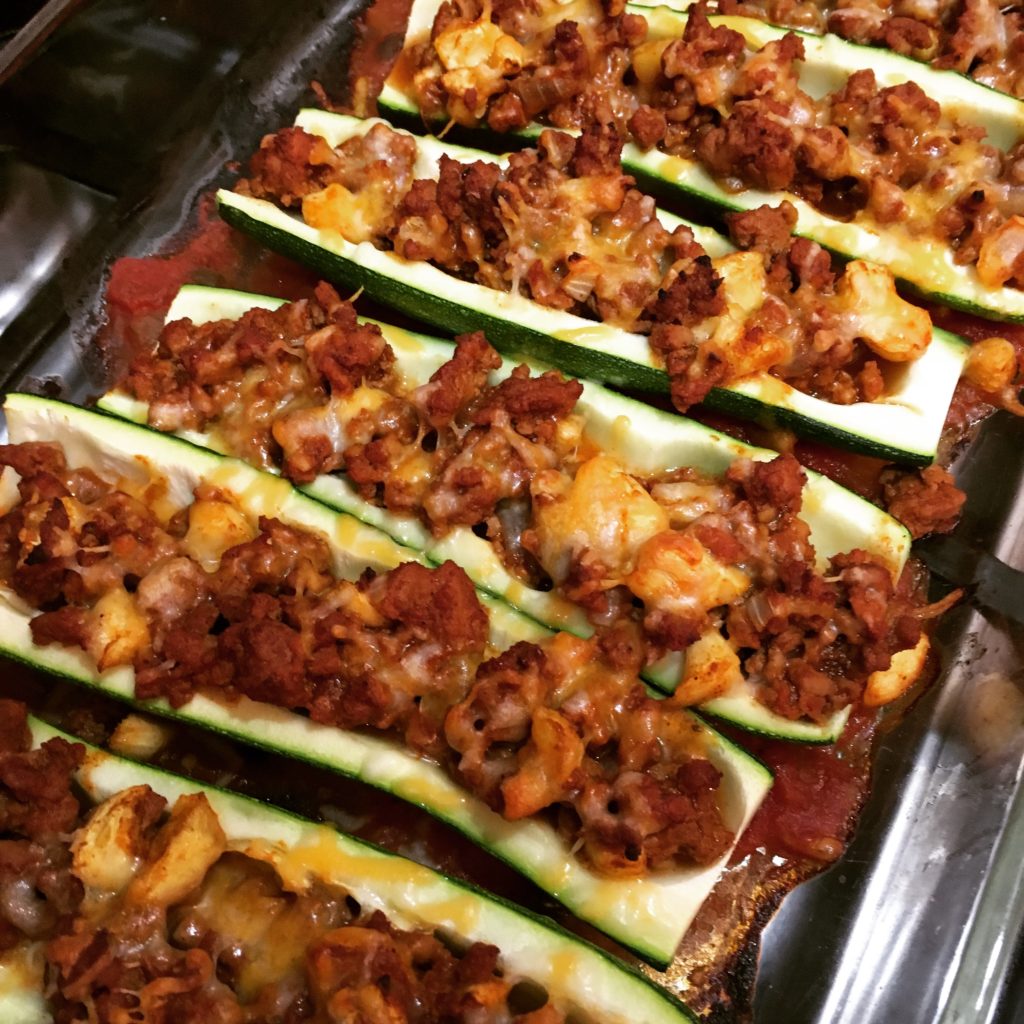 As always, they were delightful. We usually eat them with some salsa on top, but you could also top them with sour cream or even go full taco and add diced tomatoes, shredded lettuce or guacamole.
Finally, for anyone interested in "pop science" (think Malcolm Gladwell), interested in making some life changes, or just interested in learning some neat stuff, I would absolutely recommend you pick up The Power of Habit. I learned a lot from it, and beyond that, it was just a really engaging, easily digestible read. I've also recently learned a lot about food habits from the app Noom, which has helped me find success on my journey to being healthier. Like Habit, it's full of the science behind our eating habits, which I find helpful and motivating. More importantly, it focuses on eating in the real world and has tools in place to keep me on track.
Turkey Tacos in Zucchini Boats
Ingredients
4

medium zucchini

½

cup

salsa

plus more for serving

1

pound

ground turkey

1

teaspoon

garlic powder

1

teaspoon

cumin

1

teaspoon

chili powder

1

teaspoon

salt

or to taste

1

teaspoon

paprika

½

small onion

finely chopped

6

oz

tomato sauce

¼

cup

water

½

cup (or so)

shredded Mexican cheese blend
Instructions
Bring a large pot of salted water to boil.

Pour 1/2 cup of salsa into the bottom of a 9×13 baking dish and set aside.

Cut the zucchini in half lengthwise then with a small spoon or melon baller (I used my tablespoon measuring spoon), hollow out the zucchini pieces but leave 1/4″ rim. Save 3/4 cup of the zucchini flesh and chop into small pieces.

Drop the zucchini halves into the boiling water and cook for one minute. Remove from water and set aside.

Preheat the oven to 400 degrees.

In a large skillet, brown the ground turkey, breaking it up while it cooks. When it's no longer pink, add in the spices and mix well.

Add in the chopped onion, reserved zucchini, tomato sauce, and water. Stir it up then cover and simmer on low for 20 minutes.

Meanwhile, arrange the boiled zucchini halves into the bottom of the 9×13 dish.

Once the meat mixture is done, spoon the mixture into the zucchini boats evenly. Press down so the filling stays in the boats.

Top each half with a sprinkle of cheese.

Cover the pan with foil and bake for approximately 30 minutes until the zucchini is fully cooked and the cheese is melted.

Serve with desired toppings, such as salsa and sour cream.
This post contains affiliate links. Full disclosure here.