Happy Halloween, readers! Before I kick off today's typical post, I want to share a little story. A couple of months ago, I had an epiphany - I thought of the perfect Halloween costume, and almost immediately, I set about finding all of the necessary pieces. Normally, Halloween isn't exactly my thing, but once I realized who I had to dress up as, that all changed. This year would be different. Readers, I decided to be Julia Child and my excitement could not be contained. I was lucky enough to find the perfect top, skirt and heels secondhand (thank you, thredUP!) as well as a wonderful replica of her L'Ecole des Trois Gourmandes badge from Etsy. Armed with her cookbook and some cooking utensils, all I needed to complete the look was a curly-haired wig and an apron. Here's what I came up with - what do you think?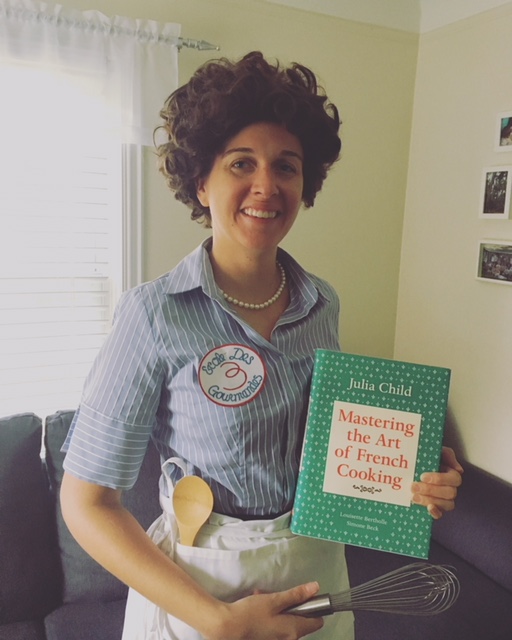 Now, onto the usual post, which I'm also excited to share with you. As you may recall, I recently picked up Alice Hoffman's Practical Magic in anticipation of its prequel The Rules of Magic, which came out earlier this month - just in time for Halloween reading! For fans of Practical Magic, Hoffman's latest novel follows the lives of the beloved aunts you well-remember, Frances and Jet, as well as their brother Vincent as they negotiate being teenagers.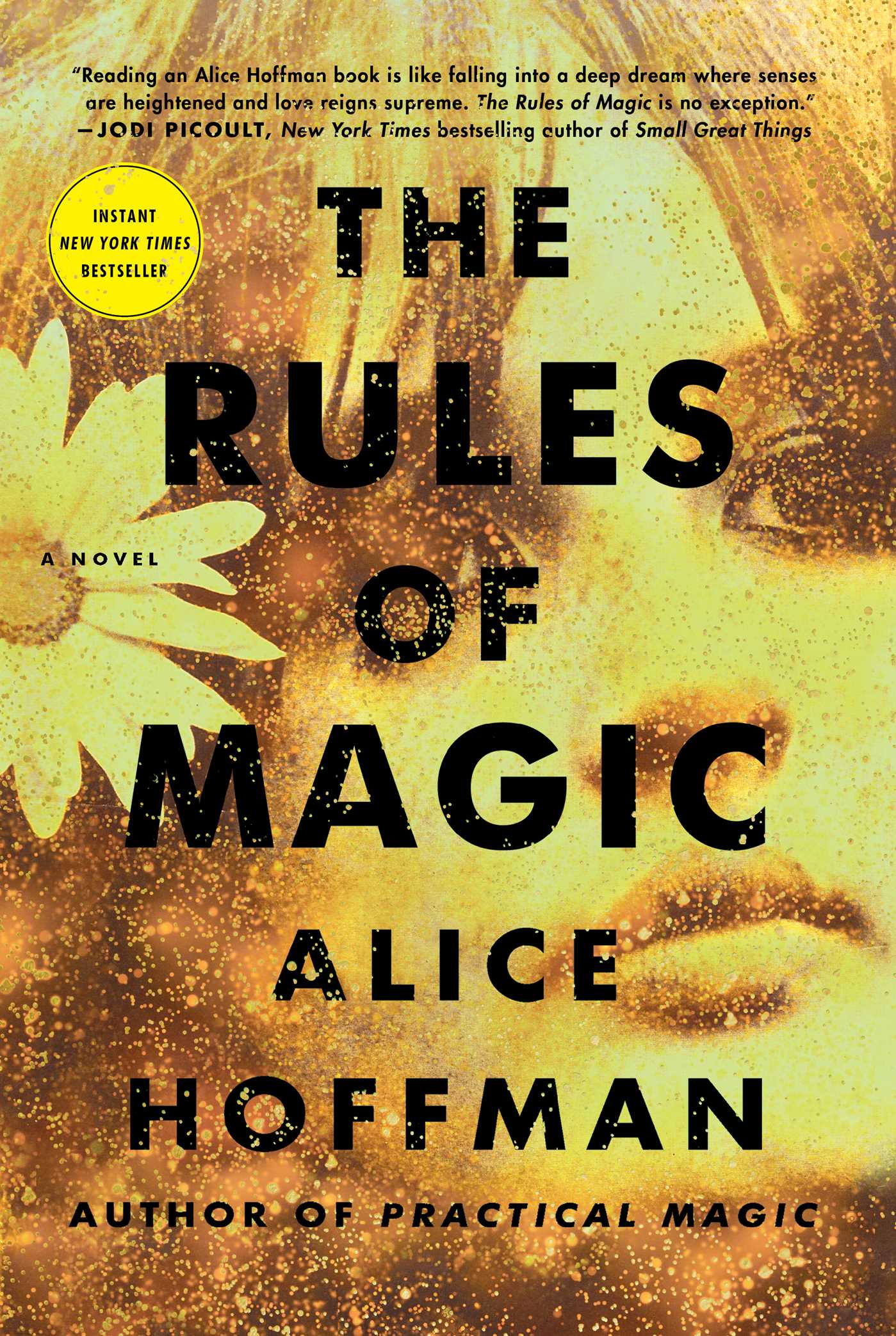 Thankfully, The Rules of Magic was exactly as good as I had hoped it would be. If I'm being honest, I liked it better than Practical Magic (the book), which I read and reviewed here just a few weeks ago. I loved finding out more about Sally and Gillian's aunts, who make a big impression even though they only appear briefly in the movie. Growing up in New York City during the sixties, the sisters wrestle with the normal struggles of being teenagers alongside the unique consequences of the Owens family curse.
Though not a traditional pageturner, Hoffman's writing and magical storytelling made this a really quick, enjoyable read. Previously, the story of the Owens family revolved around women - often sisters, so I was surprised to learn about Vincent. I have to say I loved the addition of an Owens brother; his story was unexpectedly beautiful.
As with Sally and Gillian's story, Franny and Jet's includes a beloved aunt as well. In the summer of Franny's seventeenth year, family tradition takes all three siblings to the Massachusetts home of their Aunt Isabelle, where they eat cake for breakfast and stay up as late as they like. It is also there that they learn how to unlock their powers and about their family's past. Isabelle's tipsy chocolate cake, which she bakes with copious amounts of rum, makes an impression as well - for the sisters continue to make it even when they move back home to New York City. (Sometimes leaving out the rum, when children are invited.)
I found a recipe from The Crumby Kitchen for a chocolate bundt cake filled with rum, both baked in and covered in a rum-soaked glaze. It looked easy enough, and most of all, it sounded delicious. To start, I sprayed my bundt pan with cooking spray and dusted it with cocoa powder.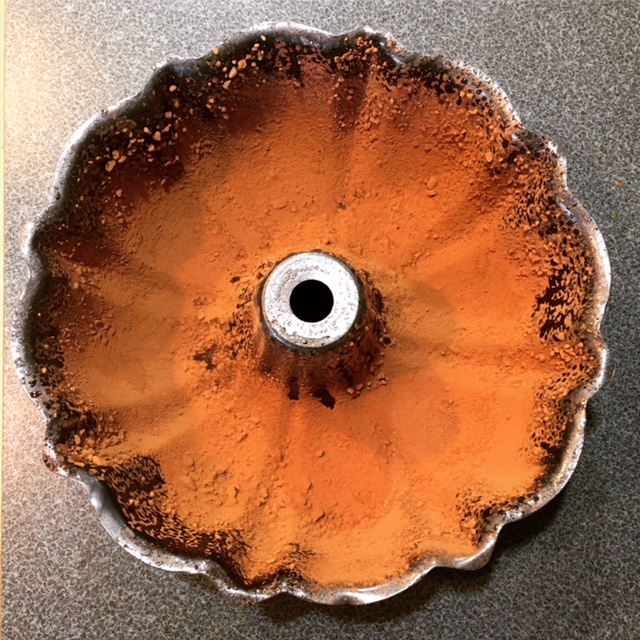 Then, I preheated my oven to 325 degrees F and combined the dry ingredients in a bowl - sifted flour, baking soda, baking powder and salt. In a large saucepan over medium heat, I mixed the butter, buttermilk, hot chocolate, rum, cocoa powder, and cinnamon, nutmeg and ground cloves. I stirred it together, and once the butter melted, I whisked in the brown and granulated sugars until they dissolved. I removed the pan from the heat and allowed it to cool for at least 5 minutes before transferring the mixture to a large bowl.
In a small bowl, I whisked together the eggs and vanilla. I added it to the cooled chocolate rum mixture in the larger bowl, stirring until combined. I added the dry ingredients to the large bowl of wet ingredients and stirred it until it was just combined. The batter was slightly lumpy as described. I poured it into the bundt pan.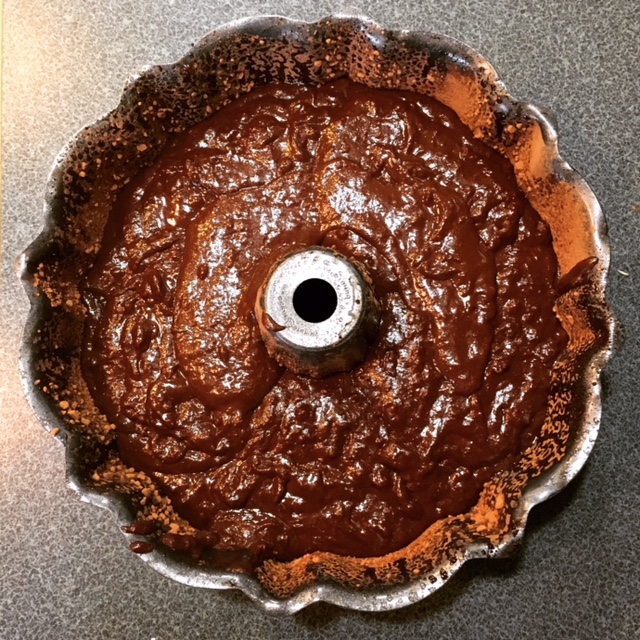 The cake baked for about an hour. (Check after 50 minutes.) I let it cool while I started to make the glaze, for at least 20 minutes.
In a small saucepan, I dissolved brown sugar into heavy cream over medium-low heat before adding the rum. I let it come up to a simmer until the liquid reduced and the glaze thickened. The last step in the glaze was to add two tablespoons of butter, stirring until it melted.
Using a skewer, I poked a bunch of holes into the bottom and spooned the glaze over the cake. I let it sit for about 10 minutes so it would soak in, and I repeated this process twice more.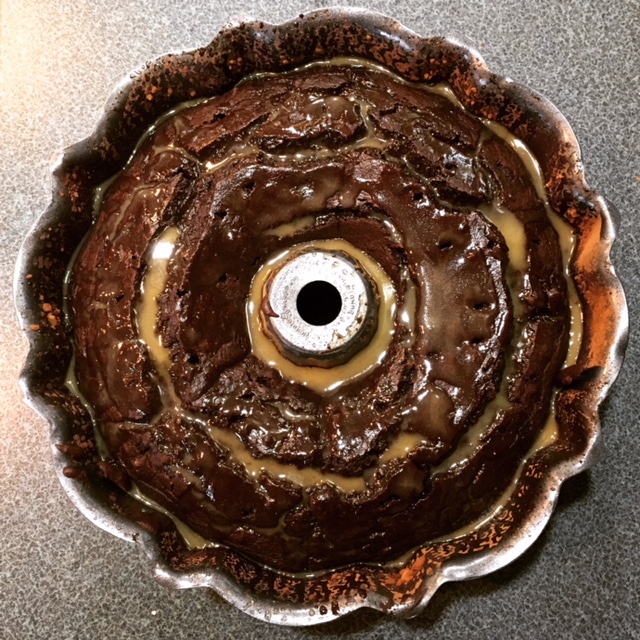 Finally, once the cake was cooled, I turned it out onto a plate. I covered the top of the bundt cake with the rest of the glaze.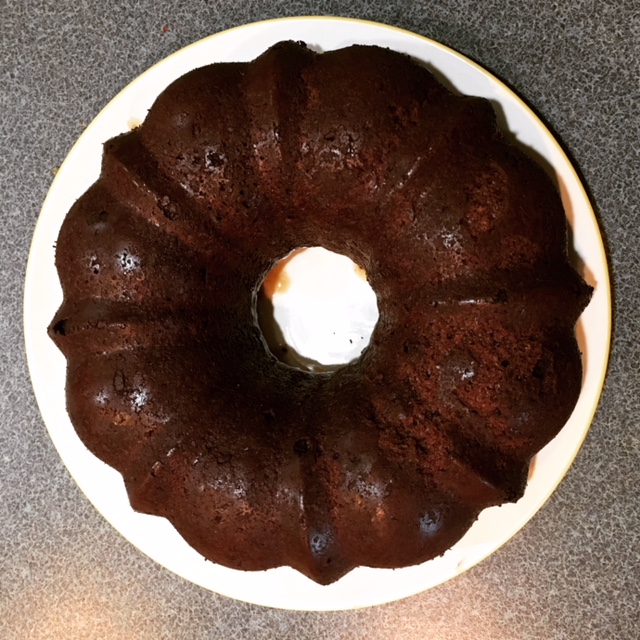 Even Julia Child got in on the action - I brought it to work so the whole office could enjoy the tipsy chocolate cake for our Halloween festivities. Both the cake and the costume were a hit.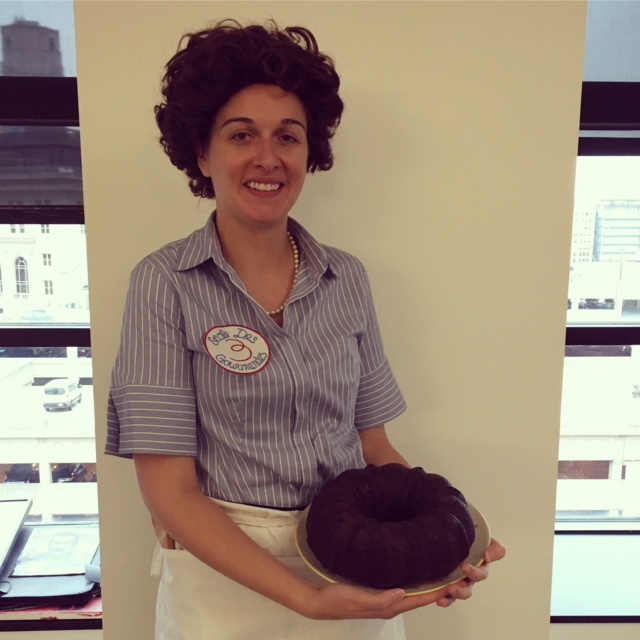 I hope you all have a safe and happy Halloween!
Tipsy Chocolate Cake
Ingredients
For the Cake:
3

cups

all-purpose flour

sifted

1

teaspoon

baking powder

1

teaspoon

baking soda

½

teaspoon

salt

3

sticks unsalted butter

1½

cups

buttermilk

1

cup

hot chocolate

½

cup

dark rum

1½

cups

plus 3 Tablespoons cocoa powder

divided

1

teaspoon

cinnamon

½

teaspoon

nutmeg

¼

teaspoon

ground cloves

1¾

cups

brown sugar

½

cup

granulated sugar

3

eggs

room temperature

2

teaspoons

vanilla extract
For the Rum Glaze:
½

cup

brown sugar

½

cup

heavy cream

½

cup

rum

2

Tablespoons

butter
Instructions
To make the cake:
Preheat oven to 325 degrees F. Spray a 15-cup bundt pan with baking spray, then dust with 3 Tablespoons cocoa powder; set aside.

Whisk flour, baking soda, baking powder and salt together in a medium bowl; set aside.

In a large saucepan set over medium heat, combine butter, buttermilk, hot chocolate, rum, cocoa powder, and spices. Heat until butter melts and all ingredients come together, then whisk in sugars, stirring until dissolved. Cool mixture for 5 minutes, then transfer to a large mixing bowl.

In a small bowl, whisk together eggs and vanilla extract, and add to cooled chocolate rum mixture, stirring until combined.

Add flour mixture and stir until just combined - batter will be rather thin but slightly lumpy/bubbly.

Pour batter into prepared bundt pan. Bake for 50-60 minutes, or until a skewer inserted to the bottom comes out clean. Remove from oven and allow to cool for 20-30 minutes while you prepare the glaze.
To make the glaze:
In a small saucepan, dissolve brown sugar into cream over medium-low heat. When combined, add rum and set heat to low. Allow to simmer until liquid is reduced and thickens. Add butter and stir to melt, then remove from heat.

Using a skewer, poke multiple holes across the bottom of the cake. Spoon or brush buttered rum glaze on the cake, and allow to soak 5-10 minutes, then repeat with more glaze two more times. Let cake soak & cool 20-30 minutes.

When cake is cooled, turn it out onto a cake plate. Brush top and sides of cake with remaining glaze, making multiple passes over it until it's all used up.

Top with whipped cream or ice cream if desired before serving. Enjoy!
_______________
This post contains affiliate links. This does not increase the price you pay, but I may receive a small commission for any products you choose to buy. Purchases made through affiliate links help to cover my blogging costs. Thank you for helping to support The Hungry Bookworm! Full disclosure here.