Sometimes I hear so many good things about a book that I request it from the library without even really seeing what it's about, and that's exactly what happened in the case of Katherine Center's How to Walk Away. I'm glad I took the leap of faith because it turned out to be absolutely wonderful.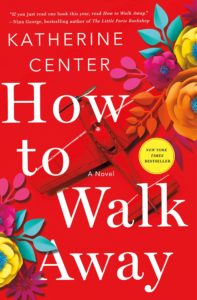 This novel is about a young woman who's at the top of her game - Margaret has just finished her MBA, she has a lucrative and exciting job lined up, and she thinks her long-time boyfriend Chip is going to propose. However, on what is supposed to be a happy, celebratory day in her life, everything comes crashing down.
Margaret wakes up in the hospital and realizes that her life may never be the same again. Katherine's writing was so real here: I thought she really shined at painting the picture from Margaret's perspective, so we too are left a little bit in the dark while she figures it out. The story is multi-layered, with real, flawed characters. I'm glad it wasn't as predictable as I expected (based on assumptions about the genre). In the end, I found it motivating and inspiring.
I surprised at how riveted I was. I literally couldn't put it down -- I started reading it on a Thursday night and only stopped when I fell asleep. I woke up early to read some more and then sat in my car in the parking lot at work for reading until I was about to be late. And then, when I was finally released from the office, I raced home, opened it and didn't do anything until it was over. If you liked Me Before You, you should read this one because it's definitely in the same vein. But, if you didn't -- and I know there are some people who aren't fans of that novel, you should read this anyway, because it's better. I promise.
During Margaret's recovery, a lot of things go right and a lot of things go wrong, but all of it's progress. For her birthday, she's allowed to take bit of a break and just "be." This trip is a little bit of things going right and wrong, but it marks a pretty big turning point for her. As part of the celebration, some s'mores brownies (over a campfire) make an appearance, filling in for birthday cake. I loved that idea, and I knew that's what I wanted to make.
I found a recipe from My Baking Addiction, procured a kitchen torch since my broiler is broken, and set to work. This recipe took no prep time at all because it calls for boxed brownie mix, but absolutely feel free to use your own from-scratch recipe, if desired.
I started by making the graham cracker crust. I used a whole sleeve of graham crackers, which ended up being a little more than a cup. (I used the extra as a topping later to sprinkle on the finished dessert.)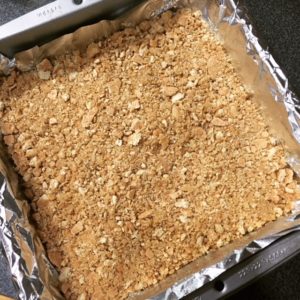 I baked the crust for about 8 minutes, as directed, while I mixed together the brownies. Once the crust was done, I poured the brownie batter over it and smoothed it into the corners, before popping the pan back in the oven to bake.
When the brownies were finished, it was time to top them with the marshmallows. I cut them in half, lengthwise, and layered them over the top of the brownies, doing my best to completely cover the surface.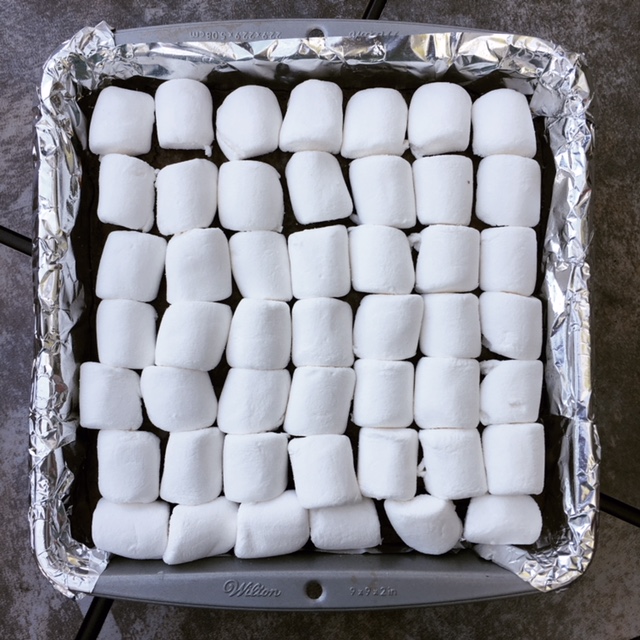 Then, I set to work with my kitchen torch. Take care not to hover too long in any one spot of the marshmallows may catch on fire (like they do in a real campfire). If they do, just blow the flame out and keep going. The char marks will add some character to the overall dessert I think.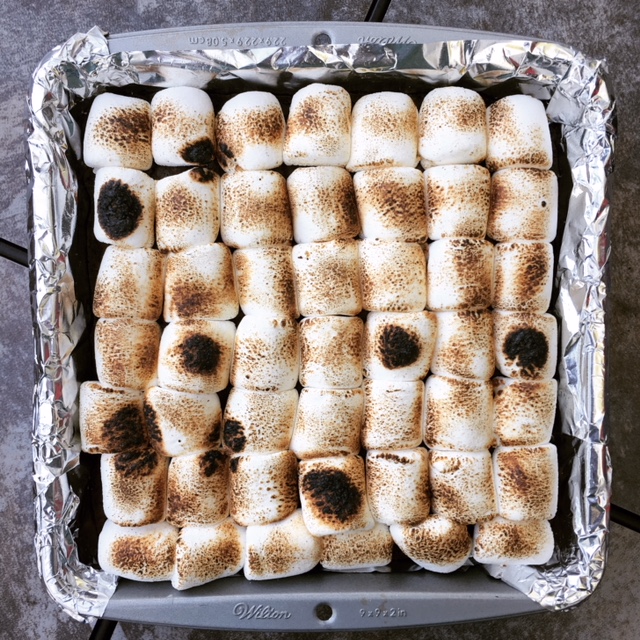 I really loved this dessert. I made it just after we got home from our 4th of July at our extended family's cabin by the lake, and it brought me right back there. It was easy -- and best of all doesn't require you to build an actual fire, so you can have it anytime of year!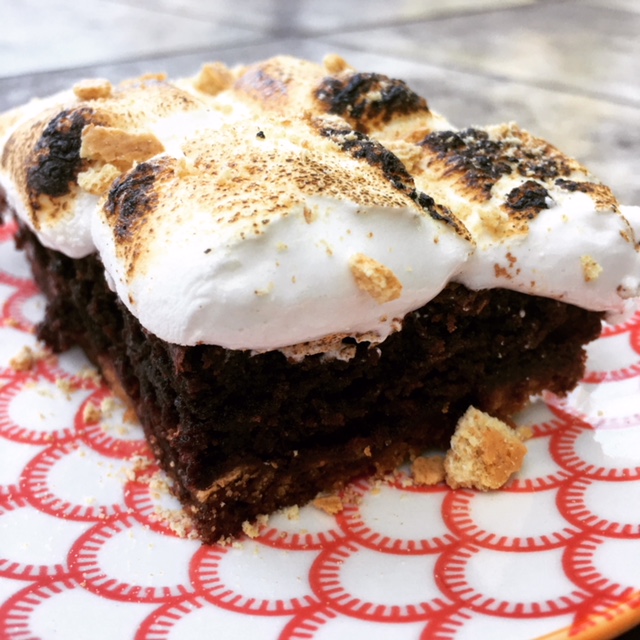 S'mores Skillet Brownies
Ingredients
1

cup

graham cracker crumbs

3

tablespoons

sugar

4

tablespoons

butter

melted

18-

ounce

brownie mix

plus ingredients listed on box

20-30

regular marshmallows

cut in half lengthwise

chocolate sauce

optional

caramel sauce

optional
Instructions
Preheat oven to 325°F. Spray 6 3.5-inch mini cast iron skillets with nonstick cooking spray, or line an 8×8-inch baking pan with foil and spray the foil with nonstick cooking spray.

In a medium bowl, stir together the graham cracker crumbs, sugar, and butter until combined.

Evenly divide the crumbs between the mini cast iron skillets, or spoon all the crumbs into the prepared 8×8-inch pan. Evenly press the crumbs into the bottom on the skillets or pan to create a crust layer

Bake crust(s) in preheated oven for 8 minutes. Remove skillets or pan from oven and allow them to cool while you make the brownie batter.

Prepare brownie mix according to package directions.

Evenly divide the brownie batter between the skillets, or spoon it into the 8×8-inch pan.

Bake mini skillets for 25 minutes, or the 8×8-inch pan for 40 minutes.

Remove brownies from oven and top with marshmallow halves, cut side down.

Toast marshmallows using your broiler, or use a kitchen torch. Be sure to keep your eyes on the marshmallows because they can go from perfectly toasted to burnt within seconds.

Serve warm. If desired, top with chocolate or caramel sauces.
Notes
From: My Baking Addiction
If serving leftovers, you can reheat each brownie slice in the microwave for 15-30 seconds, or until marshmallows become melty.
This post contains affiliate links. This does not increase the price you pay, but I may receive a small commission for any products you choose to buy. Purchases made through affiliate links help to cover my blogging costs. Full disclosure here.