It's wonderful to have someone so enthusiastically recommend a book to you one day and then, because they know you'll love it, present it the next day for you to borrow. I am forever recommending books to others, and often pushing my own copy on them unbidden at the next opportunity, but it's rare that I have someone do the same to me. I am forever grateful to my new coworker, who upon learning about my loves of reading and cooking (and subsequently my blog), shared one of her favorite books with me during her first week on the job.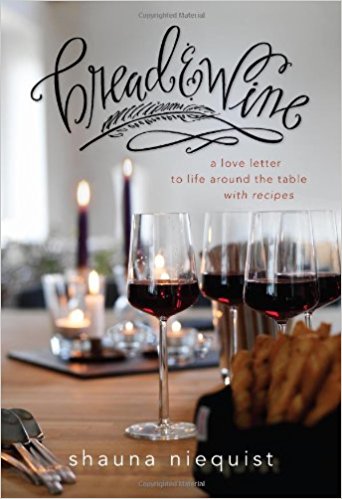 Aside from recipes - admittedly, the cover looked delicious - I had no real expectations when sitting down with Shauna Niequist's popular food memoir, Bread and Wine: A Love Letter to Life Around the Table with Recipes. As the title suggests, Niequist's essays are overflowing with rich descriptions of food and the community it can help create. The memoir touches on not only her family and friends, with whom she loves to share meals, but also on her relationship with God and how that nourishes her in other ways.
In a memoir peppered with meaningful recipes, it can be challenging to choose the one that most represents it. While so many of them sounded appetizing, I went with the one Niequist had me wondering about from one of the very first chapters. She mentioned bacon-wrapped dates, stuffed with goat cheese, at least twice (and maybe more) before she finally revealed the recipe on page 171. The book is only 288 pages, so I was starting to get nervous it would never appear...when suddenly, there it was!
Niequist herself says in her introduction to the recipe that this appetizer is not the most practical thing to choose, if you're only going to make one recipe from her book. Thankfully, since my heart was already set on them, she goes on to say that "practicality has never been my strong suit, so I think you should make these." With her blessing, I did.
She describes them as a "go-to, serve-at-every-gathering, take-to-every-party treat" that people adore, so I decided to share them at Thanksgiving dinner this week. With only 3 ingredients and a strong suggestion to serve at room temperature, they were the perfect no-fuss thing to bring to my in-laws'.
On Thanksgiving morning, I gathered my ingredients - pitted dates, goat cheese, and bacon.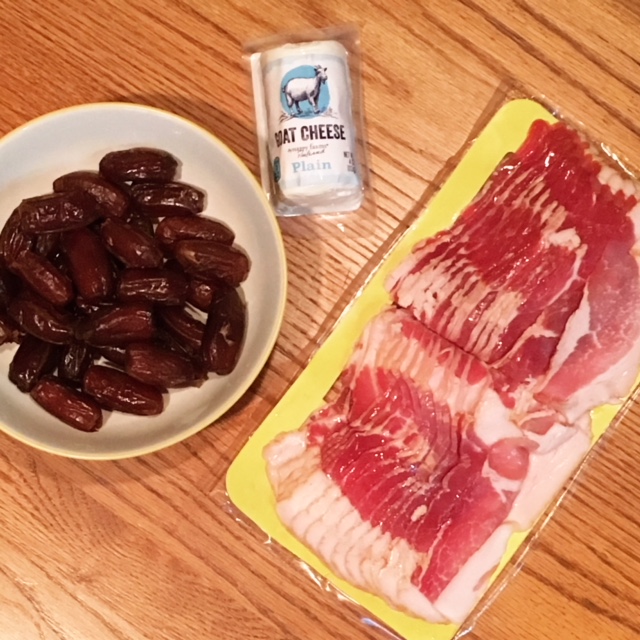 I started by slicing the bacon in half and then slicing the dates open to make little "date books" (pun intended).
I stuffed each date with a proportionate spoonful (using the teaspoon from our flatware set). I recommend using the date itself to help scrape the cheese off the spoon as you close it up.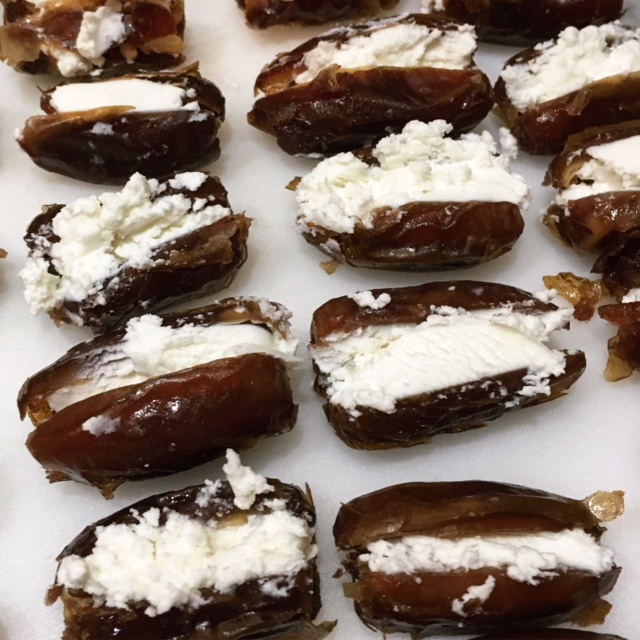 Finally, I wrapped each date with a half-slice of bacon and placed each one seam down on a foil-lined baking sheet (with sides).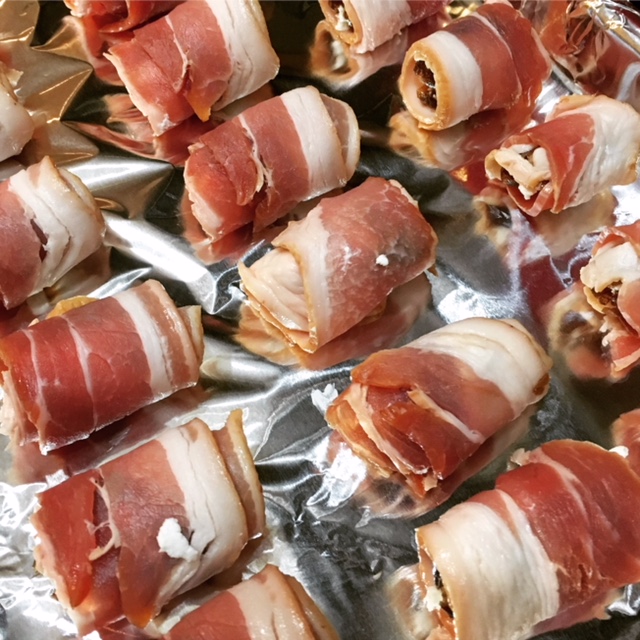 I placed the pan in a 400-degree oven and let them bake for 25 minutes, until they were crispy and brown. I let them cool for a moment before transferring them to a paper-towel lined plate to drain off a bit.
Before we left for our Thanksgiving dinner, I put the still warm bacon-wrapped dates into a serving dish to bring along. Of course, they were served on a much prettier platter (thanks to my mother-in-law), but here they are just before we left the house - looking delicious and tantalizing.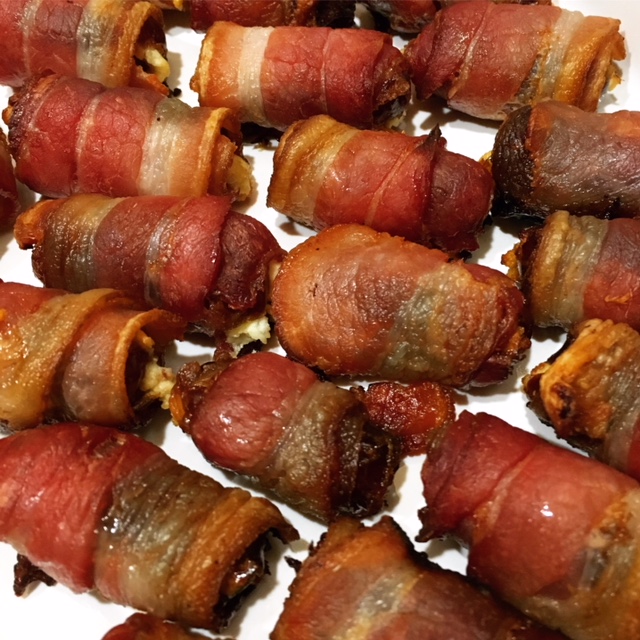 Thankfully, they were as delicious as promised and everyone enjoyed their addition to the appetizer selection. I would absolutely recommend adding these to your repertoire.
I'd also recommend picking up a copy of Niequist's memoir, so you can read about all of the other recipes that had me drooling as I read. I can't wait to try more of them myself.
Last but not least, I hope all those celebrating had a Happy (and food-filled) Thanksgiving! If you're following along with my Thanksgiving Readathon, I'll be wrapping that up with a post on Monday.
Bacon-Wrapped Dates
Servings: approximately 32 pieces
Ingredients
8 oz. package of pitted dates
4 oz. goat cheese
16 oz. bacon
Directions
Slice alongside one side of each date, from the top to the bottom, so you can open it like a tiny book. Scoop a small amount of goat cheese into the center of each one, and then close it back up.
Cut the whole package of bacon in half, so that each long strip is now half as long. Wrap a half-slice of bacon around the outside of each date.
Arrange seam side down in a baking dish or on a baking sheet with sides to catch any grease. A foil pan is really nice for no cleanup.
Bake at 400-degrees F for 20 to 25 minutes, or until well browned and crispy. Drain on a paper towel, and serve warm or at room temperature, but definitely not hot, unless you want to burn the roof of your mouth so badly you don't taste anything for days.
This post contains affiliate links. Full disclosure here.