If anyone recalls the early 2000s rom-com, The Wedding Date, starring Debra Messing and Dermot Mulroney, that is the first thing that came to mind when I heard the title of this book. Liberty Hardy praised it last month in the All the Books! podcast. It sounded like a light-hearted read and when I noticed it was available on NetGalley, I put in a request.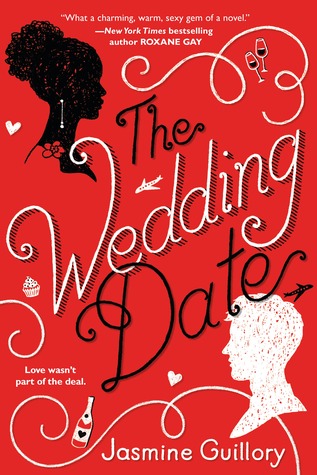 Jasmine Guillory's novel The Wedding Date has a setup that is reminiscent of the movie - someone is invited to attend a wedding in which a former lover is significantly involved and they can't bear to do it alone, so they find a complete stranger to accompany them. But, the similarities end there. Rather than hiring his date, Drew gets stuck with her in an elevator. The two of them bond over "the perfect snack" of cheese and crackers, which Alexa (a woman after my own heart) was carrying in her purse. He decides to see if this chemistry means something - not to mention the aforementioned dreaded wedding - and asks her to be his date.
Because it's so like a rom-com (in setup and plot), it was as light-hearted as I expected. What I didn't expect was the subtle and realistic ways Jasmine was able to work in issues of race and (male) white privilege. The relationship issues also seemed realistic, particularly those that arise due to long distance, but in some cases, I'll admit, the rom-comminess seemed to prevent a quicker solution to problems that probably just required some honest communication.
Still, while it's light, it's not "fluffy." A book like The Wedding Date makes a wonderful vacation read because it's amusing and easily devoured. As a bonus, it may inspire you to make some fancy cheese plate, and that's never a bad thing.
A lover of all things cheese, I have eaten more than my share of cheese and crackers. I've enjoyed cheese platters at parties, but I've never made my own. I was excited by the prospect. When Alexa and Drew meet in the elevator, they are limited by a lack of utensils and can only eat whatever cheese they can break off the block, accompanied by crackers straight out of the sleeve.
I knew I had to do better. I bought a slate cheese board specifically for the occasion, and now I have an excuse to make cheese platters more often (if I need one…). I researched all of the elements that should go into a delicious, effortless-looking cheese board, and it came out pretty wonderfully, if I do say so myself. Here's what I learned:
How to Make the Perfect Cheese Board
First, determine which types of cheese you'll be including. Typically, four kinds of cheese are enough and you should choose one each of the following: soft, semi-soft, semi-hard and hard.
Soft cheeses include mozzarella and brie.
Semi-soft cheeses include blue cheeses like Stilton, Gouda, and Jarlsberg.
Semi-hard cheeses include Manchego, Comte and provolone.
Hard cheeses include aged cheeses, such as cheddar, parmesan, or asiago. I opted for Trader Joe's Unexpected Cheddar, which is a delicious cheddar that has parmesan in it.
Once you've settled on your cheeses, you should choose crackers, meats and other accompaniments that go well with each cheese. I used the Cheese Pairings chart at the bottom of this article to help me choose.
I went with prosciutto and water crackers (to accompany the brie and mild-flavored comte) and salami and whole wheat crackers (to accompany the more-strongly flavored cheddar and blue cheese). I also included apricot jam for the brie, which I have to say, I had never had together before - I wholeheartedly recommend it. Lastly, I bought mixed nuts to fill in the gaps and provide another snacking option.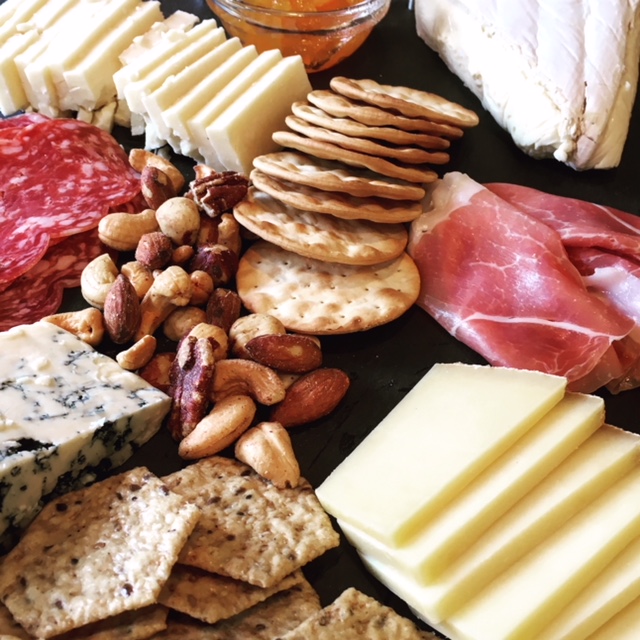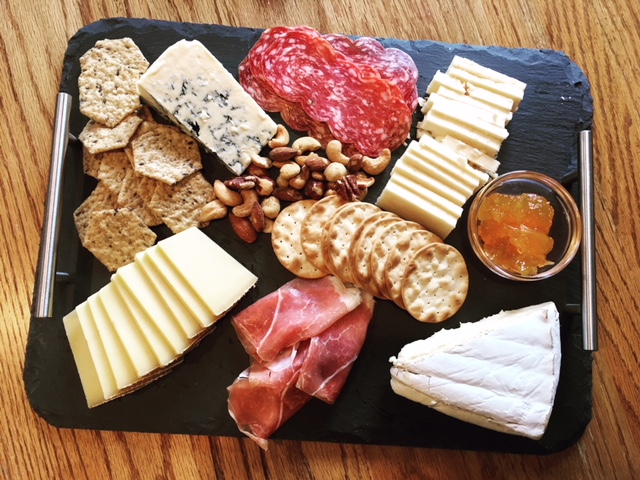 What are some of your favorite things to include in a cheese plate? I'd love to hear in the comments below - as I'm sure there will be many more of these in my future! 🙂
_____________________
I received a free digital copy of this book from NetGalley in exchange for an honest review.
This post contains affiliate links. Full disclosure here.