I read American Gods hoping to create some personal excitement for the new series on Starz (which premiered on April 30), but I finished it feeling less than enthused. I've had a bit of a mixed reaction to Neil Gaiman - ultimately thinking that my first selection The Ocean at the End of the Lane was just okay, but enjoying both Coraline and Neverwhere.
Gaiman's novel is interesting enough at the outset. It follows Shadow as he is released from prison after serving three years. On his way home, he meets a mysterious man called Wednesday, an old god, actually. Wednesday enlists Shadow to help him recruit other old gods, traveling back and forth across the United States attempting to convince them to join the fight against the new gods.
Shadow's story, when we were following it, kept my attention. It was the detours Gaiman took at the end of each chapter that I found distracting, as the story peeked in at the goings-on of various other gods we usually hadn't met yet (and sometimes never saw again). The plot took a lot of twists and turns, and had I been fully invested, I would've been at the edge of my seat so I can see why people really enjoy it.
When he wasn't with Wednesday, Shadow took refuge in a small town called Lakeside, Wisconsin. It was there that I found my recipe for American Gods - Mabel's famous pasties. Pasties are baked pastries filled with meat and vegetables, said to have originated in Cornwall, England. They are also quite popular in the Upper Peninsula of Michigan, and while I have had them in England, I've never had them close to home - until now.
Scott's mom had actually made them before and shared her recipe with me. (Thank you!) I made my own dough, which she said would be easy with a food processor - and it was.
My food processor didn't seem to be able to handle such a large amount of ingredients, however, so I ended up splitting the dough into two batches. I also needed slightly more liquid to get it to come together, so use your best judgment, but make sure not to overdo the liquid because you don't want the dough to become sticky.  
I formed the dough into two smaller disks and stored them in the refrigerator in plastic wrap to chill. I allowed mine to chill overnight but a couple of hours should be sufficient.
While the dough chilled (or in my case, before I took it out to roll it), I prepared the vegetables for the filling. First, I diced the carrots, doing my best to keep them relatively small so they would soften well while baking.
Having never even eaten rutabaga (to my knowledge), I certainly had never made it, so I was a little unsure how to tackle it at first. Ultimately, I just hacked off a chunk of it, peeled off the skin and then cut the piece into smaller pieces that would fit in my food processor spout. I used my grating attachment to grate it quickly.
Then, I peeled and diced my potatoes, trying to keep their size in line with the size of my carrots. About 2 medium potatoes yielded the 1½ cups I needed. After so much prepped I decided to just use minced dried onion out of my cupboard. Fresh onion might impart a bit more moisture into the meat, but it turned out well with the dried version, so use whatever works best for you.
I combined all of my filling ingredients - about a pound of ground beef, the carrots, potatoes, rutabaga and minced onion. I also added salt and some freshly ground black pepper. Lastly, I melted the butter and poured that over the filling, making sure to mix it in well.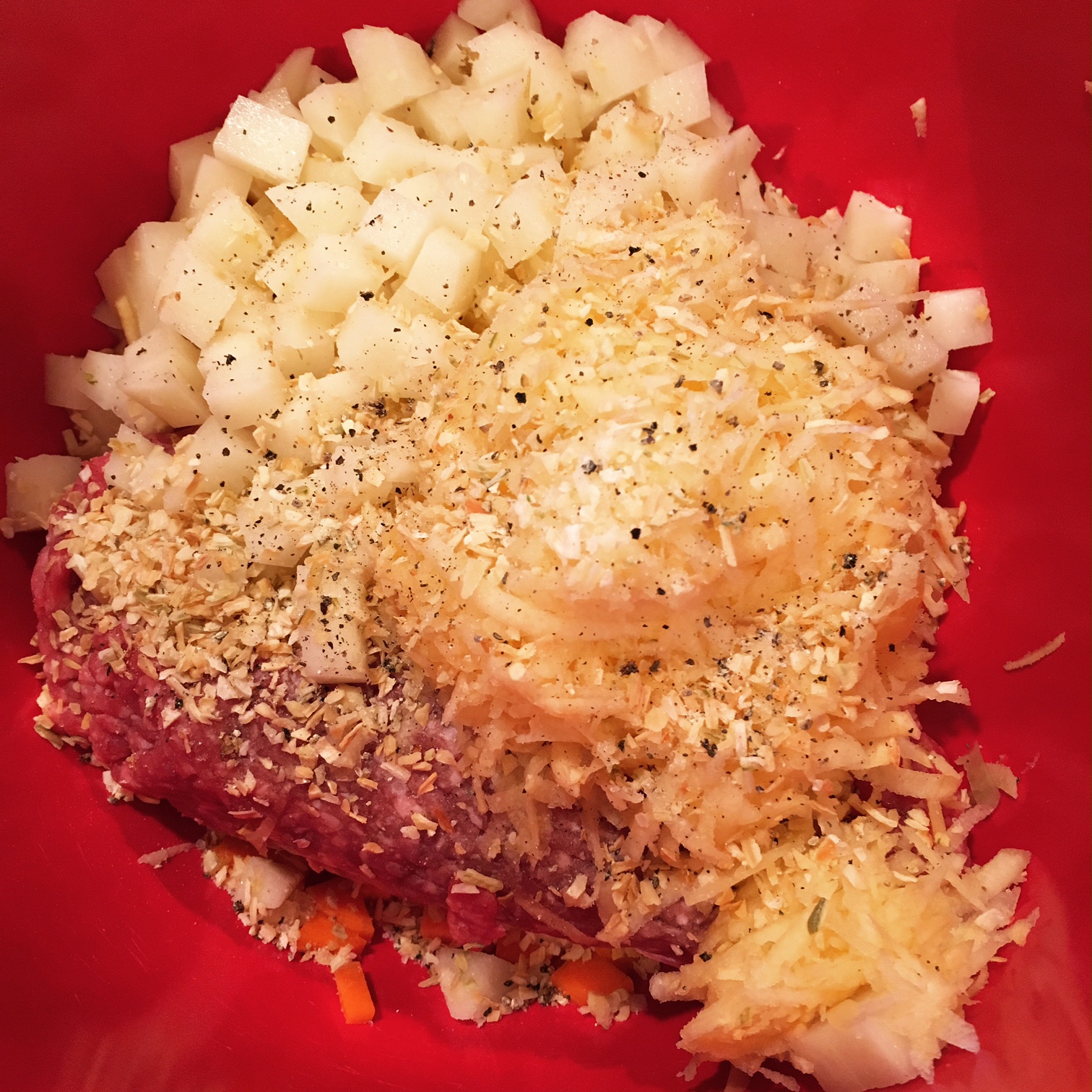 As I took my dough out to roll and shape, I turned on my oven to 350 degrees F to preheat. I rolled out the dough and used 8" saucers as a guide for my circles, yielding 4 large pastry circles. I filled half of each circle with as much filling as I could, making sure it could still be closed and sealed.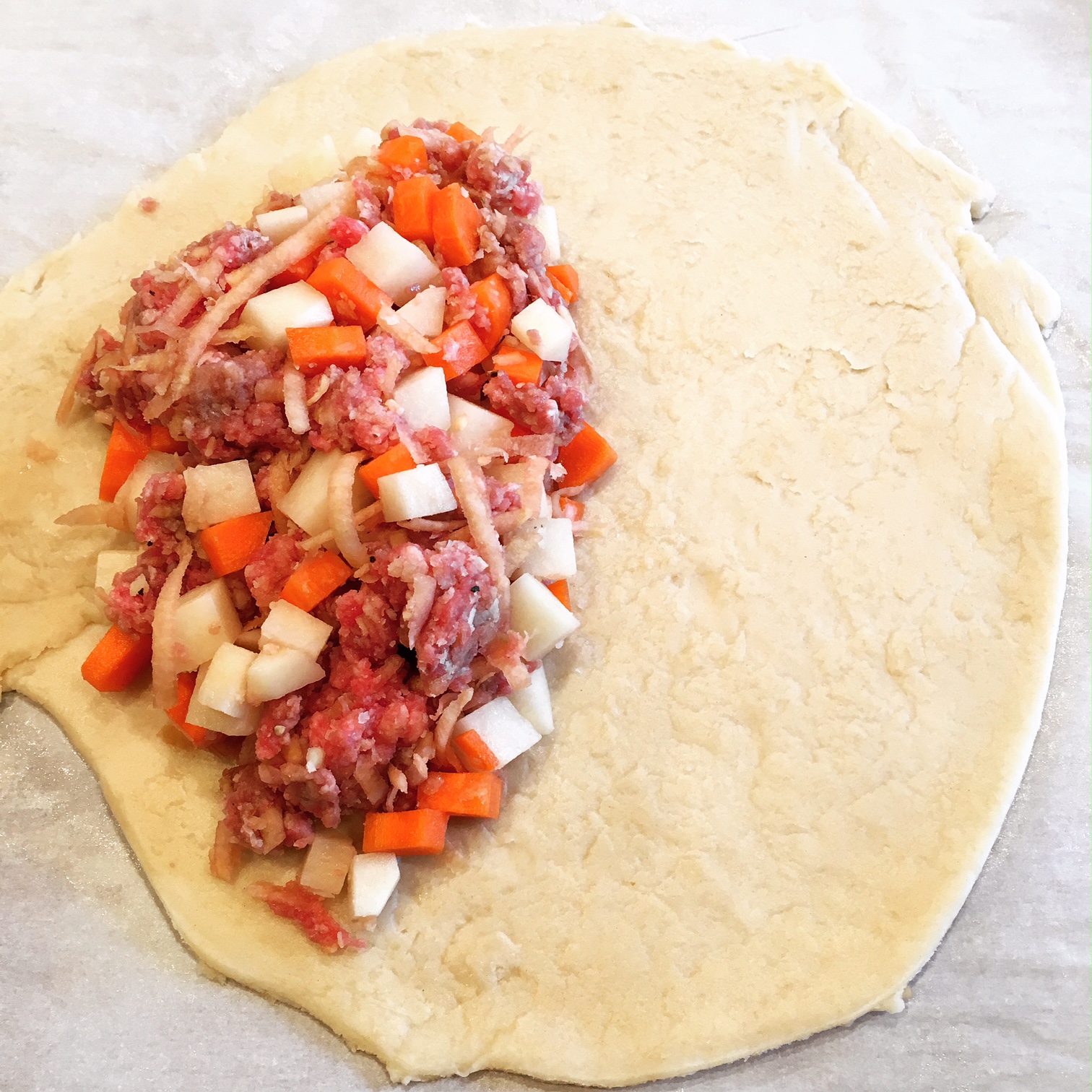 Note: I had a bit of filling leftover as well as a bit of pastry, so I probably could've made each one a bit bigger.
Finally, I cut 3 slits into each pasty and brushed them with an egg wash before putting them in the oven on baking sheets lined with parchment paper. After about an hour, they came out a lovely golden brown.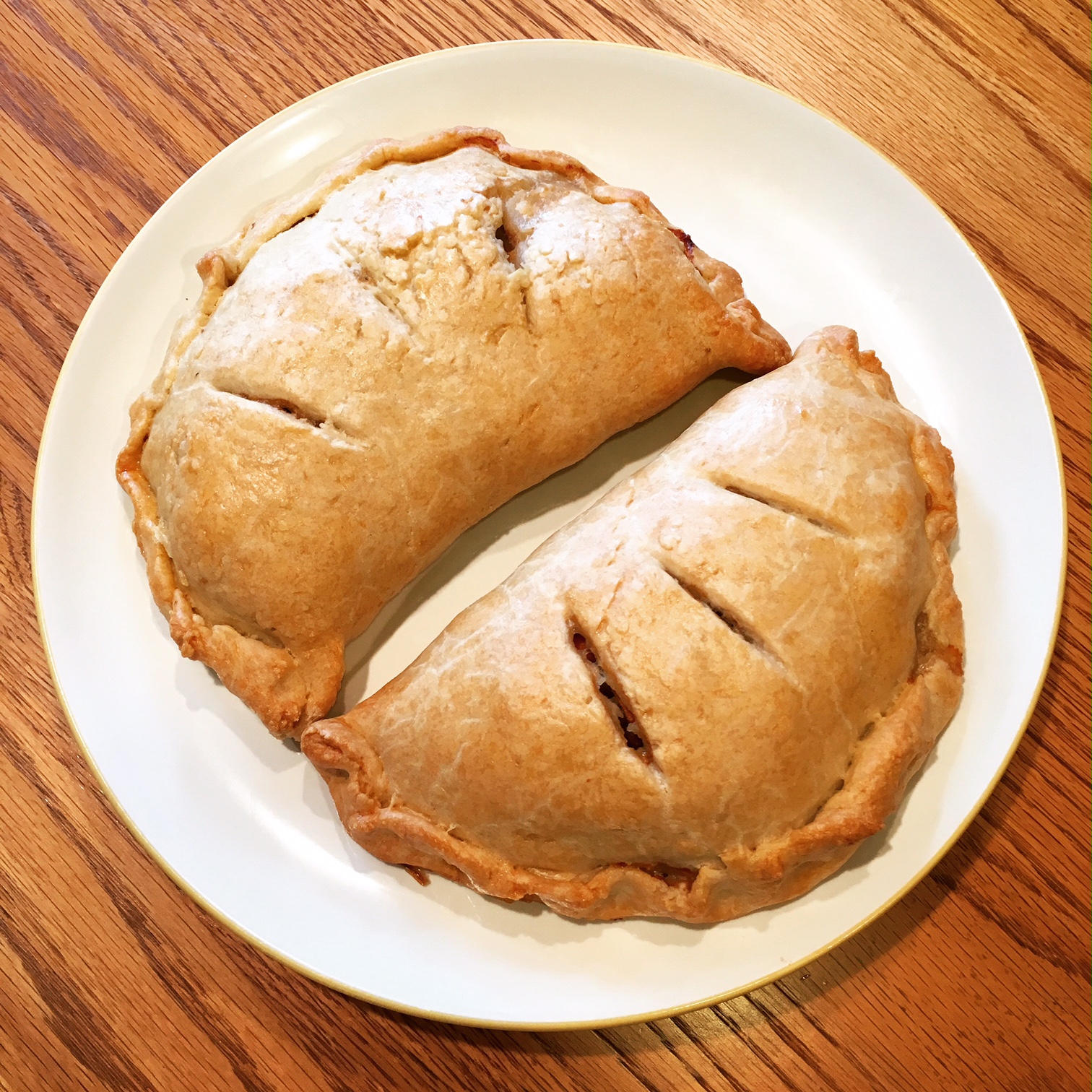 Thinking it seemed similar to meatloaf (and after some online research), I decided to eat mine with some ketchup - which seems to be a popular choice - as well as a little spicy brown mustard. Scott enjoyed his with sour cream (another online hit). Serve with whatever condiments you enjoy, but make sure you allow them to cool before digging in! 
Beef Pasties
Ingredients
For the Dough:
1 cup Crisco or lard
3½ cups flour
½ tsp baking powder
½ tsp salt
1 egg (beaten)
½ TBS vinegar
½ cup ice water

For the Filling:

1 pound ground beef
1 cup grated (or finely diced) rutabaga
1 ½ cup diced potatoes
1 or 2 carrots, diced
1 small onion, diced or 1 TBS dried minced onion
salt and pepper
1/4 stick butter or margarine, melted
egg wash: 1 egg and 1 TBS water
Directions
To make the dough, put the dry ingredients - shortening/lard, flour, salt and baking powder - into the food processor. With it on low, drizzle in the liquid ingredients - 1 beaten egg, 1 tablespoon of white vinegar and ½ cup of ice water.
Once dough is well combined, form into a disk (or two smaller disks) in plastic wrap and allow to chill for a few hours, or overnight. When ready to create the pasties, roll out the dough and cut into circles with a small saucer (8" or 10" diameter).
Combine the filling ingredients, adding the melted butter last.
Add filling to one half of each pastry circle. Fold over and crimp the edges.
Brush with an egg wash and make 2-3 slits or use a fork on the top to allow the steam escape while baking.
Bake on parchment paper-lined baking sheets at 375 degrees F for 15 minutes before turning down to 325 degrees F for 45 minutes, OR just bake for 1 hour at 350 degrees F.
From: The Kitchen of Scott's Mom, Karen
You could also make more smaller pasties, by cutting smaller circles of dough and using less filling. This may affect baking time. Mine were quite giant, but worked well as a main course (or full meal)!