It probably comes as no surprise that I usually adore books* about bookstores, book clubs, book nerds...you get the idea. I find the characters relatable, occasionally discover new insights into books I love, and best case scenario: I walk away with a list of books to read.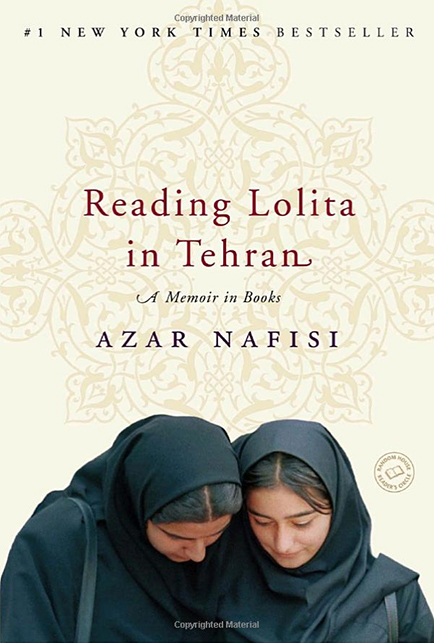 In Azar Nafisi's memoir, Reading Lolita in Tehran, the books the women read were Western classics - forbidden at the time in Iran. Nafisi, a former professor, and seven of her most like-minded female students meet every Thursday morning to discuss these novels over pastries and tea. It seemed like a book I was destined to love.
Each of four sections is focused on the works of a specific author (Nabokov, Fitzgerald, James and Austen), and their works of fiction were used as a lens through which we learn about Nafisi's life and her students' lives. I thought it was a little unbalanced and too literature-focused, particularly in the beginning; I was left wanting more about what was going in Tehran and the lives of the women. Unfortunately, I found it hard to get through - maybe it was because it was written by a literature teacher, but at times I felt like I was back in English class, struggling to get through a required reading assignment.
During the first meeting, Nafisi suggests the "calming distraction of cream puffs and tea" to break the ice. For my recipe, I turned to Julia Child's Mastering the Art of French Cooking. I had made cream puffs only once during culinary school about five years ago, so I was hoping it would be like riding a bike. With my brand new standing mixer** at the ready and Julia's words of encouragement, I was up to the task. (Really, has anyone read her cookbook? It's so cheery that it makes any recipe seem nearly impossible to fail.)
Anyway, I began by putting milk on to boil and beating the sugar and eggs until they turned pale yellow and reached the ribbon stage. Here it is just getting started: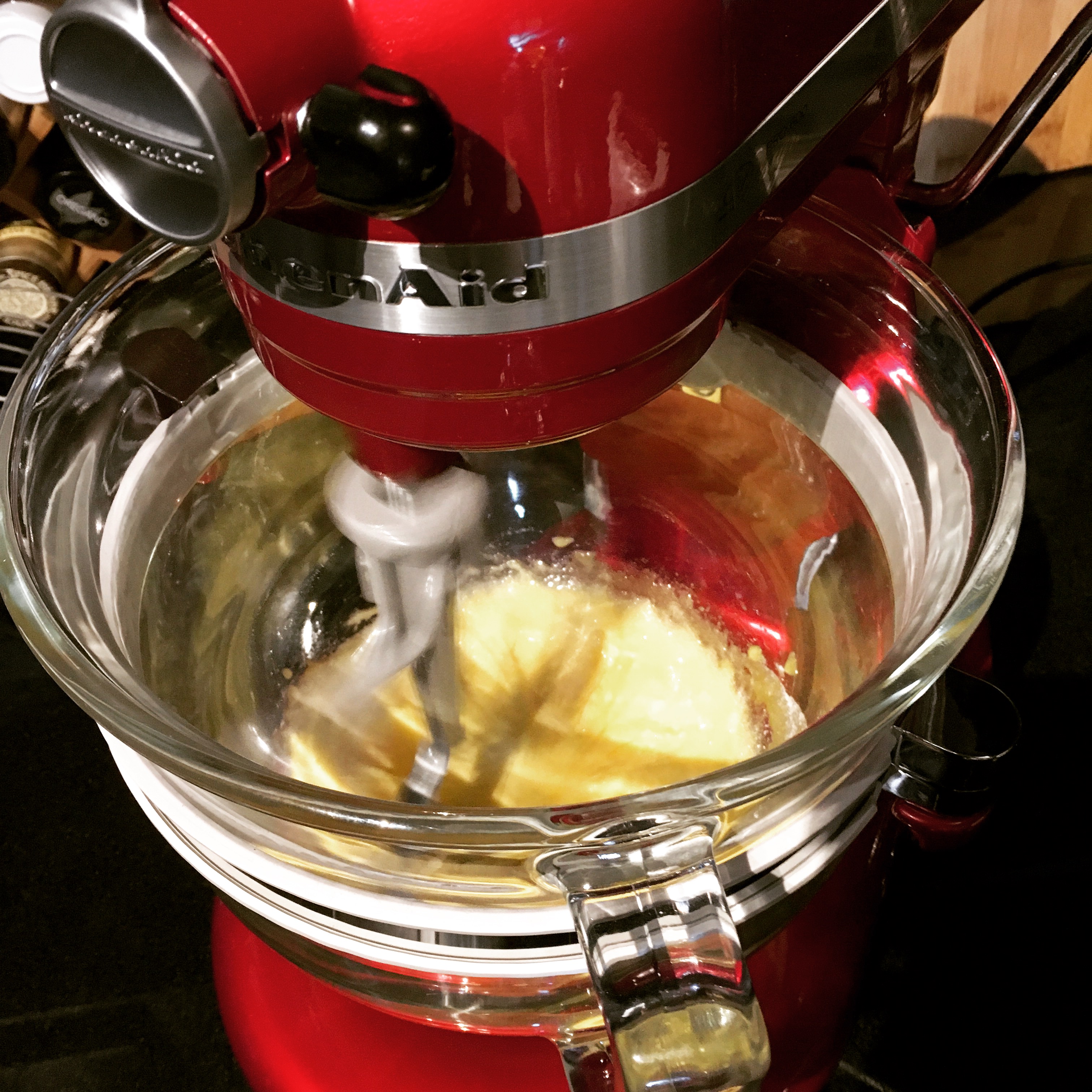 I beat in the flour and then carefully dripped in the boiling milk while continuing to beat the mixture, which is where the standing mixer came in handy. After it was well-combined, I transferred to a saucepan on the stovetop and whisked until it became custard-y in consistency. I removed it from the heat and added the vanilla and butter. In an attempt to cool it off, I scraped it into a bowl, covered with saran wrap (so it wouldn't form a "skin") and put it in the fridge.
While that cooled, I began prep for the pâte à choux, or puff paste. It is a very light dough that is used to make not only cream puffs but many kinds of puff pastries including eclairs, profiteroles and beignets. In culinary school, we were warned that it takes great attention because the number of eggs you need is not constant. It can vary based on humidity or even the size of each egg. It's important to not use too few eggs as this can cause the dough not to puff up and form the small caverns inside that are a hallmark of any sort of puff pastry.
I doubled Julia's recipe, so I started with 8.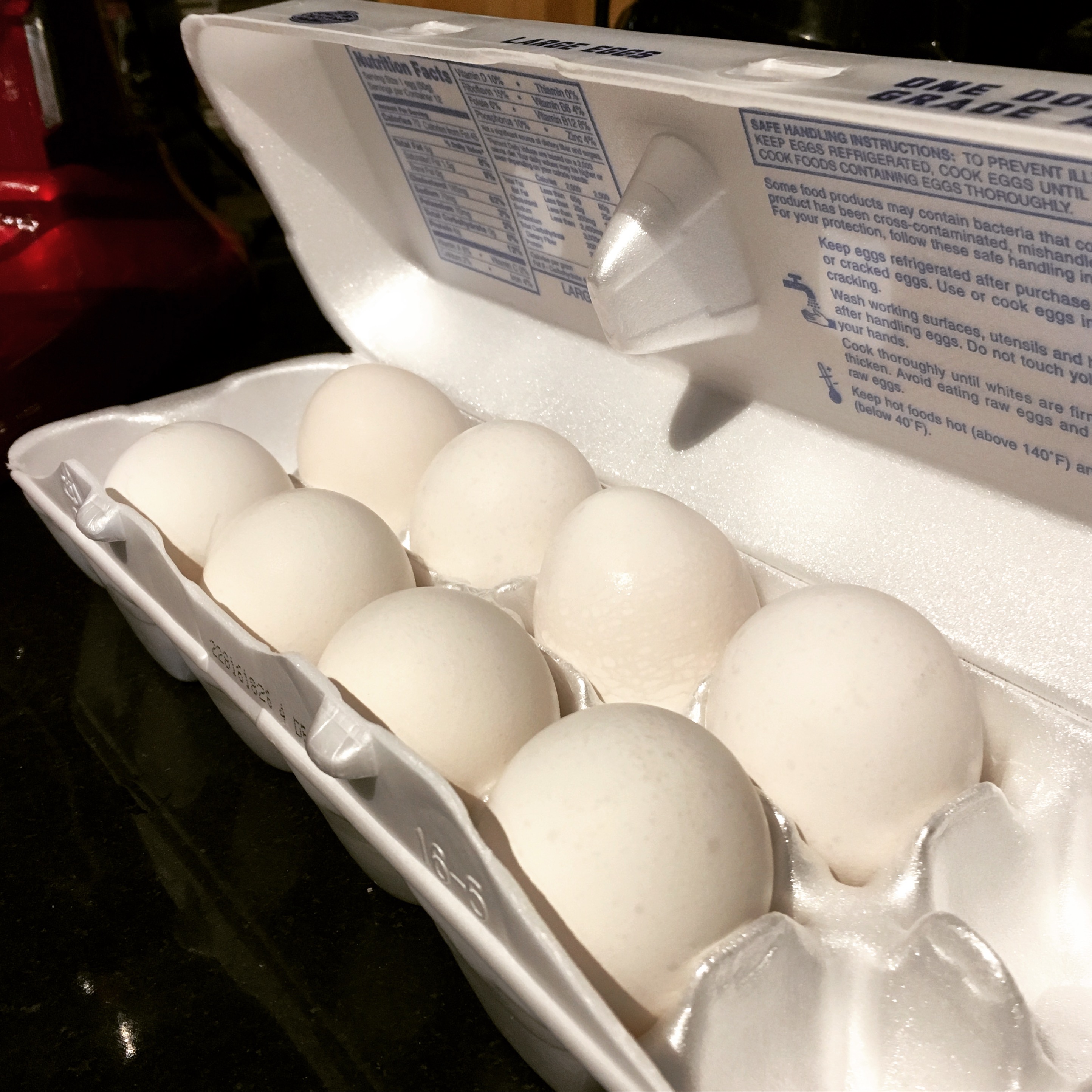 In the end, I only needed 8. This is something you can only really tell by the look (though if I hadn't been to culinary school, this wouldn't have been as clear to me). This website does a good job of explaining how to tell if it's ready, and I've included an excerpt below:
How to Tell if Choux Paste Is Ready
This fact means that it is more important to know how the finished paste should look and feel than it is to just follow the recipe. Finished choux paste should be soft, smooth, and be able to be piped.

If you pull the paddle attachment of an electric mixer out of the paste, a "tongue" should appear at the tip of the paddle.

Similarly, if you gently scoop up a bit of the paste with a rubber spatula and let it fall back into the bowl, a "v" of paste should be left behind on the spatula.

Be sure to mix thoroughly between adding in each egg and then check the paste before adding the next one. The mixture will appear separated and gloppy in between additions, but will come back into a smooth paste as you mix.

If by the second-to-last egg, the paste is already looking smooth and forms a "v" as it falls back into the bowl, it's OK not to add the last egg. Feel like your paste is borderline and just needs a little more egg? Whisk one up and only pour in half!
Before I scooped it into my pastry bag, it looked like this: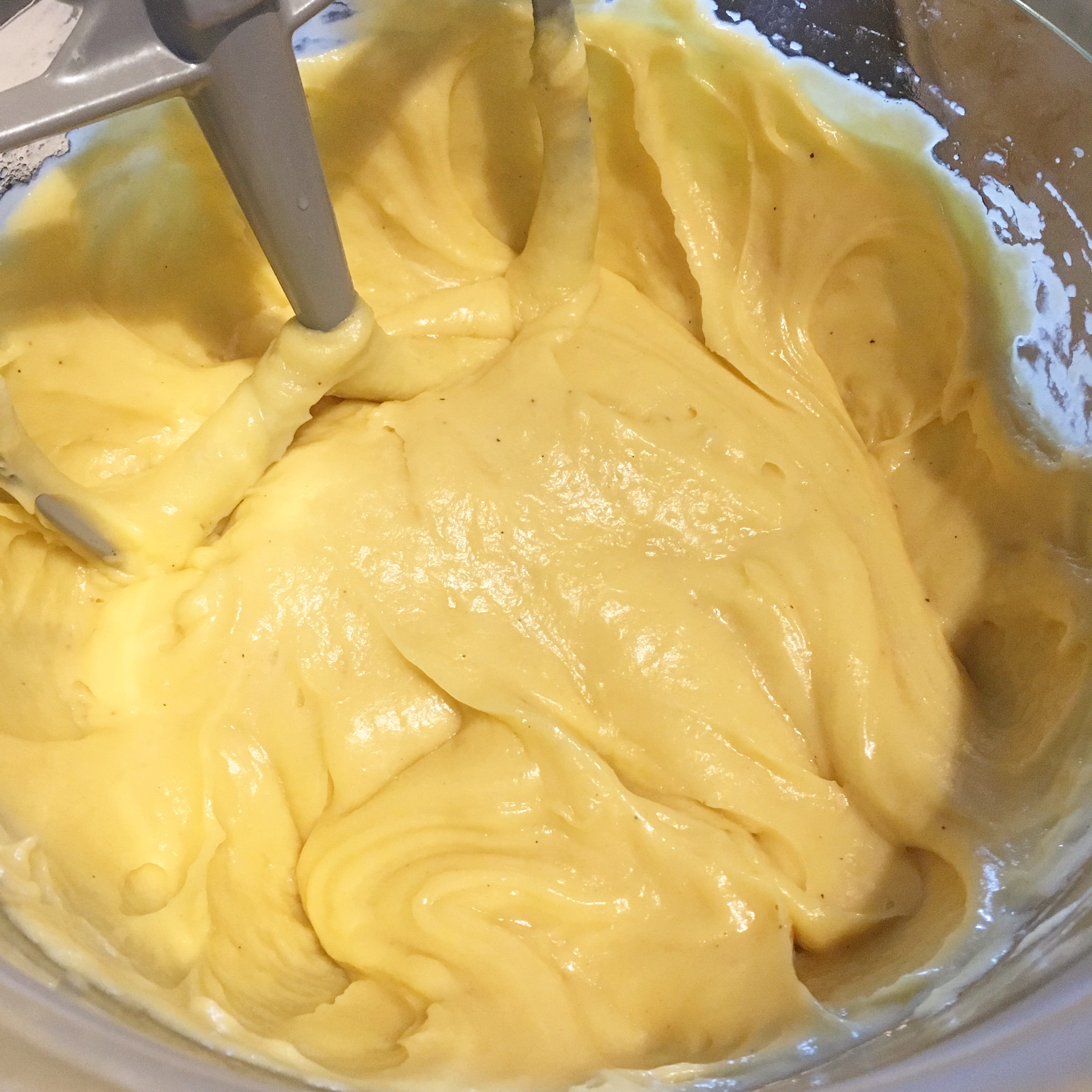 I didn't take a picture of my pre-baked choux mounds, but I'll mention that it's important that you simply hold the tip to the baking sheet and let the paste gently round up and out until it's the size you're looking for. (The size is entirely up to you - puffs can be large, small or medium.) If you attempt to swirl the paste into a circular shape, it can cause your puffs to sort of snail-out and flatten as they bake. (Don't worry, though, they still taste great! It happened to a few of mine, though they're not pictured.)
Once all of the puffs were cooled, I used a smaller pastry tip to fill them with the previously-made pastry cream. If I had to do it again, I probably would've made the lighter cream that Julia suggested (see notes below), but I was still quite happy with the end result.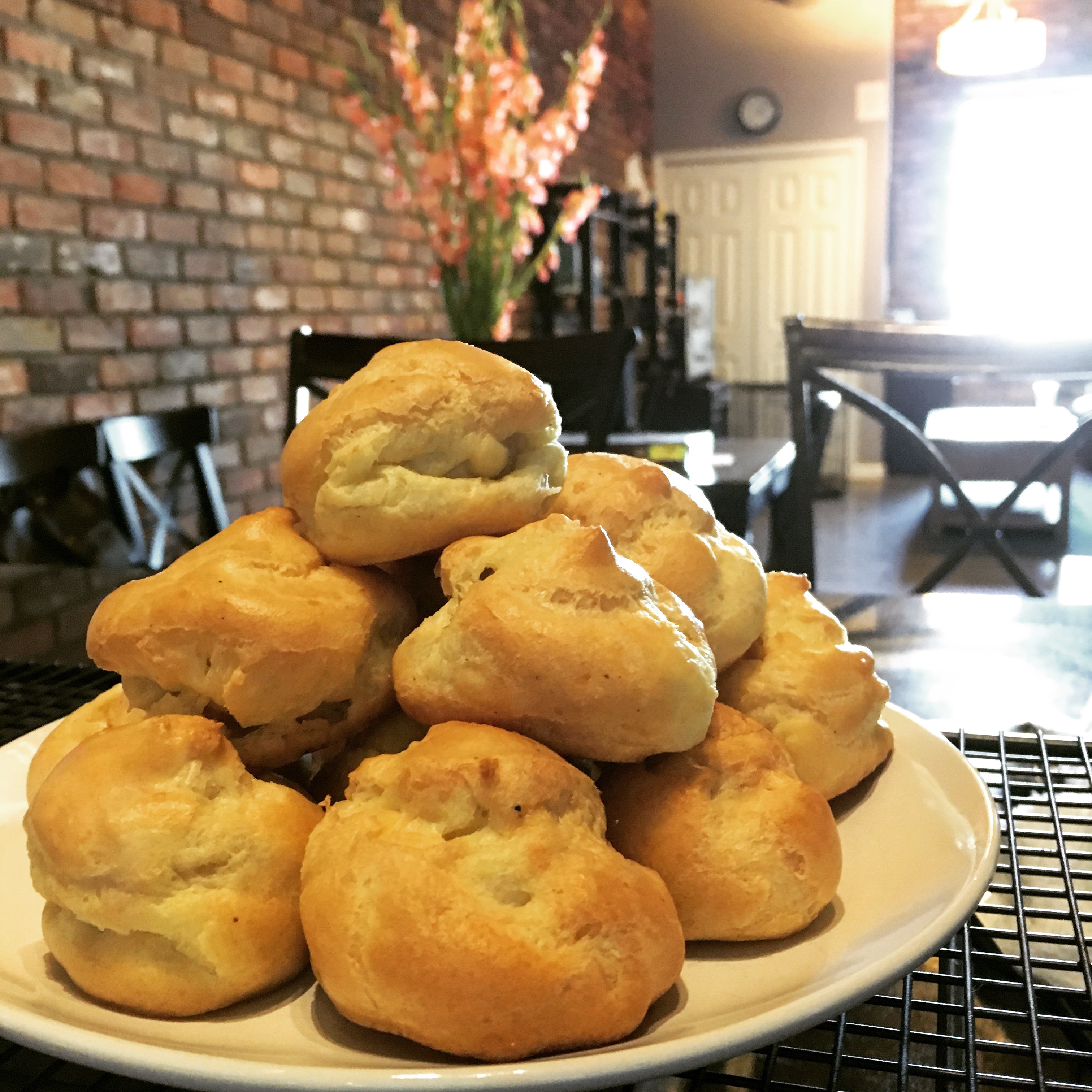 Creme Patissiere (Pastry Cream)
Servings: makes about 2 ½ cups

From: Julia Child's Mastering the Art of French Cooking (Anniversary Edition)

Ingredients
1 cup granulated sugar
5 egg yolks
½ cup flour, scooped and leveled
2 cups boiling milk
1 tablespoon unsalted butter
1 ½ tablespoons vanilla extract
Directions
Put the milk in a saucepan on the stove and begin to bring to a boil.
Gradually beat the sugar into the egg yolks and continue beating for 2-3 minutes until the mixture is pale yellow and forms the ribbon.
Beat in the flour.
Beating the yolk mixture, gradually pour on the boiling milk in a thin stream of droplets.
Pour into a heavy-bottomed 2 ½ quart enameled saucepan and set over moderately high heat. Stir with whisk, reach all over bottom of pan. As sauce comes to a boil it will get lumpy, but will smooth out as you beat it. When boil is reached, beat over moderately low heat for 2-3 minutes to cook the flour. Be careful custard does not scorch in bottom of pan.
Remove from heat and beat in the butter, then the vanilla extract. If custard is not used immediately, clean it off the sides of the pan, and dot top of custard with softened butter to prevent a skin from forming over the surface. It will keep for a week under refrigeration, or may be frozen. [I recommend refrigerating in a bowl covered with cling wrap pushed tightly over the top of the custard, prior to filling the puff shells.]
Pâte à Choux (Cream Puff Paste)
Servings: 36-40 small dessert puffs
Ingredients
1 cup water
6 tablespoons or ¾ stick unsalted butter, cut into pieces
1 pinch salt
1 teaspoon sugar
⅛ teaspoon pepper [I didn't use this in mine]
1 pinch nutmeg
¾ cup all-purpose flour, scooped and leveled
4 large eggs
1 egg, beaten with ½ teaspoon water in a small bowl
Directions
In a 1 ½ quart heavy-bottomed saucepan, bring water to a boil with the butter and seasonings and boil slowly until the butter has melted. Meanwhile measure out the flour.
Remove from heat and immediately pour in all the flour at once. Beat vigorously with a wooden spatula or spoon for several seconds to blend thoroughly. Then beat over moderately high heat for 1-2 minutes until mixture leaves the sides of the pan and the spoon, forms a mass, and begins to film the bottom of the pan.
Remove saucepan from heat and make a well in the center of the paste with your spoon. [Here I transferred the mass to my standing mixer with paddle attachment and added the eggs one at a time while on a setting between 2 and 4.] Immediately break an egg into the center of the well. Beat it into the paste for several seconds until it has absorbed. Continue with the rest of the eggs, beating them in one by one. The third and fourth eggs will be absorbed more slowly. Beat for a moment more to be sure all is well blended and smooth.
Preheat the oven to 425 degrees F and butter [or lightly spray] 2 baking sheets.
Using a rubber spatula, fill a pastry bag with a ½-inch round tube opening with the warm choux paste. [If you do not have a pastry bag, drop the paste with a spoon.]
Squeeze the paste onto the baking sheets, making circular mounds about 1-inch in diameter and ½-inch high. Space the mounds 2-inches apart.
Dip your pastry brush into the beaten egg mixture and flatten each puff very slightly with a side of the brush. Avoid dripping egg down the puff and onto the baking sheet, as this will prevent the puff from rising.
Set the sheets in the upper and lower thirds of your preheated, 425-degree oven, and bake for about 20 minutes. The puffs are done when they have doubled in size, are a golden brown, and firm and crusty to the touch. Remove them from the oven and pierce the side of each puff with a sharp knife. Then set in the turned-off oven and leave the door ajar for 10 minutes. Cool the puffs on a rack.
I filled my shells with the pastry cream recipe provided above, as I did when I was taught to make these in culinary school. The same filling and dough can also be used for eclairs, though instead of baking in mounds, you bake in longer lines.
Julia Child suggests using a Creme Saint-Honore, which is the recipe above with beaten egg whites and additional salt and sugar. It produces a fluffier filling for the cream puffs, if desired. The exact recipe can be found on page 591 of the Anniversary Edition of her cookbook.
_________
*Some that I would recommend include: The Jane Austen Book Club, The Storied Life of A.J. Fikry and Anne of Green Gables
**Once again, a very enthusiastic thank you to Scott's mom for the thoughtful gift!