Thankfully, election season is over. I think we can all agree it was a long one - no matter who you backed. The Hopefuls was another book I've had on hold for a while (it came out over the summer), and I finally got my turn with it. When I first saw the notification, a political book was the last thing I wanted to read, but somehow, the library knows exactly when to send me what I need.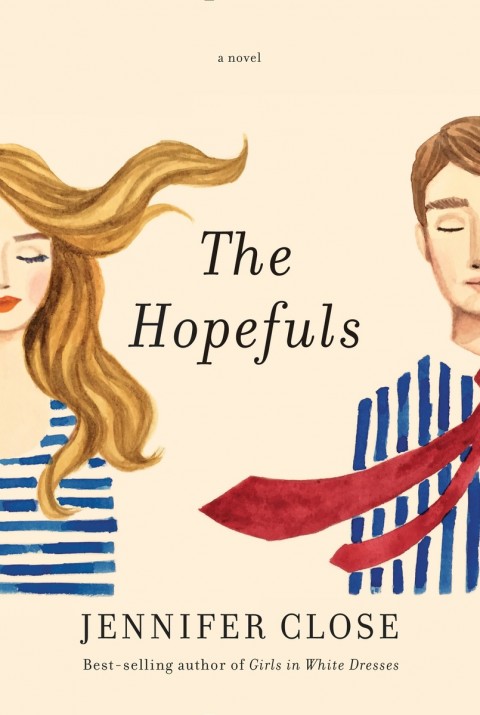 Yes, most of the characters are politicians or work with/for them, and yes, it talks about the actual government (circa 2012), but The Hopefuls isn't exactly a "political book." At its heart, Jennifer Close's novel is about relationships and learning to grow together. I actually found it to be a pleasant escape from the current state of politics.
Shortly after Obama's re-election, Beth, an unemployed magazine writer, joins her husband Matt in Washington D.C., where he is taking on a new government role. At first, she struggles to adjust and hates everything about the capital city. However, when she and Matt become friends with a fellow White House staffer Jimmy and his wife, her whole outlook changes.
Beth becomes fast friends with Southern belle Ash, and the couples become nearly inseparable. As dynamic duo Matt and Jimmy take on new political opportunities, the four of them are led in directions none of them expected.
One of the more memorable scenes in the book takes place at a new cycling studio, the United States of Spinning. It is so decorated in stars and stripes and red, white and blue that Beth finds it dizzying. From the presidential portraits on the walls to the patriotic music selections, you cannot escape the fact that you are smack dab in the middle of the capital of the United States of America.
So, what recipe could possibly be more appropriate to represent The Hopefuls than an all-American apple pie? I'll tell you what: The Best Apple Pie Ever.    
I didn't end up making my own crust this time, but you can easily use the recipe from my pumpkin pie (double it to have enough for a lattice top) or take a shortcut and buy some refrigerated crust like I did.
Start with 8 small Granny Smith apples.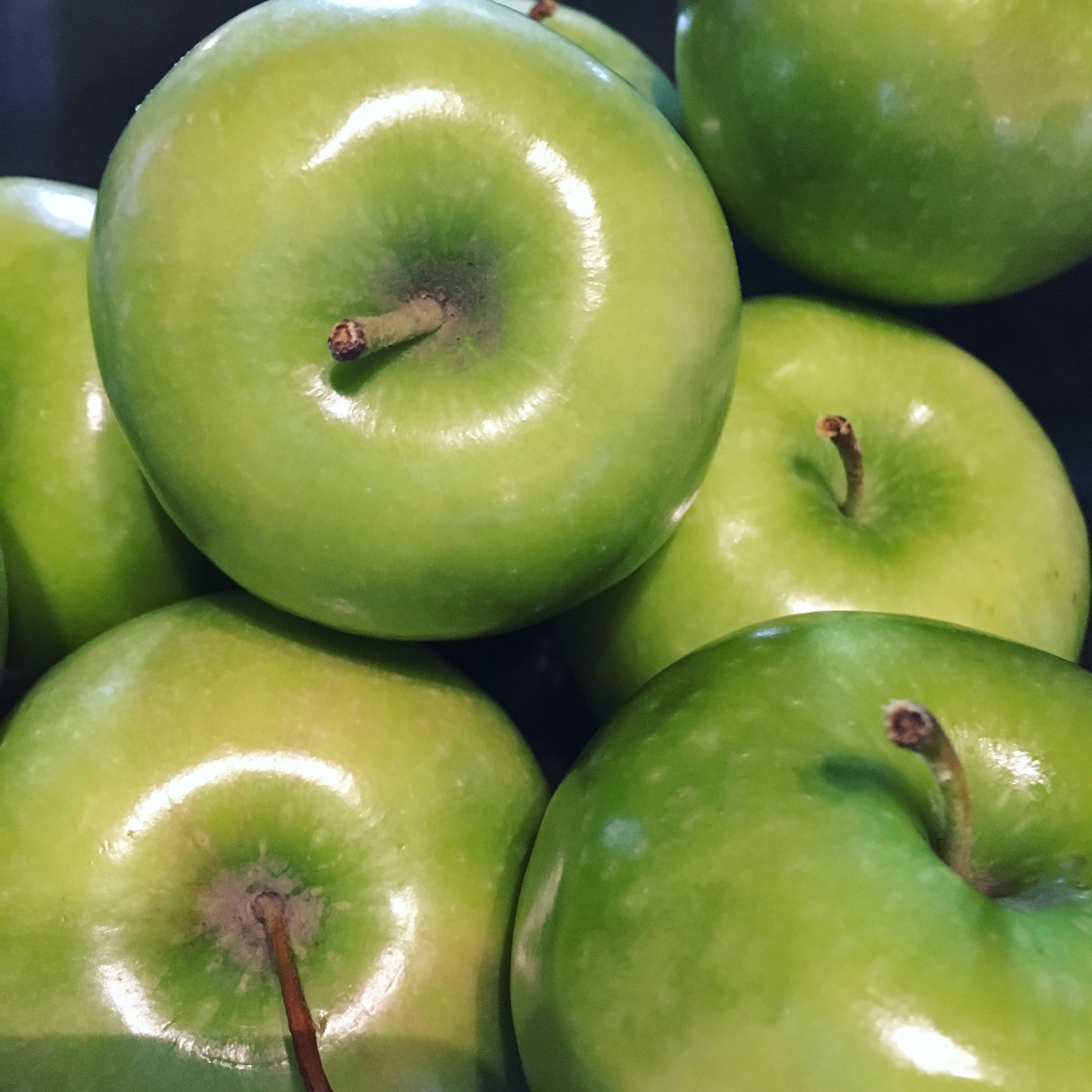 I used a newly purchased (if slightly dysfunctional) apple peeler machine to peel all of them, and it worked mostly well. After they were peeled, I cored and sliced them. Do your best to get them about the same thickness, but I personally like a little variety in texture after they're baked down.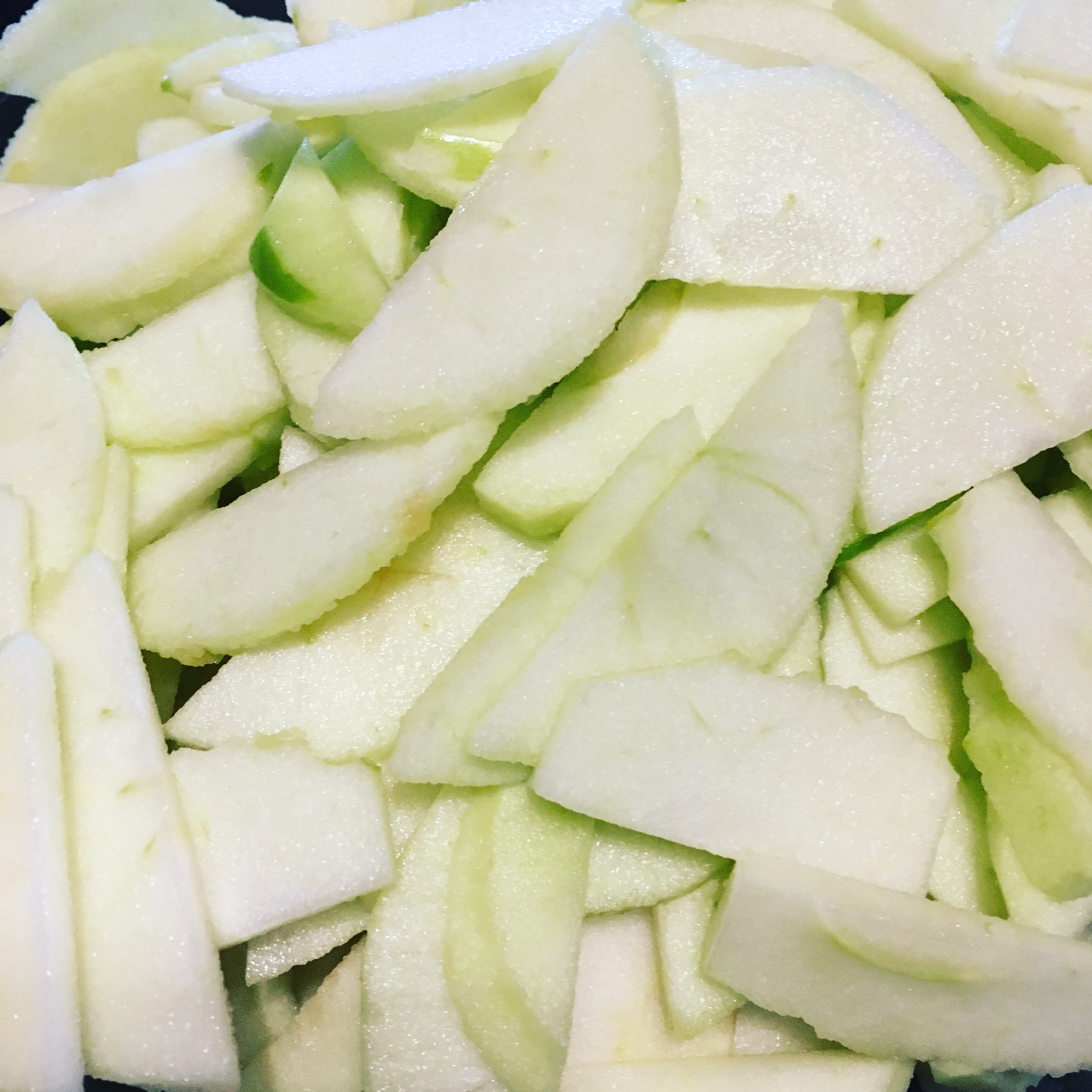 While the oven preheats to 425 degrees F, melt a stick of butter over medium heat in a medium saucepan. (It doesn't specify, and I usually use unsalted butter for baking recipes, but I opted to use salted butter here since there was no additional salt in the recipe.) Add the flour to the melted butter and mix well. Mine didn't form a "paste" but it got quite thick. Add all of the remaining ingredients and bring to a boil (for one minute) before reducing the heat and simmering for another minute.
It will form a delicious caramel-y syrup. Use about ¾ of this to coat the apples, by gently stirring/tossing them in their large bowl. (The original recipe recommends using ⅔ of the mixture, but I felt like I had a little too much when it came to the top.)
Pour the coated apples into the bottom pie crust, mounding it a little towards the center. Cover with your lattice top (or whichever top you prefer; I happen to prefer lattice, despite my inexperience). Brush the remainder of the caramel-y mixture over the top of the crust.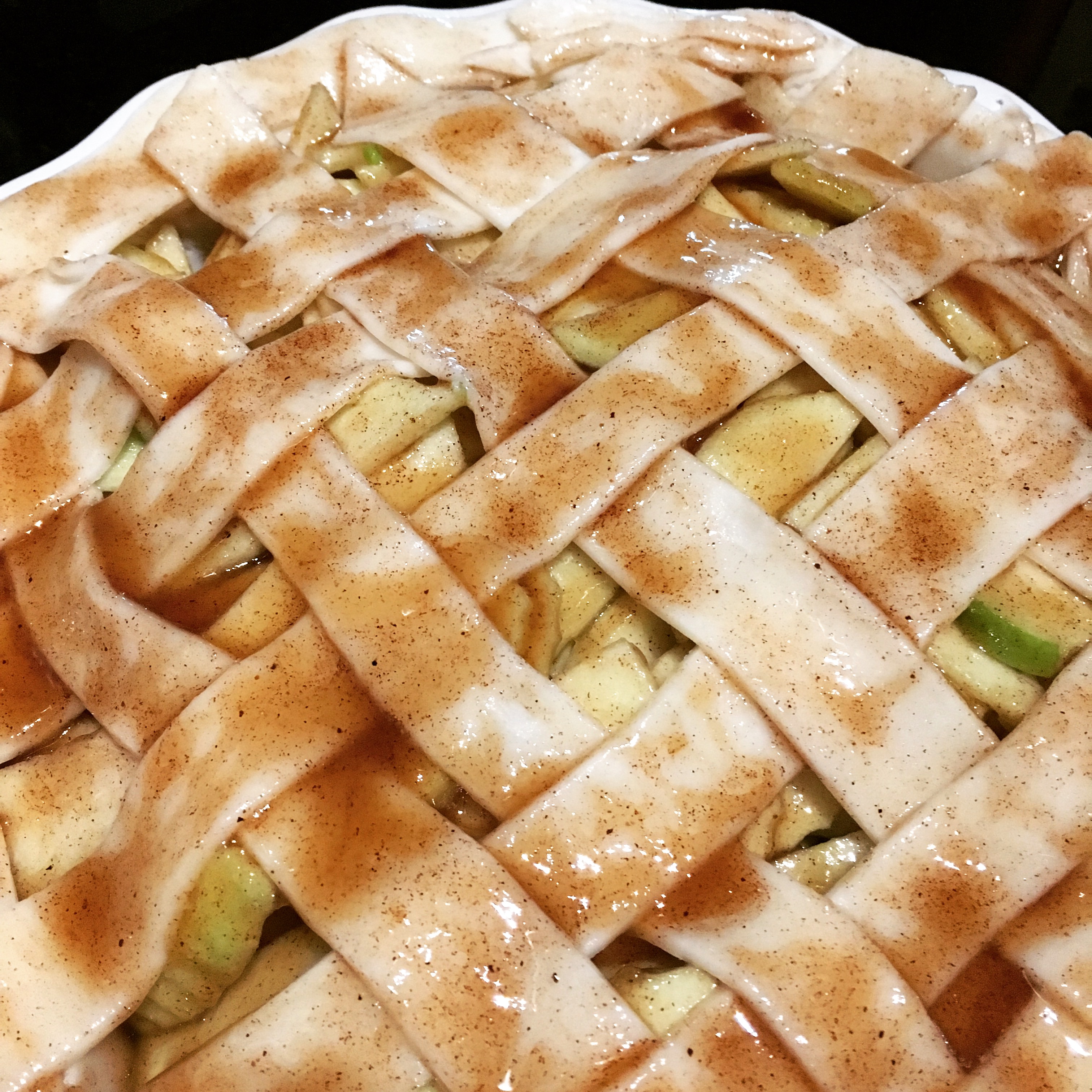 Before it goes in the oven, lightly spray some aluminum foil with baking spray so it doesn't stick to the pie. Place the pie dish on a cookie sheet and bake it for 10-12 minutes at 425 degrees F. Then, turn the oven down to 350 degrees and bake it for an additional 50 minutes, or until the crust is golden brown and the apples are soft. Mine baked longer, about 65 or 70 minutes, so that I could get the right color on the crust and the apples were baked through to my liking.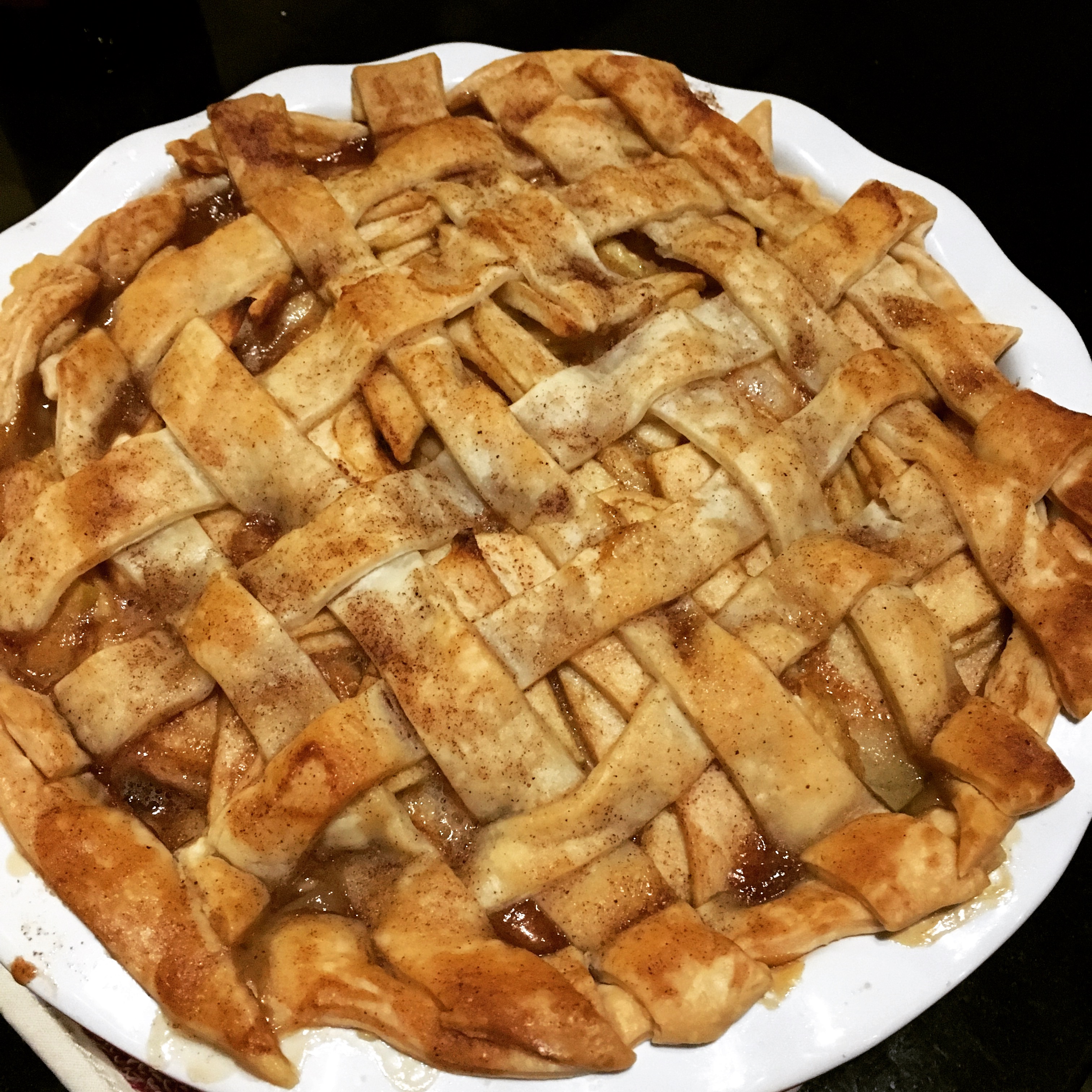 Wait as long as you can for it to cool and then cut it up to share. 🙂 This pie would make an excellent addition to your Thanksgiving celebration, or whenever you have a hankering for some delicious apple pie.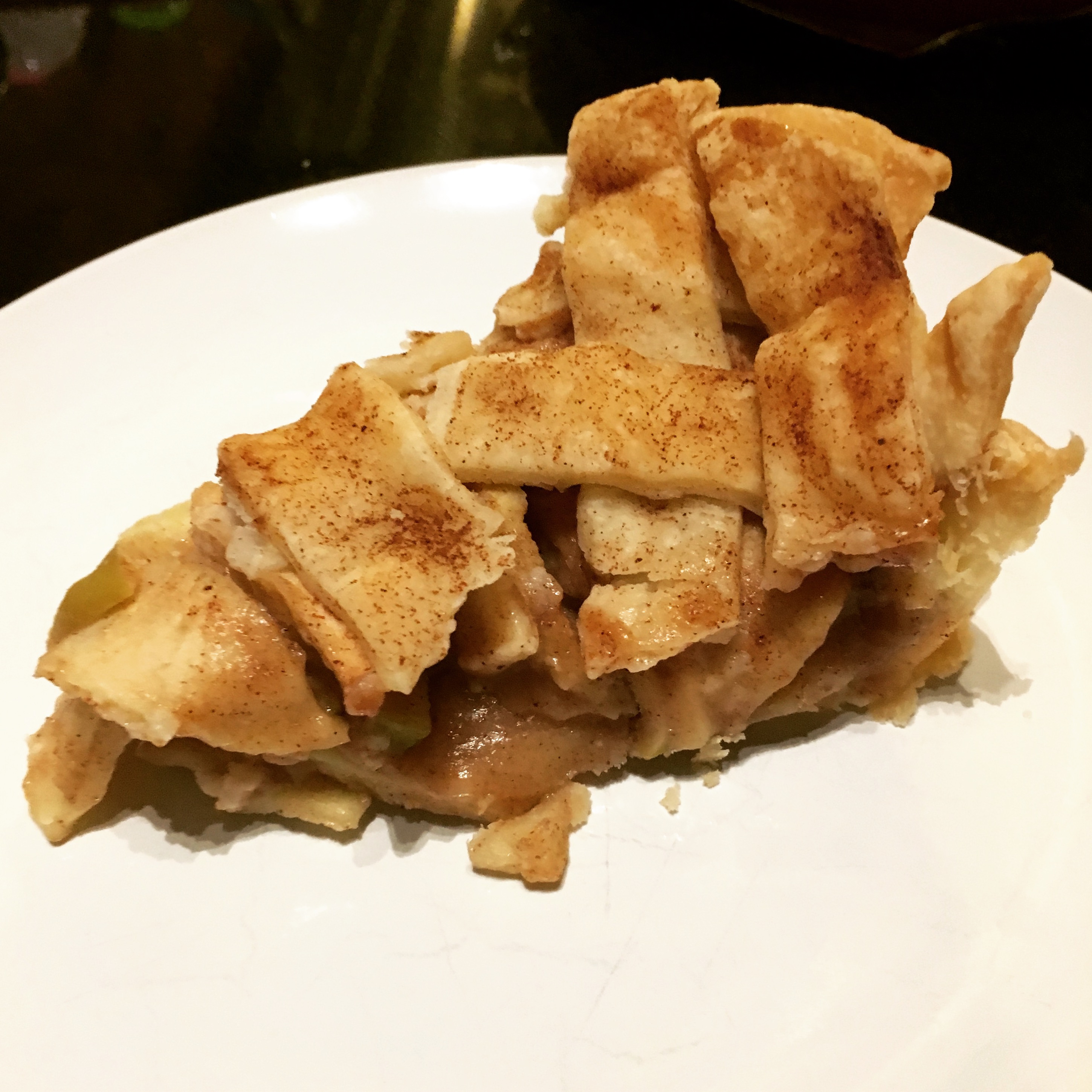 The Best Apple Pie Ever
Ingredients
2 refrigerated pie crusts (1 package), or 2 batches of homemade crust
7 to 8 small granny smith apples, peeled, sliced, and cored
1 stick butter
3 tbsp all-purpose flour
¼ cup water
½ cup white sugar
½ cup brown sugar
1 heaping tsp cinnamon
¼ tsp nutmeg
1 tsp vanilla
Directions
Place the peeled, cored, and sliced apples in a large bowl. Set aside.
Preheat oven to 425F.
In a medium sauce pan, melt butter over medium heat. Add the 3 tbsp of flour and mix well, forming a paste. Add the water, sugars, cinnamon, nutmeg, and vanilla and mix well. Bring to a boil for 1 minute, then reduce heat to a simmer for an additional minute.
Remove from heat and reserve about 1/3 cup of filling for pie crust. Add remaining filling to apples. Toss well.
Pour apples into prepared pie crust, mounding slightly. Top with second pie crust (lattice design, etc). Brush the remaining 1/3 cup caramel filling over the crust.
Cover the pie loosely with aluminum foil. I lightly spray the foil so it does not stick to the pie. Place the pie on top of a cookie sheet (to catch any drips) and bake at 425F for 10-12 minutes. Reduce the heat to 350F and bake for another 50 minutes (remove the foil the last 10 minutes to let the crust brown), or until done. The pie is done when the crust is golden-brown and the apples are soft when pierced with a fork.
Allow the pie to cool before serving. Enjoy!