I've watched the movie The Secret Garden countless times since I was a child (it came out when I was about 7), but until now, I had never read the book. While looking for a "palate cleanser" after my last read, I was delighted to find this on my shelf. I immediately dove in.
A children's classic, The Secret Garden has been around since 1911. Orphaned in India, Mary Lennox is brought to live at her reclusive uncle's mansion in England. She is pale and very thin and has a sour disposition. With some prodding from Martha, the housemaid who brings her meals, Mary begins exploring the grounds. She learns of a secret garden that no one has set foot in for ten years and becomes determined to find it.
Spending time outdoors fuels Mary's appetite, causing her to put on weight and gain some color in her cheeks. Not only does her health improve, her disposition begins to improve as well. Following the sounds of his cries one night, Mary encounters a cousin she didn't know she had, a sickly boy named Colin. He is spoiled as she once was, moody and prone to tantrums. He has spent most of his life in his bedroom.
Mary tells him about the secret garden and he too becomes invested in finding it. When she's not outside in the garden, she regales him with stories about the friendly robin, who shows her the way inside, and Martha's brother Dickon, who helps her bring it back to life. Colin longs to see it himself and covert arrangements are made so that he can visit it nearly every day.
With fresh air and a renewed spirit, Colin, like Mary before him, begins to regain his health and become more agreeable. The cousins notice, proudly, that they are both getting fatter and stronger by the day. When they are not sneaking roast potatoes and eggs in the garden, they are gobbling down meals of sizzling ham and snow-white eggs at meal times. 
For me, Mary's first breakfast at Misselthwaite Manor has always been memorable, and I was pleased to see the scene in the book is similar to the one in the movie. When Martha presents her with the porridge (served with "a bit o' treacle" and a "bit o' sugar"), she refuses. As she finds her appetite, Mary happily finishes her porridge (and anything else!) when it's presented to her.     
I found a recipe for Baked Oatmeal with Brown Sugar and Molasses, and decided to make iit on our first chilly, fall morning last weekend. Nothing like a cozy bowl of porridge and a cup o' tea to warm you up.
A very simple recipe, it's easy to make even when you're sleepy first thing in the morning. First, I combined all of the dry ingredients (oats, cinnamon, sugars and baking powder) in a small bowl.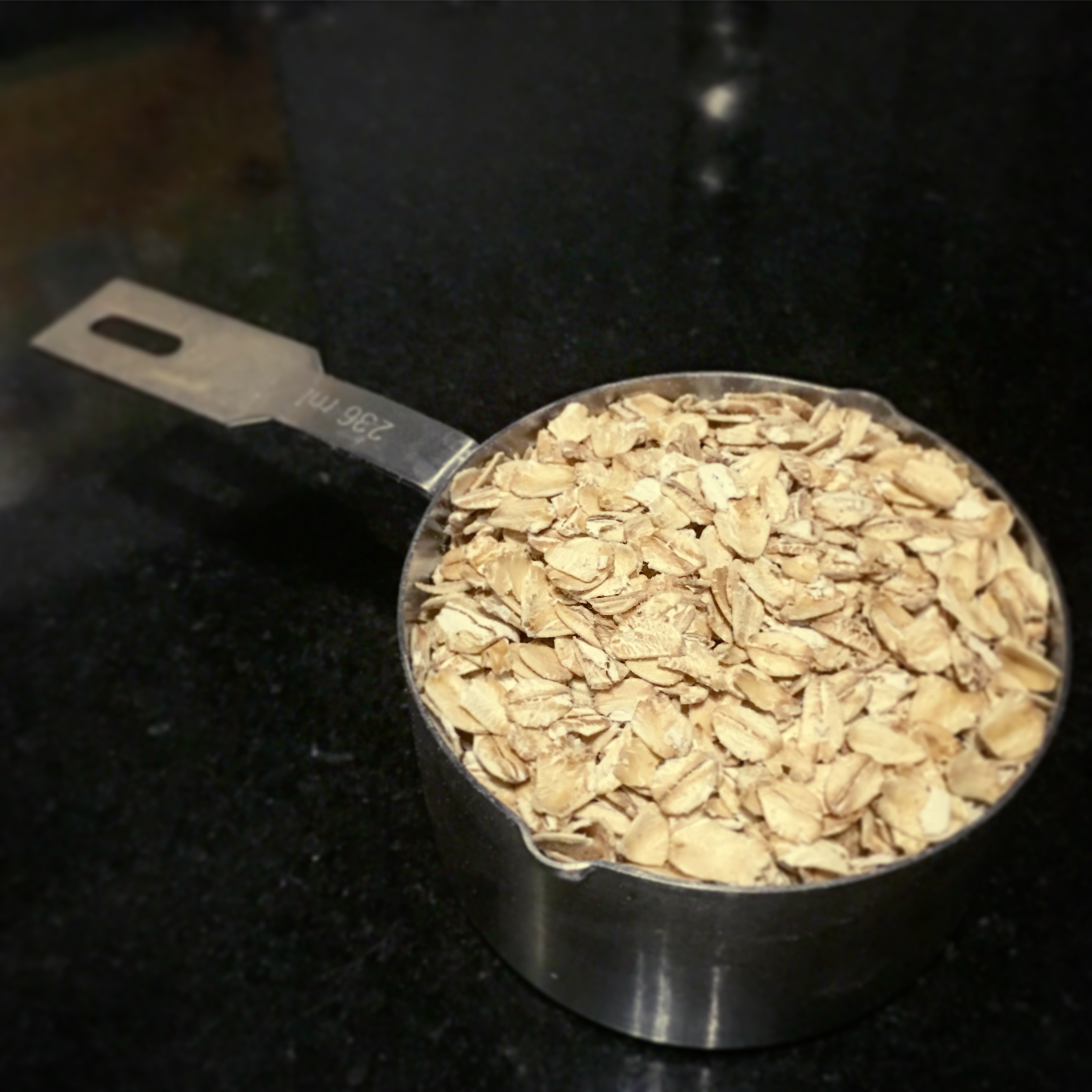 To that mixture, I added the wet ingredients - molasses, butter extract (which smelled delicious), vanilla extract, milk, water and apple cider vinegar. I know adding the vinegar sounds odd, but as the original recipe warns, do not skip it. Despite adding it, I still found the final product quite sweet and I can't imagine it without. You can't even taste it, I promise.
I poured it into two prepared single-serving bowls and baked for about 25 minutes. The bowls I had (or, actually, borrowed from a friend - thanks, Deanna!) were only oven-safe up to 350 degrees, so I couldn't broil as recommended for the last 3-4 minutes and was left without the crispy top. The oatmeal was excellent anyway, but if you're able and so inclined, give the broiling a try.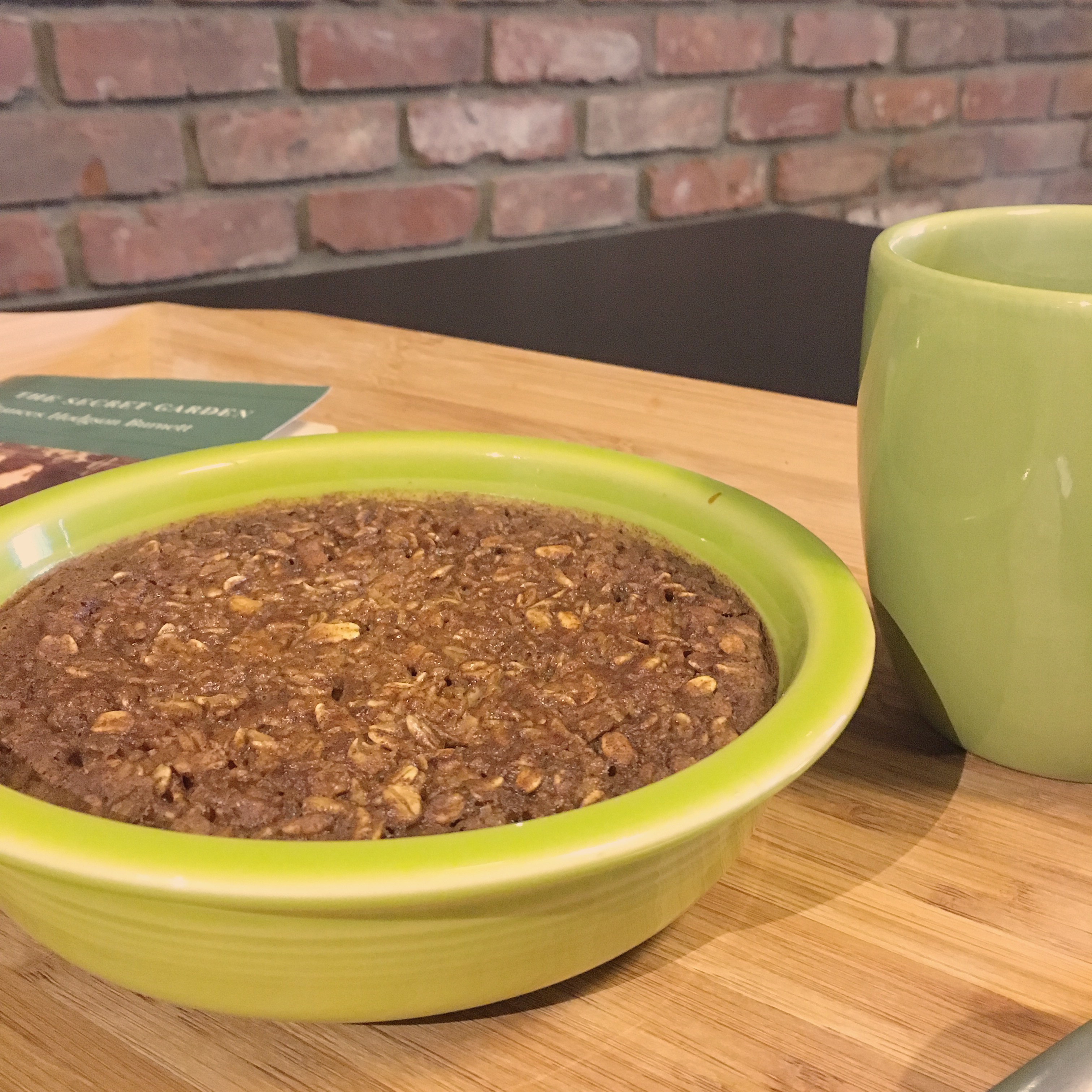 Baked Oatmeal with Brown Sugar and Molasses
Servings
2
1/2-cup servings
Ingredients
1

cup

old-fashioned oats

1

tsp

cinnamon

1

TBS

brown sugar

2

TBS

granulated sugar

1/2

tsp

baking powder

1/2

cup

2% milk

1/2

cup

water

2

TBS

molasses

1/2

tsp

butter-flavored extract

optional

1/2

tsp

vanilla extract

2

tsp

apple cider vinegar
Instructions
Preheat your oven to 350 degrees F.

Spray 2 small baking dishes (single serving sized) with cooking spray and set aside.

In a small bowl, mix the oats, cinnamon, brown sugar, sugar and baking powder.

Add in the milk, water, molasses, vanilla extract, butter extract, and apple cider vinegar.

Pour into prepared baking dish and bake for 25 minutes.

If able, turn oven to HIGH broil and broil for the last 3-4 minutes, making sure it doesn't burn.

Let cool for 5 minutes so you don't burn your mouth off and then devour!
This post contains affiliate links. Full disclosure here.