Last fall, my cousin Nora and I campaigned hard for Pumpkin: The Curious History of an American Icon at our Good Reads & Good Eats book club - primarily so we could pair it with dinner at The Jolly Pumpkin. We were the only two who voted for it.
Still, the book stayed on my mind, and this fall, I decided to buy a used copy of it - primarily so I could make my very favorite dessert for the blog. Not that I didn't want to learn the history and virtues of pumpkins; I just really wanted an excuse to make pumpkin pie.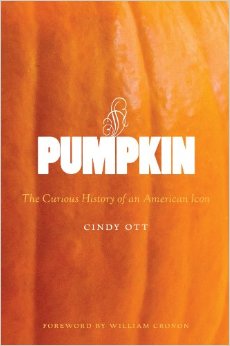 As the title promises, Pumpkin: The Curious History of an American Icon is chock-full of facts about pumpkins. In fact, as someone's Grandma Jane wrote in the note that fell out when I opened my new-to-me copy of the book, it contains "absolutely more than you'll ever remember about pumpkins!"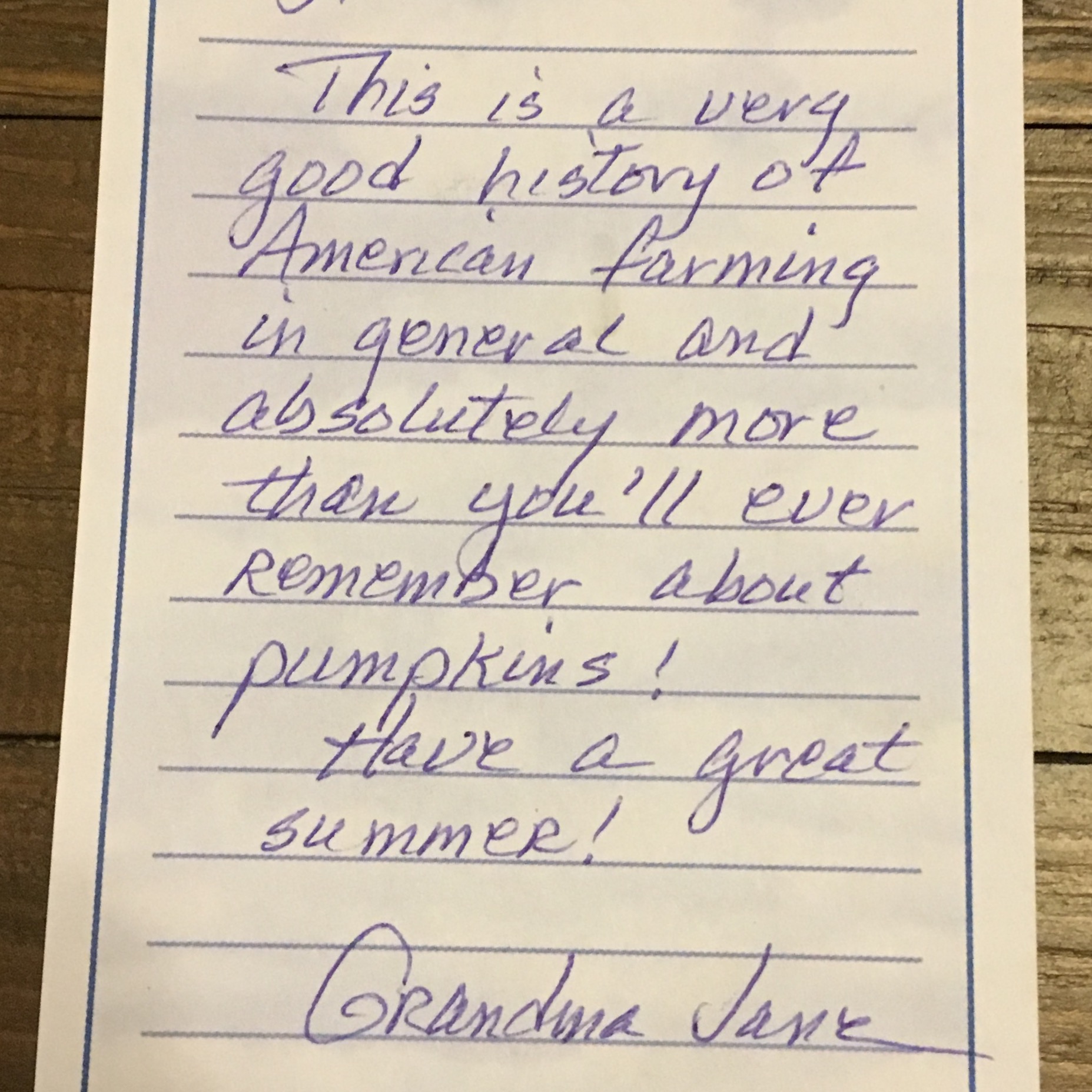 Grandma Jane was right! There is way more information than I could ever remember, or that I ever needed to know. I'll share a few:
In the very early days of farming, pumpkins and squash were basically interchangeable, in name as well as use. They were prized for their ability to grow abundantly in almost any condition and were often fed to livestock. Sweet pumpkin pie originated in the late eighteenth century and  was included in the first American cookbook by Amelia Simmons. By the time manufactured products became widespread, canned pumpkin made using fresh pumpkins in the kitchen seem like "an old-fashioned novelty." And, even though canning made it possible to eat pumpkin year-round, Americans continued to prefer to eat it in the fall, particularly as part of the Thanksgiving meal.   
That's probably why I was so looking forward to making pumpkin pie. The fall harvest has arrived - just look at all of the beautiful pumpkins and squash on display at Eastern Market this past Saturday!
I dug up my trusty pumpkin pie recipe, which I love because it's well-seasoned. There's nothing worse than a pumpkin pie that tastes like straight-out-of-the-can pumpkin. Though it's called Scratch Pumpkin Pie, I've never actually made it from scratch because I'm way too impatient to spend 4 hours prepping and baking a pie before it's ready to eat, and this time was no different.
For the crust, though, I shirked my usual go-to (the store bought frozen kind) and decided to go the homemade route. Despite my fear of additional prep time, the homemade crust really didn't add more than 15 minutes or so. Plus, it tasted better. I used a recipe from one my very first cookbooks (courtesy of my mother, while I was in college), Anyone Can Cook.
I stirred the flour and salt together and then used my pastry blender to cut in the shortening. I filled a small prep bowl with cold water and grabbed a fork and tablespoon to begin moistening the dough.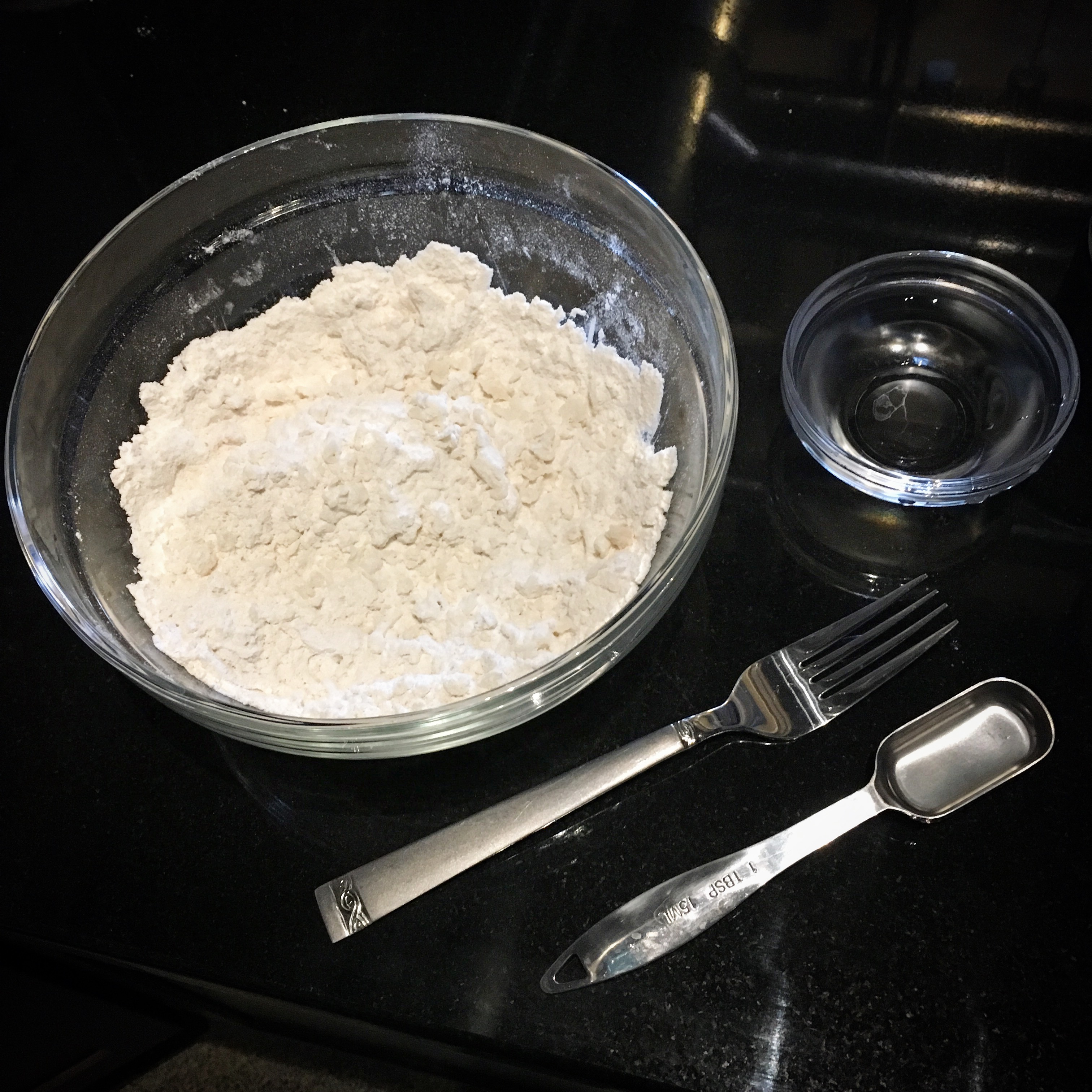 I probably ended up using closer to 6 or 7 tablespoons, but the recipe suggests 4-5 tablespoons. Use your best judgement - it shouldn't be wet but should definitely be well-moistened.
I formed the dough into a ball and flattened that into a thick disk before rolling it out. As directed, I used the rolling pin to help lift the dough into the pie dish. I trimmed the edges where needed, folded any overhang underneath, and pressed the dough to fit the scalloped pattern of my dish.
When not using fresh pumpkin, the prep for the custard filling is easy. I use only 1 can of pumpkin puree (15 ounces), then add in the sugar, salt, spices and eggs. Once that's combined, stir in the can of evaporated milk. I usually just use a wooden spoon, but you could use a whisk or hand-mixer if so desired.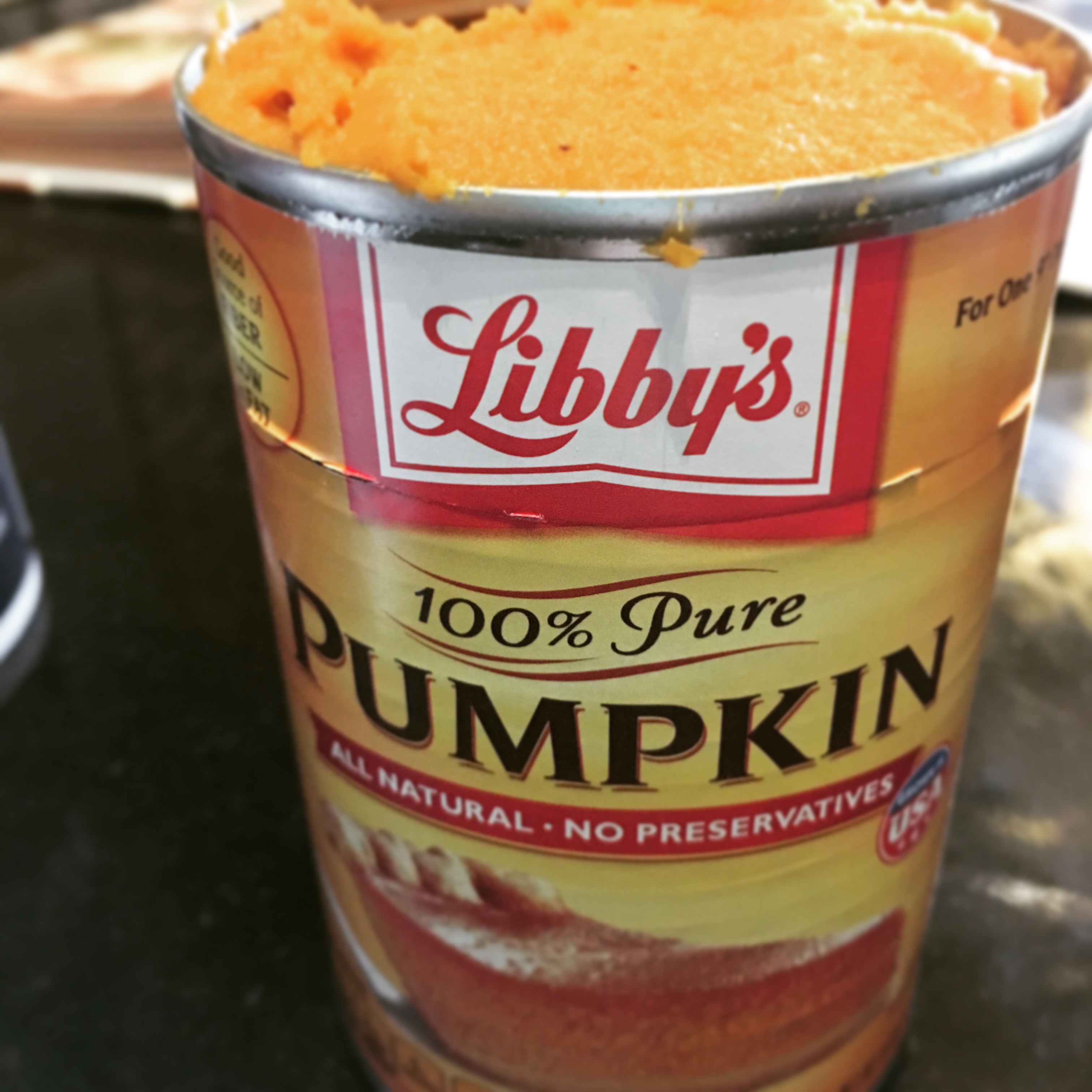 If you're using store bought frozen pie crust, this makes too much filling. Fill the pie to almost the top of the crust; put any leftover filling in a small oven-safe bowl to bake separately in a water bath like a custard. (This is an excellent way to test your filling before you serve it, though I've never had any complaints with this recipe!) You'll also need to watch the cook-time on the smaller portion, as it may not take as long as the whole pie.  
Because I used homemade crust in a larger pie dish (10-inch), this amount filled the pie up perfectly. I covered the edges in foil, so they didn't brown too quickly and put it in the oven for about 80 minutes. (If using a smaller pie dish or a frozen crust, cook-time will be closer to the original recipe at an hour.)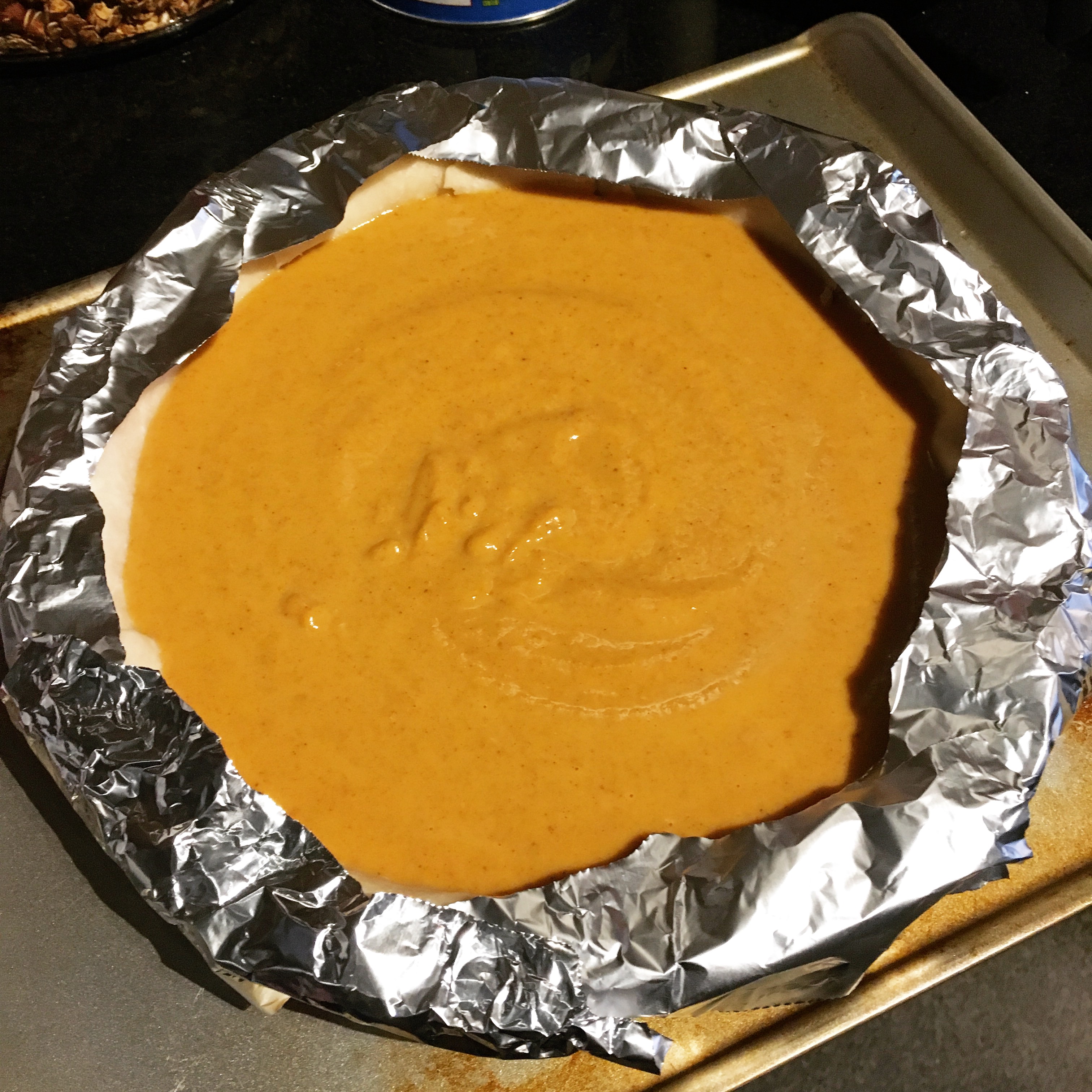 I did want some color on my crust, so I removed the foil with about 20 minutes left. You'll know the pie is done when a knife or cake tester comes out clean. Allow it to cool, and enjoy!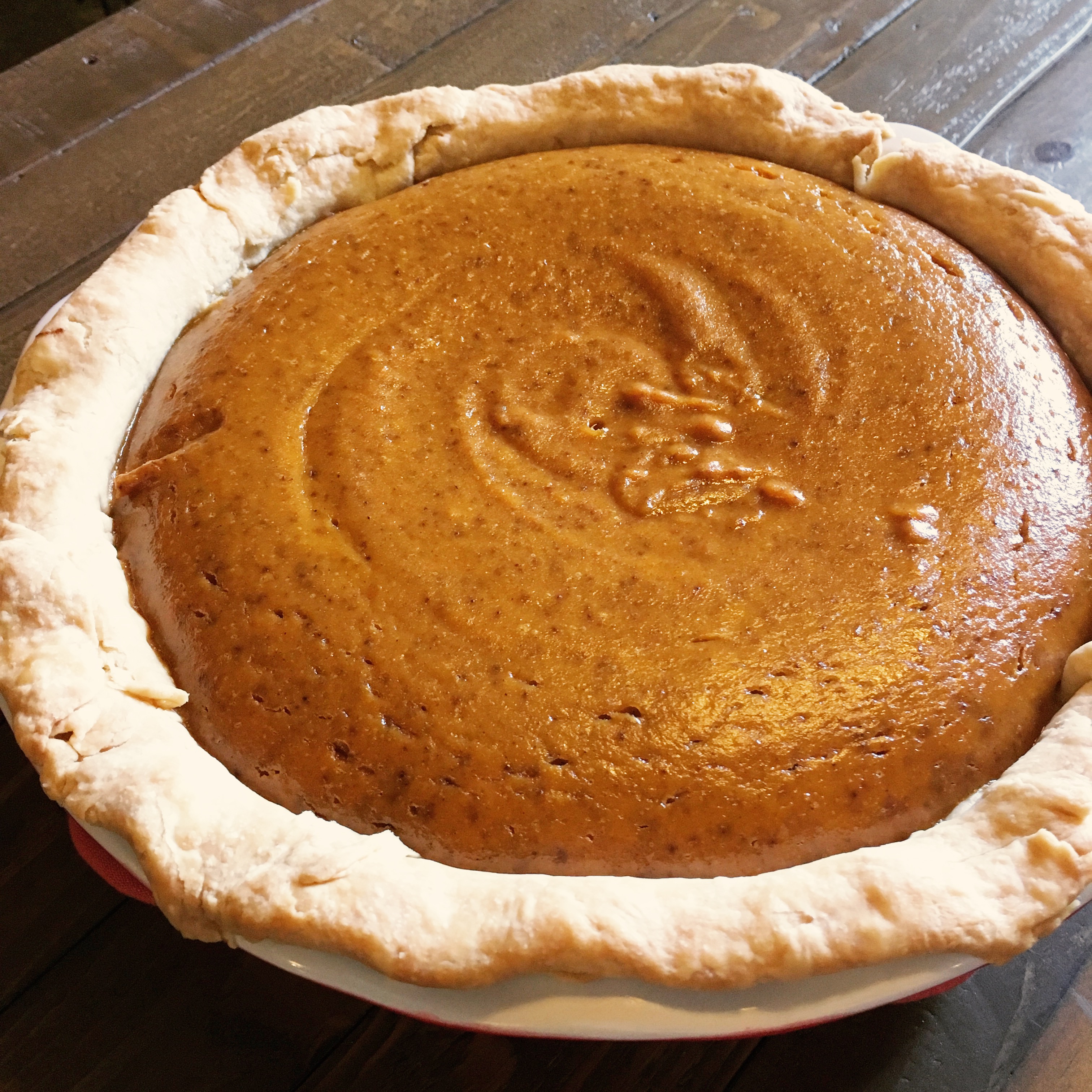 Pumpkin Pie
Adapted from: Cheri B's Scratch Pumpkin Pie,
Food.com
Ingredients
1 15-ounce can pumpkin puree
1 12-ounce can evaporated milk
3 eggs
¾ cup sugar
½ teaspoon salt
1½ teaspoons ground cinnamon
1 teaspoon ground ginger
½ teaspoon nutmeg
½ teaspoon ground cloves
1 pie shell, 9-inch deep dish up to 10-inch (homemade or store bought)
Directions
In medium bowl, add pumpkin puree, sugar, salt, spices, eggs. Mix until combined, then carefully add evaporated milk and stir.
Pour into pie shell, foil edges, and place on foiled, cookie sheet and bake 350°F for 50-60 minutes. Give knife clean test. If not clean, bake longer. [Larger pie dishes will require longer baking times. My 10-inch pie baked for 80 minutes.]
If using a smaller pie crust/dish, pour leftover pumpkin pie mix into a greased oven-safe dish (up to 1-quart) and bake in a water bath like custard. [This may take less time to bake than the pie.]
Pastry for Single-Crust Pie
From Better Homes & Gardens
Anyone Can Cook
(Book 20, published in 2007), page 470
Ingredients
1¼ cups all-purpose flour
¼ teaspoon salt
⅓ cup shortening
4-5 tablespoons of cold water
Directions
In a medium bowl, stir together all-purpose flour and salt. Using a pastry blender, cut in shortening until pieces are pea-sized.
Sprinkle 1 tablespoon of cold water over part of the flour mixture, gently tossing with a fork. Push moistened dough to one side of the bowl. Repeat moistening flour mixture, using 1 tablespoon at a time, until all the flour mixture is moistened.
Form pastry into a ball.
On a lightly floured surface, roll dough into a circle about 12 inches in diameter. [Or larger, if needed to properly fill/cover your pie dish. Mine was closer to 15 inches.]
Wrap pastry circle around the rolling pin to transfer it; unroll circle into a 9-inch pie plate. [Mine was a 10-inch dish.] Ease into pie plate without stretching it.
Trim pastry ½ inch beyond edge of plate. Fold under extra pastry. Crimp edges as desired.