From serious memoir to childhood favorite to suspenseful thriller - my last three books have been a little sporadic. The Couple Next Door is certainly more adult than The Secret Garden, but secrets still abound. After a shocking ending to a dinner party with (not surprisingly) the couple next door, Marco and Anne's seemingly perfect life begins to unravel.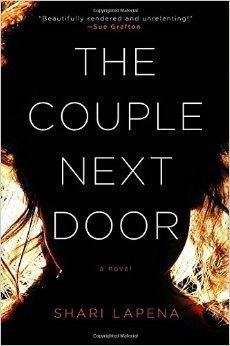 Shari Lapena's The Couple Next Door was fast-paced, with new revelations at nearly every turn of the page. With a cast of characters that included an inappropriately flirtatious neighbor, a stay-at-home mom with a questionable past, and a power-hungry stepfather, no one's motives were clear but everyone was suspect.
As the plot twisted here and turned there, food didn't play much of a role. Despite starting with a dinner party, nothing much was mentioned aside from coffee. Uncertainty breeds sleeplessness, and the best cure for that is caffeine. In one instance, Lapena points out that the two main characters were "both living mostly on coffee and despair."
In an effort to impart some comfort on a decidedly uncomforting storyline, I opted to make banana bread - with a coffee glaze. Comfort meets caffeine, thanks to this recipe from A Latte Food.
Like most quick breads, this one is pretty easy to get together. The really hard part is waiting for the baking (and cooling!) before you can finally eat it.
I had already-brewed coffee ready to go, but if you don't, I suggest starting that process before you make the bread. I began by mashing up the bananas, which is always fun to do first thing in the morning. (Make sure your bananas are ripe. See them pre-mashed below; and mashed, with Beta looking on, wondering why she can't have some of her favorite fruit too.)
I creamed the softened butter together with the sugars, adding the eggs and vanilla extract once the mixture was light and fluffy. To the wet ingredients, I slowly incorporated the flour, salt and baking soda. Once all was well-combined, I added the mashed bananas, stirring until just mixed.
Once in the prepared loaf pan, I let it bake in the oven for about an hour. With a few minutes to spare before the bread came out of the oven, I began the glaze so I could pour it over the loaf before it cooled completely. I whisked together the powdered sugar, brewed coffee and vanilla extract to form a light coffee-colored glaze.
I drizzled it over the still-cooling banana bread, with a plate underneath to catch any sugar-y drips.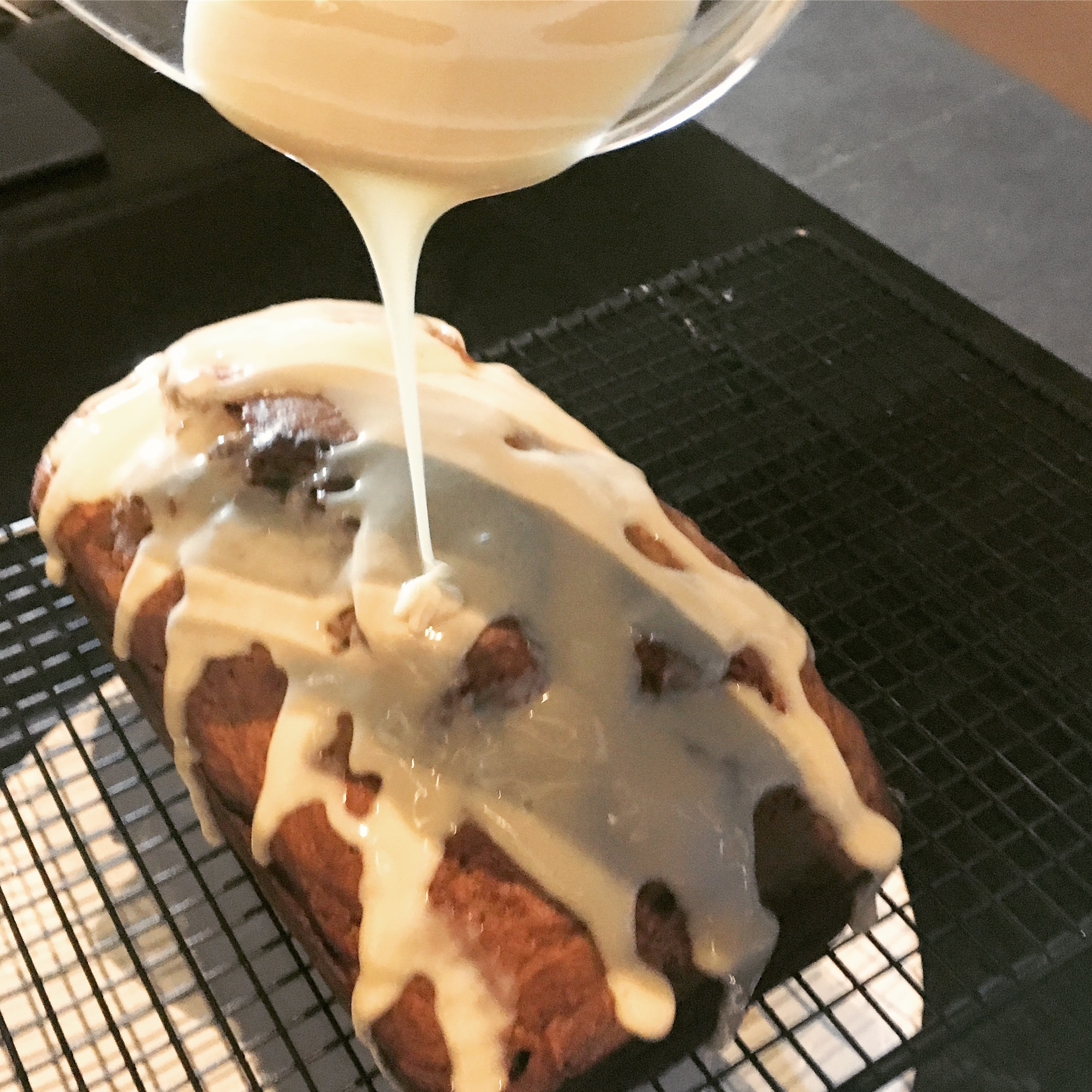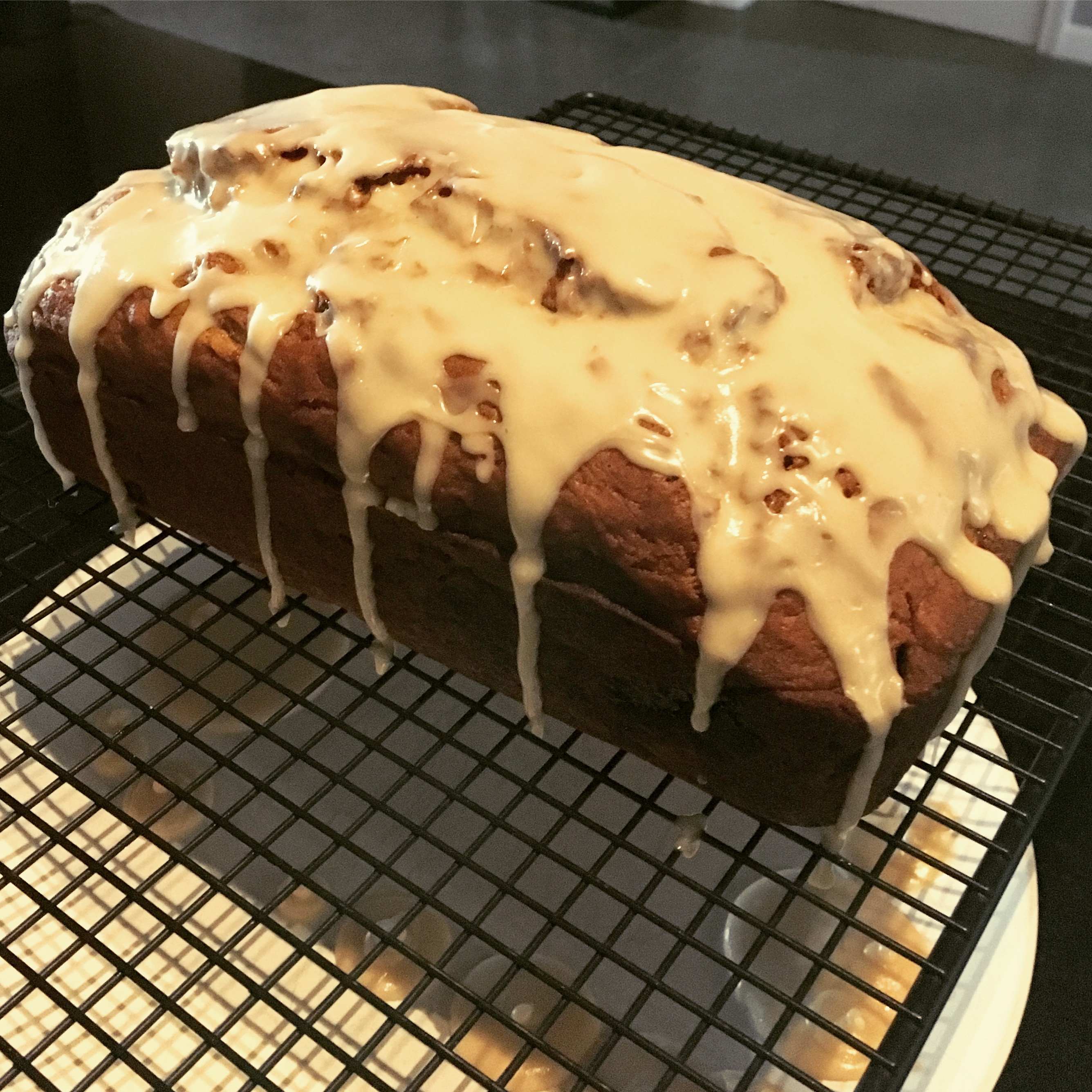 For those of you who don't know me, I have a confession to make: I don't like coffee. (Rory Gilmore would be horrified, I know.) I do, however, love banana bread. I thought the glaze tasted exactly like coffee, but Scott - who loves coffee - thought it tasted more like sugar. When I brought it to work, consensus all around was that it tasted good. If you actually like coffee, and prefer a more coffee-flavored glaze, I would suggest adding the espresso powder.
Or just enjoy it with a cup of coffee.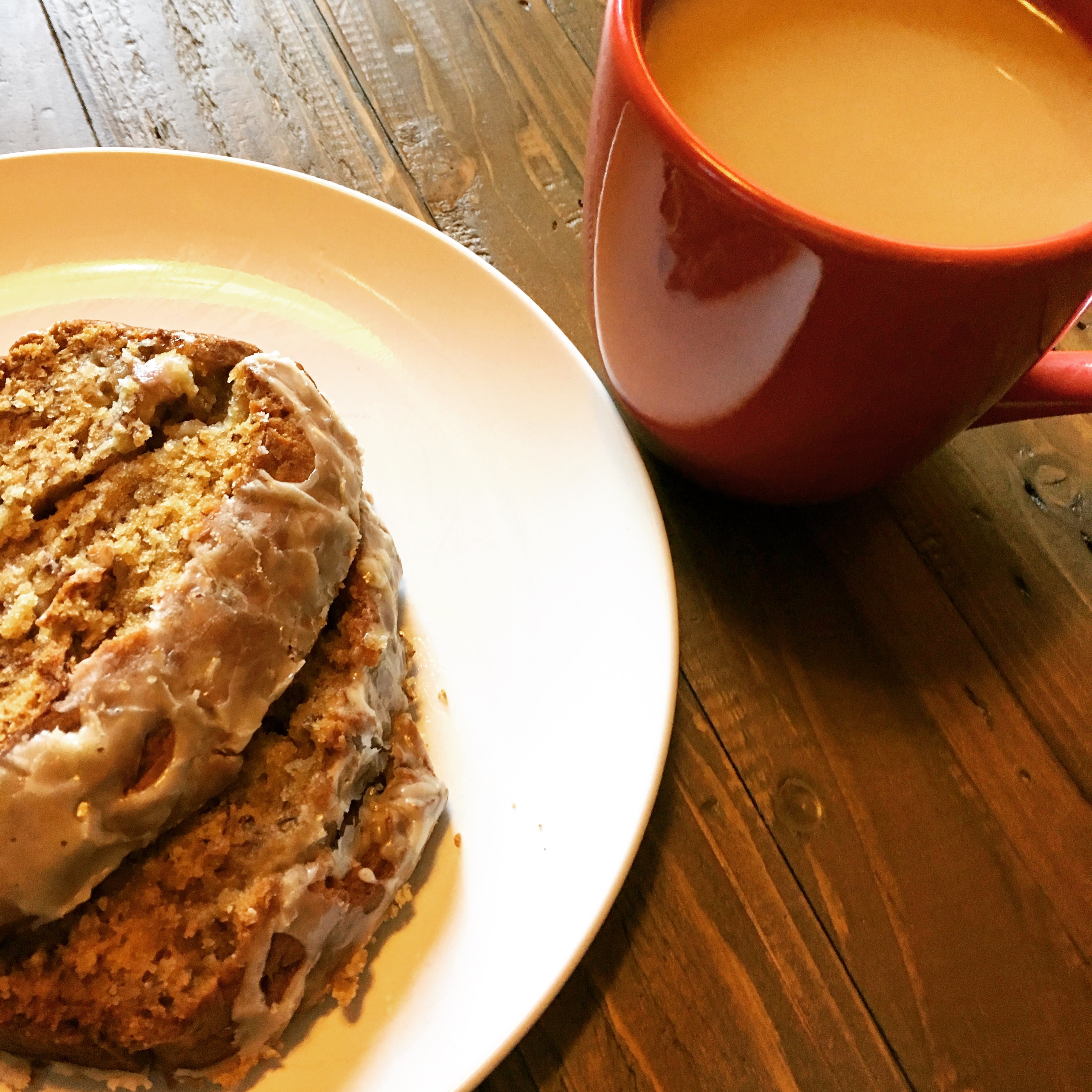 Coffee-Glazed Banana Bread

Very slightly adapted from: A Latte Food

Ingredients
Bread

½ cup butter, softened
½ cup sugar
⅓ cup brown sugar
2 eggs
2 cups all-purpose flour
1 tsp baking soda
¼ tsp salt
3 to 4 medium or large bananas
1½ tsp vanilla extract

Coffee Glaze

2 TBS strong coffee, brewed
1 cup powdered sugar
½ tsp vanilla extract
¼ tsp espresso powder (optional)
Directions
Bread

Preheat the oven to 350. Grease a 9x5 loaf pan.
In a small bowl, mash bananas. Set aside.
In a large bowl, cream butter sugar, and brown sugar together until light and fluffy.
Add in the eggs, one at a time, beating well after each addition. Add in vanilla extract, and mix.
Sift together the flour, baking soda, and salt in a separate bowl. Slowly incorporate the dry ingredients into the wet ingredients, and stir until just combined.
Add in mashed bananas, and mix until combined. Pour into prepared loaf pan.
Bake for about 60 minutes, or until a cake tester comes out clean with just a few moist crumbs stuck to it.
Allow to cool for 10 minutes. Move to a wire cooling rack.

Glaze

While bread is cooling, mix together powdered sugar, vanilla extract, espresso powder (if using), and 2 TBS brewed coffee. If the glaze is thicker than your desired preference, add in additional brewed coffee. [I used 2 TBS of coffee and no espresso powder and it was a perfect thickness; according to many, however, the flavor was not enough like coffee. Additional liquid may be required if adding the powder, but taste as you go to ensure a flavor you like.]
Pour the glaze evenly over the loaf. Allow the glaze to harden completely before cutting into slices.