Even though Kristin Hannah's historical novel The Nightingale was one of last year's bestsellers, I just now got around to reading it. I actually checked it out of the library a few times before but always put it down in favor of a shorter (and generally happier) selection. Thankfully, one of my book clubs - the sporadically-meeting one at work - chose it for our next meeting, so I finally had no choice but to pick it up, and I'm glad I did.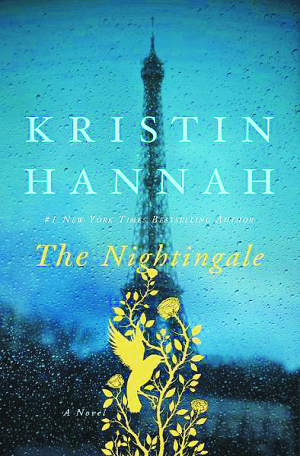 Set primarily in France during WWII, The Nightingale tells the story of two sisters, Vianne and Isabelle. Though they take different paths, both sisters do what they must to make a difference in others' lives, even while struggling to survive their own.
As with any novel set during a war, you shouldn't head into this expecting an "enjoyable" read because it isn't. In fact, just when I thought things couldn't get any worse for the sisters, they inevitably did. The Nazis' brutality came alive on the page.
Hannah certainly didn't spare her characters any heartache or physical pain, but she wrote with such poignancy that tender moments became that much more tender and triumphs that much more victorious. Her writing painted a vivid picture of life in German-occupied France. Her descriptions of food, in particular, helped to contrast times of bounty against times of hardship.  
"Two years ago this pantry had been full to overflowing with hams smoked in ash and jars full of duck fat set beside coils of sausage. Bottles of aged champagne vinegar, tins of sardines, jars of jam. Now, they were nearly to the end of the chicory coffee. The last of the sugar was a sparkly white residue in the glass container, and the flour was more precious than gold. Thank God the garden had produced a good crop of vegetables in spite of the war refugees' rampage."
Throughout much of the novel, food was scarce but Le Jardin, Vianne's residence, continued to provide. In a nod to her garden, I opted to make a French galette, or sort of rustic tart, filled with local summer vegetables. I found a recipe from Foodie Crush and made it my own.
I caramelized the onions for about an hour, but if you have the time, I'd recommend going longer. Mine weren't quite as caramelized as I like them, but I was hungry and impatient. While they cooked down on the stove, I prepped the Michigan-grown tomatoes and zucchini, which were gorgeous.
I assembled the galettes with some pre-made trimmed pie crusts (time saver!) by brushing the edges with egg white and then coating the center with Dijon mustard. I topped each pastry with the caramelized onions, some neat rows of zucchini coins (sprinkled with thyme) and thinnish slices of tomato. A generous coating of crumbled goat cheese and some salt and pepper finished them off.
One more brush of egg white along the folded edges to add some color while baking and into the oven they went. After 25 minutes, they came out like this:
Summer Vegetable Galette with Goat Cheese
Ingredients
1

large yellow onion

peeled, halved and sliced

1

tablespoon

olive oil

1

tablespoon

butter

2

refrigerated pie crusts

1 box

1

egg white

beaten

2

tablespoons

Dijon mustard

1-2

large tomatoes

sliced

2

medium zucchini

thinly sliced

3/4

cup

crumbled goat cheese

Dried thyme

Salt and freshly ground black pepper
Instructions
Preheat a large saute pan over medium heat and melt the butter and olive oil together. Add the sliced onions, season with salt and pepper. Reduce the heat to medium-low and slowly cook the onions for about 1 hour (longer if desired), stirring occasionally until the onions are soft and caramelized. Set aside to cool.

Preheat the oven to 400 degrees F.

Cut one of the refrigerated pie crusts into a square (removing the rounded edges, discarding or saving for later use), roughly 7" x 9". Place the pie crust onto a large baking sheet covered in parchment paper. Lightly brush the pie crust with the beaten egg white, inward about 1" from the edges.

Spread 1 tablespoon of Dijon mustard on the interior of each pie crust. Scatter the caramelized onions onto the mustard. Layer the zucchini slices over the onions (approximately 3-4 rows). Sprinkle dried thyme onto the zucchini. Top with the tomato slices.

Sprinkle the entire tart with goat cheese, as desired. I used about 3/4 cup of Provençal Herb goat cheese, which included basil among other seasonings. (You can use whatever goat cheese you prefer.) Season with salt and pepper.

Fold the long edges of the pie crust over and then the short edges on each galette. Brush the edges of the crust with egg white.

Bake the galettes for 20 - 25 minutes, or until the crust is golden and the vegetables are softened. Slice and serve warm or at room temperature.
This post contains affiliate links. Full disclosure here.