I don't just enjoy cooking and eating (and writing) about food, I also enjoy reading about it - whether it be literature, a piece of nonfiction or another blog. Most often in my case it comes in the form of a memoir, like my latest read, Blood, Bones and Butter: The Inadvertent Education of a Reluctant Chef. This was buried pretty deep on my to-read list (it's been hanging out there since 2013) when Goodreads Deals brought it back to my attention. I finally added it to my collection and dug in.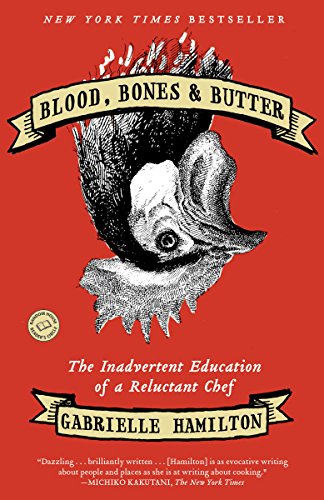 For me, nothing compares to extremely detailed descriptions of food that actually existed in real life, food that was often so life-changing that it has made its way to a book, tempting readers from the page. Gabrielle Hamilton's memoir begins with one such powerful food memory.
She walks us through the preparation for her family's annual lamb roast, which happened every spring when she was a child. Gabrielle describes her bohemian father, who brought her along to the butcher and later basted several whole lambs with a flavorful, dripping marinade over a crackling open fire. She talks lovingly of her now-estranged French mother who "instilled in [Gabrielle and her siblings] nothing but a total and unconditional pleasure in food and eating."
Gabrielle didn't set out to be a chef, but that's exactly what she becomes. Out of desperation as a teenager, she begins working in a local kitchen, mostly learning on the job. A series of kitchens, a trip around the world and a Masters degree in writing later, she finds herself with an unexpected opportunity to open her own restaurant, and so she does.
Though full of descriptions that made my stomach rumble, Blood, Bones and Butter is about more than just cooking and kitchens. It's about the family that Gabrielle came from, the family she works with, and the family she is beginning to make.
I kept coming back to the lamb roasts of her childhood. Lacking the backyard to roast an entire lamb, I found a recipe for French-inspired lamb chops and accompanied those with new potatoes and Brussels sprouts, both fresh from the farmers' market this weekend.
The potato recipe calls for them to be peeled, and so I began there, knowing it could be a little time-consuming. It was, and it was also a little dangerous.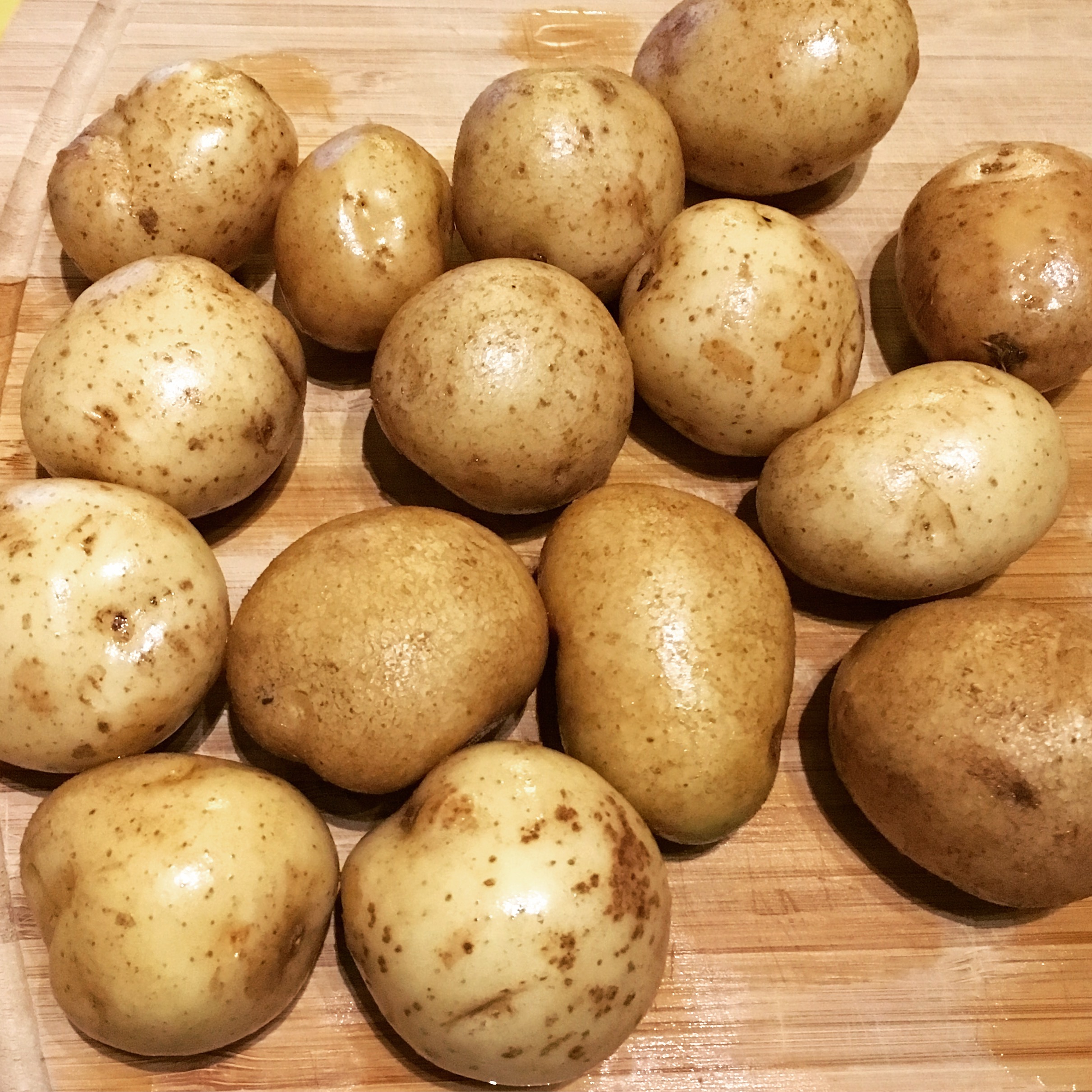 Tiny potatoes leave little room to hold onto them while wielding a peeler. On top of which, once the skin is removed, they're quite slippery. Potatoes were flying all over the counter! I eventually made it through (unscathed), cut them in half and put them in a small pot of water, covered by 1-inch.
Then I preheated the oven to 400 degrees F and began prepping the Brussels sprouts. Cut off the bottoms and remove the outer, dark green leaves, chopping the larger ones in half. (I prefer to keep small sprouts whole, but feel free to cut them in half as well.) Drizzle with olive oil and sprinkle with salt and freshly ground black pepper to taste. Toss on a foil-covered baking sheet until well-coated. They should roast for about 30-40 minutes, according to your preference. I recommend tossing/stirring about halfway through, so they brown more evenly. (Here they are pre-roasting.)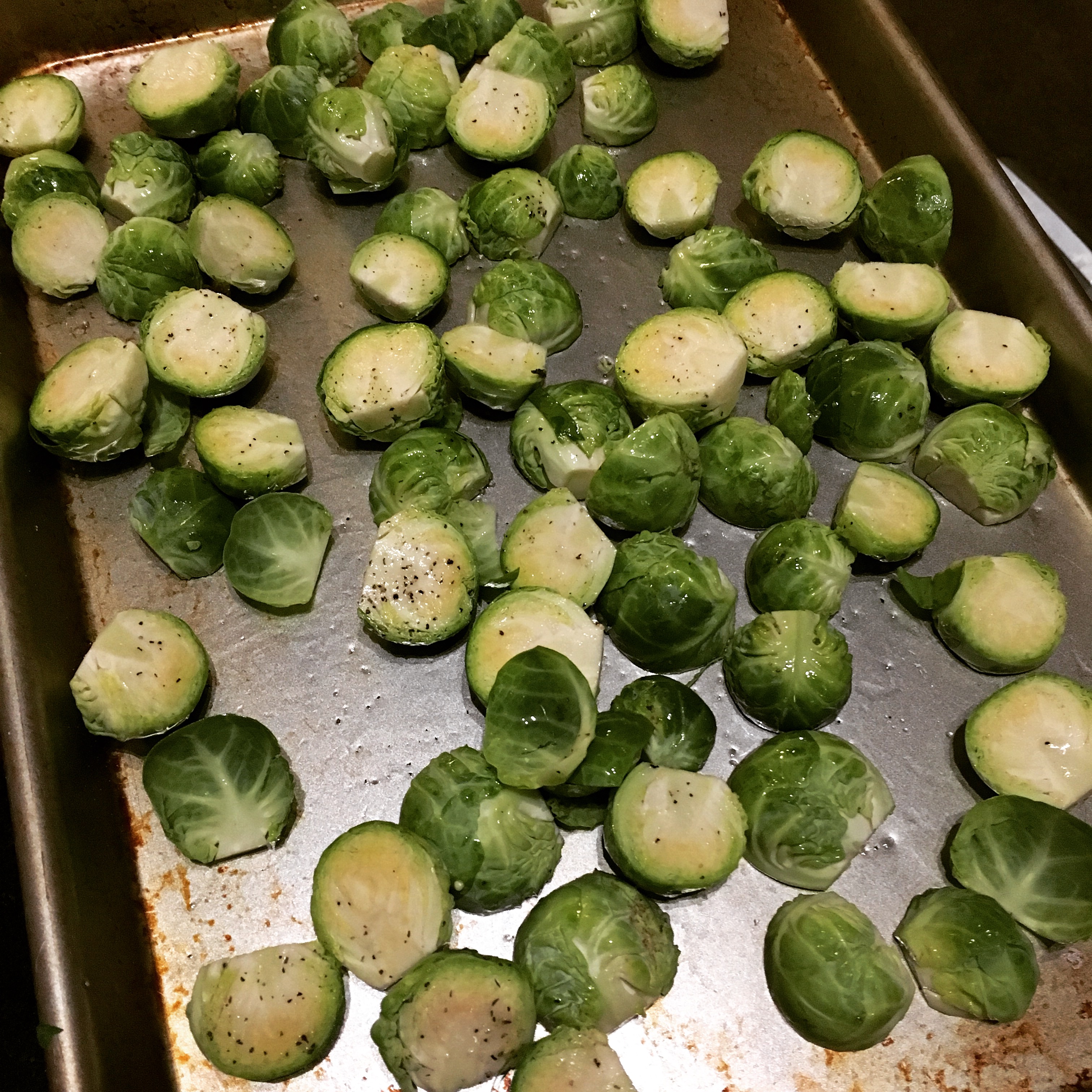 With the sprouts in the oven, I began boiling the potatoes and focused on making the butter mixture for the lamb chops. Using a fork, I mixed together the softened butter, mustard, fresh thyme, lemon zest and salt and pepper. Once finished, I put the compound butter in the fridge to stay chilled. (Check the potatoes here and if they're boiling, reduce heat to a simmer. Set timer for 10-12 minutes.)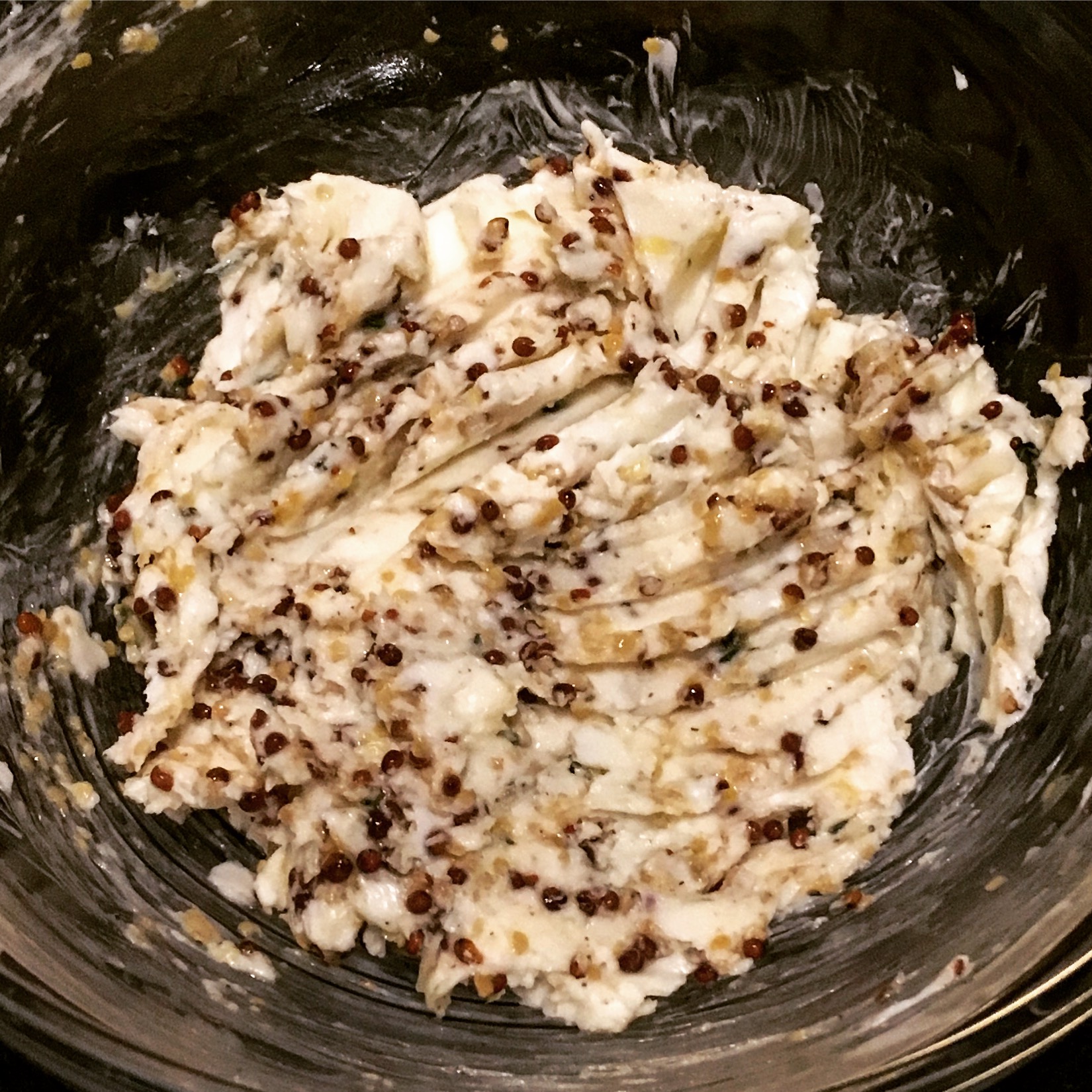 I readied my broiler pan, as directed, and placed the lamb chops on top. I seasoned generously with salt and pepper on both sides.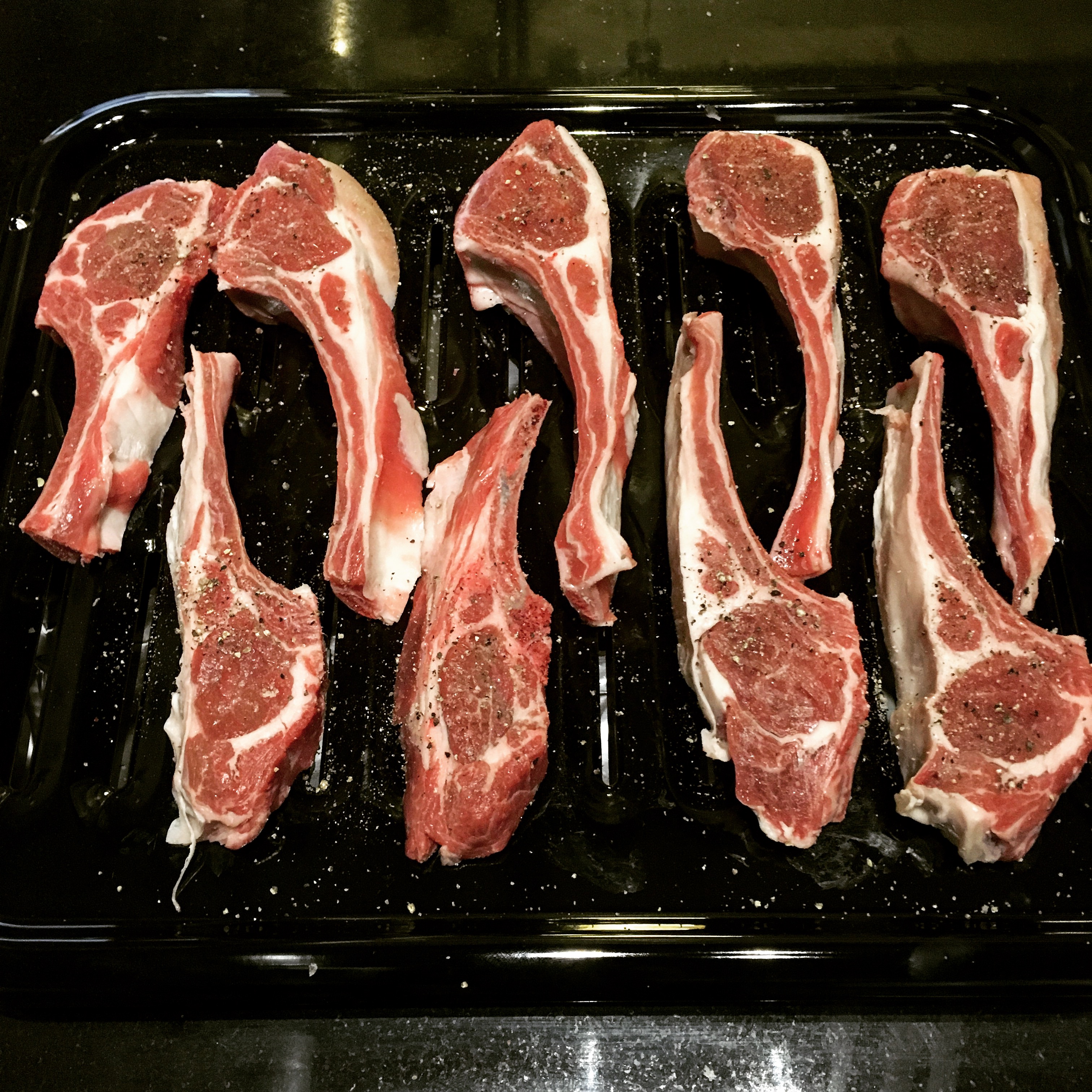 With the broiler on high, I put them in for 8 minutes and set my attention to the shallot mixture for the potatoes. I minced a large shallot and mixed it with lemon juice and salt. I let this sit until the lamb chops were finished (about 15 minutes), before tossing with the chopped parsley and cooked potatoes.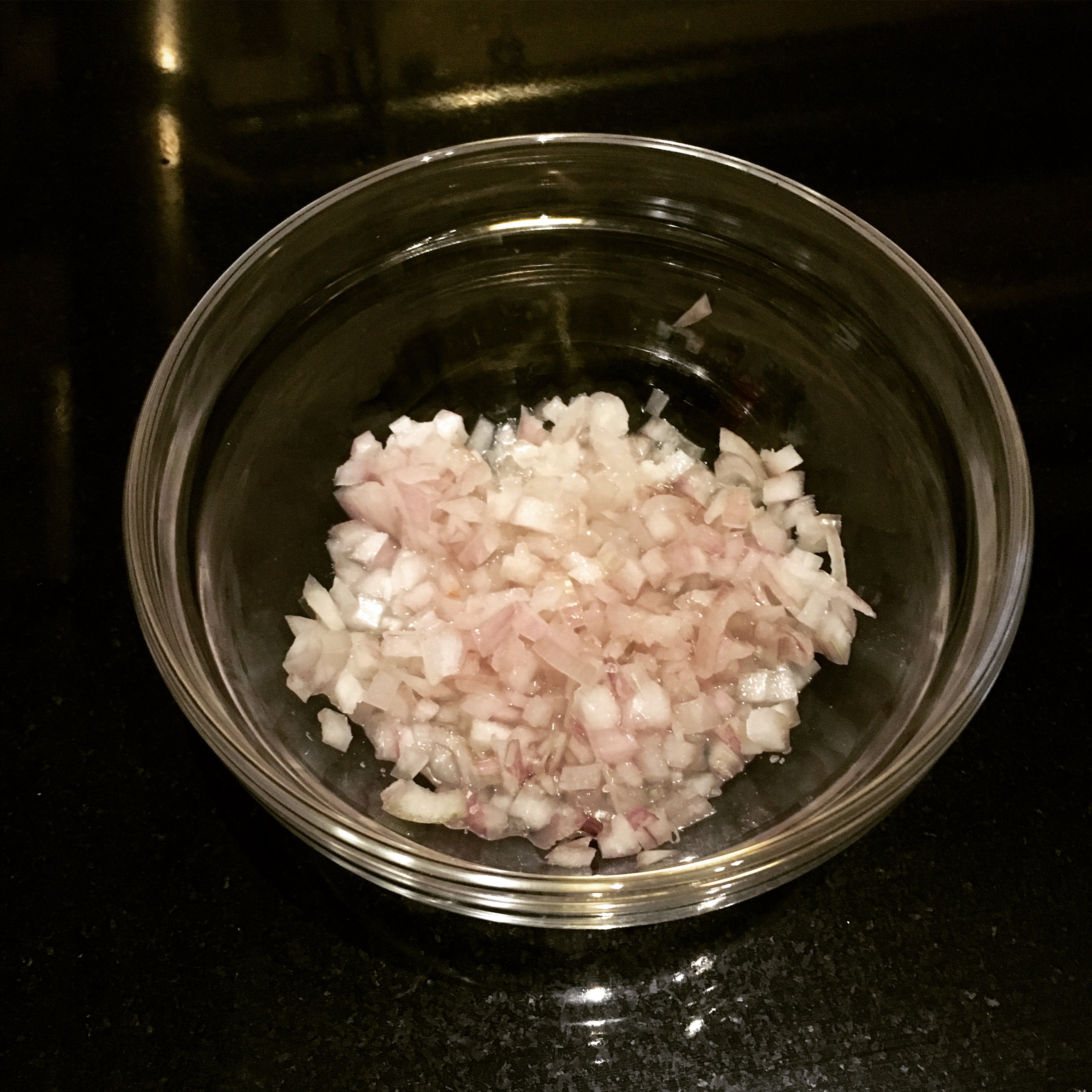 Having never made lamb chops, I found them easier to pull off than I initially expected. I also couldn't get enough of the rich, buttery potatoes - those will definitely be going in the regular rotation!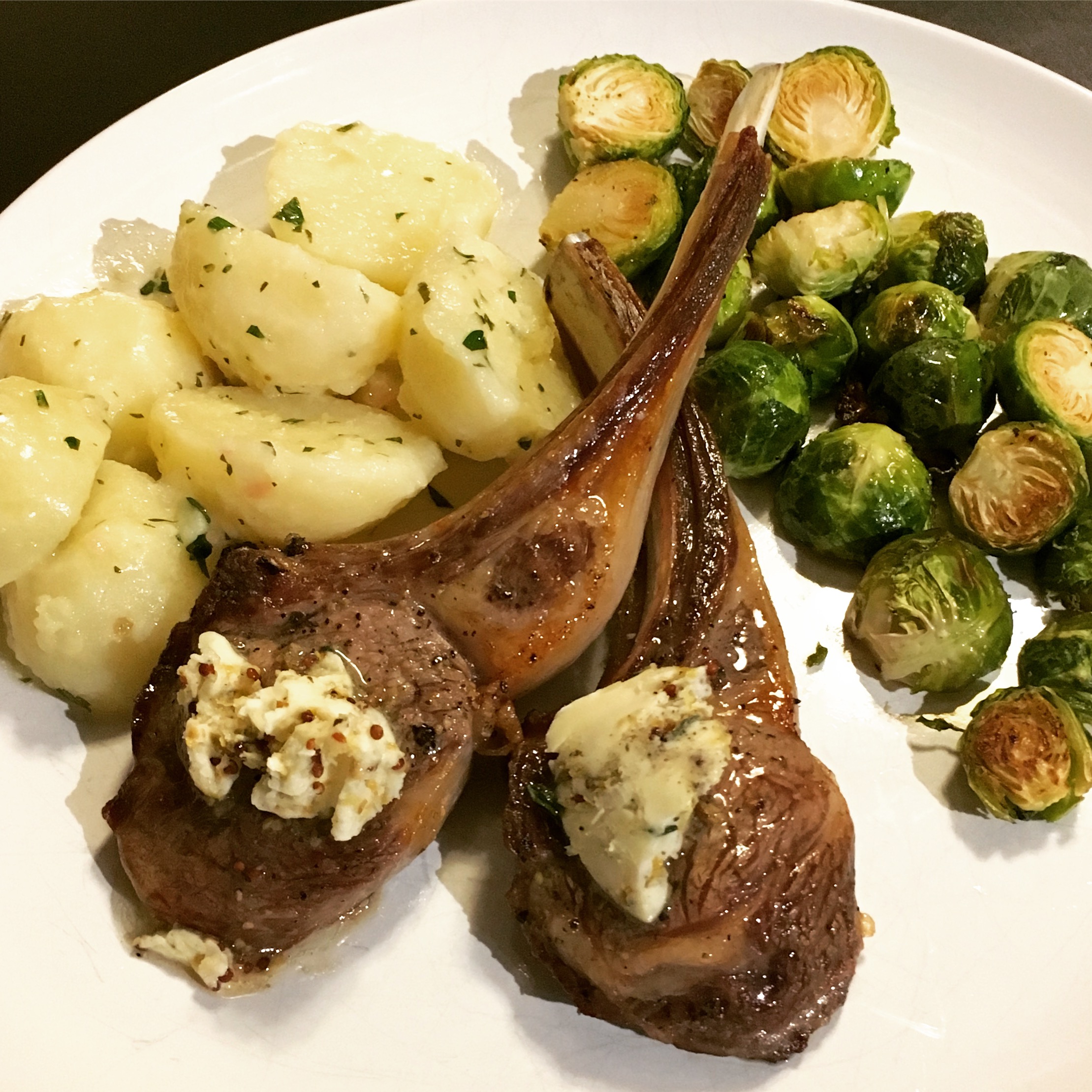 Happily, everything came together to make a fancier-than-usual weekend meal and the perfect addition to Scott's birthday weekend. In a meal based on Blood, Bones and Butter, it became clear "you can never have too much butter."*
Lamb Chops with Lemon, Thyme & Mustard Butter
Ingredients
4 TBS unsalted butter, softened
1 tsp whole-grain Dijon mustard
1 tsp fresh thyme leaves, lightly chopped
¾ tsp finely grated lemon zest
⅛ tsp kosher salt; more as needed
⅛ tsp freshly ground black pepper; more as needed
8 lamb loin chops (1-1/2- to 2-inch-thick chops; about 3 lb.), trimmed
Directions
In a small bowl, mash together the butter, mustard, thyme, zest, salt, and pepper until well combined. Refrigerate until ready to use.
Position an oven rack 5 to 6 inches from the broiler element and heat the broiler to high. Line the bottom of a broiler pan with foil and replace the perforated top part of the pan. Arrange the chops on the pan. Season both sides of the lamb generously with salt and pepper.
Broil until the first side is well browned, about 8 minutes. Turn the chops over with tongs and continue to broil until they're well browned and the center is cooked to your liking, 3 to 5 minutes longer for medium rare (cut into a chop near the bone to check).
Transfer the lamb to serving plates and top each chop with a dab of the flavored butter. Serve hot.
New Potatoes with Butter, Shallots & Chervil
Ingredients
2 ¼ lb. small (2-inch) new potatoes, such as Yukon Gold or Yellow Finn, peeled and halved lengthwise (about 14 potatoes)
Kosher salt
1 large shallot, minced (about 1/4 cup)
2 tsp fresh lemon juice
6 TBS unsalted butter, cut into 8 pieces, softened to room temperature
2 TBS chopped fresh chervil or flat-leaf parsley
Freshly ground black pepper
Directions
Put the potatoes in a medium pot, add water to cover by 1 inch, and season generously with about 2 TBS salt (the water should taste almost as salty as sea water).
Bring to a boil, reduce the heat to a simmer, and gently cook the potatoes until tender when pierced with a fork, 10 to 12 minutes. (You want them to maintain their shape, so be careful not to overcook them.)
Meanwhile, combine the shallot, lemon juice, and a pinch of salt in a small bowl, and let sit for at least 10 minutes (up to 2 hours).
Drain the potatoes and return them to the warm pot. Immediately add the shallot mixture, butter, and chervil or parsley and gently stir to combine. Season with salt and pepper to taste and serve.
____
*From the wonderful movie, Julie & Julia - thank you, Nora Ephron