For anyone who knows about my recent journey to transform my eating and lifestyle to one that's healthier yet still fulfilling from a food perspective (which I chronicled briefly here), you'll understand why I was excited to get my hands on this next book: Karina Melvin's Artful Eating.
In it, she talks about why "lasting weight loss is not about what you eat; it's about how and why you eat."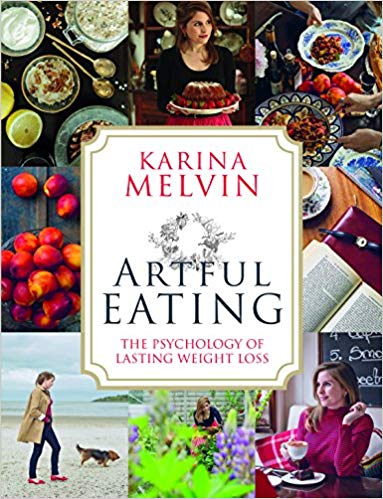 Whether you're trying to lose weight, or trying to be overall healthier - like myself - it's important to focus on making a more permanent lifestyle change rather than seeking a "quick fix." Karina's book is full of resources to help you do just that. Each of the twelve chapters is part of a bigger picture to help you accomplish a new mindset to accomplish your goals. They also includes recipes that are smart and sensible but also satisfying.
One of my favorite chapters, early on in the book, provides a very useful tip to transform your at-home eating: Detox Your Kitchen. A clean, organized kitchen that is full of unprocessed, whole ingredients will be a solid foundation for healthier cooking and eating.
First, she recommends taking stock of your fridge and pantry and getting rid of (giving away) foods with too many ingredients or ingredients you can't count; overly processed foods such as cereals, prepared meals, salad dressings and ready-made sauces; and all processed meats (though if you love them, feel free to enjoy occasionally, not daily).
Then, make sure you have the basics on-hand (a list is provided in one of the chapters), including spices and both frozen and canned staples. Make sure your kitchen tools are easily accessible and you know where they are, and organize everything in a way that makes sense with your typical cooking patterns.
The key here is to make your kitchen inviting for both cooking and enjoying the food you make (as I've learned, eating around the table is less distracting and more satiating than eating in front of the TV).
It's important, too, to be aware of what and why you're eating; if you're not hungry, don't force yourself to eat or don't keep eating until you're uncomfortably full. You neither want to be starving or stuffed. Your goal should be to listen to your body so that you feel satisfied.
Of course, the book is full of many other tips, resources and recipes, all designed to work together to help you discover the art of eating mindfully. Since healthy eating often conjures an image of slaving over a complicated recipe or sitting down to a flavorless meal, I opted for a recipe that was both quick to prepare and delicious: Karina's Saturday Dinner Scallops.
Truly, this recipe took less than 15 minutes, and Scott and I were able to sit down to a bright and flavorful restaurant quality dinner. (She even suggests enjoying it with a glass of white wine.)
My grocery store didn't have spring onions (and it rarely does), so I tweaked the recipe a bit to use green onions instead, which I find are more common in US grocery stores. The green stalks provide essentially the same flavor, but green onions are without the white bulb at the bottom. I also added some more peas and a few additional scallops, so we each had 5. I served the scallops with a bit of quinoa to round out the menu, and the entire meal still ended up at less than 250 calories each.
I cut the green onions and dried and seasoned the scallops to start, while I heated a bit of olive oil in a medium skillet.
To the oil, I added the onions, cooking for about 30-60 seconds, before adding the peas. After another couple of minutes, I seasoned them with salt and pepper. I removed them from the skillet to cook the scallops, placing them in a bowl.
I added the rest of the olive oil to the pan and upped the heat to better caramelize the scallops. It's best to place them in the pan in a clock formation, so you can flip them in the order in which they were put in the skillet. After about a minute, I flipped the scallops and then cooked them for another minute or so. Then, I reduced the heat and added the green onions and peas back into the skillet.
To finish it off, I added the minced garlic and freshly ground black pepper as well as some sea salt flakes, tossing it to combine.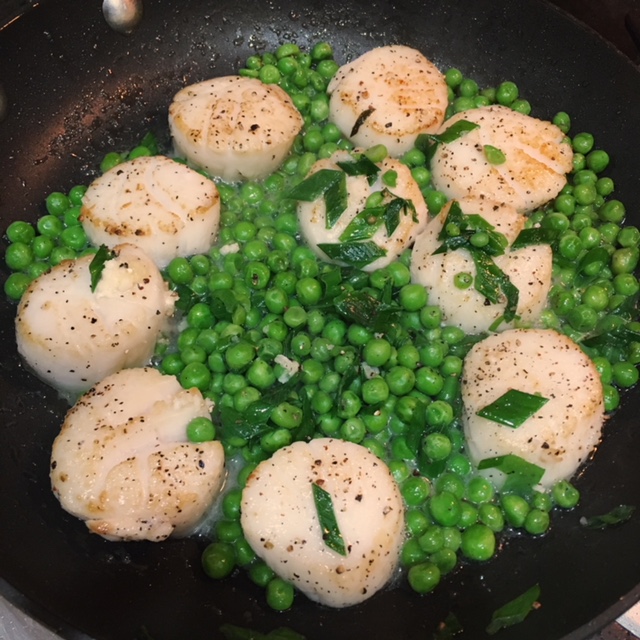 The scallops were meaty and delicious, and the peas and onions added not only bright color but a nice freshness to the dish. I absolutely would make this again, and if this is a recipe indicative of healthy eating, I'm more than happy to keep on keeping on! 🙂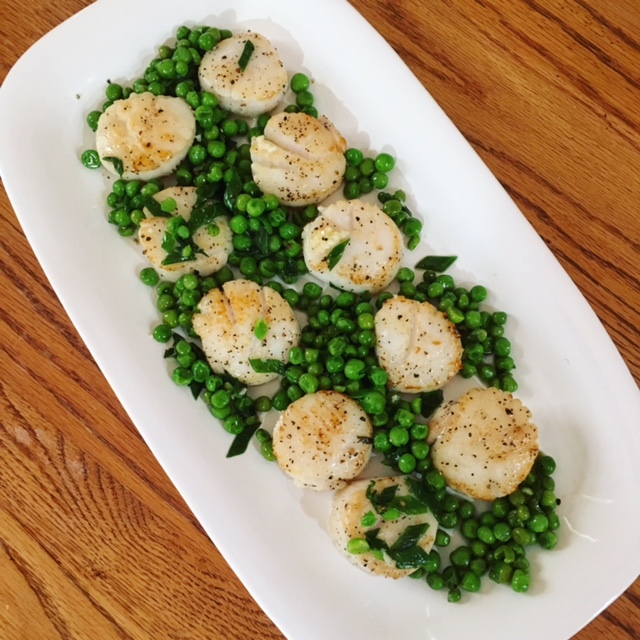 If you have a Kindle, you can download the book from Amazon UK. A few paperback editions are also available in the US (here). With any luck, it will be available more widely in the US soon! Additionally, Karina Melvin has a podcast and blog with plenty more on the topic, if you're interested.  
Sauteed Sea Scallops with Peas
Ingredients
2

tablespoons

olive oil

1

bunch green onions

½

cup

frozen peas

10

sea scallops

cleaned

Sea salt flakes and freshly ground black pepper

Knob of butter

if desired

1

garlic clove

Squeeze of lemon juice
Instructions
Cut the green onions diagonally into thick slices. Peel the garlic and mince. Clean the scallops.

Put the frozen peas in a sieve and pour a cup of boiling water over them.

Heat a tablespoon of olive oil in a medium skillet over a medium-low heat. Add the green onions and let them sweat gently for about a minute, until soft. Add the peas and toss for another minute or two. Season with salt and pepper. Remove from the pan and set aside.

Add another tablespoon of oil and turn the heat up high.

Season the scallops with salt and pepper and when the pan is very hot; they should sizzle when the hit the pan. Leave them for about 1 minute, then carefully turn one over. If it's golden brown, flip all the scallops over and cook until caramelized on the other side.

Reduce the heat to medium-low and return the peas and green onions to the pan, along with the butter (if using) and garlic.

Toss, remove from the heat, and add a squeeze of lemon.
I received a free digital copy of this book from Book Collective in exchange for an honest review.
This post contains affiliate links. This does not increase the price you pay, but I may receive a small commission for any products you choose to buy. Purchases made through affiliate links help to cover my blogging costs. Full disclosure here.