Happy Tuesday, everyone! It's time for another edition of Top Ten Tuesday, a literary list with a new bookish topic every week. This week's topic is of the summery variety, which is lovely since summer is (officially) just around the corner. Here in Michigan it's been hot and humid here for a little while now, especially over the past weekend, so I am more than ready to hit the beach! If you're planning your summer vacation, you might want to consider bringing some of these books with you: Top Ten Books to Read by the Beach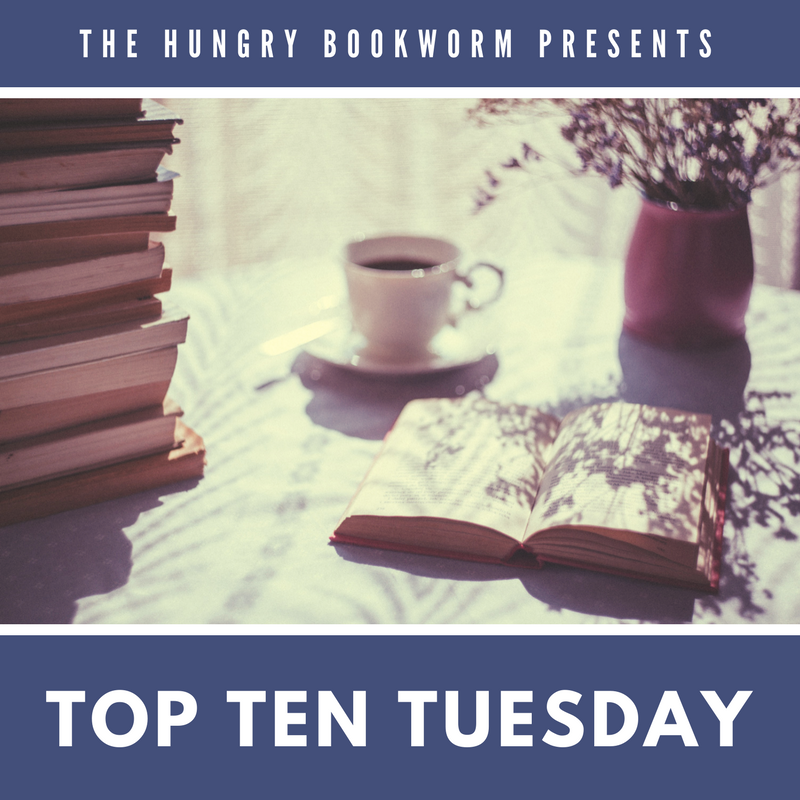 Jane of Austin - When I read this just over a year ago, I deemed it "a breezy, enjoyable read, perfect for summer," so obviously it had to make the list. It was also my first foray into ice cream making, from which I've never recovered. If you like Jane Austen, tea or books about sisters, you may want to pack this one! review + recipe
Where'd You Go Bernadette? - I haven't re-read Bernadette yet, but I definitely plan to before it becomes a movie next year. I distinctly remember laughing out loud on the subway and then immediately telling everyone how funny this book was. If you like quirky characters and laughing out loud in public or quietly to yourself (you do you), I'm sure you'll enjoy Bernadette.
Crazy Rich Asians - This glitzy, gossipy novel is about to become a summer blockbuster, so if you haven't read it yet, you may want to check it out before it hits theaters. It's a quick, absorbing read about the wealthiest of the wealthy Singaporeans and all the food, fashion and travel that comes with it. As a bonus, the book-inspired chicken satay recipe is made for summer grilling. review + recipe   
Is Everyone Hanging Out Without Me? - Mindy Kaling's first memoir is still my favorite. She shares stories from her awkward, relatable childhood and her early experiences in Hollywood. It's just like chatting with a funny friend by the pool. Fair warning: this novel may cause you to laugh out loud too.
I Loved, I Lost, I Made Spaghetti - This was one of the first food memoirs I ever read, and for that, it still holds a special place in my heart (and on my bookshelf). Giulia Melucci shares her misadventures as a young woman looking for love in NYC. Of course, she meets her share of horrible men, stumbles into several misfit jobs, and makes a mean lasagna to get through it all. It's light-hearted and relatable, and it may make you a little hungry.
The Summer of Impossible Things - I read this last summer and found it to be really immersive. It's of the "realistic time travel" genre (a genre I basically made up that also encompasses The Time Traveler's Wife and the movie About Time, among other stories), which I personally really enjoy. It mostly takes place in the sticky heat of a 1977 Brooklyn summer and includes both an impossible quest and an unexpected love story. review + recipe
We Were Liars - My blogging friend Elsie recently included e. lockhart's YA novel in her list of 5 Haunting Page-Turners to Read This Summer, and I couldn't agree more! It's a book where revealing too much of the plot will spoil it for you, so I won't. I thought it was riveting and unexpectedly twisty, perfect for beach reading.
When Dimple Met Rishi - Another YA novel, this one is a bit more amusing. It's a clever, funny love story, taking its lead from so many beloved romantic comedies before it. It's full of ups and downs for our young couple, but it's relatable and more realistic than some. If you're looking for something to entertain you, this is a good choice. review + recipe
The Rosie Project - I really need to re-read this novel because I've recommended it to so many people since I read it almost 5 years ago now. It's like a romantic comedy meets The Big Bang Theory, full of amusing, sometimes inappropriate interactions with and reactions from our nerdy, socially inept main character. It's one you'll devour, and if you really enjoy it, there's a sequel to try out as well.  
The Hating Game - Another romantic comedy of sorts - because obviously they make great carefree beach reads - Sally Thorne's novel takes place in an office setting. Rivals in the workplace, Josh and Lucy spend their days attempting to unnerve each other, though things really take a turn when a promotion opportunity opens up. It'll make your work troubles seem trivial and will have you craving strawberries. review + recipe
What are some of your favorite summer/beach reads?
_______________
This post contains affiliate links. This does not increase the price you pay, but I may receive a small commission for any products you choose to buy. Purchases made through affiliate links help to cover my blogging costs. Full disclosure here.