Kevin Kwan's novel Crazy Rich Asians has been buzzed about since its debut five years ago, and that buzz has only continued to grow now that it's becoming a movie (out on August 15 this year). The title is pretty self-explanatory - the novel is about the wealthiest of the wealthy families in Singapore, including the Youngs. But, when Rachel Chu's boyfriend, Nick Young, invites her to attend his best friend's wedding back at home, she has no idea what's in store.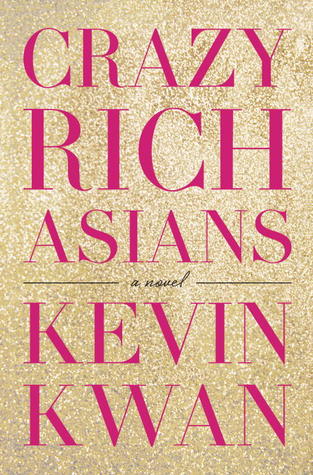 Together in New York, they work regular jobs, go out to eat occasionally and live in an average apartment. Her first hint that Nick's life may be different than he let on is on their extravagant first class journey to Asia. Rachel realizes it's going to be even harder to impress his parents than she expected, once she learns he is a member of one of the wealthiest families in the country (and likely, the continent).
The entire novel is the picture of opulence - the food, the fashion, the lifestyles. Like a harried soap opera, it hops back and forth between perspectives and an abundance of complicated characters. For that reason, it can be a bit difficult to follow, particularly in the beginning. Still, it was entertaining from beginning to end. I actually think the over-the-top wealth will be even more impressive on the movie screen. Like the clothing in The Devil Wears Prada, sometimes a written description doesn't do that sort of thing justice.
One thing that was extremely clear in the novel was the characters' appreciation for good food. It seemed like if they weren't eating, they were planning their next meal or arguing about which restaurant did [insert specific food item] best. In doing a little research, that seems to be the norm for Singapore. In Singapore, food comes from everywhere, everyone has a voracious appetite, and everyone has an opinion on who has the best what.  
I decided to make chicken satay not only because it was the topic of many healthy food debates in the novel or because it was one of the first foods Rachel encountered upon arrival, but because it just sounded delicious. It's hard not to get in the mood for something when characters discuss it at length. I settled on a recipe from Raya Malaysia, which hails from her home country of Malaysia, and according to her, they have the best satay in all of Southeast Asia. (Sounds like she would get along well with the characters in the book!)
To start, I cut my chicken breasts into small cubes. My chicken breasts were quite large (about a pound each), so I only used 2 with the same amount of marinade. It made enough for a dozen skewers, or about enough to serve 4.
In my food processor, I added all of the marinade ingredients and pulsed until they were well-combined. I did add about ¼ cup of water (in increments) until it achieved a good consistency.
Then, I added my chicken cubes to a glass bowl and poured on the marinade. Using a spoon, I tossed the chicken until it was well-coated before covering the bowl with cling wrap and storing it in the fridge overnight.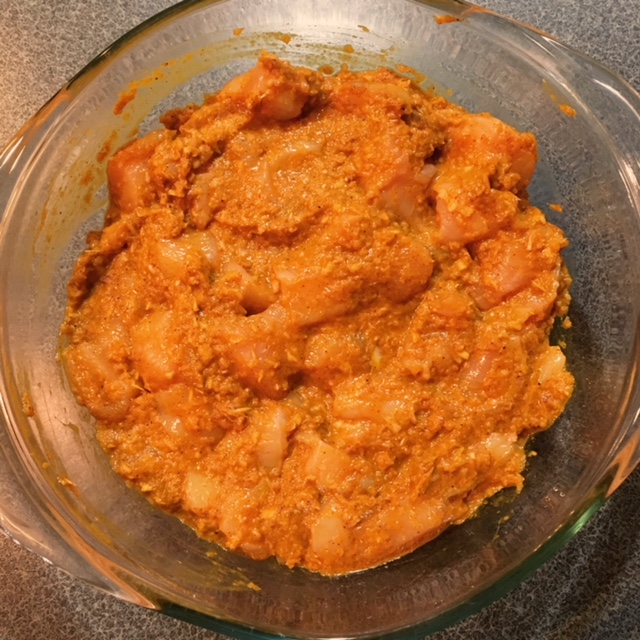 The next day, at dinner, I began making my skewers. I covered a cutting board with cling wrap and placed my finished skewers there. I threaded enough chicken onto each soaked skewer to fill it about halfway. In the end, I had about a dozen skewers.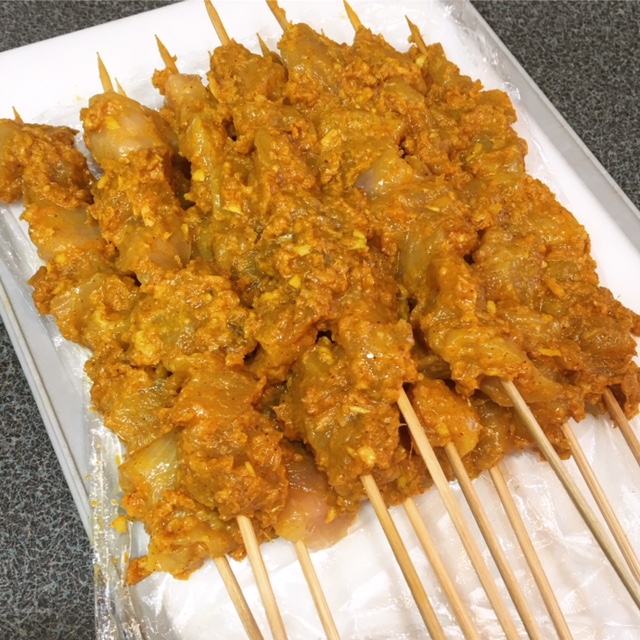 We put them on a preheated grill so that they could cook, a few minutes on each side.
Meanwhile, I prepared a quick cucumber and onion salad. Though the recipe below just instructs you to serve the cucumbers and onions alongside the satay without much preparation, I wanted to cut some of the harshness of the onions. I combined ¾ cup water, ½ cup vinegar and ⅓ cup sugar, whisking until well-combined, and then poured that over the cut cucumbers and onions. Ideally, this would sit for at least 10-15 minutes before serving.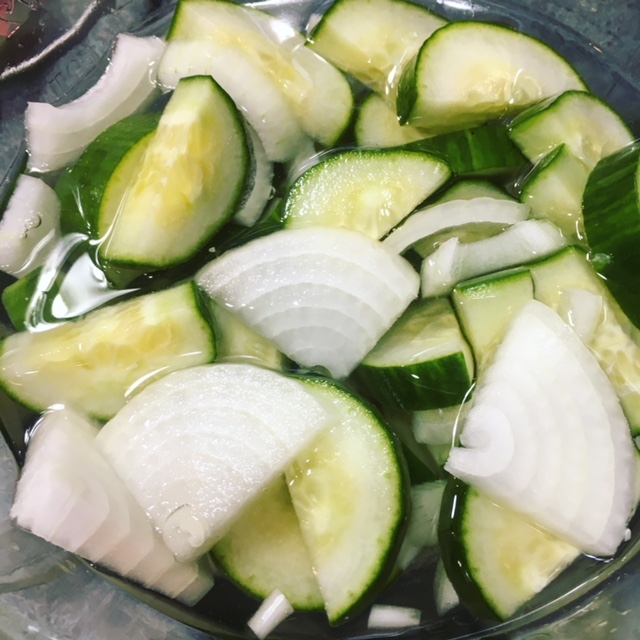 Once the chicken was finished, we brought it back inside and got ready to eat! It smelled absolutely amazing as it was cooking, and we couldn't wait to eat it.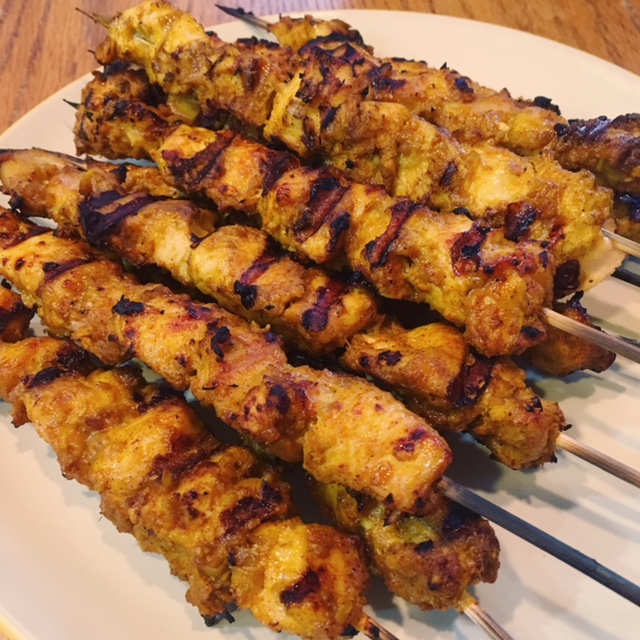 I served it up with the cucumbers and onions as well as a quick peanut sauce. (I've included a link to her recommended recipe in the notes).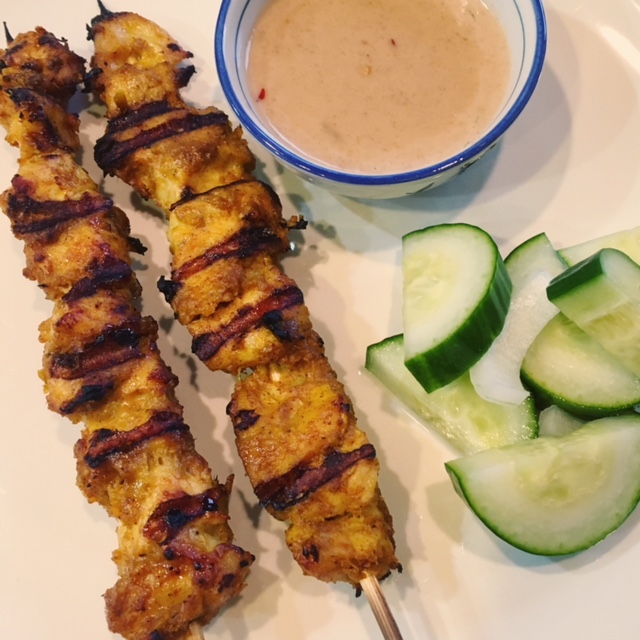 The good news is that it was as delicious as it smelled, and the bad news was that we hadn't made more. Until I taste otherwise, I'm willing to agree that this is the best chicken satay out there. It's definitely a recipe we'll be revisiting again this summer!   
Malaysian Chicken Satay
Ingredients
4

chicken legs and thighs (preferred)

or 4 boneless and skinless chicken breasts

bamboo skewers

soaked in cold water for 2 hours

1

cucumber

cut into small pieces

1

small onion

quartered

oil

for basting
Marinade:
3

tablespoons

olive oil

2

stalks lemongrass

white parts only

2

cloves

garlic

peeled

6

shallots

peeled

2

teaspoons

turmeric powder

1

teaspoon

coriander powder

1

teaspoon

chili powder

1/2

tablespoon

salt

or to taste

2

tablespoons

sugar
Instructions
Cut the chicken meat into small cubes.

Blend the marinade ingredients in a food processor. Add in a little water if needed.

Marinate the chicken pieces for 6 hours, or best overnight.

Thread a few pieces of the chicken meat onto the bamboo skewers.

Grill for about 2-3 minutes on each side until nicely charred. Baste and brush with some oil while grilling.

Serve hot with the fresh cucumber pieces and onions.
Notes
From: Raya Malaysia
(For the dipping sauce, she also has a
satay peanut sauce
recipe.)
If using chicken breasts, I would reduce the count to 2, or about 2 lbs, for the same amount of marinade above. This should serve about 4 individuals for a meal (more as an appetizer). If you'd like to use 4 breasts, I would recommend doubling the marinade.
Due to the turmeric, the marinade may stain. It should come out of most dishes with a good scrub (I had to run my food processor through the dishwasher), but I would recommend using a glass bowl - or bag that you'll discard after - just to be on the safe side. Cover the bowl with cling wrap and store in the fridge until you're ready to grill. If you care about the appearance of your nails, I would also recommend wearing gloves while putting the chicken onto the skewers. The tips of my nails were yellow for several days no matter how many times I scrubbed them.