In many ways, Sandhya Menon's When Dimple Met Rishi follows the same formula as many time-tested and beloved romantic comedies. And, honestly, that's part of what made it so enjoyable. It is unabashedly a young adult love story, and a clever, funny one at that. Dimple is a future-minded high school graduate, hoping to enroll in a web development program and forget about her mother's matchmaking for the summer. Rishi is also a future-minded recent graduate, though he's focused more on meeting and wooing his fated wife before heading off to MIT.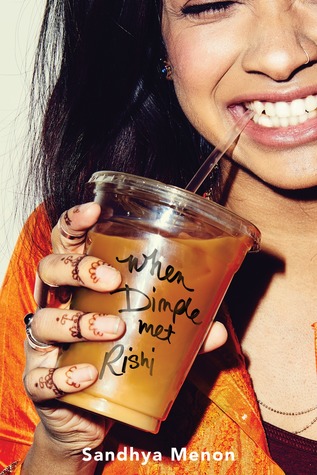 Rishi is traditional where Dimple is modern. He learned Hindi before English, strives to be a good son, and is willing to put his dreams of being a comic book artist aside to do so. Dimple wants to code apps and can't wait to take a break from her traditional Indian parents to make her own way in the world. Rishi is looking forward to meeting the girl his parents have chosen for him to marry, and Dimple has no idea such an arrangement has been made.
In fact, when they do meet, it doesn't go exactly as Rishi had planned. He's a bit overzealous, to say the least. It's hardly a meet-cute, but it's hilarious. Somehow, Rishi recovers and gets another chance to make an impression. During their first official "hangout" at a pizza shop, a relationship between Dimple and Rishi doesn't seem meant to be, but as we all know, some people are born to defy expectations.
In true rom-com fashion, the novel is full of ups and downs and obstacles the young couple must overcome to end up happily ever after. That said, it's well-done, enjoyable and not as expected as you may think. As a bonus, the entire novel is quite amusing - funnier than I expected. I often found myself laughing out loud (even while Scott slept next to me, oops). I wholeheartedly recommend this to anyone looking for something lighthearted and entertaining. It's a lovely choice to wrap up the summer.
One other thing I found quite interesting was the fact that A Wrinkle in Time, which Dimple considers one of her favorite childhood stories, played such an integral role within the story. Funnily enough, I had just read A Wrinkle in Time before picking up this book. The constant mentions of Meg and her journey stood out to me a little bit more, and it was cool that I had so recently become familiar with the story myself. Since something like that had never happened to me before, I was excited to share the coincidence. Like Dimple and Rishi, it almost seemed fated that I read them in this order.
To accompany Dimple and Rishi's story, I decided to make pizza with an Indian spin. I knew I wanted to use naan as a crust (something I've done in the past with leftover pieces) and wanted to bring in the flavor of chicken tikka masala. I found a recipe from Raya Malaysia to use as a base.
First, I created the marinade for the chicken, combining a half teaspoon each of ground cumin, cayenne pepper, garam masala and minced fresh ginger; a quarter teaspoon each of salt and black pepper; one Tablespoon of lemon juice; two Tablespoons of plain yogurt; and a pinch of cinnamon. Then, I tossed the chicken in the marinade until it was well-coated, covered the bowl with plastic wrap, and set it in the fridge for about an hour.
It's a lot of ingredients, yes, but I had all of them at home already. Most of the spices are common, especially if you cook any type of ethnic food with regularity in your home. Hopefully you won't have to buy many to make this marinade, but then again if you do, you'll have everything handy to just make it more often. 🙂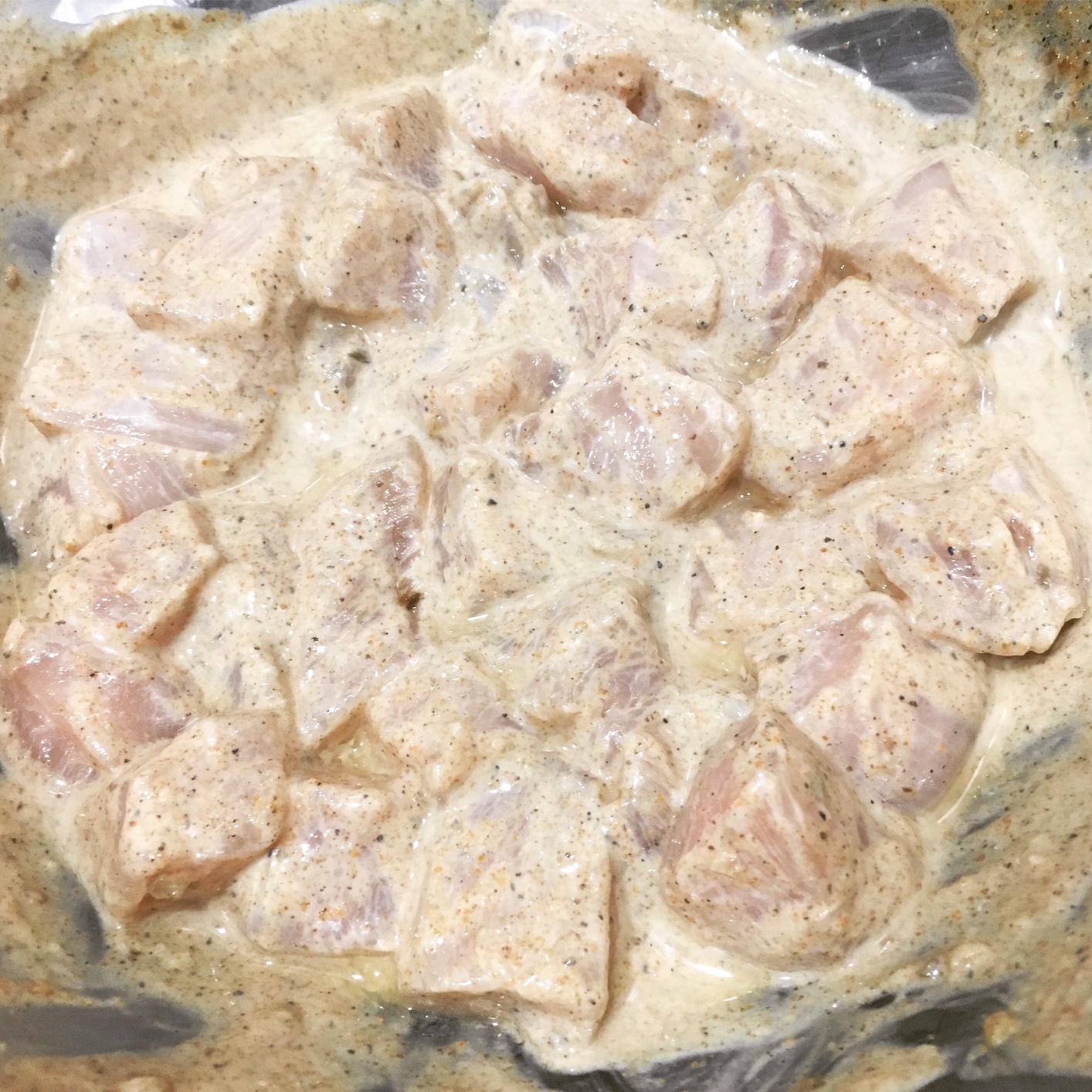 To cook the chicken, I preheated the oven to 450 degrees F. I lined a baking pan with foil and arranged the chicken in a single layer. I allowed it to bake for 6-7 minutes.
While that baked, I made the pizza sauce. First, I mixed cumin, paprika and garam masala in a small bowl. In a separate bowl, I combined the tomato sauce, yogurt and heavy cream.
In a small saucepan, I melted/warmed the ghee and added minced garlic and finely diced jalapeños, sautéing for a few minutes, until aromatic. Then I added my spice mixture and continued to heat for 1-2 minutes, stirring often.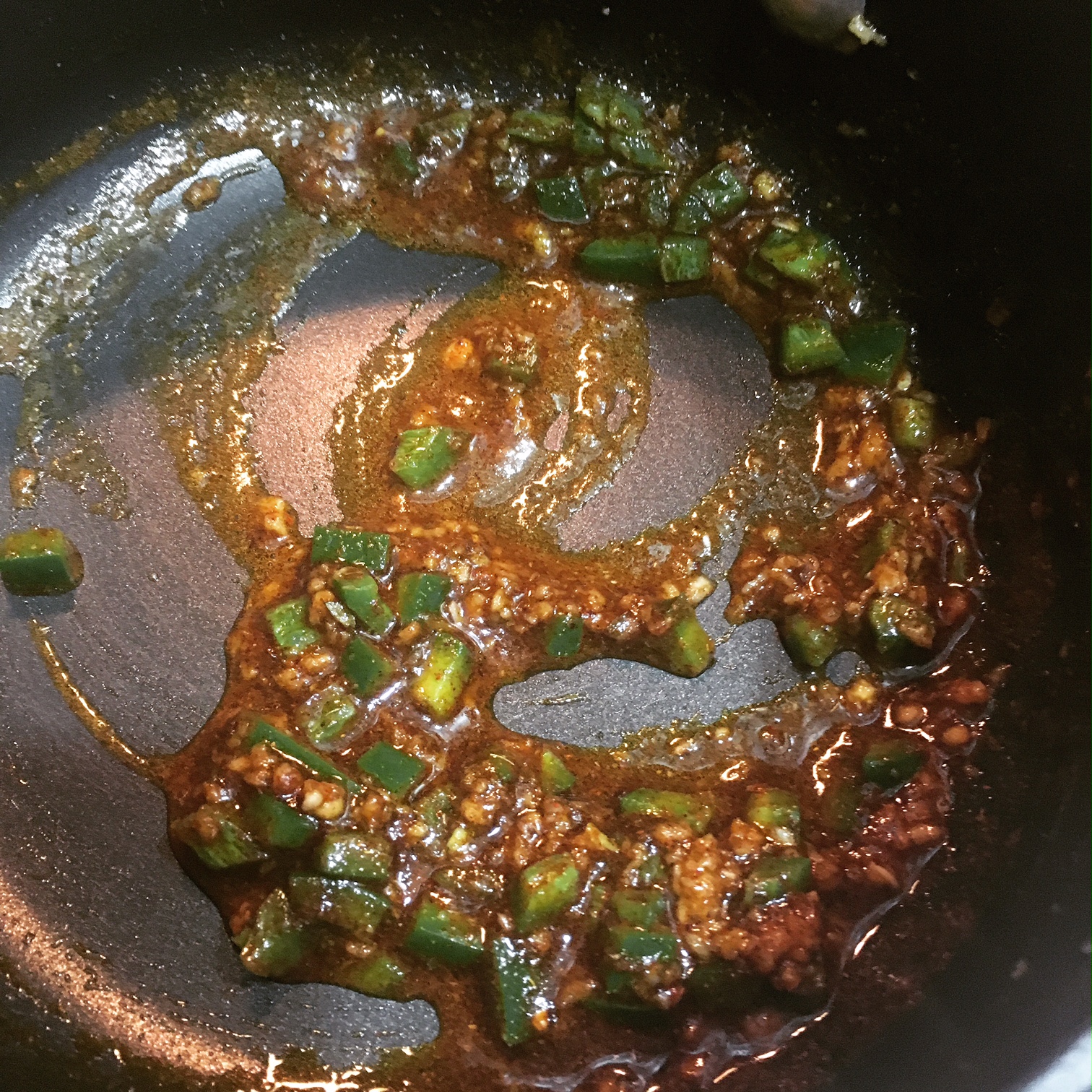 I removed as much of the jalapeño as I could, per the original directions (see my notes with the recipe), before adding the tomato sauce mixture. I added some salt and allowed it to thicken a bit, cooking for about 2 more minutes.
At this point the chicken was finished cooking in the oven, so I took it out and began assembling my pizzas. To start, I brushed each piece of naan lightly with olive oil. Then, using a spoon, I dolloped sauce into the center of each piece of naan, and with a circular motion outward, spread the sauce until each piece was completely covered.
Then, I topped the sauce with a little less than half of the shredded cheese, before adding the chicken, thinly sliced red onion and cilantro. Finally, I added another layer of cheese, using the rest of it.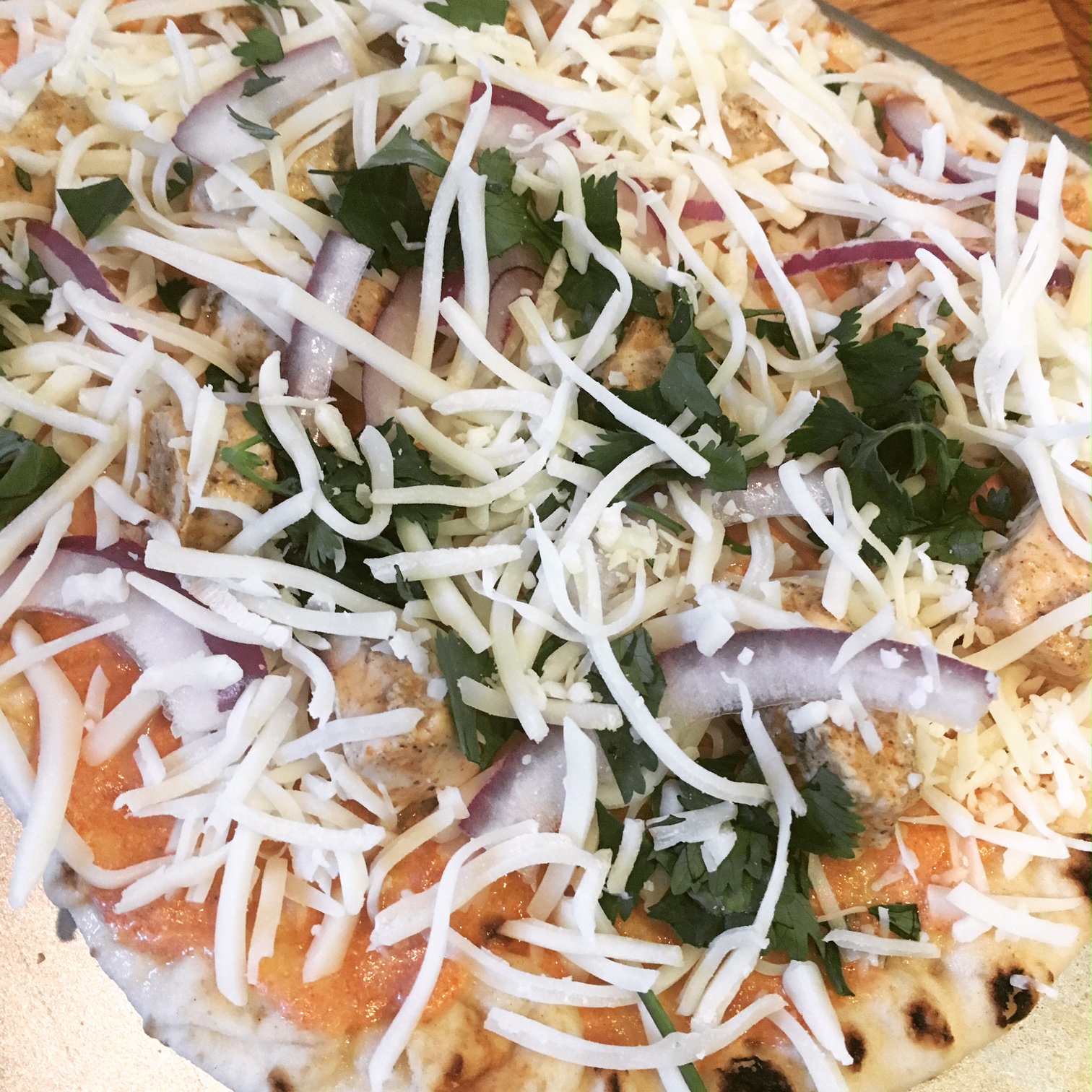 I baked the pizzas for about 10 minutes each. Since the chicken is already cooked, the pizzas are done when the cheese is melted and the naan is a bit more firm. For garnish, I added the remaining chopped cilantro to each pizza before serving.
These pizzas were absolutely delicious! If you're a fan of Indian food and a fan of pizza, there's no reason not to give this a try. It's easy and so flavorful! This is definitely going down as one of my favorite recipes this year and it will absolutely be making some additional appearances in our kitchen. (I can't wait!)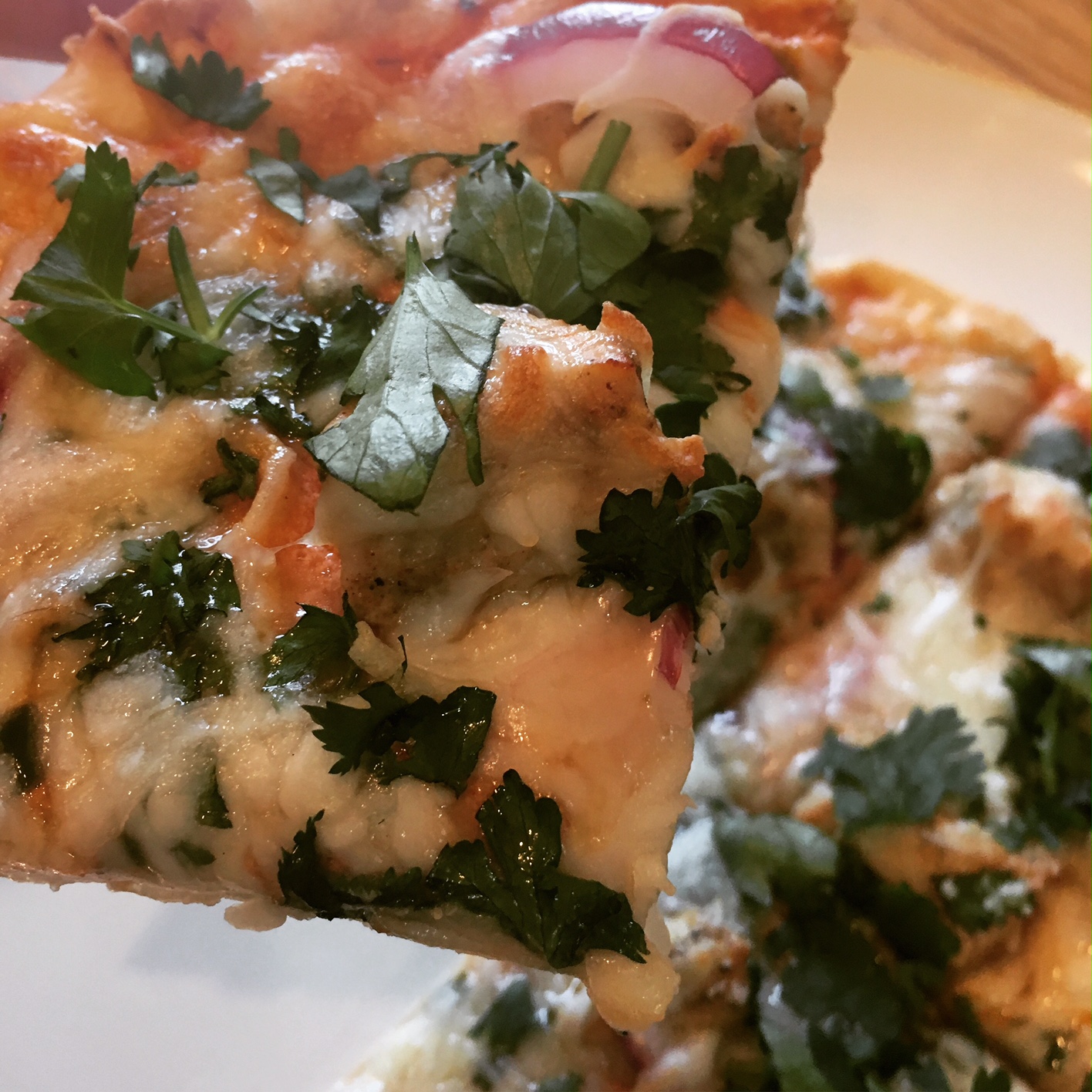 Chicken Tikka Masala Pizza
Servings: 3-4 personal pizzas
Pizza Ingredients
10 oz skinless and boneless (1 large) chicken breast, cut into 1/2-inch cubes and marinated
3 or 4 pieces of naan (traditional or garlic; I used traditional)
olive oil for brushing
pizza sauce, recipe below
¼ red onion, thinly sliced
1 to 1 ½ cup shredded mozzarella cheese
handful of cilantro, chopped (plus some for garnish)
Chicken Marinade Ingredients
½ teaspoon ground cumin
½ teaspoon ground cayenne pepper
½ teaspoon ground garam masala
½ teaspoon minced fresh ginger
¼ teaspoon salt
¼ teaspoon ground black pepper
1 Tablespoon lemon juice
2 Tablespoons plain yogurt
pinch of cinnamon
Pizza Sauce Ingredients
2 cloves garlic, minced
½ jalapeño, deseeded and finely diced
1 tablespoon ghee (or butter)
salt to taste
½ teaspoon cumin
½ teaspoon paprika
½ teaspoon garam masala
4 oz tomato sauce
2 Tablespoons plain yogurt
2 Tablespoons heavy cream
Directions
In a bowl, cover the chicken with the prepared marinade and allow to marinate for at least an hour in the refrigerator.
Preheat the oven to 450 degrees F and line a baking pan with foil and spread the marinated chicken in a single layer on the pan. Discard the remaining marinade. Bake for 6-7 minutes, turning halfway through if desired.
While the chicken is cooking, begin to prepare the pizza sauce. Combine the cumin, paprika and garam masala in a small bowl. In a separate small bowl, combine the tomato sauce with 2 Tablespoons of yogurt and 2 Tablespoons of heavy cream.
Heat a small saucepan and warm/melt the ghee (or butter). Sauté the garlic and jalapeño until aromatic. Pour in the combined spices from step 3 and sauté until fragrant over medium heat, stirring often, for about 1-2 minutes. Remove the jalapeño and discard. (If you prefer it spicier, you may leave in the jalapeño.)
Add in the tomato sauce mixture and stir well to mix. Sprinkle salt to taste and continue to simmer until the sauce thickens, about 2 minutes. Turn off the heat.
To prep the pizzas, lay the naan on foil-covered cookie sheets. Brush lightly with olive oil. Spread the pizza sauce onto the naan "crust," covering evenly. Sprinkle with about half (erring on the side of less) of the mozzarella cheese. Arrange the chicken, red onions and chopped cilantro on pizza and cover with the remaining cheese.
Reduce the temperature to 425 degrees F and bake the pizzas for 8-10 minutes. Remove the pizza from the oven and garnish with the remaining chopped cilantro.
Adapted from:
Raya Malaysia
Notes: Pertaining to fishing the jalapeños out of the spice mixture, I don't think this is entirely necessary - unless you're extremely averse to spice. In that case, perhaps leave them out altogether, but if you do use them and want to remove them, it's okay if you don't get them all. This task can be somewhat annoying, based on my own experience. I removed about half before I decided we probably wouldn't mind the jalapeños. Use your own judgment, based on your spice preference.
When I made my pizza sauce, I doubled amounts of tomato sauce, yogurt and cream within the pizza sauce because typically store bought cans of tomato sauce come in 8 oz and the recipe said it made up to 3 pizzas but I planned to make 4. I had quite a lot of sauce leftover after covering the pizzas to our liking, so I think as-is should be sufficient for 4 pizzas, but if you like your pizzas on the saucier side, this may be necessary.
This post contains affiliate links. Full disclosure here.