John Green has written many young adult novels, including one of my favorites, The Fault in Our Stars. He has a unique way of tackling both the everyday and the unexpected parts of the lives of teenagers. His latest novel, Turtles All the Way Down, is no exception. Like other teenagers, Aza tries her best in school, has an understanding best friend, and doesn't know exactly what to do when she finds herself in a relationship. Aza also lives with obsessive-compulsive disorder and an often crippling level of anxiety, much of which was drawn from Green's own experiences.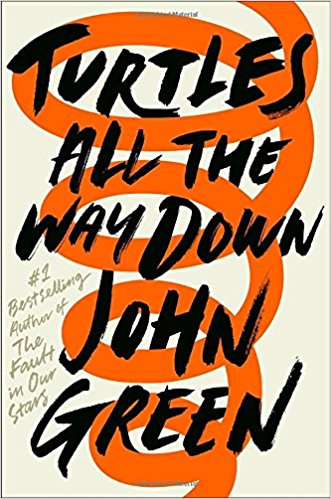 Because of that, Turtles tells an excellent, unique story. Admittedly, some of the scenes where Aza is having obsessive thoughts were hard to read. It almost felt like I was in her head, and in those moments, I read as if hiding behind split fingers - not wanting to go on but wanting to know what happened all the same. I admire Green's willingness to not only discuss his own mental health issues but to write about them too, in a way that's real.
Stories like these help to make mental health something that's okay to talk about. The existence of a likeable character that readers can connect to and empathize with can help teenagers (and adults) realize that mental illness is not something to be embarrassed or ashamed of. In Green's own words, "it's important for people to hear from [those] who have good fulfilling lives and manage chronic mental illness as part of those good fulfilling lives." And because of that, it is absolutely a book worth picking up - even if you aren't familiar with John Green, even if you don't usually read YA.
Honestly, the first thing I thought of when I looked at this book's cover was spiral macaroni and cheese. I think they eat it once over the course of the story, but in the end, I couldn't get it out of my head and no other foods really stood out to me. So, no surprise, that's what I decided to make. I found an easy recipe from Famished Fish and set to work for a quick, easy dinner one night.
To start, I brought my water to a boil and cooked my noodles according to the package instructions. The original recipe called for rotini, but I also think cavatappi would work great here.
While the noodles cooked, I made the sauce. I melted butter in a pan and then added flour to create a roux. To that, I added the dried mustard and paprika, slowly stirring in 1 cup of milk, so that it could fully incorporate with the roux and remain thick.
Then, I added in the remaining 2 cups of milk slowly, along with the salt and a dash of Worcestershire sauce. I continued cooking the sauce, stirring occasionally for about 5 minutes more or so, until it thickened. I stirred in three-quarters of the cheese so it melted and became incorporated.
I drained the finished noodles and poured the cheese sauce on top, stirring until the noodles were fully covered. To serve, I spooned the mac 'n' cheese into bowls and topped each with a sprinkling of shredded cheese.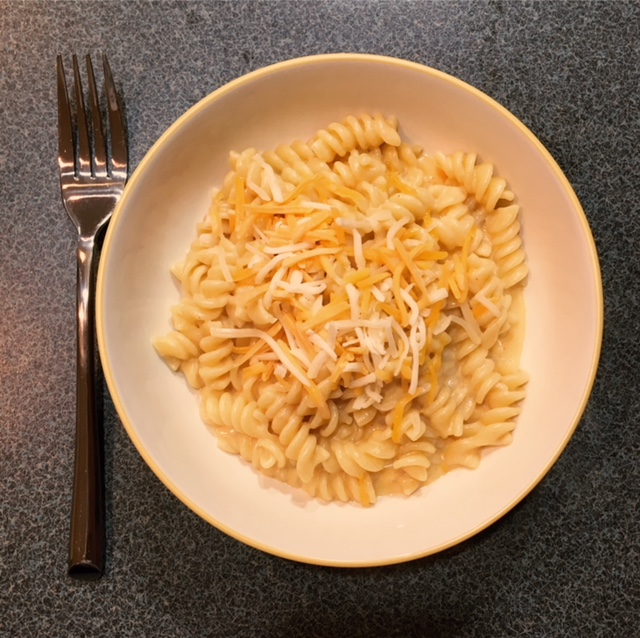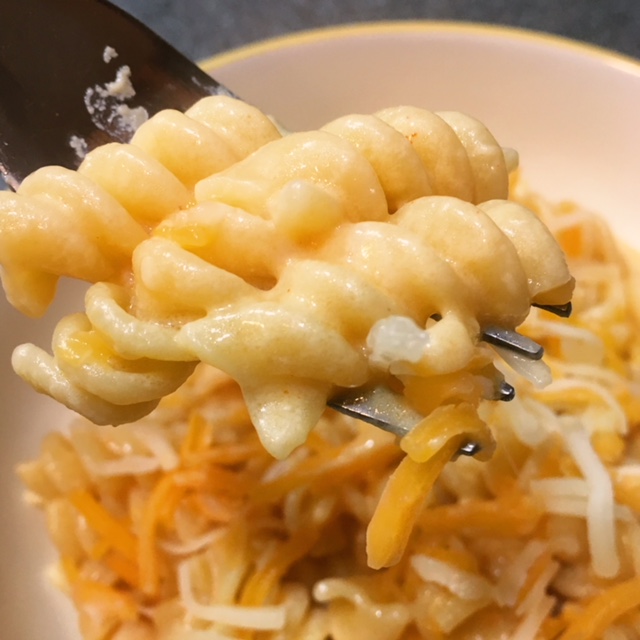 It was delicious! And so easy that I'll definitely be adding it to my repertoire.
Creamy Spiral Mac 'n' Cheese
Ingredients
16 oz uncooked spiral noodles (rotini or cavatappi)
¼ cup butter
¼ cup flour
½ tsp mustard
½ tsp paprika
1 tsp salt
dash of Worcestershire sauce
3 cups milk, divided
2 cups sharp cheddar cheese, divided
Directions
Add uncooked pasta to a large pot of boiling water. Cook 9-11 minutes, according to package directions.
Meanwhile, in a medium saucepan set over medium heat, melt the butter. When butter has melted, stir in flour to create a roux.
Slowly stir in 1 cup of milk along with the mustard and paprika. Stir and cook until the mixture thickens. Add the remaining 2 cups of milk and the salt and Worcestershire sauce. Cook and stir 5 minutes until has thickened.
Stir in 1½ cups of the sharp cheddar cheese. Stir the sauce until the cheese has melted.
Drain the pasta and return to large pot. Carefully pour the cheese sauce over the cooked pasta. Stir gently to combine the cheese sauce and pasta.
Ladle the macaroni and cheese spirals into a large serving bowl and sprinkle with the remaining ½ cup of sharp cheddar cheese.
Serve immediately.
This post contains affiliate links. Full disclosure here.