Isabel Allende's most recent novel In the Midst of Winter really just begs to be read at this time of year. Though it was published in October last year, I wasn't able to get a copy from the library until December, which seemed like perfect timing to me. I started it just as an early snowstorm hit Michigan...and I was catching a plane to south Florida. As I sat in the warmth of a rare perfect weather weekend, reading Allende's vivid descriptions of bitter cold, blustery wind and mounds of snow, I was grateful to have escaped - if just for a little bit.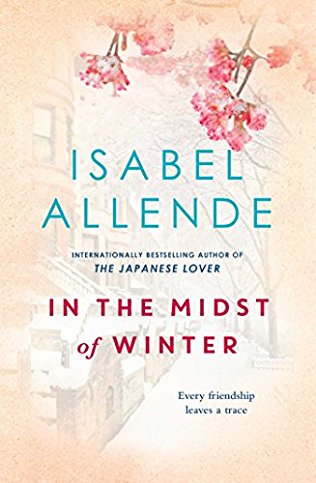 Like the only other Allende book I've read, The House of the Spirits, this novel features strong Latin American women and shines a spotlight on the unique issues they face. Lucia is a university lecturer from Chile, currently living in the bottom floor apartment of Richard, a standoffish professor at the same university. As a snowstorm overtakes Brooklyn, Richard gets in a fender bender, setting off a chain of events no one saw coming. When the other driver, Evelyn, later shows up on his doorstep and refuses to leave, he enlists Lucia's help.
Evelyn, an illegal immigrant from Guatemala, is working as a nanny and is terrified to return to her employers with a damaged car. After hearing her out, Lucia is determined to help the girl and a reluctant Richard is brought along for the ride. Winter couldn't be more timely with its portrayal of immigrants - both legal and illegal - as it highlights their heartbreaking stories with compassion and humanity.
When Richard goes to Lucia to request her help, she is desperately trying to stay warm in her underheated apartment. She describes a delicious, comforting Chilean stew called cazuela - full of beef, corn, potatoes and pumpkin - that she often makes to warm up. She brings it upstairs to Richard's.
As I looked for a cazuela recipe like Lucia's, I kept coming across ones that included chicken. While cazuela may be made with any kind of meat really, beef is used in the traditional Chilean recipe. To get exactly what I was looking for, I combined two different recipes, one from Que Rica Vida and one from Taste of Home. In the end, I included beef, corn and potatoes, like Lucia, and substituted butternut squash for the pumpkin since I already had that on-hand.
I was unable to find a small 1-pound beef brisket at my grocery store because apparently they only offer them in slabs greater than 10 pounds (at least when I was shopping). I opted for corned beef brisket instead, because they were available much closer to the weight that I needed, but I would still recommend trying to find a small cut of brisket or other non-corned beef to use. While still alright, the corned beef ended up being a bit tough and may have affected the flavor a bit.
Anyway, I cut my roughly 1-pound brisket into 6 chunks, as the recipe directed, and set it aside. Then, I cut up my onion, butternut squash, potatoes and carrots into similarly large chunks, as evenly as I could manage.
To the oil already heated in my Dutch oven, I added the meat and cooked it for about 2-3 minutes on each side, about 10 minutes total. Then, I added the onions, oregano, cumin and salt and pepper, mixing and allowing to cook for another 5 minutes or so.
To the pot, I added the rest of my prepared veggies - carrots, potatoes and squash - and covered everything with a combination of vegetable broth and boiling water, about 6 cups total. I let it come to a boil and then simmered it, uncovered, for about 15 minutes before adding the frozen ears of corn.
When the stew was almost finished, I added a handful of frozen green beans and let it continue to simmer for another 5 minutes or so.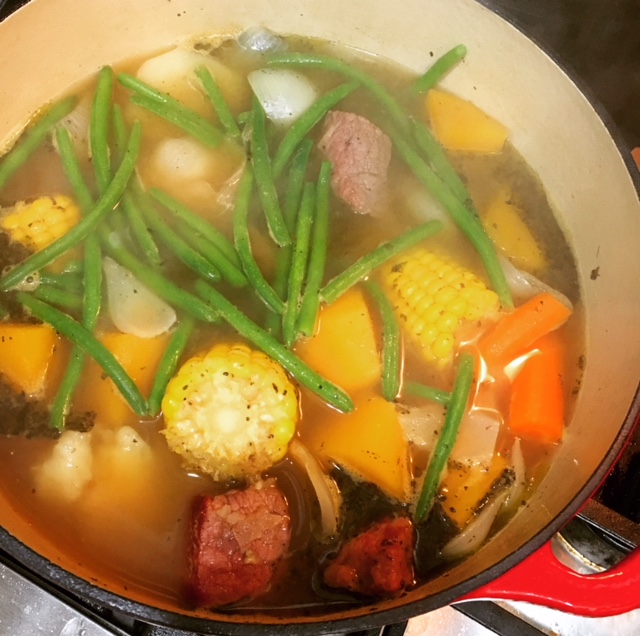 To serve, I put a bit of already cooked rice (about ⅓ - ½ cup) in the bottom of a bowl. I plucked out a piece of beef, corn, potato and squash, along with some carrots, onions and green beans and placed them on top of the rice, covering everything with a few generous ladlefuls of broth.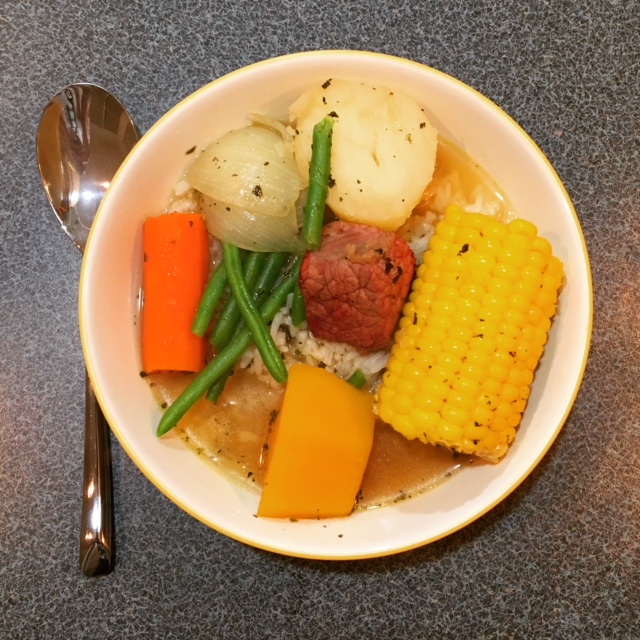 This warm, vegetable-filled soup certainly made for a comforting winter dinner and I'd be interested in trying it again sometime.  
Chilean Cazuela with Beef
Ingredients
1 lb. beef brisket
2 tablespoons vegetable oil
1 onion, cut into quarters
1 teaspoon oregano
1 teaspoon ground cumin
4-6 pieces of fresh or frozen corn on the cob (2 inches each)
3 carrots, cut into 1-inch chunks
6 small red potatoes, peeled (or medium potatoes cut in half)
6 small pieces of butternut squash
1 handful of frozen green beans
Salt and pepper
Hot cooked rice (about 3 cups)
4 cups vegetable broth
2 cups boiling water
Fresh cilantro or parsley, to taste
Directions
Cut the meat into six portions. Preheat the vegetable oil in a large pot. Cook the meat for approximately 3 minutes on each side.
Add the onion, cumin and oregano. Add salt and pepper to taste. Mix well and cook for 5 minutes.
When ready, place the potatoes, carrots and butternut squash in the pot. Completely cover the contents with the vegetable broth and boiling water, approximately 6 cups. Bring to a boil and simmer for 25 minutes, or until meat is cook and vegetables are tender.
Add corn after approximately 15 minutes. Add frozen green beans within last 5 minutes.
Sample and adjust seasonings as necessary. Serve stew over rice in a shallow soup bowl, ensuring that each person receives one piece of meat, one potato, one piece of butternut squash and a portion of corn. Serve with hot pepper sauce, salt, pepper and cilantro or parsley as desired.
Adapted from:
Que Rica Vida
and
Taste of Home
Recipe Notes: Chilean cazuela is a very flexible homemade stew - you can use lamb, chicken or pork in the recipe, but the classic version is made with beef. Butternut squash can be swapped for pumpkin, if desired.
This post contains affiliate links. Full disclosure here.