With my ambitious yearly goal to read between 48 and 52 books (depending on the year), I don't usually take the time to read books that are longer than 500 pages. Too many times I have found myself slogging through a book I didn't particularly enjoy just to get through it and move on to the next. I thought The Nix would be one of those books, but I'm glad I was wrong.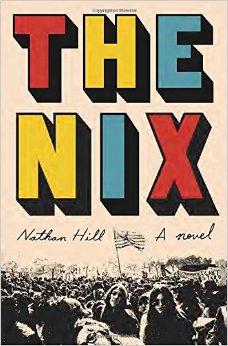 Nathan Hill's lengthy debut novel - coming in at 628 pages - was suggested as the latest selection for one of my book clubs. We even gave ourselves extra time to read it, meeting again after 2 months instead of the usual 1-ish, which really just gave me more time to stall. Luckily, a well-placed work trip to California gave me ample time to catch up and fully dive in to a book I really enjoyed.
The Nix is all over the place - but in a good way. Hill takes you from 2011 to 1988 to 1968 and back again. You'll see the world from the eyes of both minor and major characters, and while the reasons aren't always clear, it definitely comes together at the end.
In 2011, Faye finds herself in a bit of a predicament - one that lands her all over the news and opens up a long-lost connection to her son Samuel, who she abandoned decades earlier. For reasons even he is still trying to figure out, Samuel begins to explore his mother's past to uncover the truth. On her own journey, Faye sets out to face the haunting folktales of her youth.
What Samuel finds is not only surprising, but life-changing, too. Later, on a trip to her family's native Norway, Faye also learns about her father's past, which she confronts over a hot bowl of fish stew and some crusty bread.
I found a recipe on Saveur's website for Fiskesuppe, or a Norwegian Cod Vegetable Chowder, similar to the one Faye eats during her illuminating trip. It made the perfect meal for a cold fall evening, hearty and delicious. But, full disclosure, my apartment smelled like fish stew for days!
There are a lot of vegetables in this stew, so I suggest you start by prepping them all. I sorted them into two bowls so that they would be easy to add to the pot at the right time.
Heat the butter over medium-high heat until melted. The recipe calls for 6 tablespoons, but I would recommend 4 (or half of a stick). When cooking down the vegetables, the amount of butter was just a bit more than you needed, and trust me, it will make for more appetizing-looking leftovers. Add your first bowl of vegetables (garlic, celery, onions, peppers and leeks) and season with salt and pepper.
After those cook for about 8-10 minutes, or until soft, add your second bowl of vegetables (carrots, parsnips, celery root and potatoes) along with the milk, cream and fish stock - I was only able to find seafood stock at the grocery store - and Worcestershire sauce. Stir and bring to a boil.
Once boiling, reduce heat to medium and cook for about 25 minutes, or until the vegetables are tender, stirring occasionally. While the stew was cooking here, I prepped my cod, cutting it into bite-size pieces (mine were probably closer to an inch, rather than the recommended 2-inches). I also used this time to chop my fresh herbs.
After 25 minutes, add the cod and cook for an additional 6-8 minutes or until it's cooked through. Remove from the heat and stir in lemon juice (I used a half lemon, but check the flavor and add more to taste), dill and parsley. Season with salt and pepper.
As in The Nix, I served it with some crusty bread.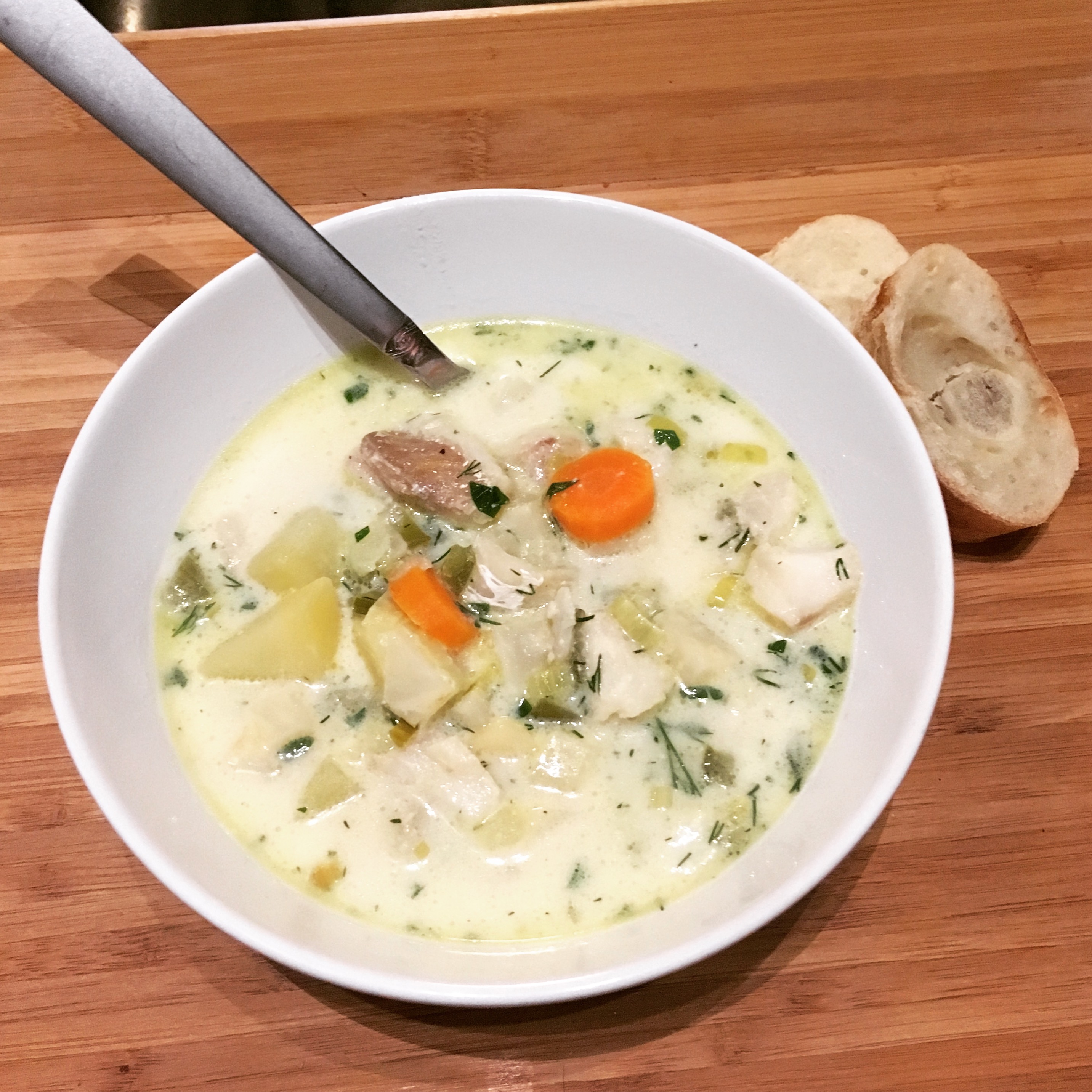 Norwegian Cod and Root Vegetable Chowder (Fiskesuppe)

From: Saveur.com

Ingredients
6 TBS unsalted butter [I recommend 4 TBS]
4 cloves garlic, chopped [I minced mine]
2 stalks celery, chopped
1 small onion, chopped
1 green bell pepper, seeded and chopped
1 small leek, sliced ¼" thick
2 medium carrots, sliced ¼" thick
1 large parsnip, peeled and chopped
1 small celeriac, peeled and chopped
4 medium new potatoes, peeled and cut into 1" pieces
3 cups fish stock
2 cups milk
1 cup heavy cream
1½ TBS Worcestershire sauce
2 lb. boneless, skinless cod fillet, cut into 2" pieces [or bite-size]
⅓ cup dill, chopped, plus more for garnish
¼ cup parsley leaves, chopped
Kosher salt and black pepper, to taste
Juice of ½ - 1 lemon
Crusty bread, for serving
Directions
Heat butter in a 6-qt. saucepan over medium-high heat. Add garlic, celery, onions, peppers, and leeks, and season with salt and pepper. Cook, stirring, until soft, 8-10 minutes. Add carrots, parsnips, celeriac, potatoes, stock, milk, cream, and Worcestershire; bring to a boil. Reduce heat to medium, and cook, stirring occasionally, until vegetables are tender, about 25 minutes. Add cod, and continue to cook, stirring gently, until fish is cooked through, 6-8 minutes. Stir in dill, parsley, lemon juice, and salt and pepper. Serve with bread.
This post contains affiliate links. Full disclosure here.