If there are any music lovers out there, this book is for you. Rachel Joyce's The Music Shop was similar in feel to The Storied Life of AJ Fikry, which I adored, except in place of a bookshop and bookworms you have a music shop and musicians (or at the very least, those who appreciate music). Though this book doesn't hit shelves until January, I was lucky enough to get an early copy.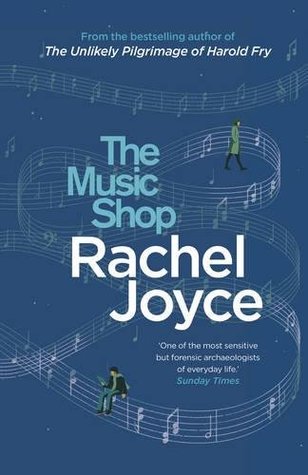 In a rundown neighborhood that smells of cheese and onion, in 1988, Frank is struggling to keep his music shop open. It is the age of the CD and though records are losing their appeal, Frank's shop is something special. As a true connoisseur of music, he is able to recommend exactly the tracks his customers need, even if they didn't know it was what they were looking for.
One day, a mysterious woman enters his shop, arousing the interest of the surrounding shop owners, who often congregate at Frank's. He begins teaching her about music and everything begins to change. This novel has a wonderful, quirky set of characters and tells a heartwarming story. I only wish I was more into music, because I would have appreciated it that much more.
Though the book made the neighborhood's pervasive smell of cheese and onion sound like a bad thing, I'll admit it really just had me craving French onion soup. Full of caramelized onions and covered with melty cheese, nothing could be more delicious! I pulled out my trusty recipe from The Pioneer Woman, which I've been using for a few years now, and got to work creating my own cheesy, onion-y smells in the kitchen.
To start, I always slice my onions, since it takes a bit of time and I usually can't finish slicing them all in the time it takes the butter to melt. I used 6 medium yellow onions, because that's what I had on-hand, but if you're buying them specifically for this recipe, you can substitute a few less large onions.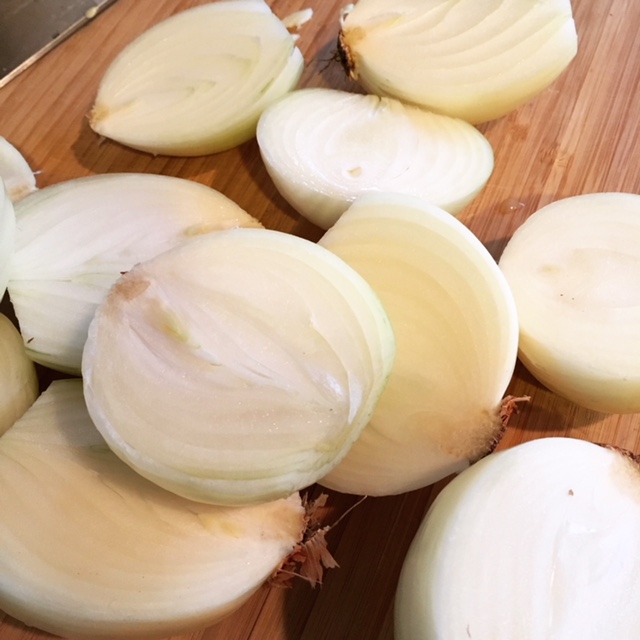 I melted a half stick of butter in my Dutch oven. (Ree uses a whole stick of butter, but over time I've adapted the recipe and use just half of that. Since we usually have leftovers, I've found that that much butter creates a pretty thick - and unappetizing - layer of solidified fat on top of the soup when it gets cold. It tastes just as good with half a stick, and is probably healthier too!)
To the melted butter, I added my sliced onions, which take up quite a lot of room in the Dutch oven - don't worry! They'll cook down considerably. I stir/toss the onions with a spoon to make sure they're all pretty well coated in the butter and then I let them cook for about 20 minutes over medium-low heat while covered.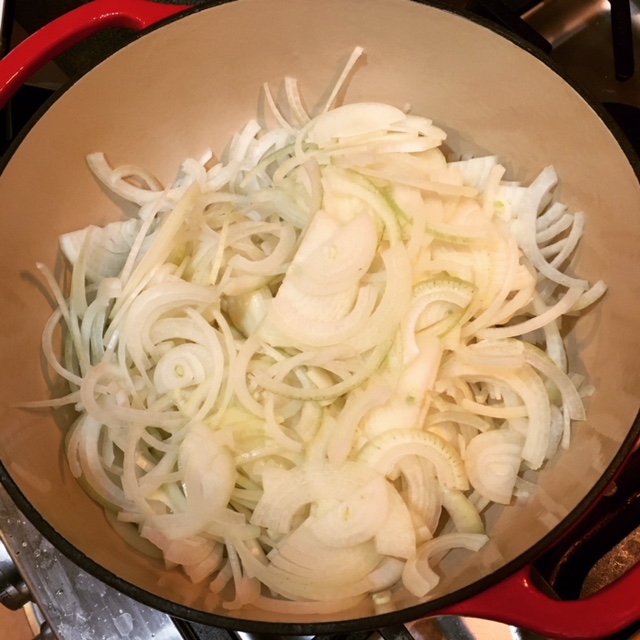 After they've cooked down a bit, it's time to put them into a 400 degree oven, where they'll cook for an hour minimum. I like to cook mine for closer to an hour and a half to really allow them to caramelize. My favorite thing about this recipe is that it's perfect for lazy weekend days - it takes a while to make, but most of that time is hands-off. What you get in the end is a delicious, comforting soup.
Back on the stovetop, over medium heat, I used a wooden spoon to scrape off some of the brown bits, which are full of flavor. Carefully add a generous cup of dry white wine to the pot, all while scraping the flavor off the bottom and sides. (If you're concerned about potential fire hazard, since alcohol is flammable, you can briefly turn off the heat, add the wine, and turn the heat back on. With such a large/deep pot, I don't find that to be necessary.) I let that mixture cook down until the alcohol is mostly cooked off, about 5 minutes.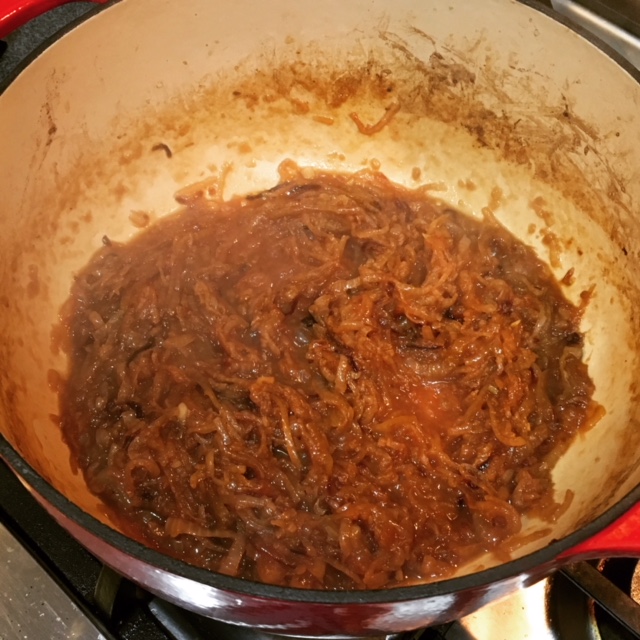 To the onions, I added the chicken and beef broths, minced garlic and a dash of Worcestershire sauce. I allowed the soup to simmer for between 30 and 45 minutes.
Meanwhile, with about 15 minutes left on the soup, I prepped the bread to use on top of the soup. I sliced about half of a baguette, making sure to keep them on the thicker side. (I like to freeze the other half of the baguette for the next time I make the soup, or for another recipe.) I put them under the broiler for a few minutes, until they began to brown and get crispy.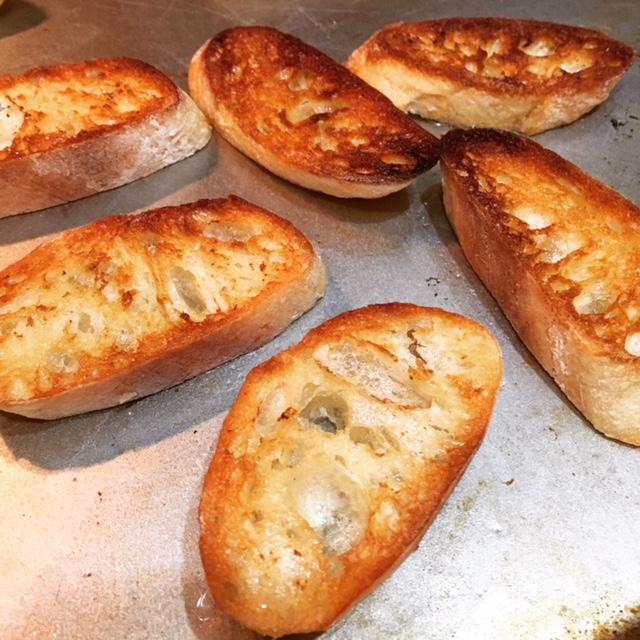 When the soup was finished, I ladled it into a bowl for each of us, set two pieces of bread on top and covered that generously with grated cheese. (I used a nutty Swiss from Trader Joe's, since they were out of my usual shredded mix - see notes. If the mix is unavailable or you're not near a TJs and budget is a factor, Swiss is a great substitute for Gruyere, which usually runs $10/lb or more.)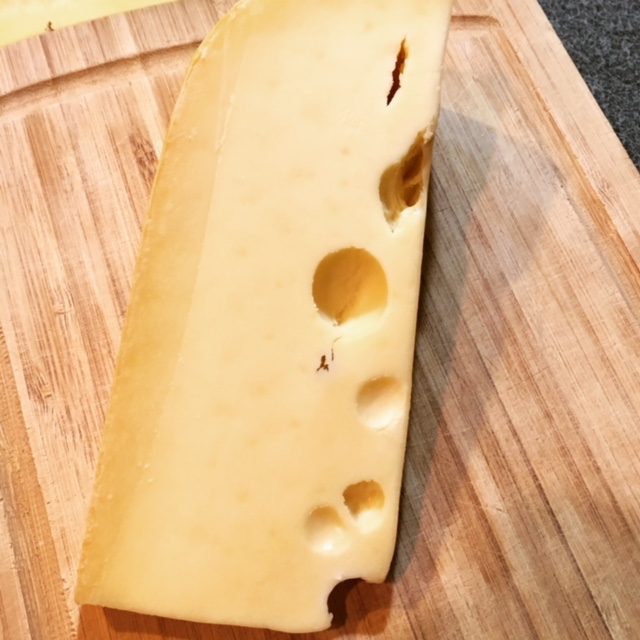 Since my bowls aren't oven safe, I used my old trick of popping each bowl into the microwave for a minute or less - I suggest watching through the door - until the cheese is melted. You don't get the nice browning that you get under the broiler, but the meltiness is really what I'm looking for in a French onion soup anyway. Hope you enjoy!
French Onion Soup
Ingredients
½ stick butter
4 large or 6 medium yellow onions, halved root to tip and thinly sliced
1 cup (generous) dry white wine
4 cups low sodium chicken broth
4 cups beef broth
4 cloves minced garlic
dash of Worcestershire sauce
Several thick slices of baguette
5 ounces weight (to 7 Ounces) Gruyere cheese, grated
Directions
Melt butter in a heavy soup pot or Dutch oven over medium-low heat. Add onions and cook, covered, for 20 minutes. Meanwhile, preheat oven to 400 degrees.
Place pot into the oven with the lid slightly ajar to ensure the onions will brown. Allow onions to cook in the oven for 1 to 1 ½ hours, stirring at least once during the cooking process so onions won't stick and burn.
Remove pot from oven and place back on stovetop over medium heat. Stir, scraping off all the brown, flavorful bits. Turn off heat and pour in wine. Turn heat back to medium. (If you do this carefully, you don't need to turn off the heat.) Cook wine for 5 minutes, allowing it to reduce. 4. Add broths, Worcestershire sauce and minced garlic and reduce heat to low. Simmer for 30 to 45 minutes.
Butter one side of the bread slices and broil over low heat, allowing bread to brown and become crispy.
When soup is ready, ladle into bowl or ramekin. Place crispy bread on top, and then sprinkle generously with grated cheese. Broil until cheese is melted and bubbly. (Alternatively, if you don't have oven-safe bowls, you can place in microwave for 30 - 60 seconds, or until melted.)
Serve immediately.
Adapted from:
The Pioneer Woman
Notes: I prefer the Swiss/Gruyere shredded cheese mix from Trader Joe's, if there is one near you. It's more cost effective and saves you the trouble of grating. Additionally, you can substitute vegetable broth for the chicken broth if you prefer. If you only have stocks on-hand, I've also used them in place of the broth(s), and the result is much the same - just check the taste and adjust seasoning as needed.
This post contains affiliate links. Full disclosure here.