Though I read this last book about a month ago, I thought it would make the perfect post to kickoff the new year. If you love food as much as you love books, like I do, Molly Wizenberg's food memoir - which I gushed about during the Thanksgiving Readathon - is an absolute treasure. A Homemade Life: Stories and Recipes from My Kitchen Table is full of so many mouth-watering recipes that I had an extremely hard time deciding what to make for this post.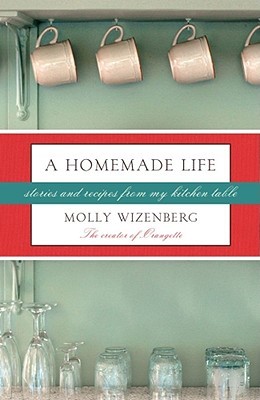 I became familiar with Molly through a funny food podcast called Spilled Milk, which she co-hosts with fellow foodie Matthew Amster-Burton. Little did I know, she also writes a well-loved blog, Orangette, which she started in a moment of self-discovery because "whatever [she] did, it had to involve food and writing." We're somewhat kindred spirits in that way. Not to give away any spoilers, but one of my favorite parts of the book was discovering that Molly actually met her husband through her blog. (I met mine well before creating my blog, but I'm lucky that he has always been extremely supportive of my efforts.) Since the book is mostly food, coupled with lovely personal stories of course, let's get right to meat of it.
I snuck Molly's father's French toast recipe into a blog post late last year, partially because I didn't think one recipe did this collection justice and partially because I'm indecisive. But, as I combed back through the pages, the perfect recipe for this post jumped out at me. I decided to choose the Mediterranean-style turkey meatballs from her friend Doron because they were one of the first recipes Molly wrote about on her new blog in 2005.
The ingredient list is a bit intimidating - I didn't have pine nuts or golden raisins on-hand - but because it's meatballs, the grocery shopping is really the hardest part.
To start, I made the yogurt dipping sauce because in the book she recommends leaving it at room temperature while you do the rest so the flavors can develop (here, the blog version of the recipe varies). I combined all of the ingredients - plain yogurt (I used Greek, full fat), lemon juice, minced garlic, ground cumin and salt - in a small bowl with a whisk. I set it aside while I made the meatballs.
To make the meatballs, I combined the majority of the ingredients in a large bowl - minced yellow onion, fresh cilantro leaves, pine nuts, golden raisins, bread crumbs, an egg and salt, cumin and freshly ground black pepper.
To that, I added the pound of ground turkey and used my hands to gently incorporate all of the ingredients, taking care not to overwork the meat.
Then, I rolled the meatballs, doing my best to keep them somewhat uniform in size - about 1½ inches round.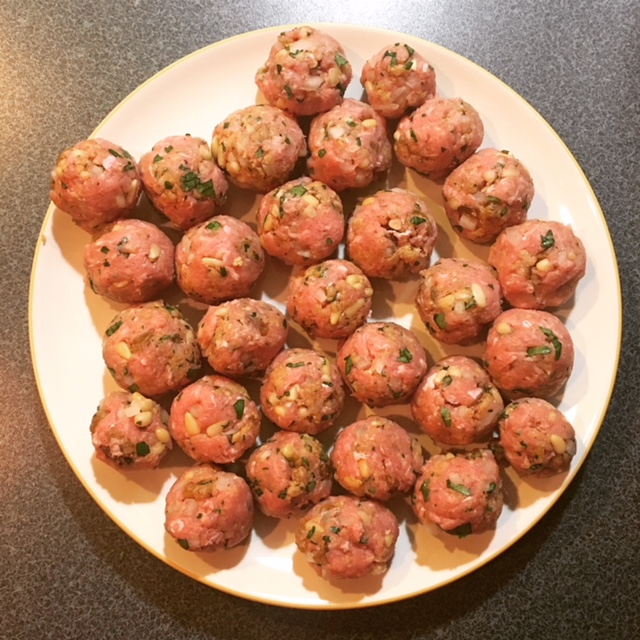 I heated a couple Tablespoons of oil in my skillet and added about half of the meatballs to begin cooking. Now, obviously it's important to make sure poultry is cooked through and I'll admit that the cooking part of the process gave me a touch of anxiety because it felt like it was taking forever. (Molly offered no rough time estimate in her recipe or notes.) That being said, I cooked each batch for approximately 20 minutes, checking for doneness as I went.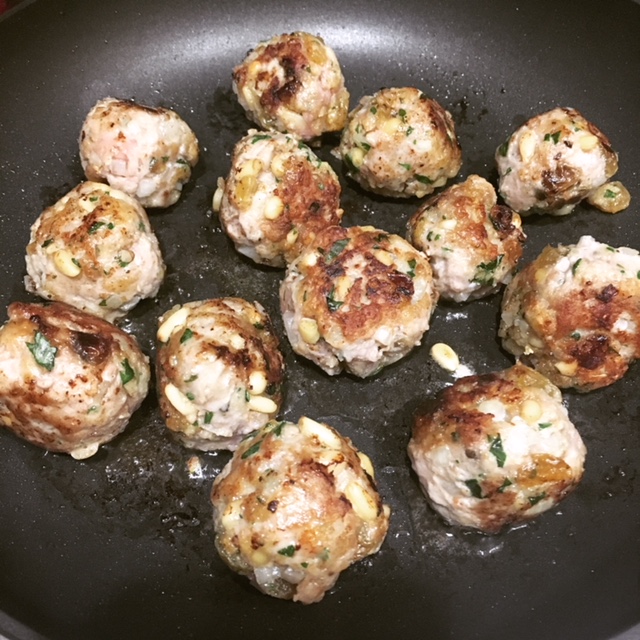 They turned out to be really delicious - no surprise there - and the yogurt sauce was the perfect complement.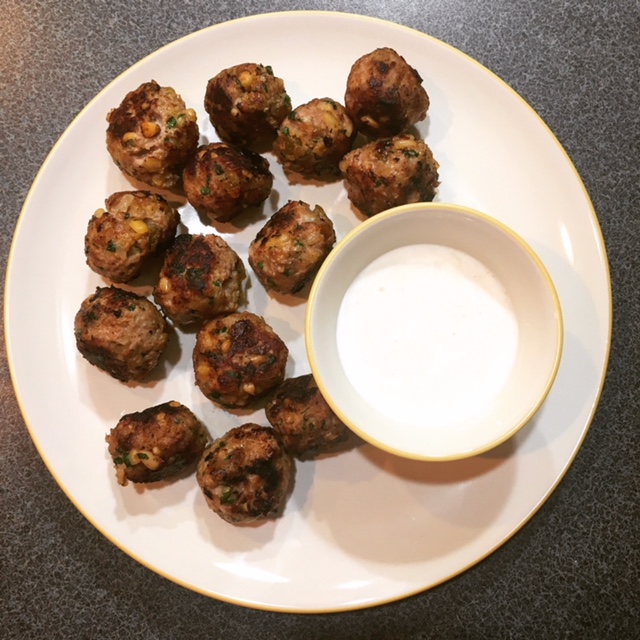 The only thing left to do is to try more of Molly's recipes, and see if I can work them into other future blog posts 😉 Have you read A Homemade Life? Do you have a favorite recipe I should try? Let me know in the comments!
Doron's Turkey Meatballs with Pine Nuts, Cilantro and Golden Raisins
Ingredients
½ cup (1 small) yellow onion, minced
¼ cup chopped fresh cilantro leaves
½ cup chopped pine nuts
½ cup golden raisins (halved or coarsely chopped if large)
½ cup fine bread crumbs
1 large egg, lightly beaten
½ tsp salt
⅛ tsp ground cumin
⅛ tsp freshly ground black pepper
1 lb. ground turkey, chicken or lamb (see notes)
about 4 TBS olive oil
yogurt sauce, for serving (recipe below)
Directions
Mix all ingredients combine onion through black pepper in a large bowl.
Add the ground meat, and using your hands, break it up into small chunks. Then massage and gently knead the meat to incorporate the ingredients. Mix until combined, but do not overmix; meat gets tough easily.
With damp hands, gently pinch of hunks of the mixture and roll into 1½-inch balls. Set aside on a large plate.
Warm 2 Tablespoons of the olive oil in a large heavy skillet over medium heat. Add about half the meatballs, taking care not to crowd them. As they begin to color, turn them regularly so that they are golden on all sides. They should be done when they are evenly browned and feel medium firm—but not hard—to the touch.
Transfer the finished meatballs to a plate lined with a paper towel. If the skillet looks dry, add the remaining 2 Tablespoons oil. Cook the remaining meatballs.
Serve hot, warm, or cold with yogurt sauce.
From:
A Homemade Life
by Molly Wizenberg, pages 168-169; an earlier version can also be found on Molly's blog Orangette
Notes: Particularly if using chicken or turkey, make sure the meatballs are fully cooked before serving. You can cut one or two of them in half, if you like, to make sure they're cooked through. Each batch of mine (using ground turkey) cooked for approximately 20 minutes.
Lemon and Cumin Yogurt Sauce
Ingredients
1 cup plain yogurt (not low fat or nonfat)
3 TBS lemon juice (or the juice from 1 lemon)
1 medium clove garlic, minced
¼ tsp ground cumin
¼ tsp salt
Directions
In a small bowl, combine all ingredients and whisk to combine. Set aside at room temperature to let the flavors develop while you make the meatballs.
This post contains affiliate links. Full disclosure here.