I added Anna Quindlen's memoir Lots of Candles, Plenty of Cake to my to-read list almost four years ago. I don't remember my reasoning for wanting to read it back then, but I know that I decided to finally rescue it from my too-long list - which currently sits at 436 books - because I wanted to make a cake.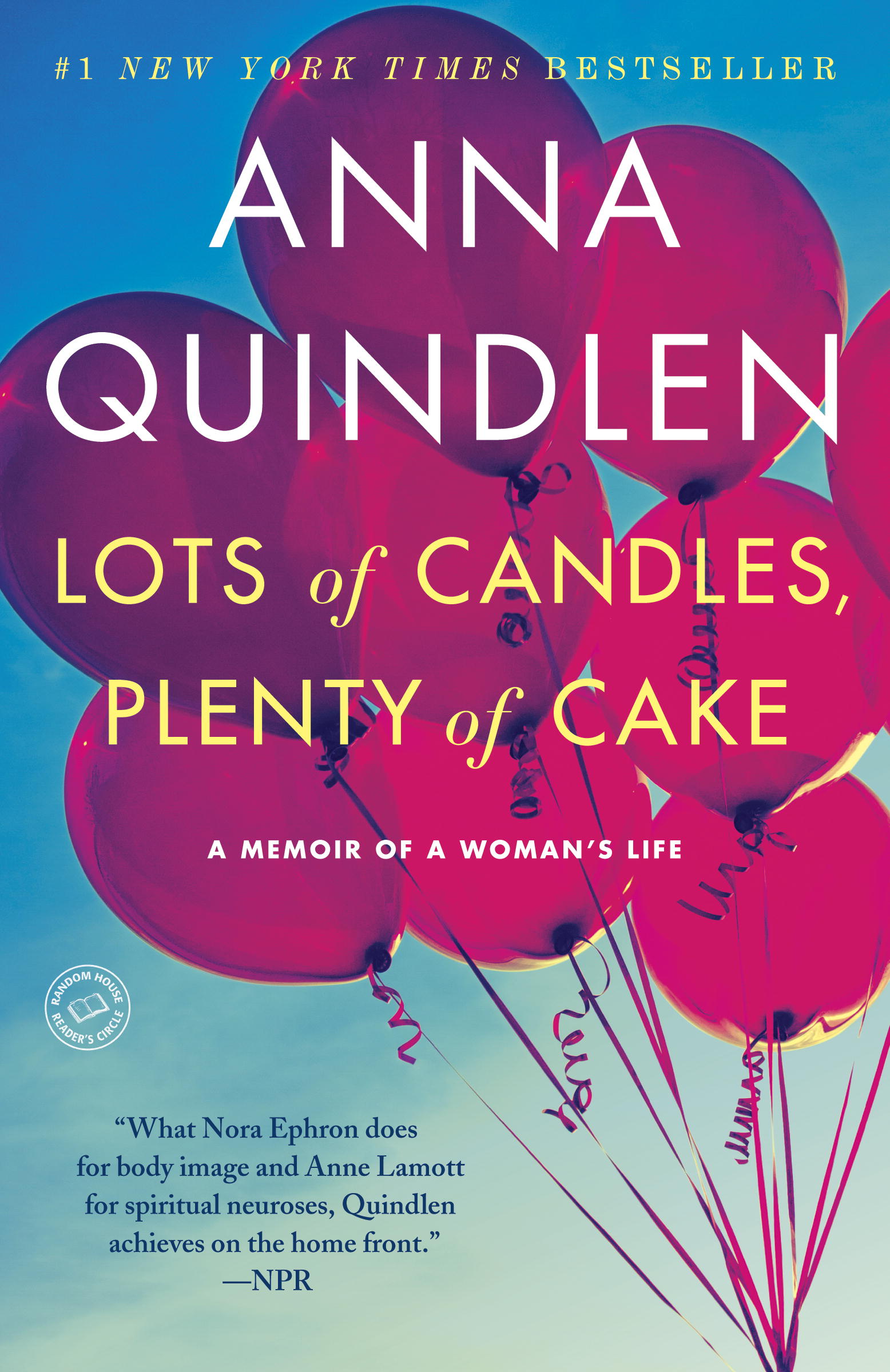 I knew nothing of Quindlen when I began reading, and over the course of her "memoir," I can't say I know that much more about her. Really it seemed more like a carryover from her columns in the New York Times as she described them - a collection of her thoughts on life and aging, coupled with bits of advice.
Perhaps I wasn't exactly the target market for this book - I am roughly half her age, really just at the beginning of my career, not yet married and currently without children. I'm still figuring a lot of things out, and while in some ways she is too, we are figuring out very different things about life. I was able to glean a few interesting insights from her writing, but ultimately, I think this book is one I'd like to try again a couple of decades down the road.
The cake I envisioned when I chose this book was a towering cake ablaze with an unsafe amount of candles. So, I began my recipe search by buying four dozen tall, skinny, colorful candles to cover my imaginary cake. (Thank you, Amazon!) After all, candles do come first in the title - lots of them - and the plenty of cake comes second.
With the candles secured, I sought out a recipe for funfetti cake and found a great one from Sugar Spun Run. The homemade, triple-layer cake suited my needs perfectly. Now, I just had to execute…
I started the night before by setting out my frozen sticks of butter to soften overnight. Between the frosting and the cake, there was so much butter (over a pound and a half!). In the morning, I preheated my oven, separated my eggs and floured the pans to get started.
Then, I added the butter for the cake (1 stick, plus 1 tablespoon) to the stand mixer and beat until creamy. In went the sugar and oil, beaten until well-combined and creamy. I used a scraper on the sides of the bowl and added in the vanilla extract.
In a separate bowl, I whisked together the flour, baking powder and salt. Then, as instructed, I alternated between adding the flour and the milk to the butter-sugar mixture in the mixer, beating on medium speed until combined.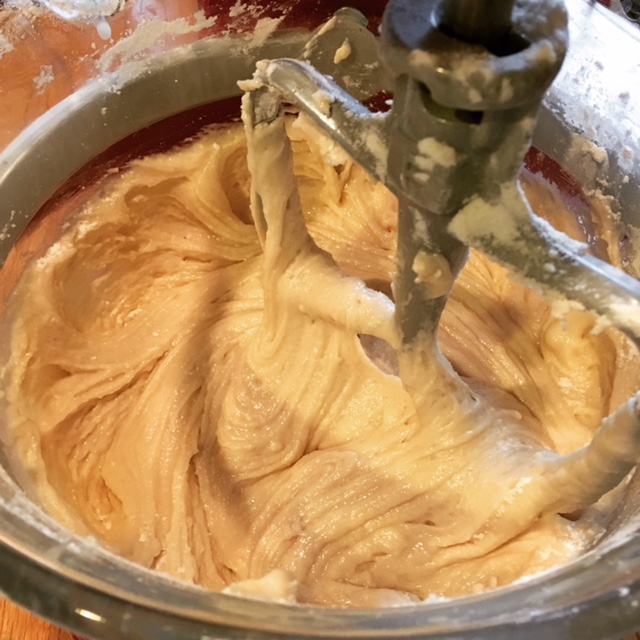 I whipped the egg whites into stiff peaks and measured out a half cup of sprinkles to add to the cake batter.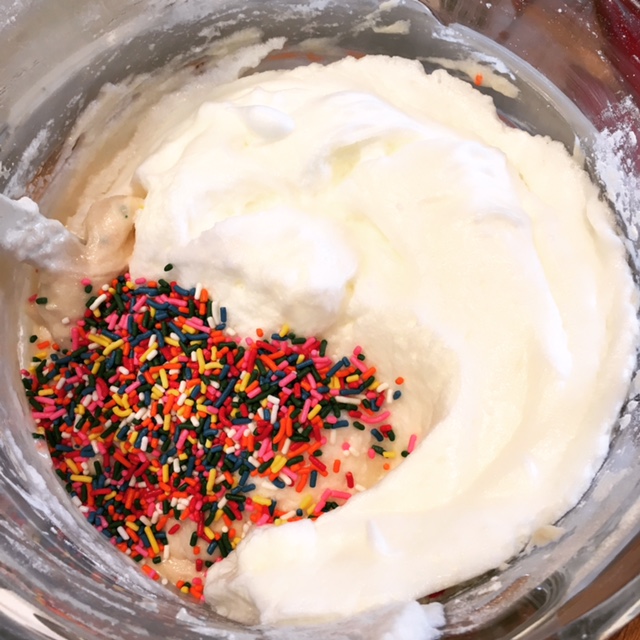 I gently folded them into the batter until both the egg whites and sprinkles were well-incorporated and the funfetti batter was complete.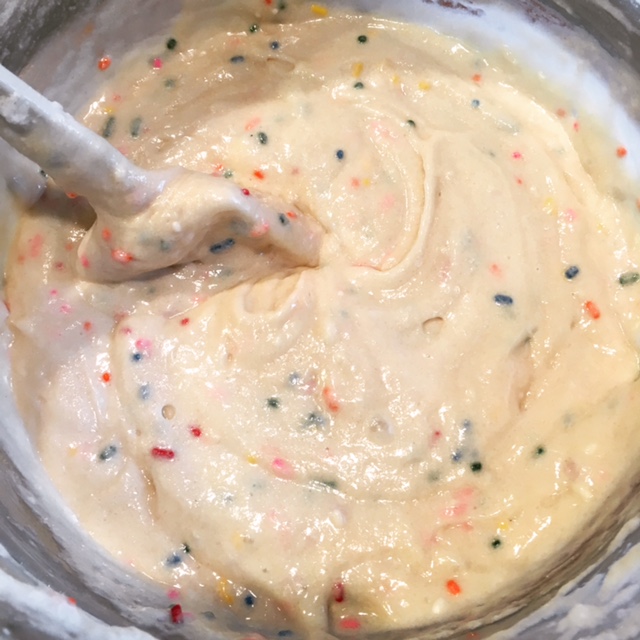 I only had 2 cake pans, so I put my best estimate of one-third of the batter into each of my cake pans, saving the last third to bake after the first two layers were finished. I baked them together for about 35 minutes, using a toothpick to test each one before allowing them to cool. After 15 minutes, I removed each cake layer from the pan so they could finish cooling on a rack. Then, I baked my last layer.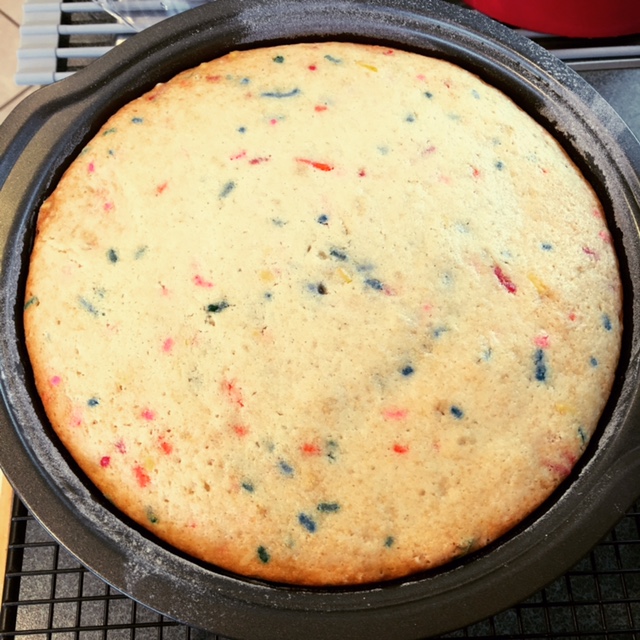 After all of the cake layers were out of the oven and cooling, I set to work on my frosting. First, allll of the butter - 6 softened sticks - went into the stand mixer. (I increased the recipe by 50%, according to the recommendation, so I wouldn't run out. I ended up having more than enough - please read my notes in the recipe.)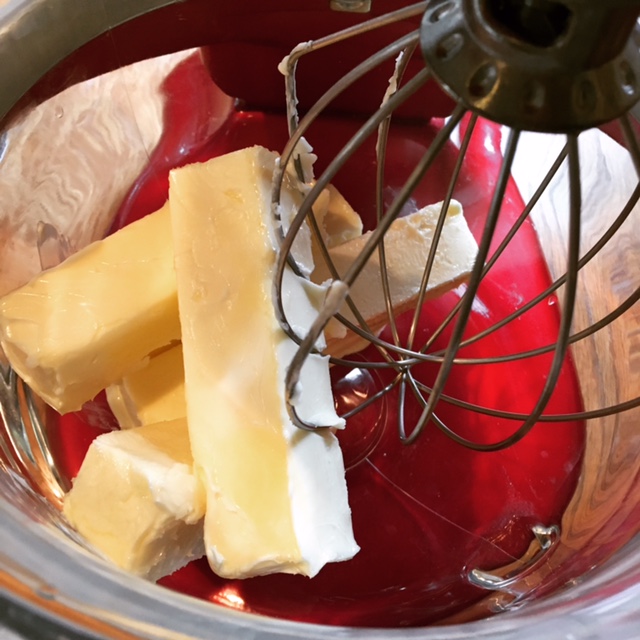 Once the butter was creamy, I added salt and beat for about 20 more seconds. I did my best to add the powdered sugar gradually without making a mess, but I wasn't quite successful. My lovely red mixer looked like it had been in a snowball fight by the time I was done! I let it incorporate approximately 1 cup at a time and then added in the vanilla extract.
My cake layers weren't 100% even because I had had to estimate, so I started with the thickest layer at the bottom. I frosted the top of that, placed the next layer and frosted that, before placing the last layer and frosting the top and sides of the entire cake. As suggested, I put the cake with the crumb coat into the freezer for about 15 minutes before finishing the frosting with a final thicker layer.
The last step to decorating the cake - but certainly not the least! - was adding the sprinkles. I watched quite a few tutorials on the best way to add the sprinkles without making a mess. My frosted cake was on a cardboard cake round, so I set that on a cooling rack nested into a baking sheet with sides. I cupped my dominant hand (in my case, my left) and filled it with sprinkles, carefully tipping them onto the side of the cake. Most of the extras fell into the baking sheet as expected!
I continued to rotate and sprinkle until the entire bottom third of the cake was covered in sprinkles. Lastly, I carefully covered the outside of the top of the cake with a thick line of sprinkles to match the bottom. It was easier than I expected it to be! And, as someone who is usually terrified of cake-decorating, I found that sprinkles not only do sprinkles look super festive, they cover a lot of errors. 🙂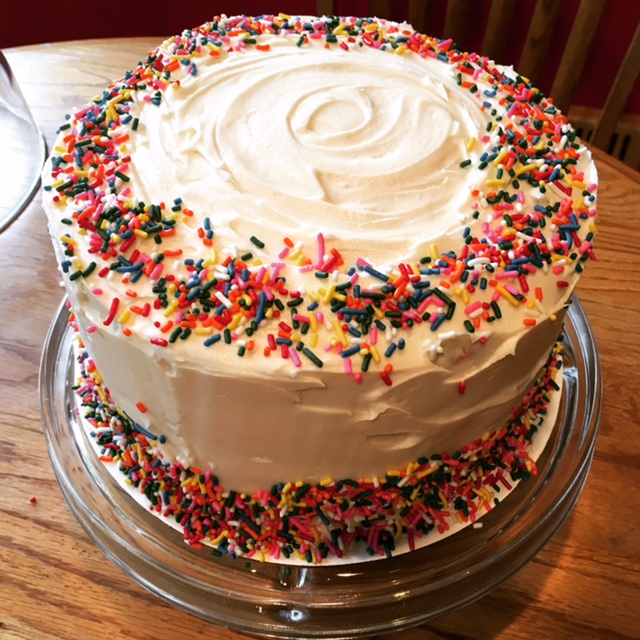 Last but not least, it was time for the candles. I didn't end up using all of the four dozen candles I bought, but I covered the cake pretty well. The candles looked impressive. I have honestly never been more proud of a cake I've made - especially from scratch. Hope you enjoy it as much as Scott, my sister and brother-in-law, and my co-workers did! (I know I didn't have to twist any arms, but thanks to all for taste-testing.)
Triple-Layer Funfetti Cake
Cake Ingredients
9 TBS butter, softened
3 cups sugar
1 cup canola oil (vegetable oil would also work)
4 tsp vanilla extract
4 cups + 2 TBS all-purpose flour
4½ tsp baking powder
1½ tsp salt
1½ cup milk
9 egg whites (room temperature preferred)
½ cup sprinkles
Buttercream Frosting Ingredients
1 lb unsalted butter, softened to room temperature
¼ tsp salt
6 cups powdered sugar
6 TBS heavy cream
2 tsp vanilla extract
Cake Directions
Preheat oven to 350F and prepare 3 8-inch round cake pans by generously greasing and flouring. Be sure to shake out excess flour.
In stand mixer, beat butter on medium-low speed until creamy.
Add sugar and oil and beat until all ingredients are well-combined and creamy.
Scrape down the sides and bottom of the bowl and then stir in your vanilla.
In separate bowl, whisk together your flour, baking powder, and salt.
Measure out your milk. Then, with mixer on medium speed, gradually alternate between adding the flour mixture and the milk, starting and ending with the flour mixture. Stir until each one is almost completely combined before adding the next. Pause occasionally to scrape down sides and bottom of bowl.
In separate bowl, combine your egg whites and, with a hand-mixer on high-speed, beat until stiff peaks form.
Using a spatula, gently fold your egg whites and sprinkles into your batter. Take care to scrape the sides and bottom of the bowl so that ingredients are well-combined, and take care not to over-mix.
Evenly divide cake batter into prepared pans.
Bake on 350F for 35-40 minutes, or until a toothpick inserted in the center of each cake layer comes out clean or with few crumbs (should not be wet). For best results, rotate your cake pans halfway through baking to ensure even baking. Cakes will be a light golden brown when done.
Remove cakes from oven and allow to cool in pans for 15 minutes. Run a butter knife around the inside rim of each pan and invert each onto a cooling rack. Allow to cool completely before frosting.
Frosting Directions
In stand mixer, beat butter on medium-speed until creamy.
Add salt and beat again for about 20 seconds.
Gradually, about 1 cup at a time, add powdered sugar, waiting until each cup is completely mixed before adding the next cup.
Then, 2 tablespoons at a time, add the heavy cream on medium-high speed, waiting until each addition is well-combined before adding the next 2 tablespoons.
Add vanilla extract and stir on medium-high for 30 seconds.
Transfer one layer of your cooled cake to serving platter. Use frosting to ice the top. Add the next layer, ice the top of that. Add your third layer on top and ice the top, and then do a thin "crumb coating" around the entire cake.
Transfer to freezer for 10-15 minutes, then remove and apply a clean, thick coat of frosting around the entire cake.
From:
Sugar Spun Run
Original recipe based on this technique from I Am Baker to frost cakes. She recommended increasing the above frosting recipe by 50% to ensure full coverage, but I had a TON leftover. I don't like overly frosted cakes, but mine was still well-frosted according to taste testers (a good amount), so it's up to you and your preferences.
This cake may also be made in 3 9" pans, just decrease the baking time. Start checking the cakes for doneness at 25 minutes.
P.S. It will apparently take me only 8 years (a shockingly short amount of time!) to finish my TBR list...assuming I don't add any more books. If you'd like to calculate your own TBR time, check out Read It Forward's calculator. Let me know in the comments how many years of reading you have ahead of you!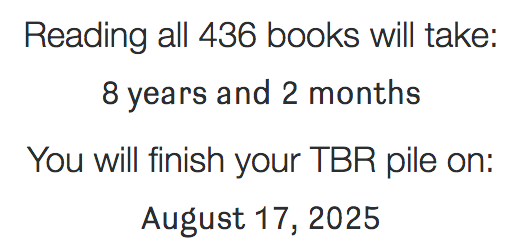 This post contains affiliate links. Full disclosure here.