It's no secret that I love book clubs. But I didn't always. I've been reading for as long as I can remember, devouring books that were much too big for me even at a young age — from my first chapter book (Black Beauty) at six years old to my mother's suspense novels as a tween. I was always reading, but I was always reading alone. Until several years ago, when I joined my first book club as a way to make some friends when I was living in New York City. I dutifully read the book, walked into a room full of strangers, and was surprised at the immediate connection. I never looked back.
Now, I'm in three book clubs. I love that, through them, I have formed several close friendships. I love that they're often an excuse to drink wine on a weeknight. I love that they can be fun but also serious. I love how book clubs get me to read books I wouldn't otherwise have picked up on my own.
I often read as a means of escape, but I also read to gain perspective and learn. I think it's important to read outside of your comfort zone. This is where book clubs can really come in handy. They are all the things I said above, but book clubs are also a safe space to have deep, meaningful discussions about what we encounter in books and in life.
This is true of all of my book clubs, including the one I currently lead for my company. I work for an advertising agency that has made diversity and inclusion a pillar of its mission, and our book club is centered around diverse perspectives. I jumped at the chance to join and have been a part of it since it began about four years ago. And, I have been fortunate enough to be able to lead it for the past year and a half.
You don't always have to read serious, academic or big, tough books to have these kinds of discussions. In fact, contemporary fiction often encourages wonderful, insightful conversation between book club members. As you can see below, a lot of the selections we read for my company-sponsored book club fall into this category.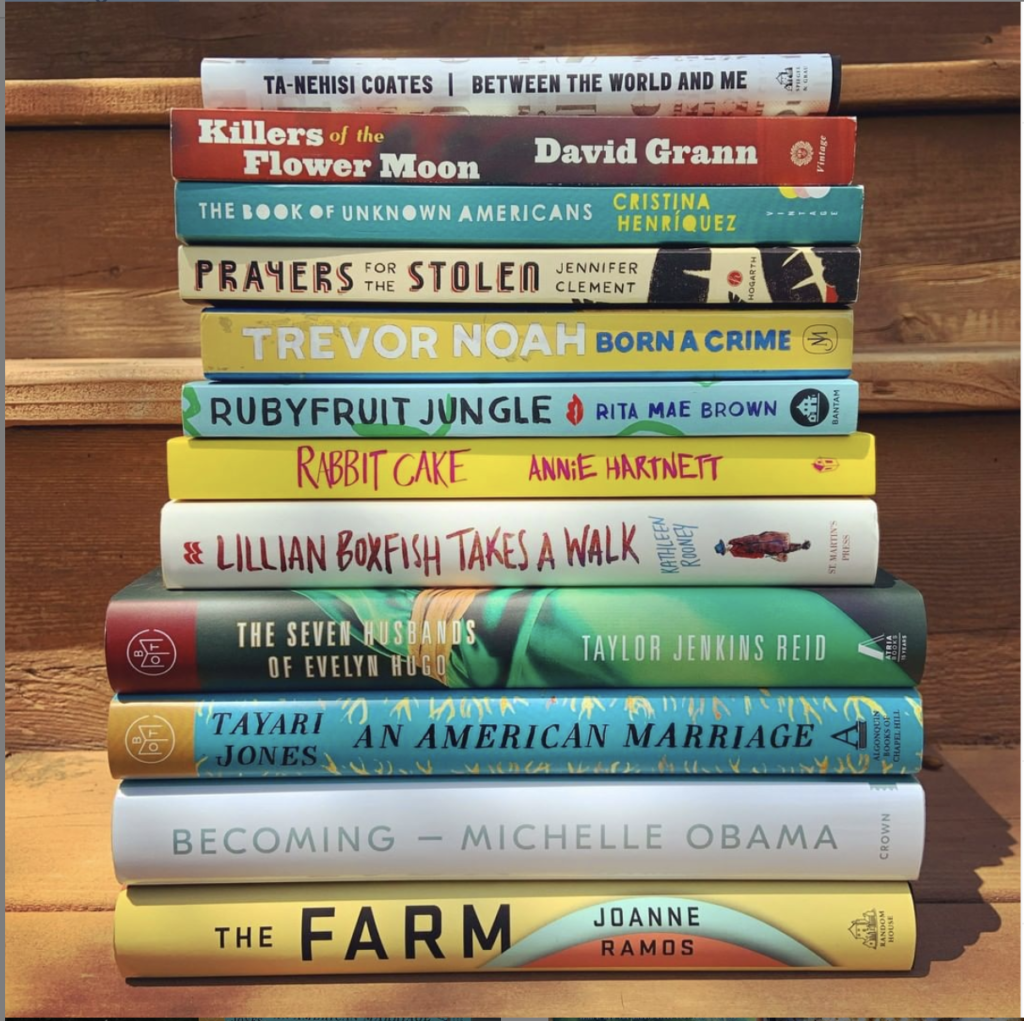 If you're looking to spur thought-provoking conversations through reading—whether in your own book club, a group of coworkers, or buddy reads with friends—read on!
This bestselling novel is an honest narrative about a broken America. Celestial and Roy are a young married couple with their whole lives ahead of them. She is a promising artist, and he's an ambitious executive. They are also Black in America, which ultimately has a greater effect on their lives than anything else about them. As their lives together are just beginning, Roy is arrested for a crime he didn't commit, and their lives and marriage are never the same.
A captivating story told from multiple viewpoints, An American Marriage is an important #ownvoices read. It can lead to a varied discussion around topics of racism, the American justice system, family, marriage and even feminism.  
Killers of the Flower Moon: The Osage Murders and the Birth of the FBI by David Grann
In the 1920s, oil was discovered in Oklahoma under land owned by the Osage Indian nation. They quickly became the richest people per capita in the world. Then, the most prominent among them started dying in mysterious ways. Written like a crime thriller, this nonfiction takes a deep dive into an oft-unknown story within American history.  
Many readers have said this should be required reading, and I don't disagree. A true injustice was done, with prejudice at the forefront. Killers will bring up questions that continue to be part of the public discourse, including racism; glorification of wealth and the power of greed; and the role of politicians and law enforcement in a community and society as a whole.  
Elvis is a smart, curious little girl who we meet shortly after the sudden death of her mother, who drowned in a sleepwalking accident. Scientifically-minded, Elvis decides to follow a mourning chart that is meant to help her know how long to grieve. For an 11-year-old, she is doing her best, but the rest of her family isn't exactly thriving. Her older sister is also affected by sleepwalking and her father deals with his grief by buying a parrot and wearing his late wife's lipstick and bathrobe.
For a novel crafted around death and mental health, I still found Rabbit Cake to be quite an easy read. More importantly, it prompted an understanding and dynamic discussion around the issues of mental health care, the stigma around mental illness and a need for greater acceptance. 
Becoming Nicole: The Transformation of an American Family by Amy Ellis Nutt
Amy Ellis Nutt shares the engaging true story of Nicole Maines, a transgender girl, her identical twin brother and their adoptive parents. From a young age, Wyatt knew he wasn't like his brother Jonas and insisted he was female. Using diaries, home videos and legal documents alongside four years of reporting, Nutt immerses her readers in the Maines family's journey from questioning and unease to understanding and acceptance.
This inspiring account peppered with history and science provides exposure to trans issues in a relatable, unintimidating way. It makes for an apt jumping-off point for a personal discussion about an important cultural conversation. 
Cristina Henriquez's novel gives a voice to the millions of immigrants in the United States - how they got here and why, where they come from and what they're searching for. While it focuses primarily on the Riveras and the Toros, many of the chapters are told from the perspective of other immigrants in their apartment complex in Delaware, each hailing from a different Spanish-speaking homeland. Henriquez deftly describes her characters' courage in the face of the unknown and what it means to be an immigrant in a country that doesn't always live up to expectations.
A completely human novel about a sometimes distant and political topic, it clearly illustrates that immigrants are not of one background, and do not come here with the same purpose. Its complexities provide perspective and insight in a realistic way that are sure to inspire a reflective discussion. 
Golden Oaks Farm, or the titular "Farm," is a blissful paradise where women live during pregnancy to ensure that they deliver the healthiest baby in the safest environment. These women are "hosts," chosen and paid for by super-wealthy patrons who can't or won't have their babies themselves. For the hosts -- mostly immigrants, becoming a surrogate opens up a world of possibility, but it's not always an easy choice. Jane, a Filipina host, makes the decision to be able to better support her family, a daughter of her own and an elderly cousin, Ate. But it also means she will be leaving her newborn behind so she can bring someone else's into the world.
Ramos' novel naturally raises questions about women's roles as professionals, providers and mothers, and the trade-offs they make for themselves and for those they love. It also opens up a discussion around capitalism, wealth inequality, race and class.
What kind of books does your book club read? Any recommendations for some that have led to really powerful discussions?