I got the opportunity to read Annie Harnett's novel Rabbit Cake recently when it was selected for my office's Diversity Book Club, but it first grabbed my attention when it was recommended on a podcast as a book pairing for the classic To Kill a Mockingbird. Though nothing alike in tone or subject matter, I see the similarities in the wizened child narrators - Scout, in TKAM of course, and in this contemporary novel, 11-year-old animal-loving Elvis.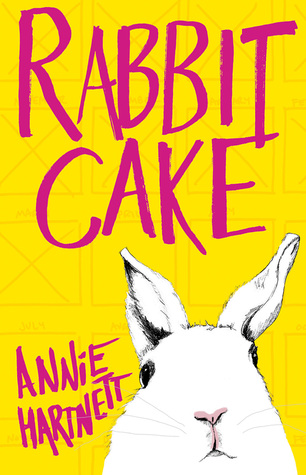 I found Annie's story to be quirky but heartwarming. Elvis is a smart, curious little girl who wormed its way into my heart. We meet her shortly after the sudden death of her mother, who drowned in a sleepwalking accident. Scientifically-minded, Elvis decides to follow a mourning chart that is meant to help her know how long to grieve. For an 11-year-old, she is doing her best, but the rest of her family isn't exactly thriving. Her older sister is also affected by sleepwalking and her father deals with his grief by buying a parrot and wearing his late wife's lipstick and bathrobe.    
I wouldn't have expected a novel crafted around death and mental illness to be as light and easy-to-read as this proved to be. Though the characters had some serious flaws, I loved the way the family found a way to move forward together. Best of all, Elvis was a refreshing and insightful narrator. I found it to be an entertaining read from beginning to end.
When I began reading this novel, I was determined to find something to make other than rabbit cake. Sometimes, though, the obvious is the best choice. (Here's looking at you, potato peel pie.) Elvis' mother made rabbit cake for nearly every big occasion in their family, since rabbits symbolize good luck. She often plopped red jelly in the middle so that when it was cut open, the "blood" would ooze out. (She was a biologist and it reminded her of her past research, apparently.) Even after Elvis' mom dies - at the very beginning of the story - rabbit cakes continue to play a prominent role in the story.
In the book, they use an old metal cake mold to make their rabbit cakes, so I knew I needed to get one of them too. Luckily, Amazon came through without me needing to run all over the place hunting for my own. (It being significantly after Easter, I'm not sure I would've found one anyway.)
Then, I looked for the perfect pound cake recipe - one that wasn't overly complicated but that had the promise of good flavor and density. I settled on one from My Recipes. Because there are only 7 ingredients - most of them pantry staples - I had everything I needed to get started.  
Once my butter was softened, I added it to a large mixing bowl and whipped it until creamy.
To that, I added the granulated sugar, beating until fluffy, and then the eggs, one at a time, until the yolk was incorporated.
Finally, I added the flour and the milk, alternatingly, and then stirred in the vanilla and almond extract.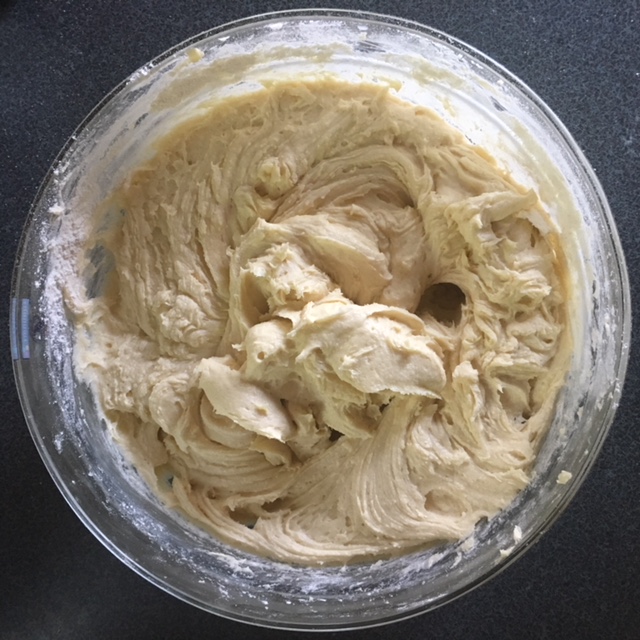 The next step was to grease and flour the molds thoroughly so nothing would stick - both the top and the bottom of the mold.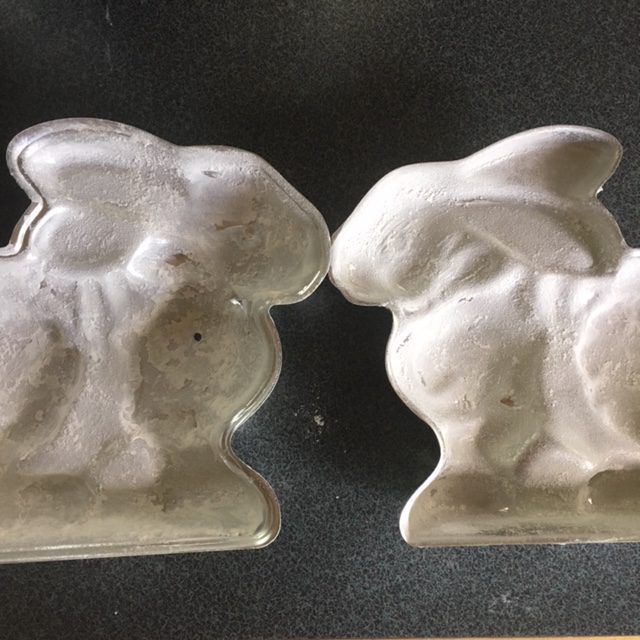 The directions that came with rabbit mold said that it should be filled with about 3 cups of batter. So, I measured out a slightly generous 3 cups and plopped that into the bottom of the rabbit cake pan, using a spatula to spread it into all the nooks and crannies. Finally, channeling Elvis' mom, I plopped a small heap of strawberry jam into the middle before adding the top of the mold.
I placed it on a sheet pan and put it into the oven. It took just under an hour to bake. (In the meantime, I readied my pound cake cupcakes in their pans, which is one way you could use your leftover batter.)
Once the rabbit cake was finished, I took it out of the oven and allowed it to cool in it's mold for 5 minutes. When I took the lid off, I was so excited - it looked perfect!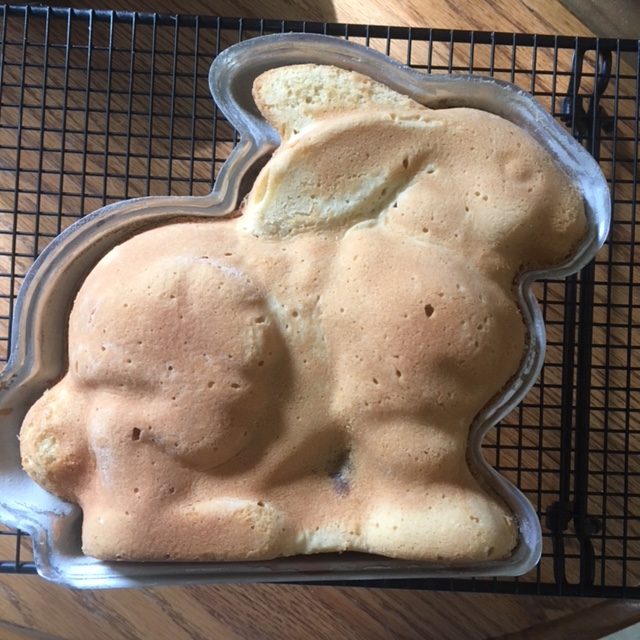 However, when I flipped it over out of the pan and onto the cooling rack, I saw that the hot jam had eaten the poor rabbit from the inside out. (If you choose to add the jelly too, be careful. It was a bit like molten lava.I would also recommend using a bit less than a did. One generous tablespoon is probably plenty.)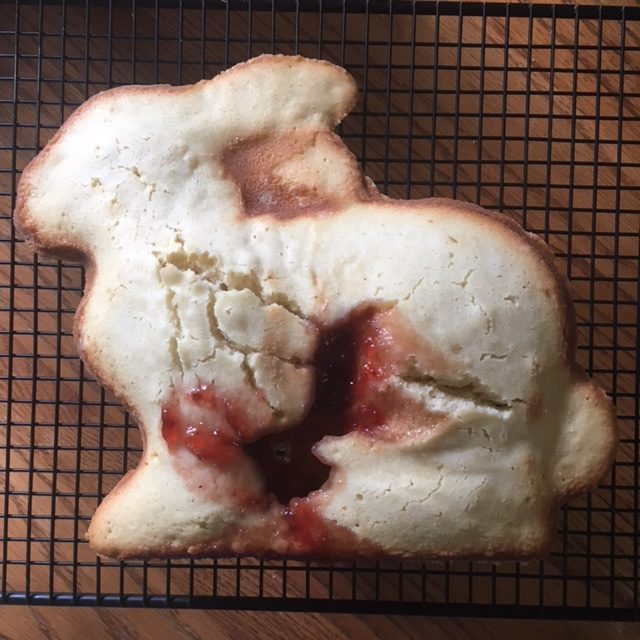 I let it cool for a few more minutes on its side - mostly to give the jelly time to chill out - but then I stood it up, with the help of some props. I think the jelly slightly stunted its rising while baking, so it wasn't as rounded out on the top as it was on the bottom; this made the rabbit less sure on its feet.
Once it was fully cooled - and standing on its own - I decorated it. As a general rule, I'm not a great decorator, so I went with the coconut flake option that would make the rabbit look "fluffy," which they employed a few times in the novel. I figured this would also help fix the gaping hole in the rabbit's side, and I was right. I frosted it pretty thoroughly first and then covered that with coconut flakes.
I don't think my cake will be held up as a beautiful example of rabbit cake, but it did somewhat resemble a rabbit. And, even better, when I brought it to our office's book club meeting, everything immediately knew that it was a rabbit cake! So, I did something right.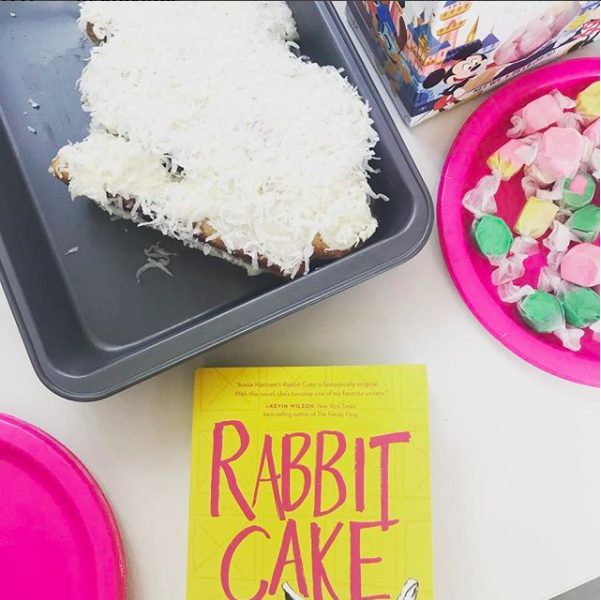 Vanilla Pound Cake
Servings
1
rabbit cake, plus 18 cupcakes
Ingredients
1

pound

butter

softened

3

cups

sugar

6

large eggs

4

cups

all-purpose flour

¾

cup

milk

1

teaspoon

almond extract

1

teaspoon

vanilla extract
Instructions
Beat butter at medium speed with an electric mixer until creamy. (The butter will become a lighter yellow color; this is an important step, as the job of the mixer is to incorporate air into the butter so the cake will rise. It will take 1 to 7 minutes, depending on the power of your mixer.) Gradually add sugar, beating at medium speed until light and fluffy. (Again, the times will vary, and butter will turn to a fluffy white.) Add eggs, 1 at a time, beating just until yellow yolk disappears.

Add flour to creamed mixture alternately with milk, beginning and ending with flour. Beat at low speed just until blended after each addition. (The batter should be smooth and bits of flour should be well incorporated; to rid batter of lumps, stir gently with a rubber spatula.) Stir in extracts.

Pour approximately 3 cups of the batter into the bottom half of a greased and floured rabbit-shaped cake pan. (Use solid vegetable shortening to grease the pan, getting every nook and cranny covered. Sprinkle a light coating of flour over the greased surface.) Place the top mold over the bottom, interlocking the seams; the top half is the one with the vent hole. Place the filled mold on a cookie sheet.

Bake at 375°F for 45-55 minutes or until a cake tester or toothpick inserted through the vent hole comes out clean. Cool in pan for 5 minutes. Turn mold before standing in an upright position. Trim bottom of cake if the surface is not flat.

Decorate as desired.
Notes
From: My Recipes
Using rest of the batter: Once rabbit cake has finished baking, turn the oven down to 350°F and place filled cupcake pans in the oven to bake for 20-25 minutes. The leftover batter should make approximately 18 cupcakes. You can fill the empty cups ⅔ full with water to help ensure even baking.
This post contains affiliate links. Full disclosure here.