Jade Chang's debut novel The Wangs vs. the World first came to my attention a couple of years ago when I won a signed copy in a giveaway from a fellow blogger. It's been on my shelf ever since. This year, I'm trying to do a better job of reading my shelves -- though I'm only doing an okay job due to the many new releases I just can't stop requesting from the library -- and so recently, while waiting for some holds to come in, I decided to give this one a try.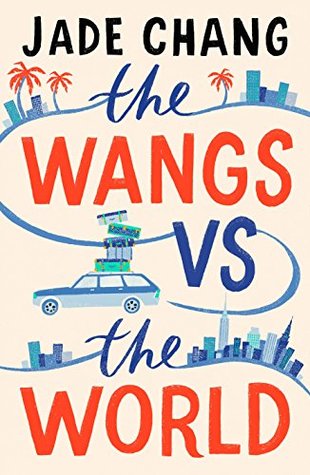 The blurb promises hilarity, and I was looking forward to some laughs. And, in full disclosure, I thought it might contain some interesting food I could make for a post. It didn't quite deliver on the laughs, but it certainly did make for an interesting food experience (but more on that later).

The novel follows the extremely wealthy Chinese-American Wang family on a road trip from California to New York. If a super rich people taking a time-consuming, uncomfortable cross-country road trip seems unlikely to you, that's because it is. What prompts the journey is sudden financial ruin.

Charles Wang has declared bankruptcy in the midst of the 2008 financial crisis, and all of the family's assets, including their house, are gone. Charles decides to pack his teenage daughter, college age son and second wife into their housekeeper's old car to live with his oldest daughter in her upstate New York farmhouse until he can get his hands on some old family land in China to restore their wealth.

The story is in third person but each chapter focuses on the different thoughts and experiences of the various family members. Some of them -- like the oldest daughter Saina, a once sought-after artist, and Grace, his youngest daughter who is obsessed with fashion -- are more believable and well-crafted than others. On the whole, though, no one in the Wang family is what I would call likeable.

The road trip does take some goofy turns, but the book's sense of humor just wasn't for me; I found it to be obvious and cringy. There is some charm in the story itself, which is, at its heart, about a disconnected family coming together. Chang is able to provide a unique cultural perspective and touches on some important topics. While it wasn't my favorite, I was entertained, and sometimes that's all you need.

In the end, there were only two significant food mentions in the story, and I decided to make both of them. Charles gets nostalgic over a bowl of Chinese "fiery red fish stew," and his son, Andrew, finds comfort in take-out fried rice. While the rice falls short of his expectations, the description of the perfect fried rice Chang includes had my mouth watering:

Andrew loved consuming platters of fried rice doused in chili oil in giant bites, preferably with an oversized serving spoon. Warm, fluffy bite after warm, fluffy bite, each one piled high with once-frozen peas and carrots, golden bits of scrambled egg, and plump, glistening pieces of shrimp.

I was intrigued by the stew, but I knew if it was truly "fiery" I wouldn't be able to eat it (which is why I made the fried rice too). Scott agreed to be the guinea pig for the stew, since he has yet to find a dish too spicy for him. After googling around, I landed on a recipe for Sichuan Boiled Fish from Red House Spice, which seemed to fit the bill. It required a special trip to my favorite local Asian Mart, but it was pretty easy to make.

First, I prepped all of my ingredients, including slicing the cod and chopping the celery, onions and aromatics.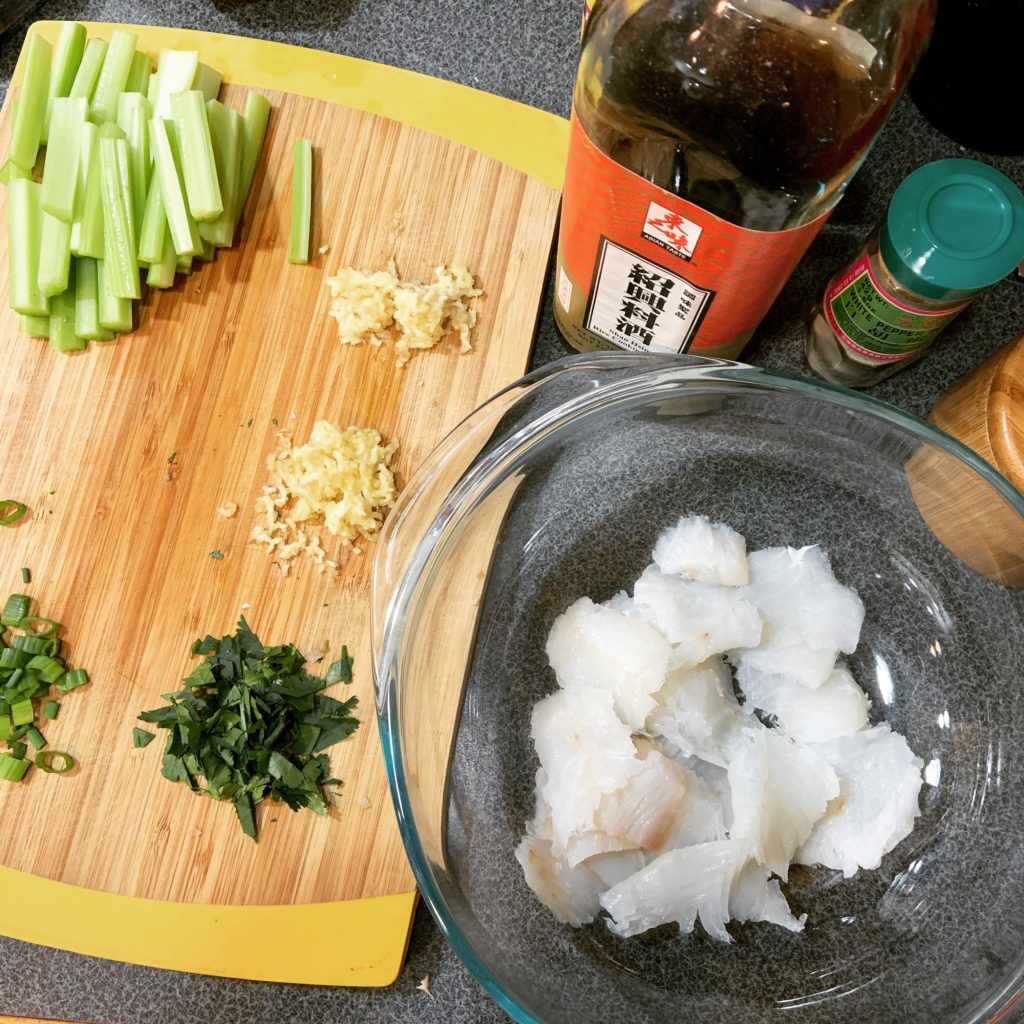 Then, in a deep-sided skillet, I fried the dried chilli peppers and Sichuan peppers. I removed them to a cutting board and used the same pan to cook the celery sticks.

Once the celery was cooked, I put it in the serving bowl and heated some more oil in the same pan. To the heated oil, I added garlic, ginger, green onions, chili powder, Sichuan chilli bean paste and some water.

I brought that to a boil and added the marinated fish, using thin tongs to place them gently in the water.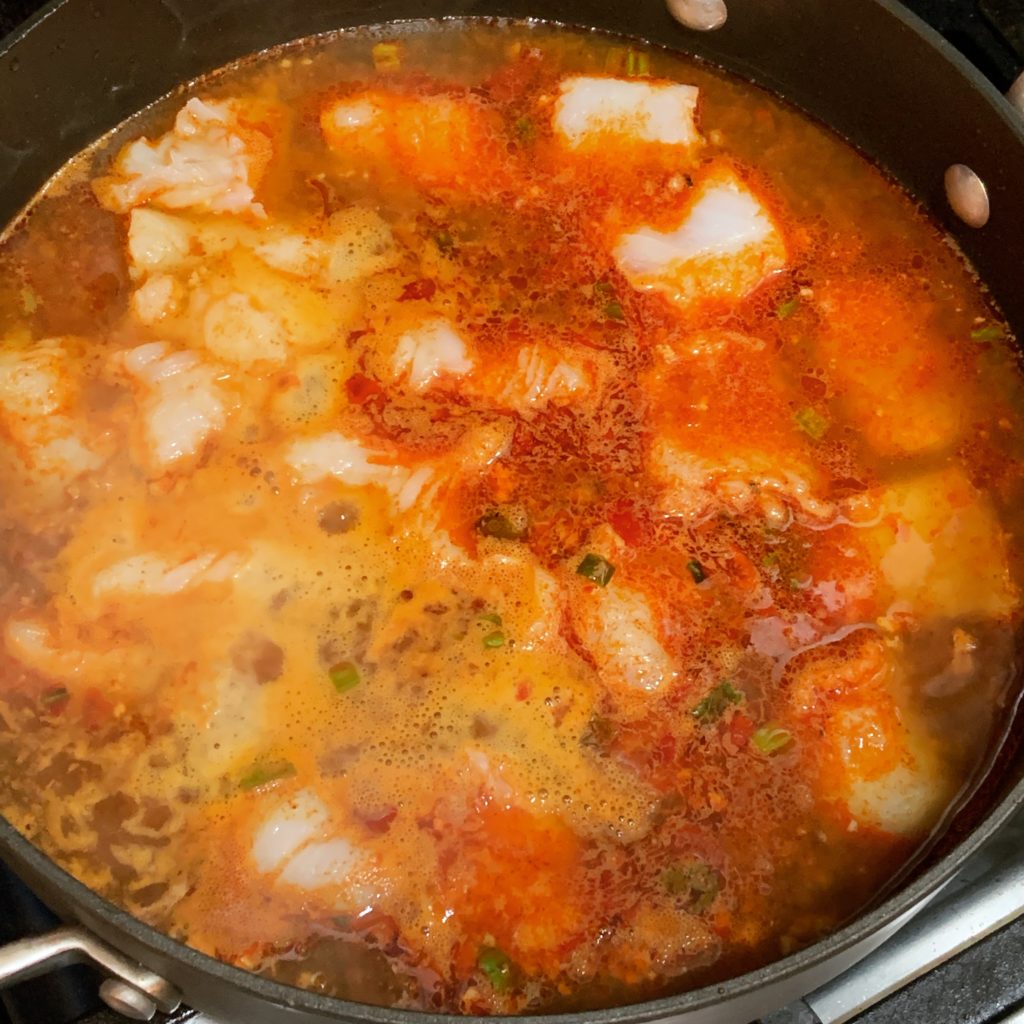 After the fish was cooked (I gave it about 8 minutes, based on some googling, but I'm not 100% sure if that was the right amount of time), I poured the whole thing into the serving bowl over the celery. I topped it with the chopped dried chilis and cilantro.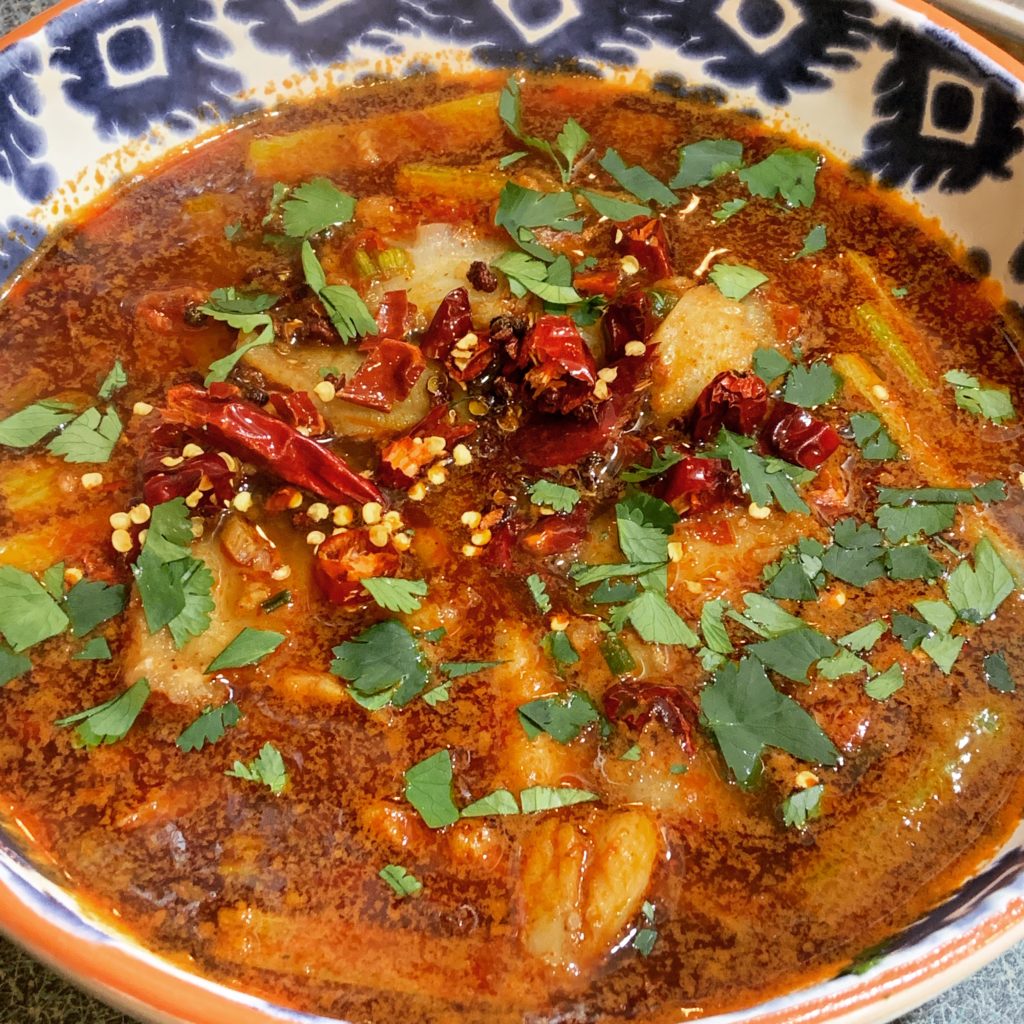 Meanwhile, Scott helped to make the shrimp fried rice using a recipe from I Wash You Dry. Since I've already made fried rice on the blog before, I won't go into a ton of detail here. Both recipes have similar steps, but for this one, we used Andrew's preferred shrimp instead of chicken. (Full recipe below.)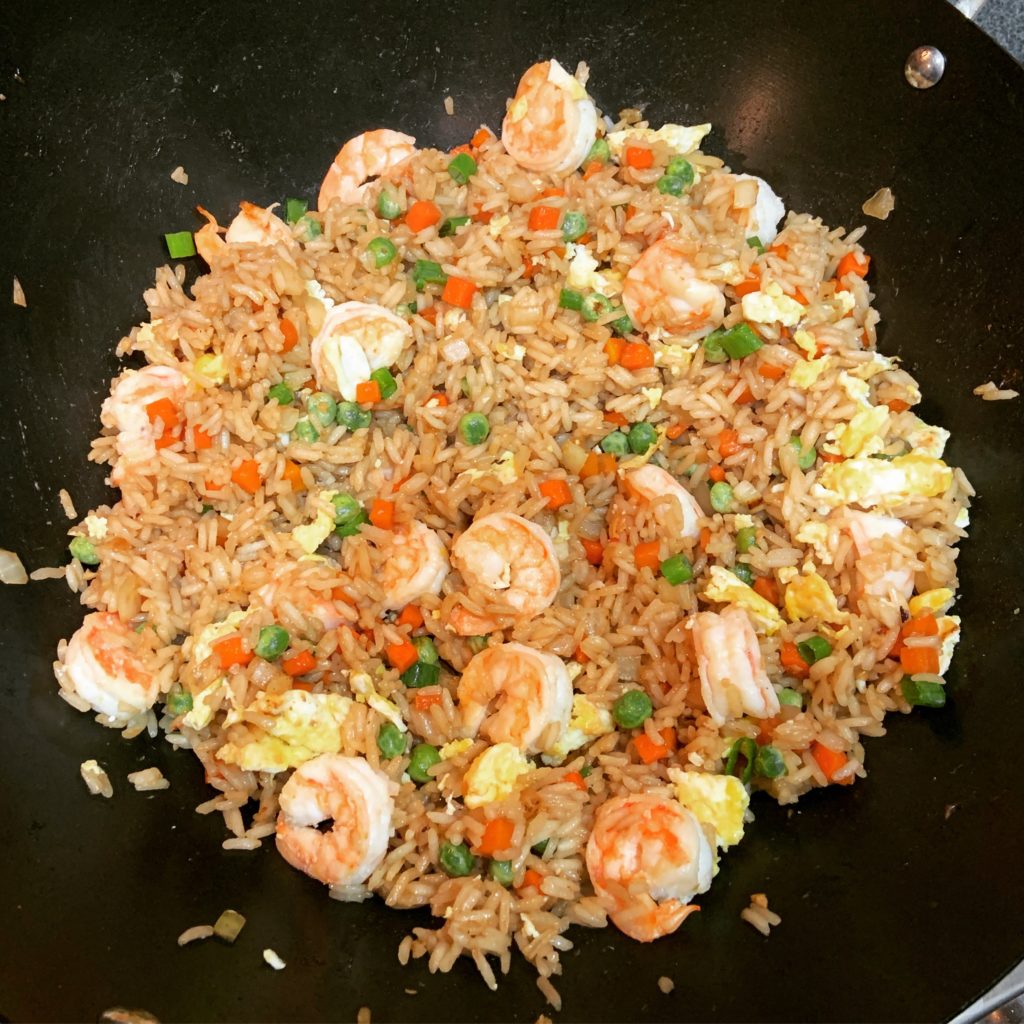 I can't describe the flavor of the stew, but it sure looked gorgeous. Scott wasn't a huge fan of the dried chilis or peppers that were added at the end (which ended up being hard to avoid, unfortunately), but he liked the broth and the fish elements. The fried rice gave me something to enjoy, and he used it to supplement the stew.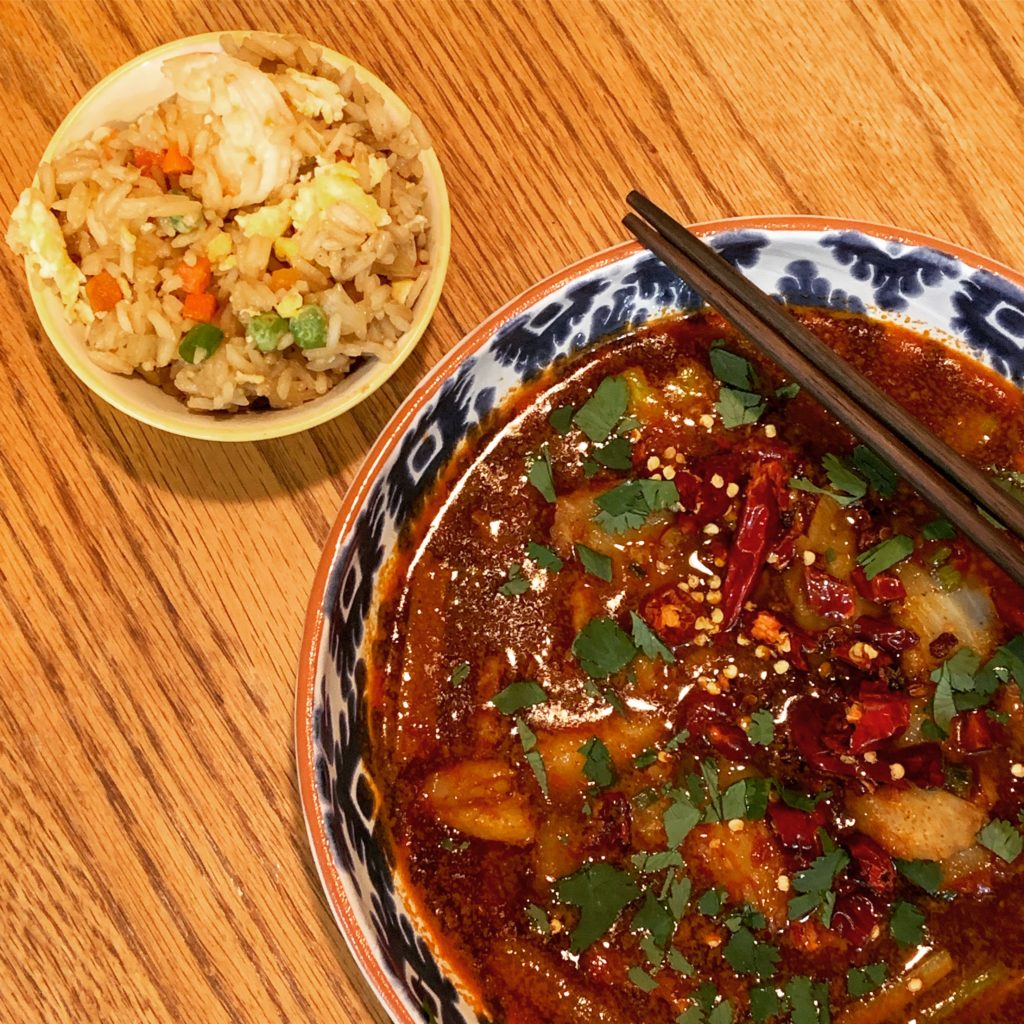 Sichuan Boiled Fish
Ingredients
Group 1:
250

g

/ 9oz skinless

boneless fish fillet (see note 1)

1

pinch

salt

1

pinch

white pepper

1

teaspoon

Shaoxing rice wine

1

teaspoon

cornstarch
Group 2:
0.5

teaspoon

cooking oil

10-15

dried chilli

2

teaspoons

Sichuan pepper

see note 2
Group 3:
1

teaspoon

cooking oil

250

g

celery

cut into thin strips (or bean sprouts)
Group 4:
2

tablespoons

cooking oil

2

cloves

garlic

minced

1

teaspoon

ginger

minced

1

stalk spring onion

chopped

1.5

tablespoons

Sichuan chilli bean paste

see note 3

1

teaspoon

chilli powder

400

ml

hot water

or chicken stock
Group 5:
cilantro

chopped

2

tablespoons

cooking oil
Instructions
Marinate the fish (Ingredients group 1): Slice the fish fillet diagonally. Marinate with salt, white pepper, rice wine & corn starch.

Fry the spicy topping (Ingredients group 2): In a wok (or a deep frying pan), fry dried chilli and Sichuan pepper in oil over a low heat until fragrant (do not burn them). Chop coarsely when cooled. Set aside.

Cook the vegetable (Ingredients group 3): In the same wok, heat up oil over a medium heat, stir in celery. Cook for 1.5 minutes or so (30 seconds if using bean sprouts instead). Transfer to a serving bowl. Set aside.

Poach the fish (Ingredients group 4): Heat up oil in the wok, fry garlic, ginger and spring onion. Add Sichuan chilli bean paste and chilli powder. Pour in water (or chicken stock). Bring it to a boil then gently place the fish slices into the wok. When cooked, pour the fish and the soup onto the vegetable.

Garnish the dish (Ingredients group 5): Garnish with fried spicy topping and coriander. Heat up oil then pour over to sizzle the spices. Serve immediately with plain rice.
Notes
From: Wei @ Red House Spice
1. You can use catfish, cod, sea bass, pangasius, etc.
2. There are two different types of Sichuan pepper in this dish: the regular Sichuan pepper and green Sichuan pepper. The latter delivers a very strong numbing sensation to your mouth. If not available, you may use the regular one.
3. Different brands of Sichuan chilli bean paste (aka spicy Doubanjiang) may vary in saltiness, hotness and texture. Adjust the volume accordingly. Best to use Pixian Douban, a well-known variety, which needs to be coarsely chopped prior to cooking.
Easy Shrimp Fried Rice
Ingredients
2

tsp

sesame oil

divided

1

lb.

medium to large raw shrimp

tails and shells removed

2

eggs

1

small onion

diced

2

garlic cloves

minced

1

tsp

minced ginger

1

cup

frozen peas and carrots

3

cups

cooked

white or brown rice

3

tbsp

soy sauce

3

tbsp

oyster sauce

3

tbsp

chopped green onions
Instructions
Heat 1 tsp sesame oil in a large wok or deep sided skillet over medium heat. Cook shrimp in skillet until pink and no longer translucent. Remove from skillet and set aside in a warm place.

Coat the wok with non-stick spray, scramble the two eggs over medium heat then remove from pan to a plate to keep warm.

Add the onion to the wok and stir, cooking until the onions have softened, about 3-5 minutes. Remove from wok and set aside.

Add 1 tsp of sesame oil to the wok and stir fry the garlic and ginger for 30 seconds. Add the frozen peas and carrots and stir fry for an additional 2 minutes. Add the rice and stir to combine. Add the oyster sauce and soy sauce. Stir to heat through.

Add the onions, eggs and shrimp back in the wok and stir in the green onions. Heat through, serve immediately.
_______________
This post contains affiliate links. This does not increase the price you pay, but I may receive a small commission for any products you choose to buy. Purchases made through affiliate links help to cover my blogging costs. Thank you for helping to support The Hungry Bookworm! Full disclosure here.