Anita Diamant's novel The Boston Girl had been on my to-read list for a while and when it finally got selected for one of my book clubs, I was excited. I didn't know much about it beyond the description; it was about a young Jewish woman growing up in Boston with her immigrant family.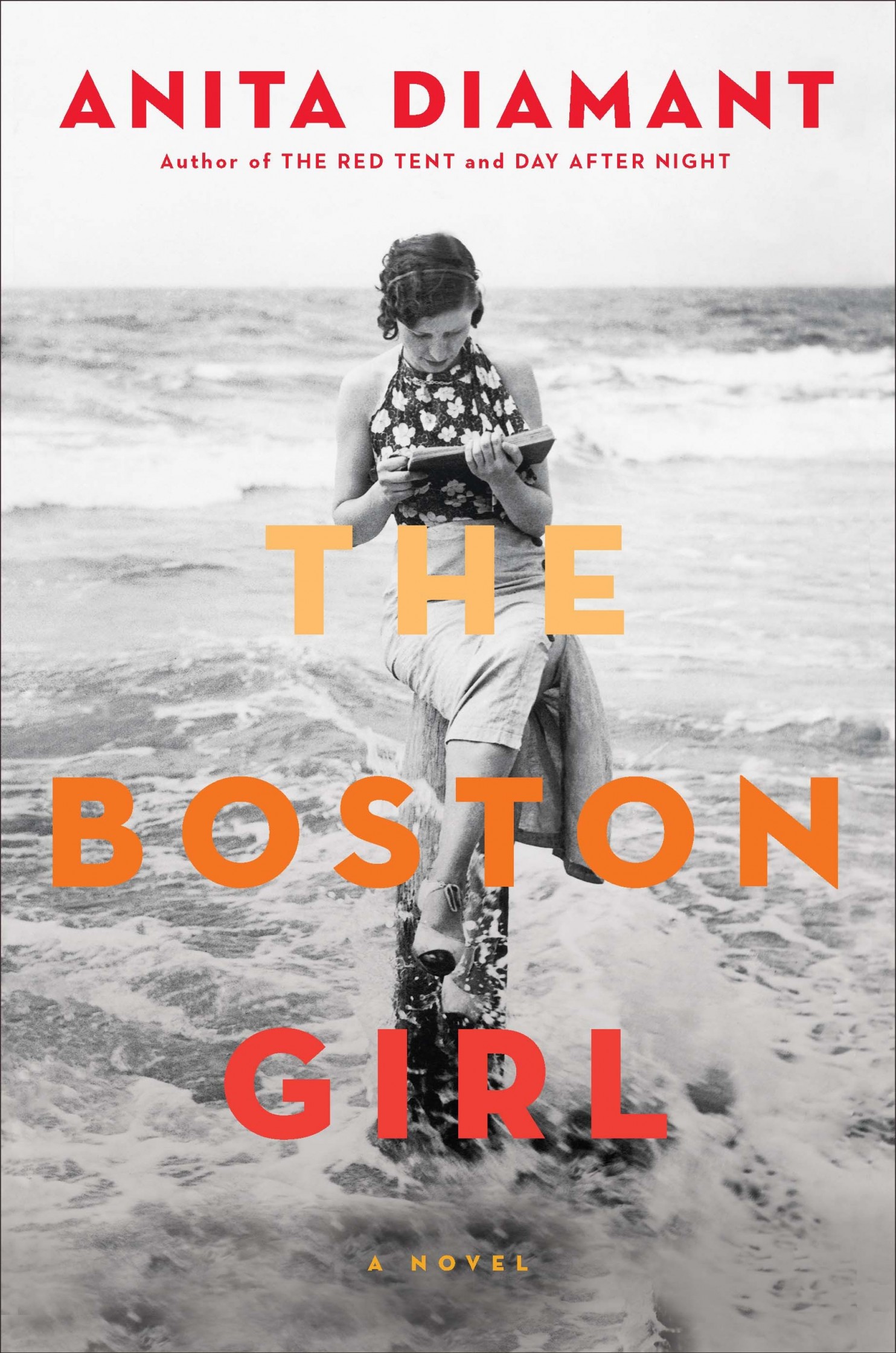 Though this had quite a different story to tell, I couldn't help but be reminded of the lovely Lillian Boxfish (which I had just finished a few weeks before). Both stories follow strong females making their own way in big cities during a time when most women were supposed to be making families instead. This one is also narrated by an 85-year-old woman, this time Addie, as she tells her granddaughter how she got to be the woman she is today.
Our book club's consensus was that the story was "so light" but as we dove in, we realized it actually wasn't. Perhaps it was the narration style or the benefit of knowing it all turned out okay (after all, Addie was here telling us what happened so long ago), but Diamant tackles quite a few tough issues and Addie certainly has her share of hardships throughout the novel.
Despite the fact that she ate "pie for breakfast every day [one] summer," food isn't a key player in the story. It does make an appearance in the few dinner dates that Addie shares with us, and on one such evening she is introduced to Chinese food for the first time. In the retelling, she asks her granddaughter, "Did you know there was a time before all Jews loved Chinese food?" I had recently read an article around Christmas that tackled this very question, which I had found quite interesting. Chinese food has since become so interwoven with Jewish culture and there is such joy in the experience that Addie describes, I knew what I had to make.
I found an unintimidating recipe for fried rice and got to work. (After actually making it, however, I don't know why I was ever intimidated - it's quite easy.) I began by prepping all of my vegetables. I finely diced my onions and carrots and chopped my chicken breasts into bite-sized pieces. I was using leftover white rice, so thankfully that was already set to go. I put my egg into a small bowl, added 3 drops each of soy sauce and sesame oil and beat it until well-combined.
I let one tablespoon of oil heat up in my wok, then added the chopped onion. Once they were cooked through and starting to turn light brown, I removed them and set aside.
With another small amount of oil heated in the wok, I added the mixture of egg, soy sauce and sesame oil. Once it was cooked, I transferred it to a cutting board and chopped it up.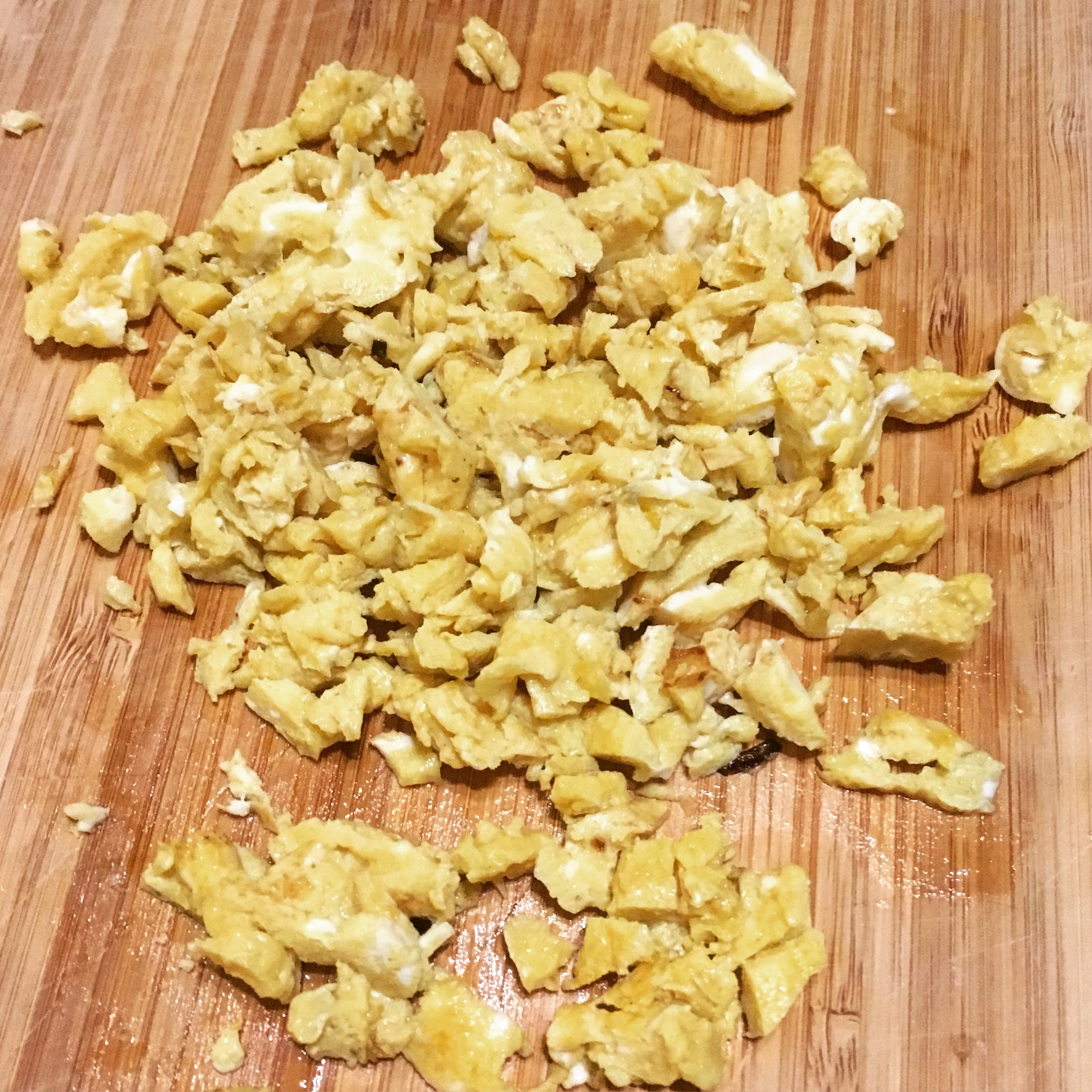 Again, I heated another tablespoon of oil and added the chicken, carrots, peas and cooked onion. (I would recommend adding the carrots in a few minutes earlier - perhaps even up to 5 minutes before the rest of the ingredients - to ensure that it gets cooked well enough to be a bit soft. My carrots ended up slightly crunchy, on the underdone side; my only complaint about the dish.)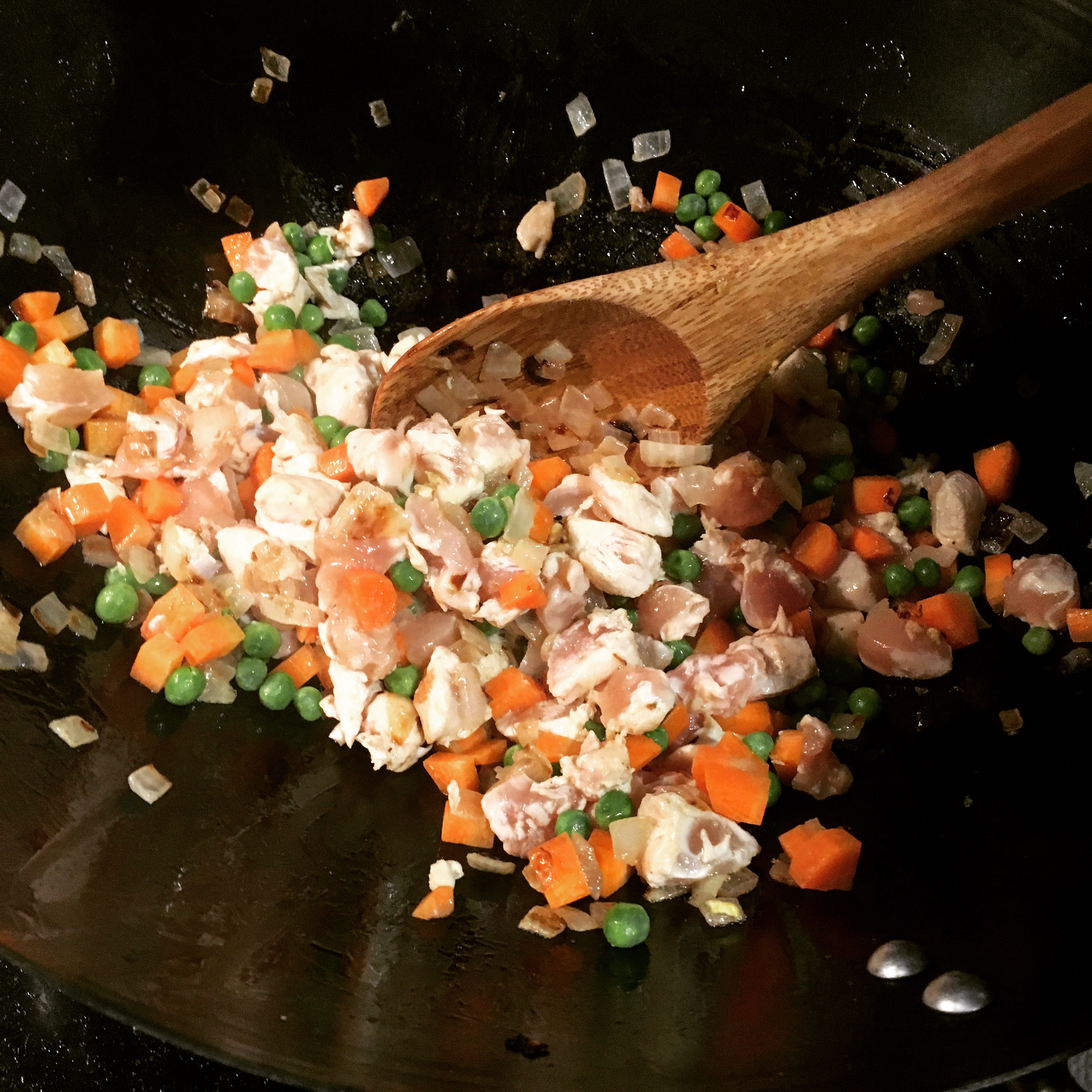 Once the chicken was mostly cooked, about 3 or 4 minutes, I added the rice and green onions (I didn't use bean sprouts this time) and cooked for another 2 to 3 minutes. I was a little wary of undercooked chicken, which is why I cooked each stage a little longer than recommended in the recipe. Cook as long as feels/looks right to you, making sure to note that it will keep cooking throughout the process.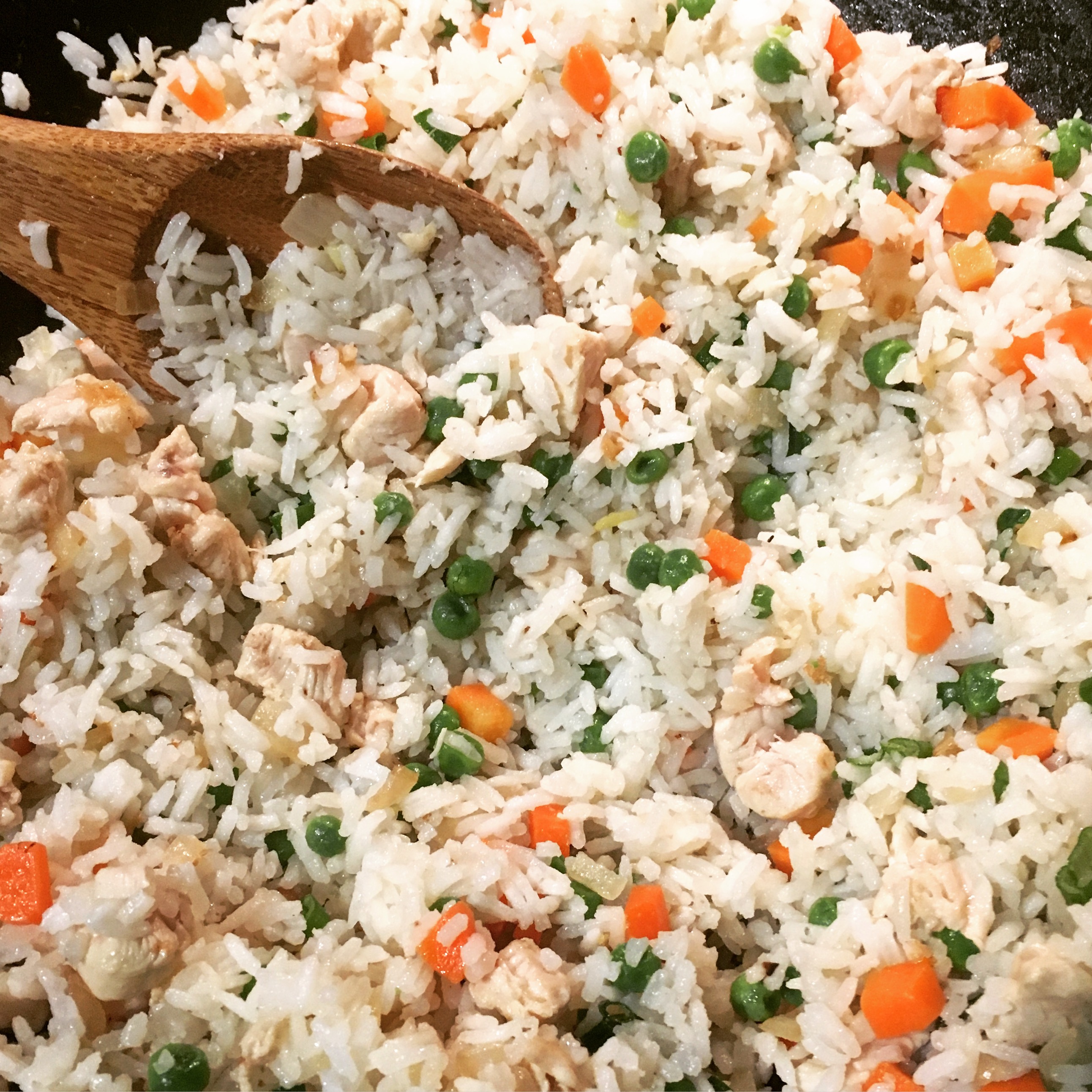 For the last step, I added 2 tablespoons of soy sauce (plus a little extra) and the chopped egg, allowing the entire mixture to cook through for another minute and a half. The finished dish was quite tasty, one I would definitely make - and not be intimidated by! - again.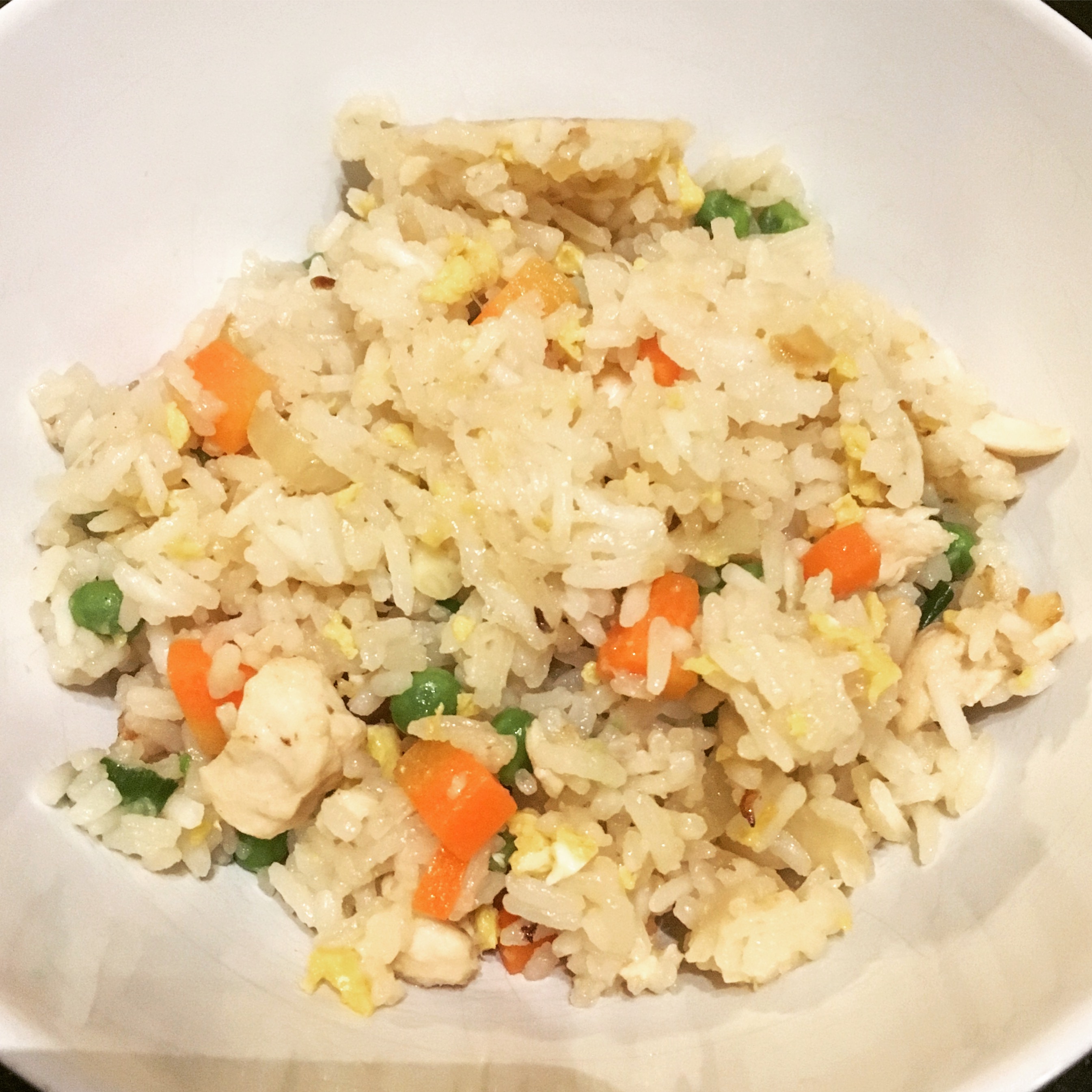 Chinese Fried Rice

From: Sue Lau on Food.com

Ingredients
¾ cup finely chopped onion
2½ tablespoons oil
1 egg, lightly beaten (or more eggs if you like)
3 drops soy sauce
3 drops sesame oil
8 ounces cooked lean boneless pork or 8 ounces chicken, chopped
½ cup finely chopped carrot (very small)
½ cup frozen peas, thawed
4 cups cold cooked rice, grains separated (preferably medium grain)
4 green onions, chopped
2 cups bean sprouts
2 tablespoons light soy sauce (add more if you like)
Directions
Heat 1 TBS oil in wok; add chopped onions and stir-fry until onions turn a nice brown color, about 8-10 minutes; remove from wok.
Allow wok to cool slightly.
Mix egg with 3 drops of soy and 3 drops of sesame oil; set aside.
Add 1/2 TBS oil to wok, swirling to coat surfaces; add egg mixture; working quickly, swirl egg until egg sets against wok; when egg puffs, flip egg and cook other side briefly; remove from wok, and chop into small pieces.
Heat 1 TBS oil in wok; add selected meat to wok, along with carrots, peas, and cooked onion; stir-fry for 2 minutes.
Add rice, green onions, and bean sprouts, tossing to mix well; stir-fry for 3 minutes.
Add 2 TBS of light soy sauce and chopped egg to rice mixture and fold in; stir-fry for 1 minute more; serve.
Set out additional soy sauce on the table, if desired.