Happy Tuesday, everyone! It's time for another edition of Top Ten Tuesday, a literary list with a new bookish topic every week. Before I jump in, though, I wanted to announce some exciting news - I've been nominated for the Unique Blogger Award over at Ginger Mom Reads! If you regularly visit my blog, you'll know that I combine my passions for reading and cooking in a very unique way, pairing every book I review with a recipe it inspires. A lot of time and effort goes into each and every post, and I would really appreciate your vote! (Voting is open until Friday, June 1.)
Now, onto this week's topic: Bookish Worlds I'd Never Want to Live In. I loved brainstorming for this week's list. There are lots of bookish worlds that are warm and inviting (I'm looking at you, Hogwarts and Green Gables) but there are maybe even more that are a bit off-putting and terrifying. It was an interesting exercise to dive into those a little more deeply.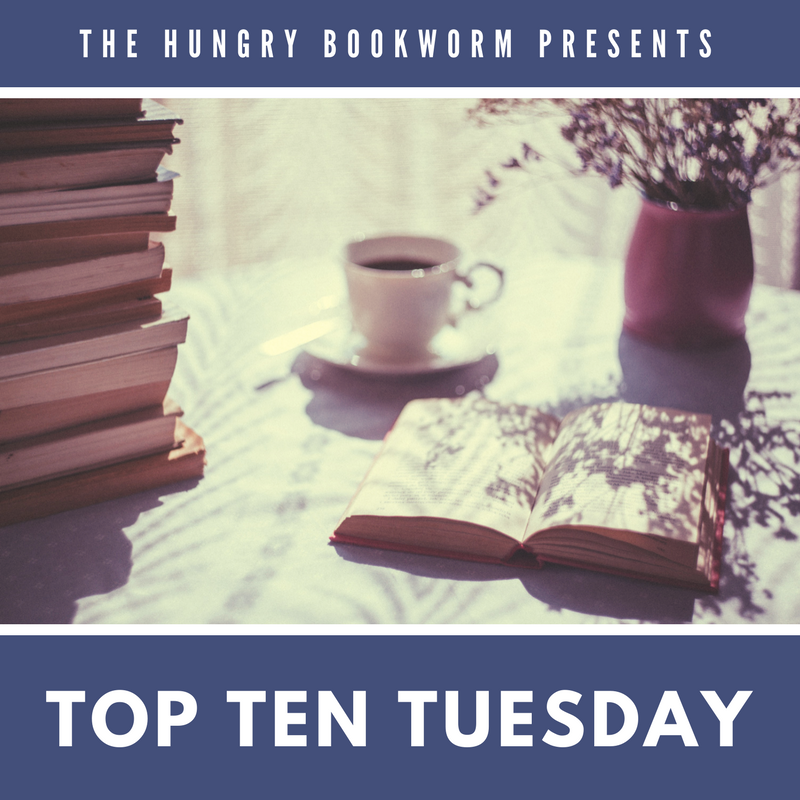 I tend to enjoy dystopias and this topic lends itself nicely to those fictional worlds, weighing the pros and the cons. You'll see many of them on my list, and those that aren't tend to come from within the science fiction genre. I think all of these worlds give us something to think about - and in the case of many dystopias, things to watch out for before they become reality in our own world. One thing I'm sure most of us can agree on: they're all pretty uninviting.
Panem from The Hunger Games Trilogy - I suppose if you're an adult from District 1, you have nothing to worry about in Panem, but if you're the right age to be chosen as a tribute, there's still a chance every year that you could become one. And then die while the entire country watches, which really isn't something I would want weighing on me as a young adult. Even if you're not in the running to become a tribute, life in Panem isn't great for most of its residents. Those in the poorest districts regularly die of starvation and those that aren't the richest of the rich (like District 1 residents) live a monotonous life diligently working in their assigned industry and position until the day they die.  
Airstrip One from 1984 - Some might argue we're close to the dystopian world George Orwell created right now, but thankfully, we're not there yet. The creepiest parts of Airstrip One for me are the constant surveillance and the fact that there is no truth. It's hard enough to discern the truth as it is, let alone live in a world where it's entirely malleable. (review + recipe)
A zombie-ridden world, especially one where they run, like in World War Z - Anywhere there are "living dead" is somewhere I don't want to be. If they run, I don't stand a chance. I prefer my zombies slow-moving and relatively trickable (like in The Walking Dead) or so close to human you can't even tell they used to be dead (like in Jason Mott's The Returned, which so far are the only "zombies" that don't terrify me). World War Z painted a bleak picture, and while it was an interesting read, it's a hard pass for a bookish world I'd like to live in.   
Post-apocalyptic Chicago, if it's anything like the one in the Divergent Trilogy - At first glance, the life they've created here seems okay enough, but as the stories go on, it becomes clear that the separation of the five factions won't accomplish long-term peace. Mostly, I find the Dauntless' lifestyle frightening; it's clearly not the faction for me.  
Gilead from The Handmaid's Tale - Gilead is not a world that's welcoming to women, on any level. While the world Margaret Atwood created in her original novel is terrifying enough, the Hulu show has really taken it to the next level of undesirable. The freakiest thing about Gilead, honestly, is that all of the changes happened so slowly that no one realized they had to get out until it was truly too late. (review + recipe)
A not-so-distant future where print is dead, as in The Word Exchange - In this novel, language has become a commodity and words begin to lose all meaning. This is even before "word flu" starts to spread and people who are affected lose the ability to communicate with those around them. It's a world that doesn't seem too far off, and for that reason alone, it's alarming to imagine - let alone want to be a part of. (review + recipe)
An earth ravaged by natural disasters, or the planet Oasis from The Book of Strange New Things - In Michael Faber's science-fiction novel, pastor Peter Leigh leaves his wife on earth in order to preach to the native creatures on a new distant planet called Oasis. The base camp in which he and hundreds of others live is sterile and unwelcoming. He decides to live with the creatures for a time, and their lifestyle and dwellings aren't exactly hospitable to humans. Plus, they're super creepy. Meanwhile, back on earth, things are literally falling apart as floods and other natural disasters begin to change life as he knew it.  
An alternate universe from Dark Matter - In my original post about this book, I did my best to not give the plot away, except to say that it was "twisty." I suppose here I've given away that there are alternative universes, but I promise not to give any more away as far as plot/outcome. While most of the alternate universes we find ourselves in are not that much different from our own, some of them are less than habitable and it's very clear that something has gone wrong. I wouldn't want to stick around in those ones! (review + recipe)
A future where you know exactly when you're going to die, as in They Both Die at the End - I was actually a little bit on the fence about including this world on my list, but ultimately, I decided that don't want to know when I'm going to die - and be given less than 24 hours notice on top of it. On the plus side, this new "invention," for lack of a better word, has created a whole new economy to help people really enjoy their last hours alive, so that's better than nothing. (review + recipe)
Anywhere from Bird Box - I just devoured this book over the weekend, and though I enjoyed the experience of reading it, the world it describes is absolutely not one I would want to live in. Without giving too much away, I'm not a fan of the unknown, nor am I keen on wandering around without being able to see.
_______________
Top Ten Tuesday is an original weekly blog meme that was created at The Broke and the Bookish but is now hosted over at The Artsy Reader Girl. I participate about once a month, but each week there is a fun new bookish topic for bloggers to create literary lists about. If you'd like to know more about it, check it out here.
This post contains affiliate links. Full disclosure here.