I rarely re-read books, primarily because there are so many new ones I want to read. My TBR list never stops growing - and it's only gotten worse since I started blogging. Lately, though, I've been thinking that I'd like to make it a point to re-read more of my favorites. Or, more specifically, books that I enjoyed so much I bought a copy (with the intention of reading them again or lending them out for others to read). Anyway, when the Book Challenge by Erin included a category of "books that take place on a mode of transportation," the first book that came to mind was Yann Martel's Life of Pi. The challenge only allows for one re-read, and this was one I owned - and remember liking, so I decided to give it another go.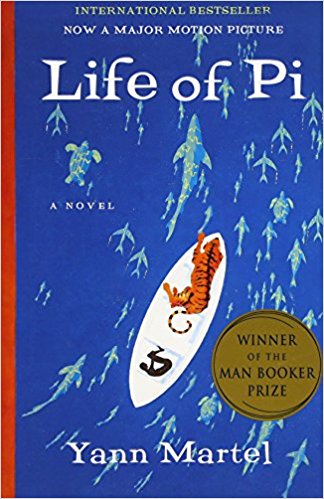 For the majority of the story, 227 days worth of it to be exact, Pi survives on a lifeboat with fellow passenger Richard Parker, who happens to be a Bengal tiger. Pi and his family were traveling from India to Canada with a cargo ship full of zoo animals when it shipwrecked, stranding Pi with an unusual boatmate. Though the premise promises adventure, it took a little bit to get into - the narrator describes how he stumbled upon Pi and learned his story. Pi also goes through a bit of a spiritual exploration prior to their scheduled journey, which slows things down even while providing some humor.
Still, I walked away awed by Martel's beautiful and surprising storytelling. I guess it's described as a fantasy novel, but I went into it thinking it was a tale of magical realism. (Maybe that's still up for discussion - those who've read it, what do you think?) Either way, I'm so pleased I decided to pick this book up again.
One wouldn't expect much food to be found in a novel about someone surviving on a lifeboat, and you'd be right. The meals that sustained Pi mostly came from the ocean, and as such, were uncooked. However, as one would imagine, when you're starving, your mind begins to focus on food. Pi often dreamed of the food he'd love to be eating - coconut chutney, oothappam, and masala dosai. At one point, he began to dream up absurdly-sized food:
A Ganges of dhal soup. Hot chapattis the size of Rajasthan. Bowls of rice as big as Uttar Pradesh. Sambars to flood all of Tamil Nadu. Ice cream heaped as high as the Himalayas.
I decided to try my hand at dhal soup, one of the few things I looked up that wasn't so intimidating it scared me away. Dhal is an Indian term for split lentils, peas or beans, and is a common ingredient in Indian food. The recipe I found was from Genius Kitchen.
First, in a large saucepan, I heated some olive oil and sautéed some diced onion and crushed garlic. To that I added my spices - turmeric, garam masala, cumin and chili powder. The mixture turned my onions a lovely shade of yellow-ish red.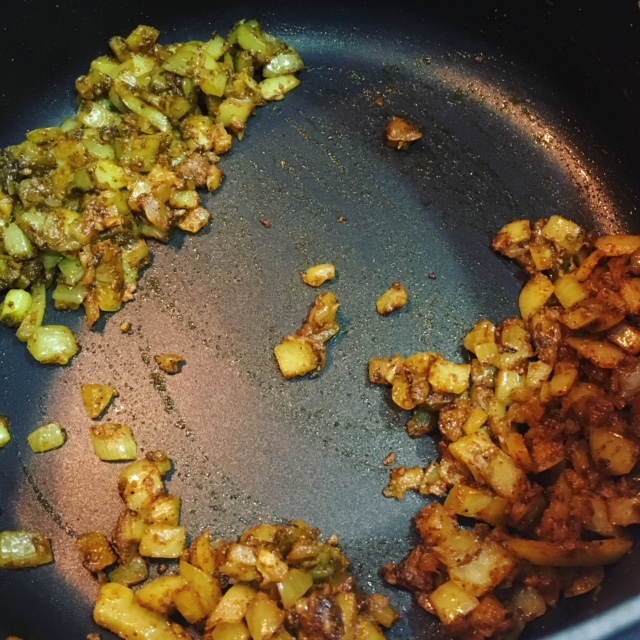 I stirred in a large can of diced tomatoes, lemon juice, vegetable stock and coconut milk and brought the soup to a boil. Once it was boiling, I added one cup of split red lentils and reduced it to a simmer. I let it cook for about 20 minutes, until the lentils had become tender.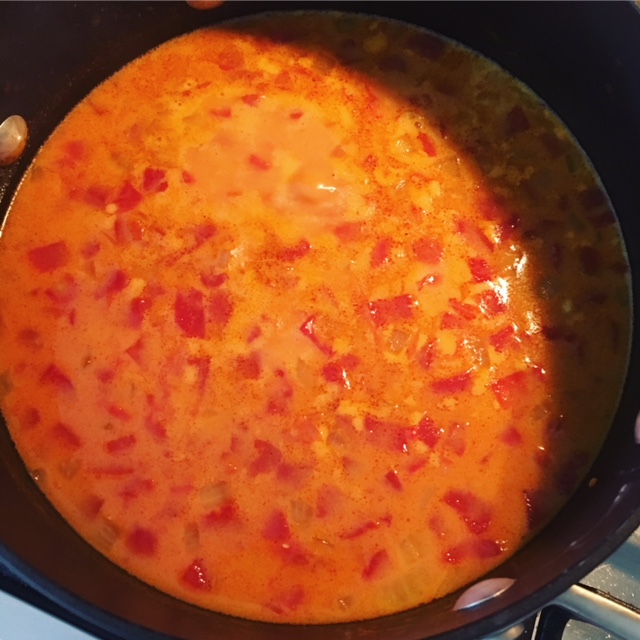 I served it up alongside some heated garlic naan (my favorite being the frozen naan from Trader Joe's, which I always try to keep on-hand).
It was really flavorful and was even better the next time we ate it because the flavors had a chance to mingle with each other. I'm glad Pi introduced me to this recipe. 🙂
Dhal Soup
Ingredients
2

tablespoons

olive oil

2

garlic cloves

crushed

1

onion

1

teaspoon

turmeric

1

teaspoon

garam masala

¼

teaspoon

chili powder

1

teaspoon

ground cumin

28

oz

canned petite diced tomatoes

1

cup

split red lentils

1

tablespoon

lemon juice

2½

cups

vegetable stock

1

can coconut milk

13.66 oz

1

teaspoon

salt

½

teaspoon

fresh ground pepper
Instructions
In large saucepan, warm olive oil and add garlic and onion. Saute, stirring 2-3 minutes. Add turmeric, garam masala, chili powder, and cumin.

Stir in tomatoes, lemon juice, vegetable stock, coconut milk, and bring to a boil.

Add lentils. Reduce heat to low and simmer, uncovered, for 20-30 minutes or until lentils are tender.

Serve warm, with naan bread. You can garnish with lemon slices and cilantro if desired.
This post contains affiliate links. Full disclosure here.