Happy Tuesday, everyone! It's time for another edition of Top Ten Tuesday, a literary list with a new bookish topic every week. This Tuesday's topic is Books That Take Place In Another Country; for me, that is anywhere other than the United States.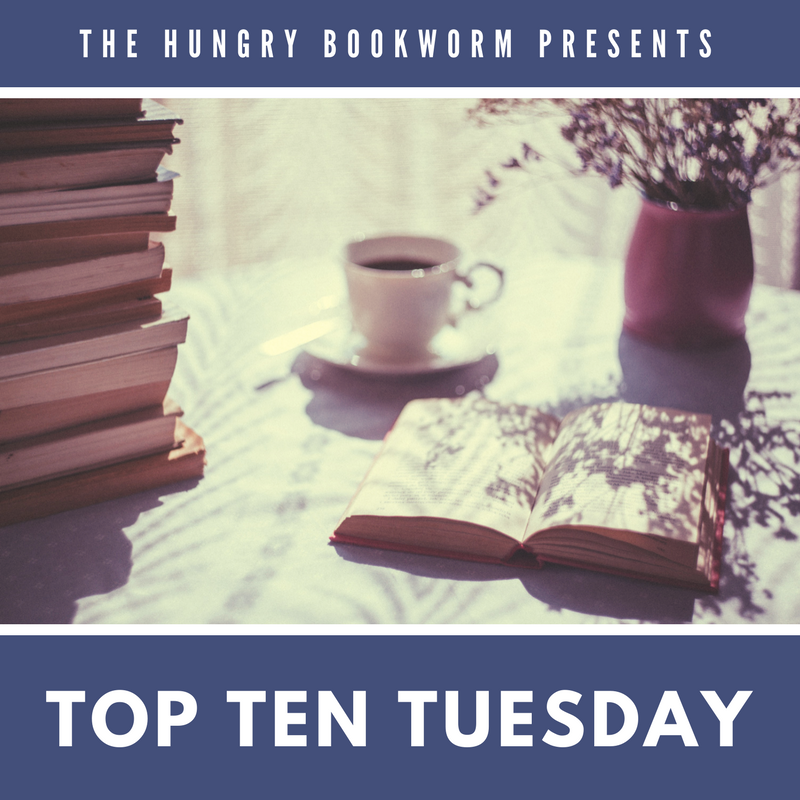 I love this topic because one of the best parts of reading is the ability to experience a life that's different from your own. They also provide the opportunity to travel without leaving the comfort of your favorite armchair. While foreign settings often just feed my desire to travel, the food inspiration they provide at least allows me to experience the culture in some tangible way. I decided to look back on books I've already read, and when I've done a review (and recipe), I'll link to it below.
Let's get started:
The Thornbirds - Colleen McCullough's epic novel is the best-selling novel in Australian history, and no surprise, it takes place there as well. I was initially interested in checking it out because the main character served as inspiration for my first name, and I finally got around to reading this book a couple of years ago. Full review + recipe here.
The Boat People - Sharon Bala's recent novel takes place in two nations. When a boat of Sri Lankan refugees arrives on the Canadian shore, it is not the end of the refugees' journey but just the beginning. In flashbacks, we learn what drove Mahindan and his young son to flee their homeland. We also follow the perspectives of his lawyer, Priya, who is a second-generation Sri Lankan Canadian, and Grace, one of the judges deciding the refugees' cases.
A Tale for the Time Being - When we read this book shortly after it came out, my entire book club was blown away. Ruth Ozeki paints a vivid picture of bustling Tokyo, Japan, and on the opposite end of the spectrum, an idyllic remote island in Canada - the two locations where this novel is set. It is full of heartbreak and hope, with sprinkles of magical realism. Ozeki's novel is truly original and one of my recent favorites.
Love & Gelato - If the title makes you think of Italy, you'd be right. Jenna Evans Welch's YA novel is a light-hearted read about a teenage girl discovering her mother's past, meeting her father, and exploring Italy - and all of the delicious food it has to offer. It definitely captured the essence of Italy and had me itching to go back. I devoured it faster than a cup of gelato. Full review + recipe here.
The Poisonwood Bible - Barbara Kingsolver's novel follows a missionary, his wife and four daughters as they venture into the Belgian Congo (now the Democratic Republic of Congo). The women of the family narrate, describing their lives as they adjust to life in an African village and long after their mission is over.
The Nightingale, Lilac Girls, The Taster, and All the Light We Cannot See - I'm grouping all of these books together because they all take place during WWII, mostly in Germany and France. I realized that most of the books I've read about this region happened during WWII. I am drawn to books about that time period, and certainly, countless books have been written about it and the countries in which it took place. It got me wondering though - are there any contemporary fiction books you'd recommend that take place in France and/or Germany? I'd love to give them a try. Let me know in the comments below!
Here are my full reviews of The Nightingale, Lilac Girls, and The Taster.
An Untamed State - Roxane Gay's novel isn't a novel of place, but it's a novel that had to happen in Haiti. Living in the island nation is precarious, even for the privileged rich, and that becomes very apparent when Mireille is kidnapped for ransom. It's a gripping and heart-wrenching novel, told from the point of view of a strong woman who refuses to give up in the face of desperate circumstances.
My Grandmother Asked Me To Tell You She's Sorry - As with all of Fredrik Backman's novels, this one takes place in his home country of Sweden. I've enjoyed all of his books, but this one is my favorite. It tells the charming story of a 7-year-old girl whose eccentric grandmother sends her on an adventure to help her overcome her fears and make new friends. Full review + recipe here.
The Royal We - A book about the royal family couldn't take place anywhere other than England. (And a little bit of the U.S., since the prince falls in love with an American.) Given the current royal baby / royal wedding fever, I had to include it on the list. I enjoyed this rom-com of a book immensely last year; it was a perfect summer read. Full review + recipe here.
Bel Canto - Ann Patchett's award-winning novel is set in an unknown South American country, primarily in the house of the vice president during a hostage situation. I just started this over the weekend, and I haven't yet finished, but so far, I'm enjoying it. Ann Patchett's rich descriptions of the scene and the characters have me utterly transported. 
What are some of your favorite novels set in other countries?
______________
Top Ten Tuesday is an original weekly blog meme that was created at The Broke and the Bookish but is now hosted over at The Artsy Reader Girl. I participate about once a month, but each week there is a fun new bookish topic for bloggers to create literary lists about. If you'd like to know more about it, check it out here.
I received a free digital copy of The Boat People from NetGalley in exchange for an honest review.
This post contains affiliate links. Full disclosure here.