My parents watched The Thorn Birds miniseries in 1983. My name is Megan, the same as the main character - it also happened to be the 10th most popular name in 1985, just before I was born. Not a coincidence. Thankfully, they watched the show and didn't read the book, in which her name is spelled Meghann. Anyway, I've been meaning to get around to reading this book, my namesake, for years. I finally did.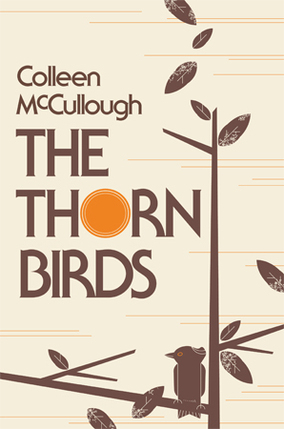 For anyone who has seen the miniseries, The Thorn Birds book (written by Colleen McCullough six years prior in 1977) is pretty similar. It tells the story of the Cleary family as they move to Drogheda, a sheep station in Australia, and live there through the years. Meghann, usually called Meggie, is the only daughter in a family of 8 brothers.
Already a regular Drogheda visitor when the family first arrives, the local priest Ralph befriends them but takes a special interest in Meggie. Her mother pays her little notice, preferring her sons, so he makes it a point to see that she doesn't lack for attention and is given the opportunity for a good education and taught to ride a horse. As Meggie grows older, their familiarity breeds stronger feelings.
In a cruel turn of events, Ralph must make a choice that is really no choice at all for the devout priest. The family's future is forever changed, but Drogheda remains a part of all of their lives no matter what. To honor their massive homestead, I decided to make shepherd's pie. I found a recipe from Alton Brown and went to work.  
First, I chopped my onion and carrots, taking care to make them roughly equal in size. Then, I peeled and cut up my potatoes, putting them into a saucepan of water as I did so. I put them on stove, covered to bring to a boil.
Meanwhile, I preheated the oven to 400 degrees and began on the meat filling. I cooked the onions and carrots for about 4 minutes, added the garlic, and then added the lamb. I seasoned with salt and pepper. Once that was cooked through, I added all of the remaining ingredients - tomato paste, Worcestershire sauce, rosemary, thyme and chicken broth.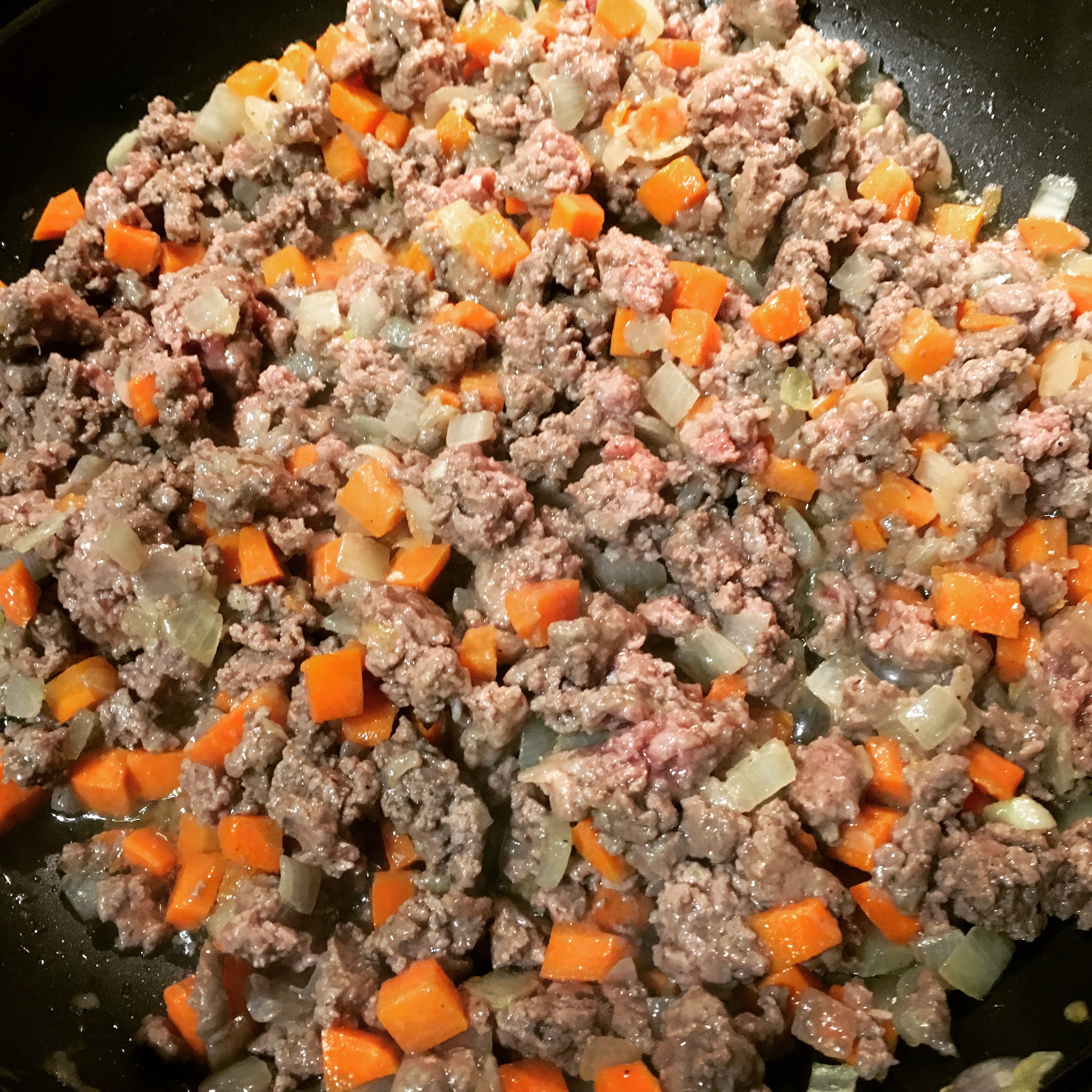 While the sauce thickened, I mashed the potatoes with the half and half, butter, salt and pepper. I separated an egg and stirred in the yolk.  Then, I added the peas and corn (both frozen) to the filling. It went into a glass baking dish and I did my best to smooth the mashed potatoes over the top.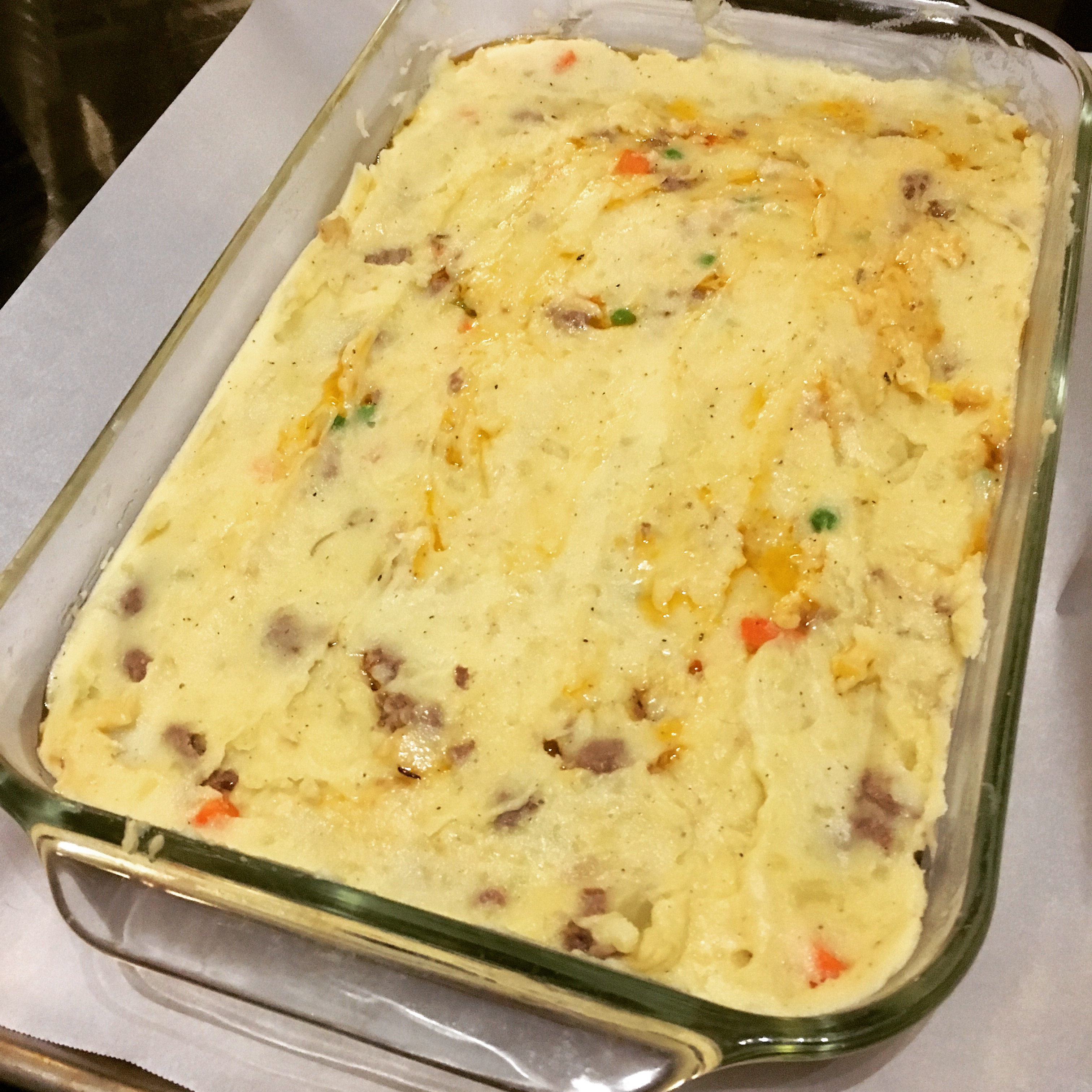 It baked for about a half hour and smelled delicious the entire time. It was torture waiting for it to cool before we could enjoy it.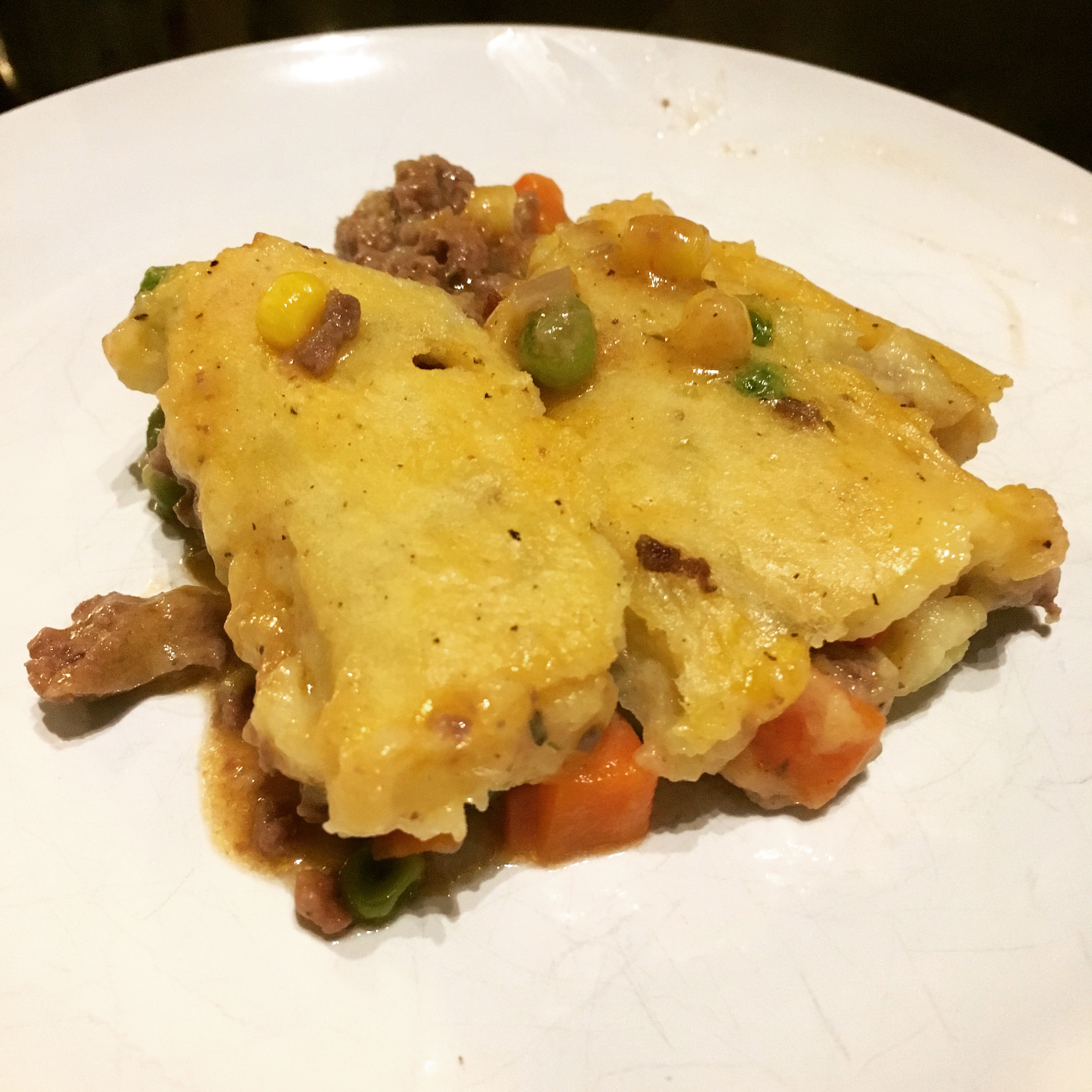 Shepherd's Pie
Ingredients
For the potatoes:
1½ pounds russet potatoes
¼ cup half-and-half
2 ounces unsalted butter
¾ teaspoon kosher salt
¼ teaspoon freshly ground black pepper
1 egg yolk

For the meat filling:

2 tablespoons canola oil
1 cup chopped onion
2 carrots, peeled and diced small
2 cloves garlic, minced
1 ½ pounds ground lamb
1 teaspoon kosher salt
½ teaspoon freshly ground black pepper
2 tablespoons all-purpose flour
2 teaspoons tomato paste
1 cup chicken broth
1 teaspoon Worcestershire sauce
2 teaspoons freshly chopped rosemary leaves
1 teaspoon freshly chopped thyme leaves
½ cup fresh or frozen corn kernels
½ cup fresh or frozen English peas
Directions
Peel the potatoes and cut into 1/2-inch dice. Place in a medium saucepan and cover with cold water. Set over high heat, cover and bring to a boil. Once boiling, uncover, decrease the heat to maintain a simmer and cook until tender and easily crushed with tongs, approximately 10 to 15 minutes. Place the half-and-half and butter into a microwave-safe container and heat in the microwave until warmed through, about 35 seconds. Drain the potatoes in a colander and then return to the saucepan. Mash the potatoes and then add the half and half, butter, salt and pepper and continue to mash until smooth. Stir in the yolk until well combined.
Preheat the oven to 400 degrees F.
While the potatoes are cooking, prepare the filling. Place the canola oil into a 12-inch saute pan and set over medium high heat. Once the oil shimmers, add the onion and carrots and saute just until they begin to take on color, approximately 3 to 4 minutes. Add the garlic and stir to combine. Add the lamb, salt and pepper and cook until browned and cooked through, approximately 3 minutes. Sprinkle the meat with the flour and toss to coat, continuing to cook for another minute. Add the tomato paste, chicken broth, Worcestershire, rosemary, thyme, and stir to combine. Bring to a boil, reduce the heat to low, cover and simmer slowly 10 to 12 minutes or until the sauce is thickened slightly.
Add the corn and peas to the lamb mixture and spread evenly into an 11 by 7-inch glass baking dish. Top with the mashed potatoes, starting around the edges to create a seal to prevent the mixture from bubbling up and smooth with a rubber spatula. Place on a parchment lined half sheet pan on the middle rack of the oven and bake for 25 minutes or just until the potatoes begin to brown. Remove to a cooling rack for at least 15 minutes before serving.