Maybe I watched Practical Magic a little on the young side (it came out when I was 12), but ever since then I've loved it. Even though it's not exactly a traditional Halloween movie, I make it a point to watch every fall season. Next week, in fact, I have a movie date with Deanna to watch it together because she's never seen it and she needs to. This post isn't about the movie, though, it's about the book, which I didn't even realize was a thing until I heard about the prequel The Rules of Magic coming out a couple of months ago.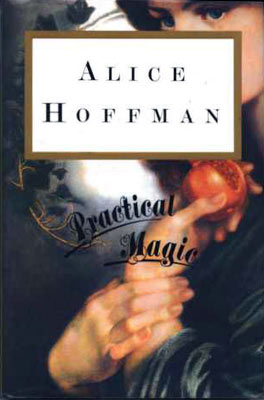 Excited about the prequel, I hunted down Alice Hoffman's book Practical Magic, sure I would love it as much as I did the movie. I definitely enjoyed it, but it's different than I was expecting. The movie's plot is so ingrained in me at this point, that it didn't occur to me that the book wouldn't follow it as well. Obviously, movies change book plots all the time, often to the disappointment of the reader - it's just that usually I don't watch the movie (over and over and over) before reading the book. So I was a bit blind-sided, and the irony is not lost on me.  
All that being said, the book is worth picking up. (This NPR review of the prequel describes the differences in Practical Magic book vs. movie wonderfully, the journalist in a similar situation to me.) Hoffman's writing style is lovely. She crafts a beautiful story of sisterhood and magic that's perfect for cozy fall reading. I haven't read anything else she's written, but I'm looking forward to trying some of her other novels - I've heard good things. And, of course, I'm still excited to read The Rules of Magic too. 
Have any of you read or seen Practical Magic? I'd be interested to hear from those of you who read the book before the movie which you prefer. Any other Hoffman novels you'd recommend?  
At one point in the novel, one of the sisters, Sally, makes an apple tart with her secret ingredient, black pepper. And though it's midsummer in the story, this recipe seemed perfect to make at this time of year. Local apple orchards are bursting at the seams, and I was itching to make an apple dessert anyway. Black pepper as an addition intrigued me. I found a recipe online that included it in an apple galette and used it as a basis for my own version, mostly so I would be able to better estimate how much black pepper to include.
To keep it simple, I used store bought pie crust. Feel free to make your own, if you're so inclined. First, I prepped my apples, which Scott and I had picked up at a local cider mill the weekend before. I used Gala because I like those and we had also bought them for snacking, but any baking apple would work just as well.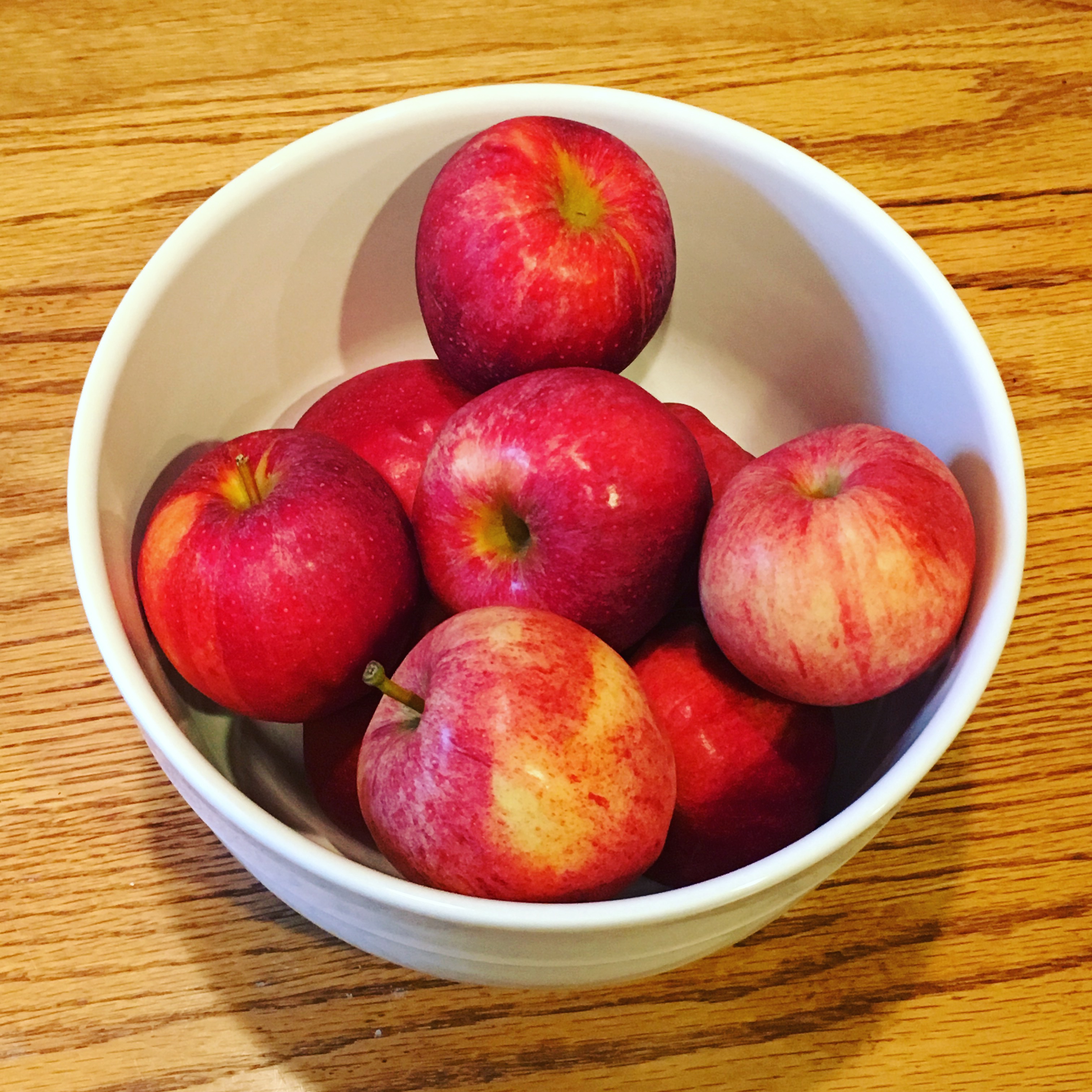 I don't have an apple peeler contraption and my vegetable peeler wasn't getting the job done, so I opted to make my tart a bit more "rustic" and left the apples unpeeled. I sliced them pretty thinly and tossed them with lemon juice, some sugar and a bit of freshly ground black pepper (more on the coarse side).
I laid the pie crust on a parchment lined baking sheet, piled the apples on the middle of it, and folded the crust over around the edges. To help it become a more rich golden brown, I brushed the crust with an egg wash before baking.
I covered the tart loosely with a tented piece of aluminum foil and put the tart in a 375-degree oven to bake for about an hour. I set my timer for 45 minutes and checked it every 20 minutes or so. Once it seemed close to being done, I removed the foil and allowed it to bake for another 10 or 15 minutes without, so the crust would get some good color.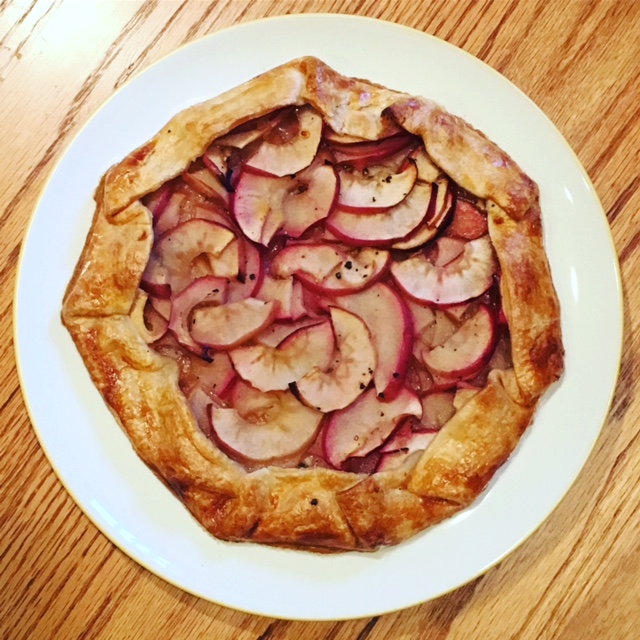 It smelled amazing, but I patiently allowed it to cool completely before serving. I cut into 6 slices (though it could certainly be cut into smaller or larger pieces, depending on the size of your family/party). We enjoyed it without any additions, but it would absolutely be delicious with a scoop of vanilla or cinnamon ice cream while it's still a bit warm from the oven.
What's your favorite apple recipe in the fall?
Apple Tart with Black Pepper
Ingredients
1 pie crust (use your own recipe, or use refrigerated store bought)
3 - 4 medium apples, cored and sliced (¼" - ½" thick)
2 TBS granulated sugar
½ tsp freshly ground black pepper
1 TBS lemon juice
1 egg, mixed with a little bit of water
Directions
Preheat the oven to 375 degrees F.
Prepare the apples and toss them with the sugar, black pepper, and lemon juice.
Place dough on parchment paper or a silicone mat on a baking sheet. Arrange the apples in the center of the dough, leaving about an inch border. Fold the extra dough over the sides of the tart.
Brush the crust lightly with an egg wash.
Cover the tart loosely with aluminum foil and bake for about 45 minutes to an hour. After when there are about 15 minutes left (apples should be soft, dough should be mostly cooked), remove the foil to allow the dough to become golden.
Let cool completely before serving. Best served at room temperature. Enjoy!
Adapted from:
Earth Powered Family
Notes: It's not much more work to make 2 tarts at a time, especially if you're using store bought crust. Plan to use 6 medium apples and double the sugar, pepper and lemon juice. Divide apples evenly between both crusts. Baking time shouldn't change.
You can peel your apples if desired, but with thin slices, it doesn't affect the texture much to leave them on. Plus, it makes it much quicker!
This post contains affiliate links. Full disclosure here.