Often, I read a book that has been the talk of the town (so to speak), a book that everyone loves, a must-read, and I'm so excited to dig into it, convinced I will feel the same way, and then I'm disappointed. I'm sure I've written in the past about tempering my own expectations, though I know I'm guilty of it too - if I love a book, I can't recommend it enough. I'll talk about it constantly and push it on unsuspecting friends. I don't think Laurie Frankel's novel This Is How It Always Is falls into the disappointing category, but I think I might have liked it more had I stumbled upon it on my own - and not read it so closely behind the real life saga of a similar family in Becoming Nicole.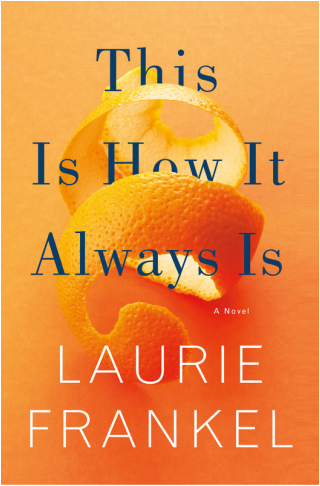 That being said, it's an important novel - tackling controversial issues head on, causing you to examine how you feel and why you feel that way, but doing so in a relatable, enjoyable story - and I liked it for those reasons. The story centers around Claude, the youngest brother in an accepting, open-minded family of five boys. He wants to be a girl when he grows up - inside he feels more like Poppy than like Claude. Though Poppy's family is fully supportive, the sacrifices they must make to keep this secret affects each of them in unique ways.
After four boys, Poppy's mom desperately wanted a girl. On the day Claude was conceived, Rosie went through a complicated ritual concocted of random wives' tales and legends, doing everything in her power to have a baby girl. Claude was born. I'm not entirely sure the result was what she had in mind, but ultimately, Poppy was also born, and their family was complete.
As part of her ritual, Rosie made salmon for her and her husband's lunch, served alongside chocolate chip cookies. I decided to make the salmon as well, though without the cookies for dessert, and in honor of the orange peel on the cover, incorporate the fruit into the recipe as well.
To start, I patted my two salmon fillets dry on both sides and seasoned them with fresh ground black pepper and salt.
I heated some olive oil in a medium skillet and laid the fillets skin side down to begin cooking. After about 5-7 minutes, I flipped the fillets and added half an orange to the pan to grill alongside the fish.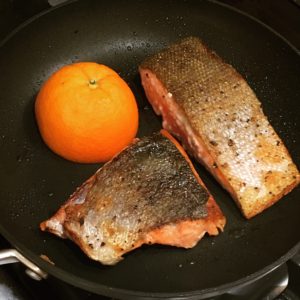 The salmon cooked for another 4 or so minutes, until it was opaque throughout. I plated it with some sautéed zucchini and a wedge (or two) of orange. We squeezed the orange over the salmon just before eating.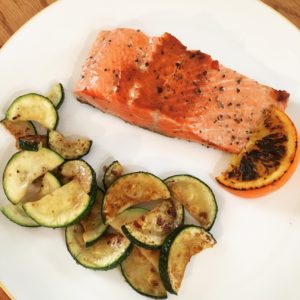 Simple Orange Salmon
Ingredients
- 2 salmon fillets with skin, 4 to 6 oz each - 1 orange, halved - salt and freshly ground black pepper - olive oil
Directions
Pat salmon fillets dry with a paper towel. Season each side generously with salt and freshly ground black pepper.
Add 2-3 turns of olive oil to a medium or large skillet (depending on size of salmon fillets) and allow to heat through. Add salmon, skin side down. Cook for 5-7 minutes, until skin is a nice golden brown.
Flip fillets and add orange half to skillet. Allow salmon to cook for an additional 3-5 minutes, until fish is opaque throughout. Watch orange and remove when it begins to char.
Serve salmon immediately with orange wedges. Squeeze orange over fish before eating.
This post contains affiliate links. Full disclosure here.