The description of The Lightest Object in the Universe had me at "after a global economic collapse and failure of the electrical grid." There's no denying that I love a post-apocalyptic story! Today, I'm really excited to be a part of the Algonquin Books blog tour celebrating the paperback release of Kimi Eisele's novel.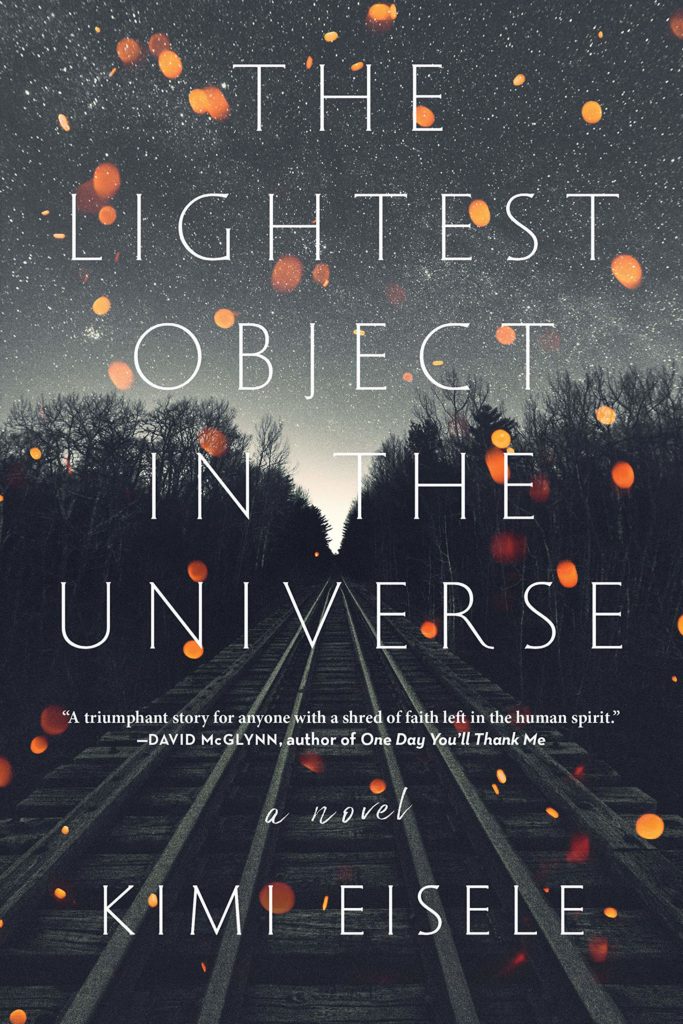 This post-apocalyptic journey starts like so many others — the world has imploded because of a series of horrible events — but then quickly veers off into a surprisingly pleasant direction of its own. Beatrix is a fair trade advocate, who just traveled for several weeks to get back home from an international work trip to California, only to find her roommates have left for greener pastures. Carson, is a former history teacher turned principal living on the east coast, who decides when things get bad he's going to take a long walk. Specifically, to find Beatrix. They randomly met in the before and made an instant connection, and his hope of seeing her again propels him across the country on foot.
While Carson stumbles into other travelers, many of them flocking to the radio prophet Jonathan Blue, Beatrix works to build a true community with her neighbors. There are certainly dark parts to the novel (it wouldn't be realistic if not), but I love that Eisele's story focuses on a rebuilding. It was especially nice to read right now — though we are certainly not living in post-apocalyptic times, 2020 is weird. It gave me an optimistic glow.
It can often be hard to find a recipe that matches these types of novels, where often food is scarce or just canned good after canned good. But, this one had a lot more food mentions than I expected — and three in particular that helped me to arrive at the recipe I'm sharing today. 
Oranges: Before everything collapses, Beatrix uses oranges to demonstrate the distortion of countries on a globe. (As a result, Carson thinks of Beatrix when he catches their scent.) Later, Beatrix is lucky enough to receive a few boxes full of them, a treasure that she can not only eat but trade as well.
Chocolate: As a fair trade advocate, Beatrix worked to strengthen and promote the global chocolate market. Later, she wanders into her old office and finds a stash of "famous Fair Share chocolate," another item that can be used for trade and even protection. And, of course, a little bit of snacking.    
Ice Cream: On the radio, Jonathan Blue promises ice cream. Most people can't even remember the last time they tasted ice cream, making its temptation all the more powerful. 
I got really excited by the idea of making an orange creamsicle type ice cream, but then I needed to work the chocolate in there somehow. The closest I could find was one recipe that suggested adding chocolate sprinkles to the top, but that's not exactly incorporated. So, I went back to my review of Love & Gelato, which included a recipe for stracciatella (arguably the best kind of gelato), and decided I would incorporate chocolate that way — something more elegant than just tossing in some chocolate chips.
If you don't like oranges and chocolate, you can always leave the chocolate part out… I'm sure the ice cream will still be delicious. Or, you could always make a grilled ham, cheese and banana sandwich — Carson's favorite food — which is what I would've been stuck with if I hadn't decided on this combo.
This ice cream recipe was very different from any that I've made, most notably because of the addition of cream cheese but also because of the absence of egg yolks. I usually don't like ice creams that lack a true custard base, but I think the cream cheese makes up for it. This one was still rich and creamy, and of course, quite flavorful.
It's also definitely a recipe that is best executed if you take the time to prep your ingredients ahead of time. (Something you should always do, but a lot of them it doesn't necessarily matter… I'm not a usually rigorous prepper myself. My culinary school teachers would be ashamed!) Anyway, I suggest you definitely juice and zest your orange(s) and make your buttermilk, if you didn't just buy it straightaway. You can add 1.5 tsp to ½ cup of milk to make your own buttermilk; then just measure out what's needed for the recipe.
If you forgot to soften your cream cheese, I just cut off the 3 TBS (1.5 oz), placed that in a bowl and tossed that in the microwave for 10 seconds — it was perfect for whipping. Then, as suggested, combine 2 tablespoons of milk and cornstarch and set aside.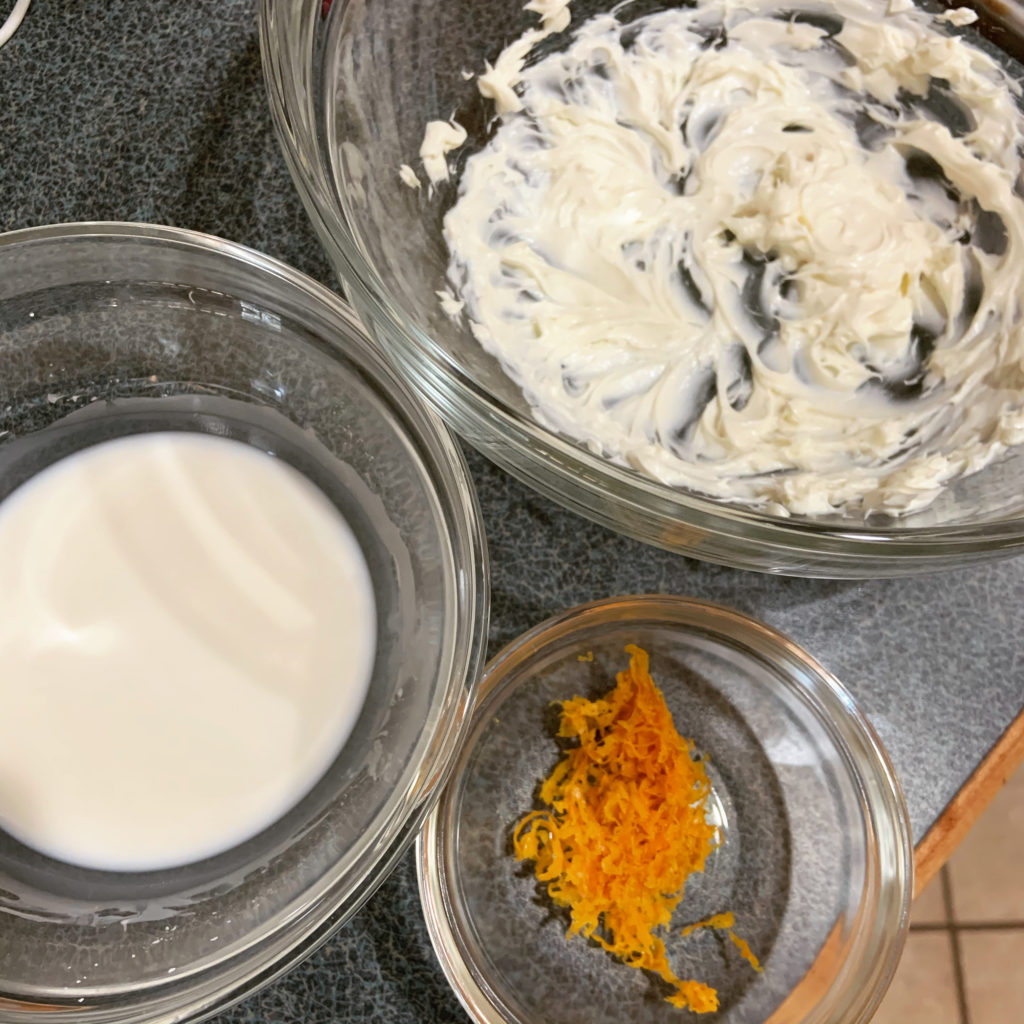 In a 4-quart saucepan, I added my milk, cream, sugar and corn syrup and set it at a medium high heat, stirring pretty regularly while it came up to a fast boil. I let it boil for 4 minutes, continuing to stir, and actually turning down the heat quite a bit. (It seemed like it might boil over if left unchecked, so keep an eye on it.)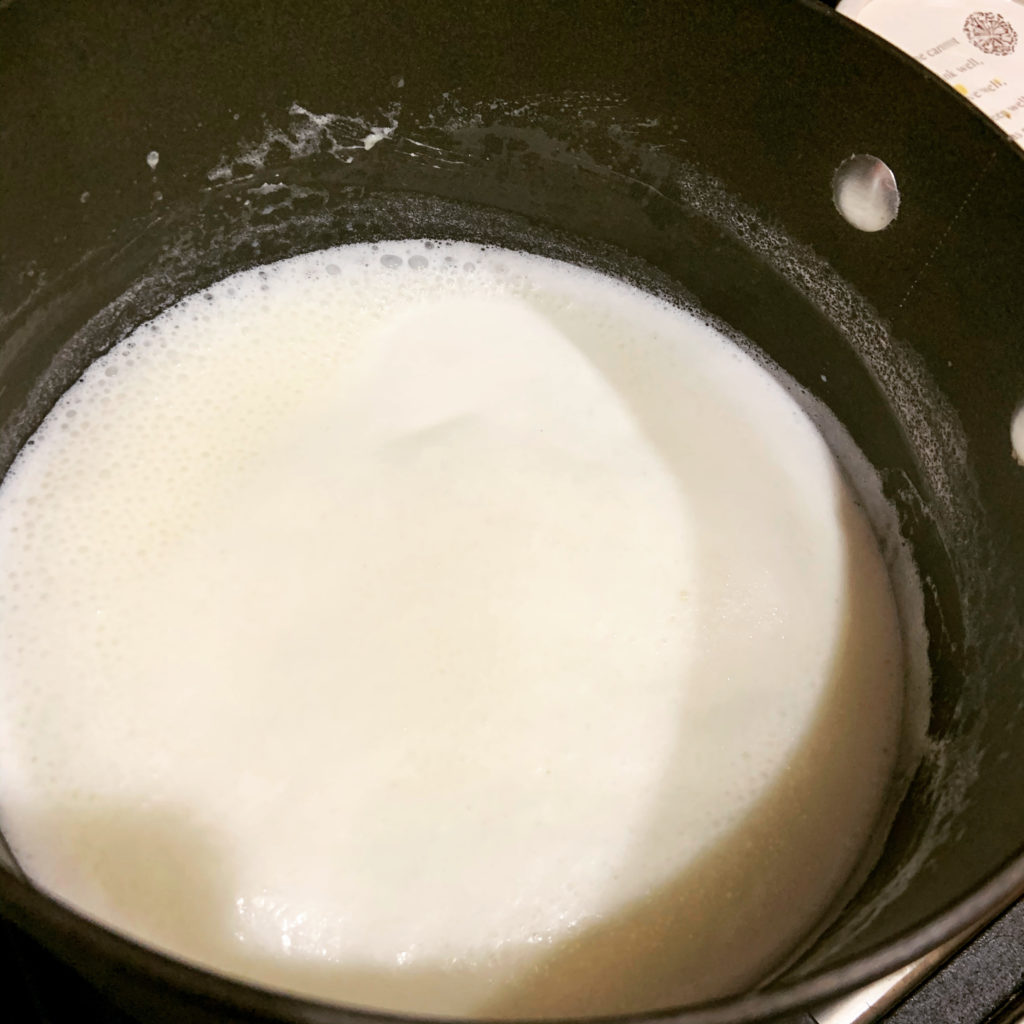 Then, I carefully added some of the milk mixture (3 ladlefuls) into my small bowl of cornstarch/milk and whisked until they were combined, before pouring that back into the saucepan. I kept it over high heat for about a minute, as directed, until it thickened — which it did quite suddenly — and I removed it from the heat.
I whisked the milk mixture into the cream cheese, then whisked in my vanilla and orange extracts, buttermilk, orange juice and orange zest. I also added a little salt, but I didn't measure it, so you may want to just add it to your taste. (Same with the extracts; you can adjust the amounts based on your preference.)
I then poured everything into a gallon Ziploc bag to submerge in my ice bath. If you have one of these bag holders, it makes it a lot more manageable with less spilling! (I always use them when I'm doing food prep.)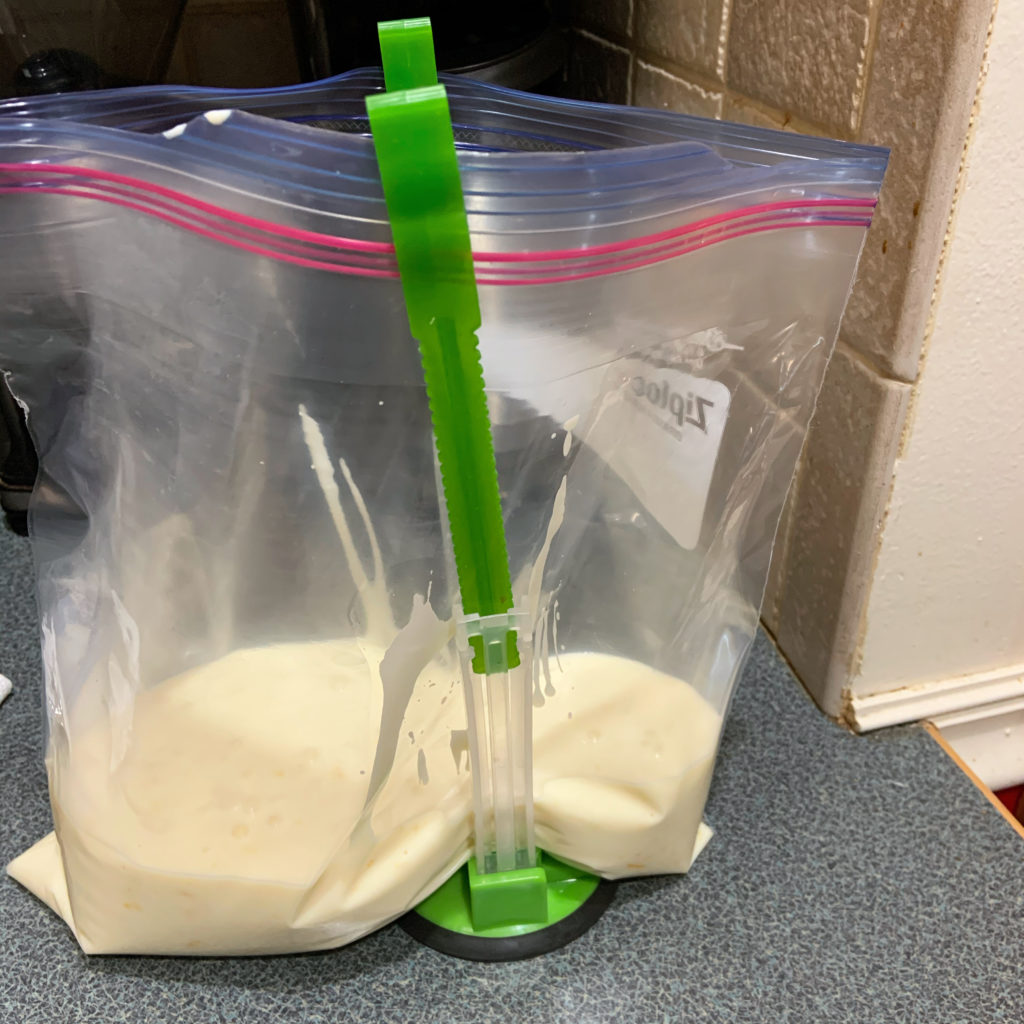 I kept it submerged for about 30-40 minutes. The first time I checked it, around 20 minutes, when I smooshed it around with my hand (very technical terminology), there were still some warm parts, so I dunked it again.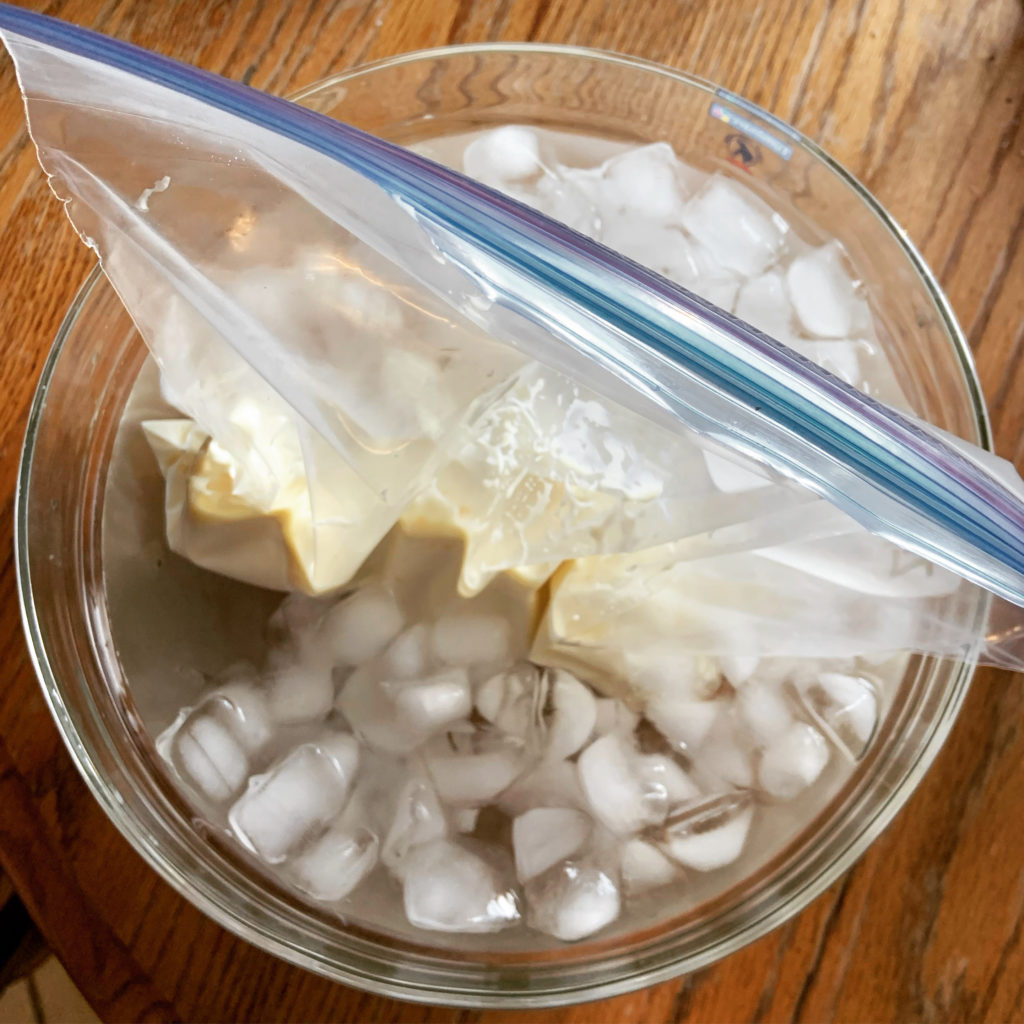 I thought this method of cooling might be easier, but I honestly hated it in hindsight. It was very hard to get the ice cream base out of the Ziploc bag in its entirety (which I could tell by the fact that my quart container wasn't even full — usually I have ice cream overflowing it and need to use another container for a scoop or two of ice cream). I much prefer cooling in a bowl, over an ice bath in a larger bowl, as I've done with many of my ice cream recipes. No waste that way!
Then, I squeezed as much of it as I could into my ice cream making attachment and set the KitchenAid to work.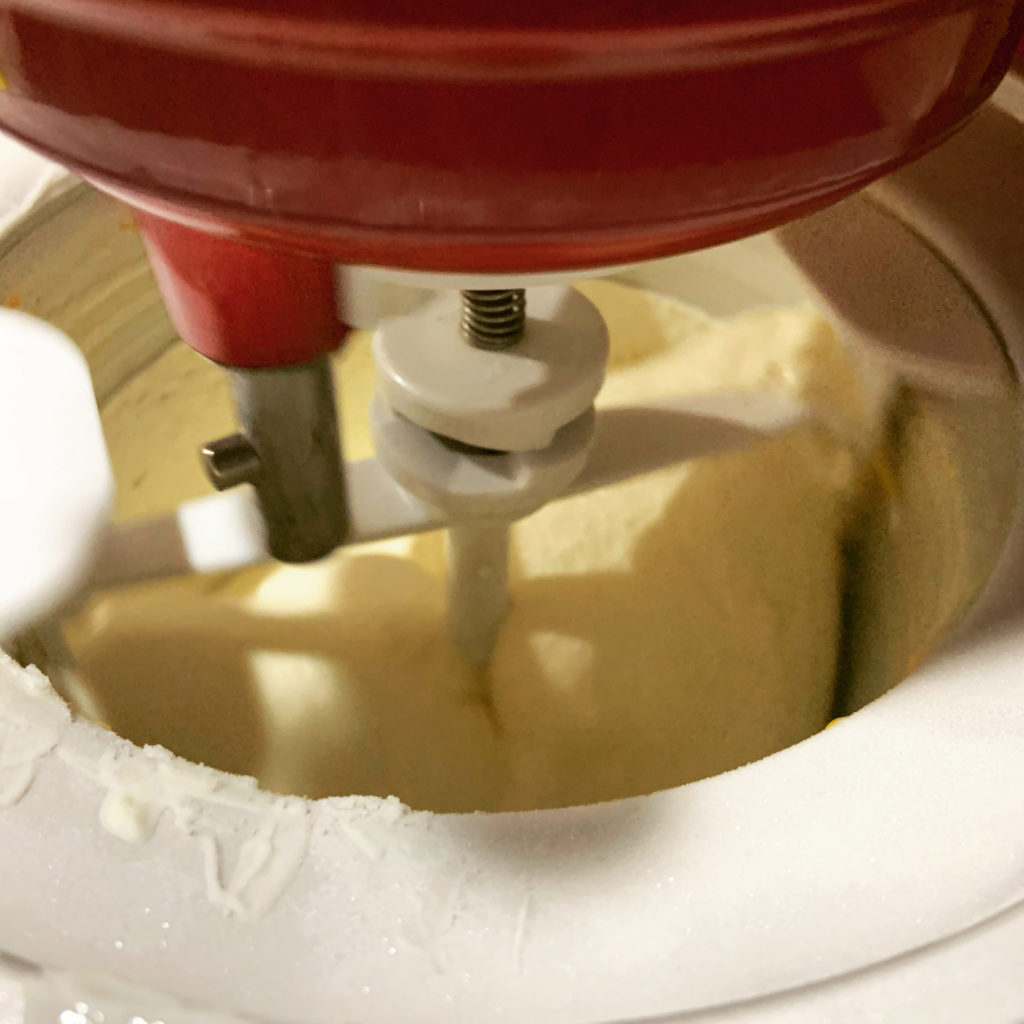 While it churned, I got my chocolate drizzle ready — using some Fair Trade chocolate, obviously.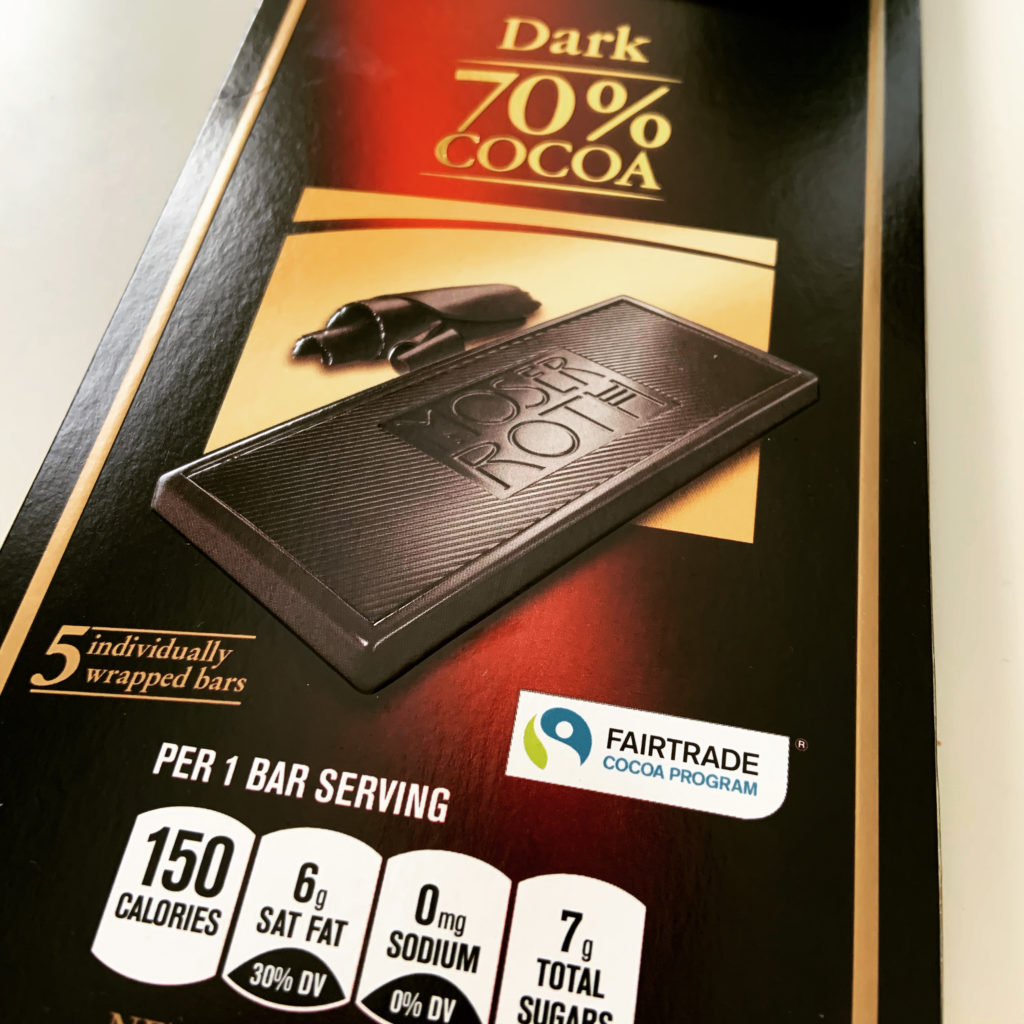 I added 4 oz to a bowl with 2 tablespoons of butter, microwaving for 15 seconds at a time and stirring in between. After about 90 seconds or so total, it was nice and smooth. I poured it into a ziploc bag (definitely the recommended method here) and kept it warm and drizzle-able in a bowl of some warm water.
After about 18 minutes, or with just a couple minutes left of churning, I started adding the chocolate. I kept some back to use for a drizzle on top, but feel free to get it all in the ice cream. (My decorative drizzle didn't turn out great anyway… Can you guess what it's supposed to say?)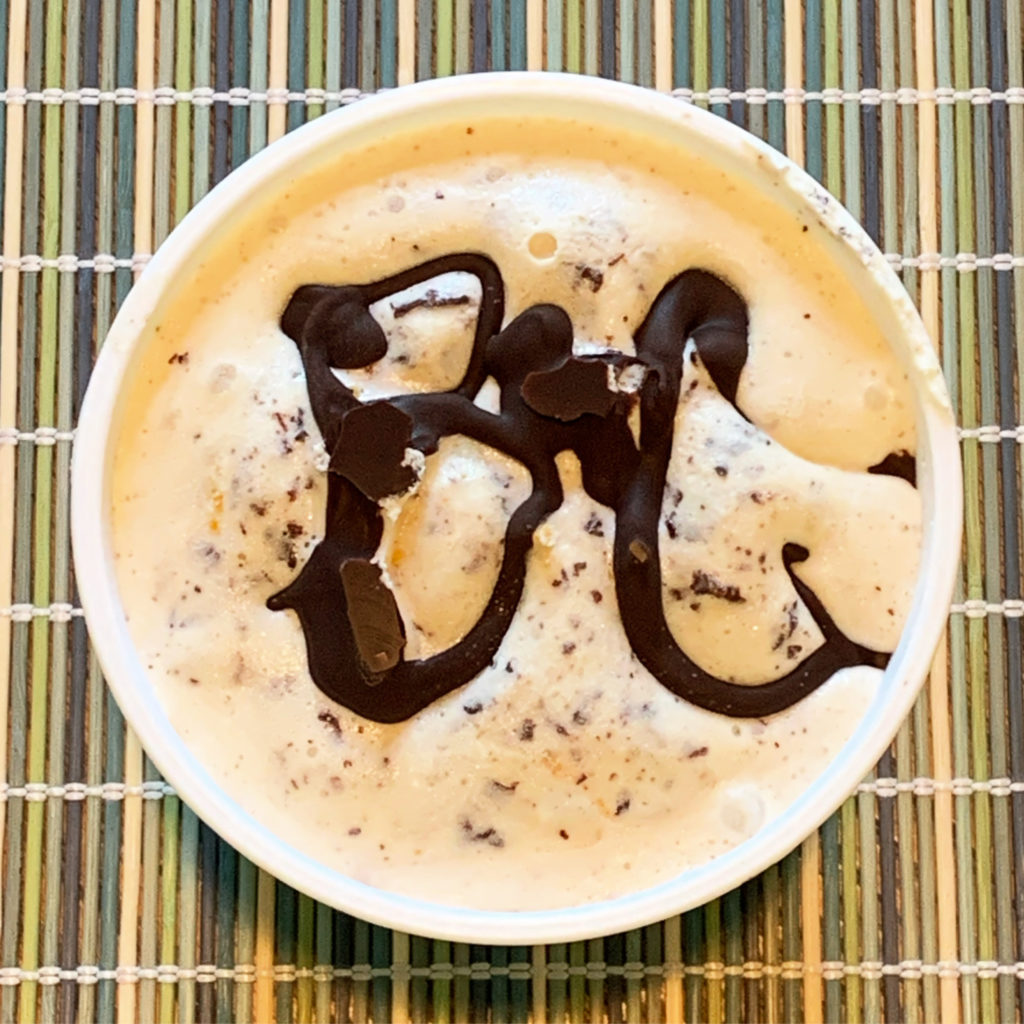 The flavor was spot on — orangey and chocolatey and a bit creamy. It wasn't quite as creamy as some of the other ice creams I've made (the ones with custard bases), but I think the consistency was what I would expect from a creamsicle.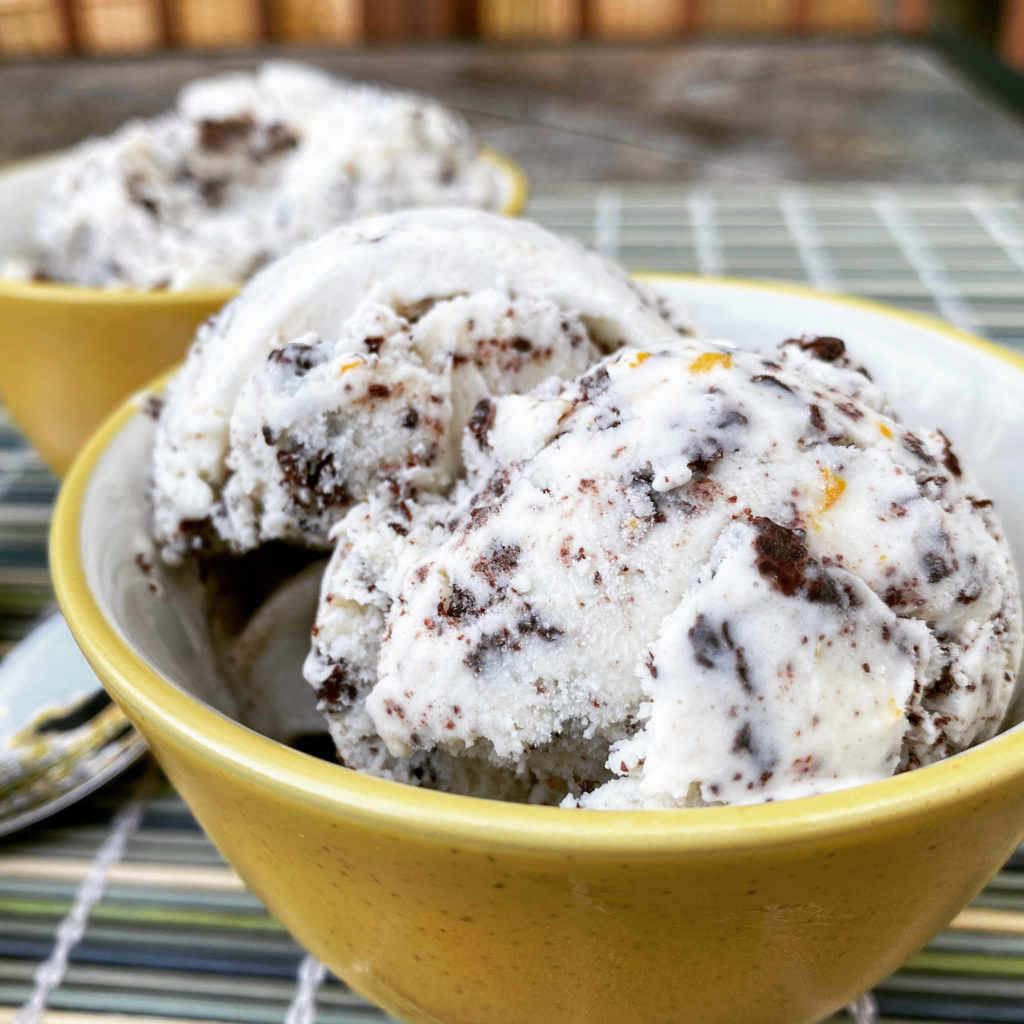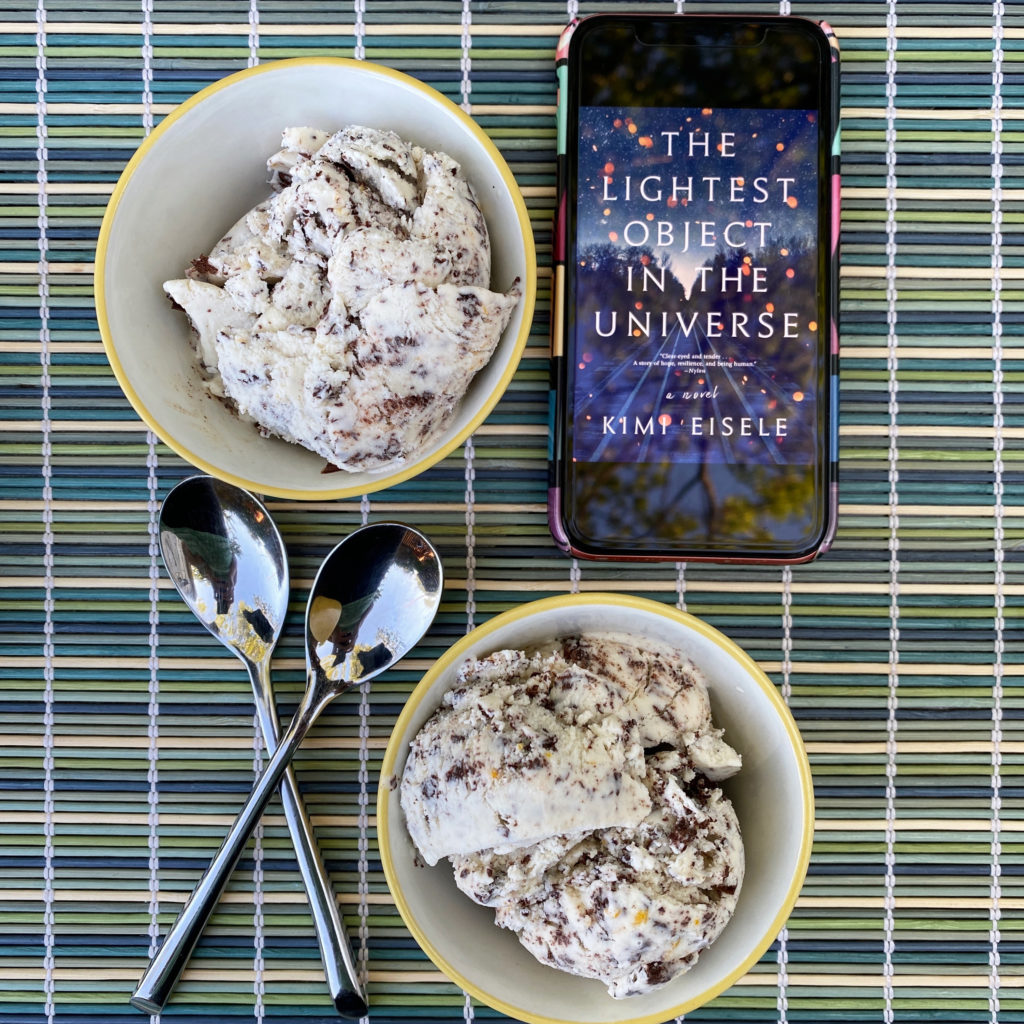 In the end, the ice cream is a perfect fit for the novel. I hope you enjoy it!
Orange Creamsicle Ice Cream with Chocolate Flakes
Ingredients
2

tablespoons

cornstarch

1.5

cups

whole milk

1 1/4

cups

heavy cream

1/3

cup

sugar

3

tablespoons

cream cheese

softened

2

tablespoons

light corn syrup

pinch

of kosher or sea salt; or if you're lucky

ice cream salt

¼

cup

buttermilk

2

teaspoons

high quality vanilla extract

1

tablespoon

orange extract

1/2

cup

orange juice

freshly squeezed is best

zest from one orange

if desired; this will add a bit of texture

4

oz

good quality dark chocolate

Fair Trade, if possible

2

tablespoons

unsalted butter
Instructions
In a small bowl, mix two tablespoons of milk with the cornstarch until smooth. Set aside.

Whisk the cream cheese in a medium bowl until smooth or almost smooth (some lumps and bumps are just fine).

In a 4 quart saucepan, combine milk, cream, sugar, and corn syrup, then bring to a rolling boil. Boil for 4 mins.

After 4 minutes, remove the milk mixture from heat and gradually mix into your cornstarch slurry mixture that you made in Step 1. Add back to the saucepan, and cook over medium high heat for about 1 minute, or until thickened and it coats the back of a wooden spoon. Remove from heat.

Gradually whisk the milk mixture into the cream cheese. Add both of the extracts, orange juice, zest, and buttermilk. Lastly, I add in the kosher salt, to taste. Please note: the amounts of the extracts were ball parked; I really wanted a robust flavor, so i just kept adding until I was happy with the flavor. Taste as you go – you may want more or less depending on your personal preference.

Fill a large bowl with ice water. (Make sure your medium bowl in the next step will fit with a little room to spare.) Set aside.

Once all ingredients are incorporated, pour base into a medium glass bowl and place in ice bath. Let stand until very cold, half an hour or so. Continue adding more ice as needed. Stirring occasionally will speed up the process.

Once the mixture is cold, pour into ice cream maker, making sure to scrape out all the goodness and freeze according to manufacturer's instructions.

While ice cream is churning, melt chocolate and butter in a small saucepan over low heat or in the microwave in 15 second bursts. When chocolate is melted and smooth, transfer to a zip-top bag and seal well, pressing out as much air as possible. If necessary, place bag in a bowl of warm water to keep warm while the ice cream finishes churning.

When ice cream is the consistency of soft serve, 1-2 minutes before being completely done, cut 1/4 inch off the corner of the bag. Slowly drizzle most of the chocolate into churning ice cream, allowing the chocolate to swirl throughout.

Transfer to a freezer safe container and store until texture is hardened (3-4 hours, or preferably overnight). Once ready to serve, let the ice cream sit out for 10 or 15 minutes until softened.
Are you a fan of post-apocalyptic or dystopian works? Which is your favorite?
And what's your favorite ice cream? ???? Share in the comments below.
Thank you to Algonquin Books for letting me be a part of this tour!
_______________
This post contains affiliate links. This does not increase the price you pay, but I may receive a small commission for any products you choose to buy. Purchases made through affiliate links help to cover my blogging costs. Thank you for helping to support The Hungry Bookworm! Full disclosure here.