I really enjoy Katherine Center's stories. I was a huge fan of How to Walk Away — like finishing-it-in-my-car-before-work huge — and I'm glad to say this one did not disappoint. From what I've seen, her novels revolve around a woman who isn't exactly what you would expect. In Things You Save in a Fire, the main character Cassie is a female firefighter.
She's tough as nails and extremely career-oriented. Though she's been estranged from her mother since she was a kid, Cassie softens just a little bit, and ends up agreeing to move across the country to live with her in Boston when her mom reveals she's having some health issues. At the new firehouse, Cassie is the only woman. As seasoned as she is, Cassie must still constantly prove her worth against the rookie, and while he has no actual experience, he is a guy and therefore more welcome in the old-school environment.
Like all well-drawn characters, Cassie had her flaws, but I found myself rooting for her throughout. Though I liked HTWA better, I thought Center delivered another easy but not "light" read that I didn't want to put down.
Something sort of funny that stood out to me — and inspired my recipe pairing today — was what Cassie always thought about as she fell asleep:
I'd imagine making chocolate chip cookies, each step in soothing detail, from mixing in the butter to adding the vanilla, from cracking in the eggs to stirring in the chips. I'd watch the mixer blades spin, and scrap the sides of the bowl with a rubber spatula, and scoop the dough with little half-sphere tablespoons, dropping them one by soothing one onto the cookie tray in neat, perfect spaced rows.
She says she hasn't baked in years (and I don't doubt it), but does she get her cookies in the end? I thought I would help bring them to life.
The particular recipe I chose was inspired by the fact that I had a bunch of mini-chocolate chips on hand, but I'm glad I picked it because they were delicious! (My husband agreed and couldn't stop eating them.) It came from Cookies and Cups, and are apparently her favorite. I didn't have salted butter or dark brown sugar, but I made do with my traditional unsalted butter and the light brown sugar I had in the pantry. 
First, I mixed the butter and sugars together in my stand mixer.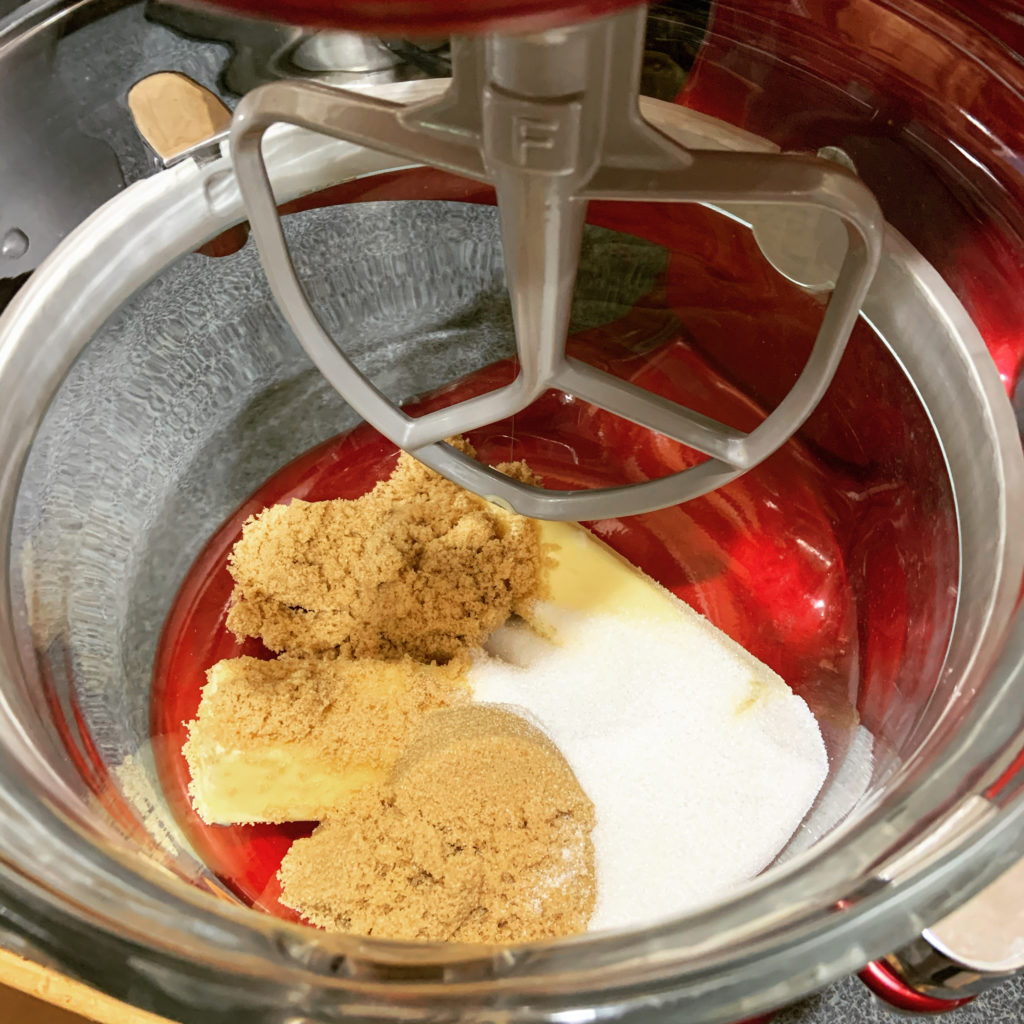 Then, I added the eggs, vanilla, baking soda, baking powder and coarse sea salt, making use of my punny Book Blends from Book Club Cookbook.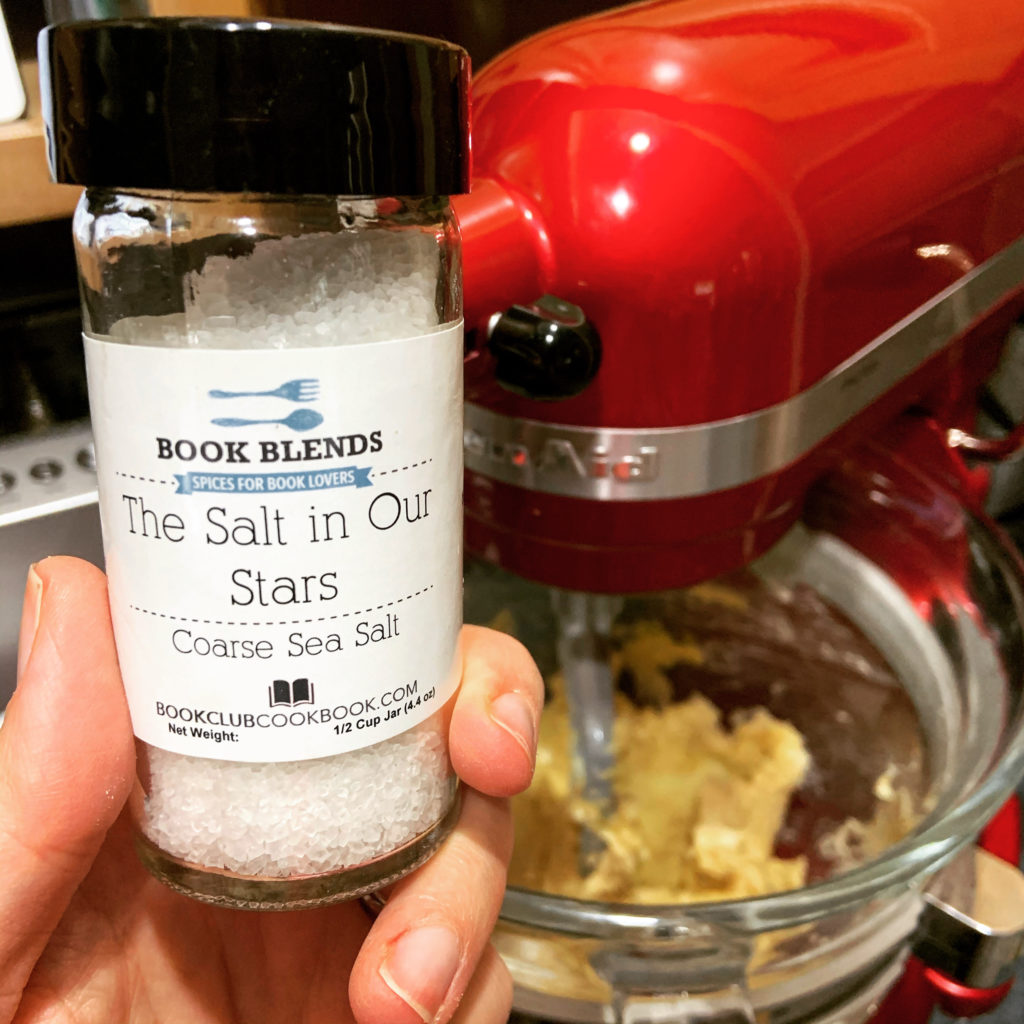 Next came the flour, to form it into a real dough.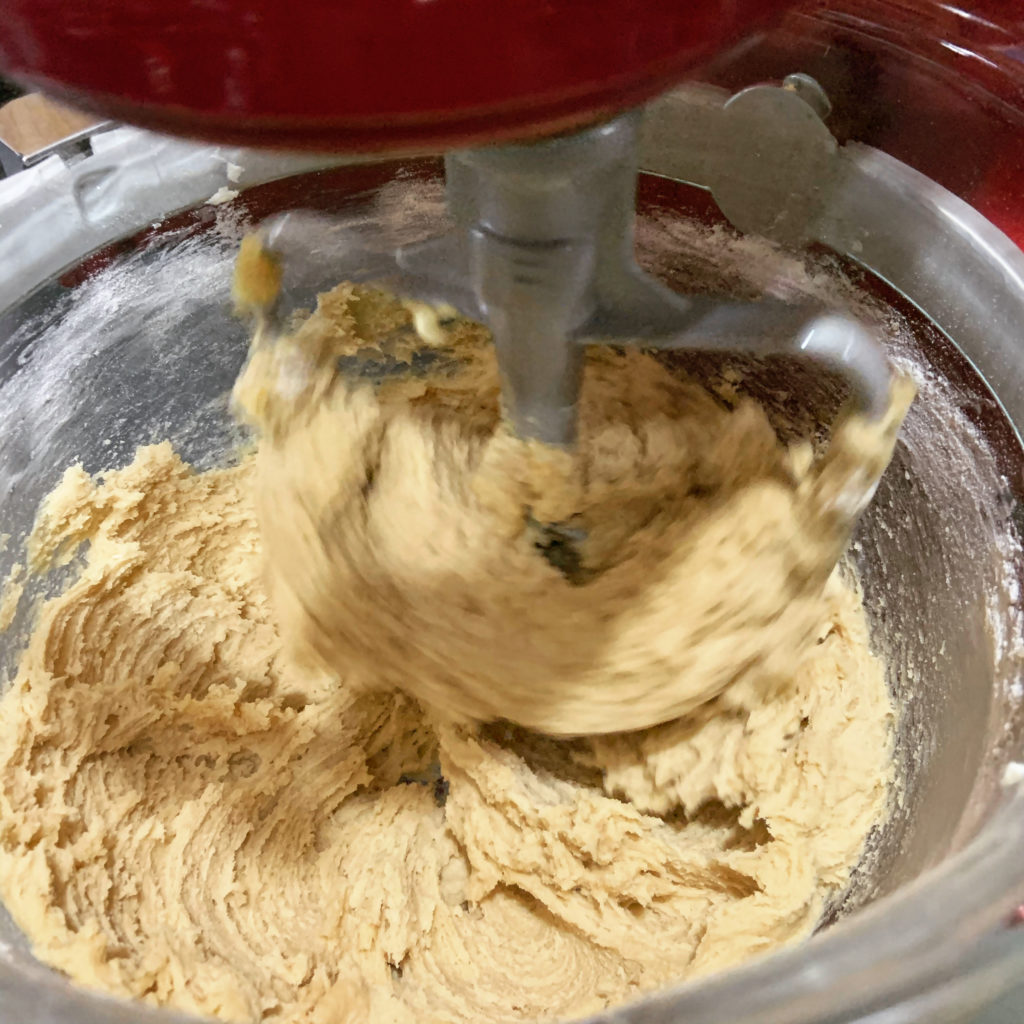 And, then, finally I mixed in the chocolate chips — it seems like sooo many when they're mini!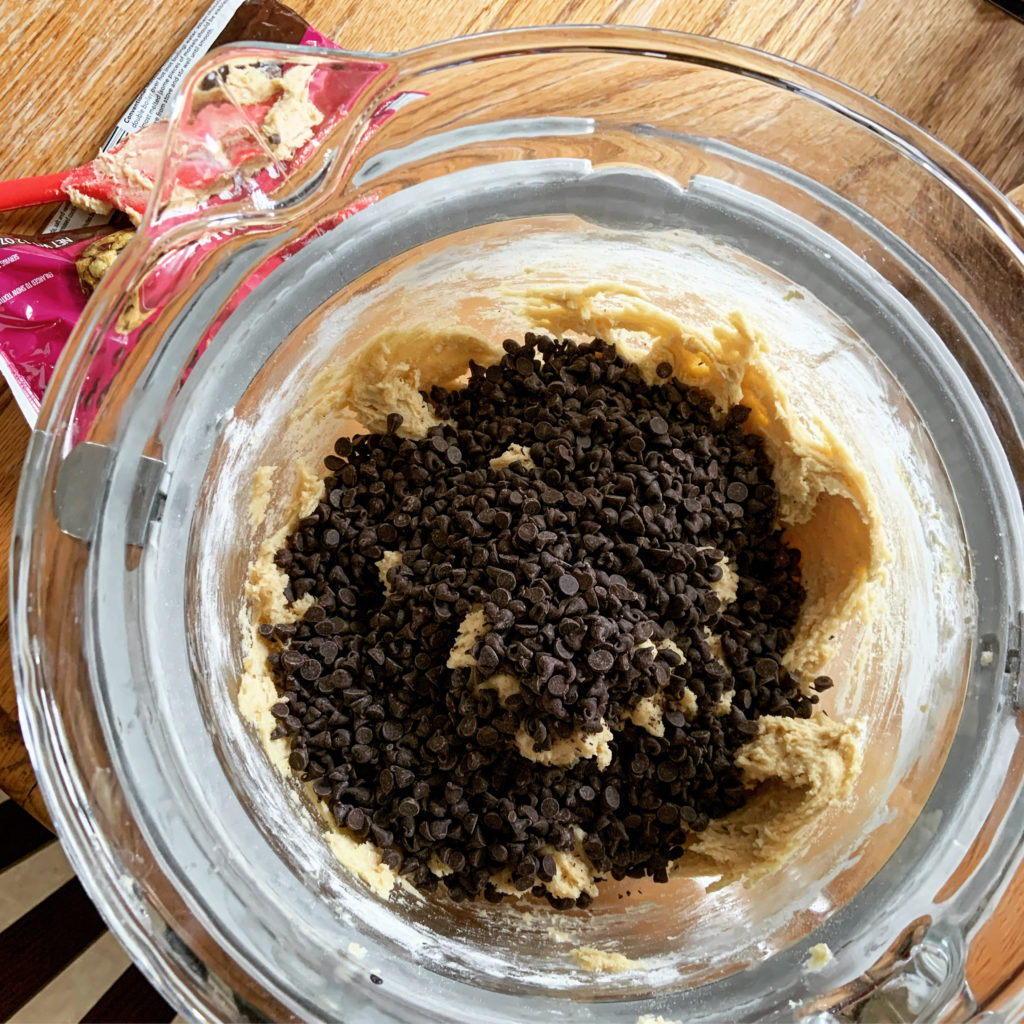 I covered the bowl with plastic wrap and put it in the fridge to chill.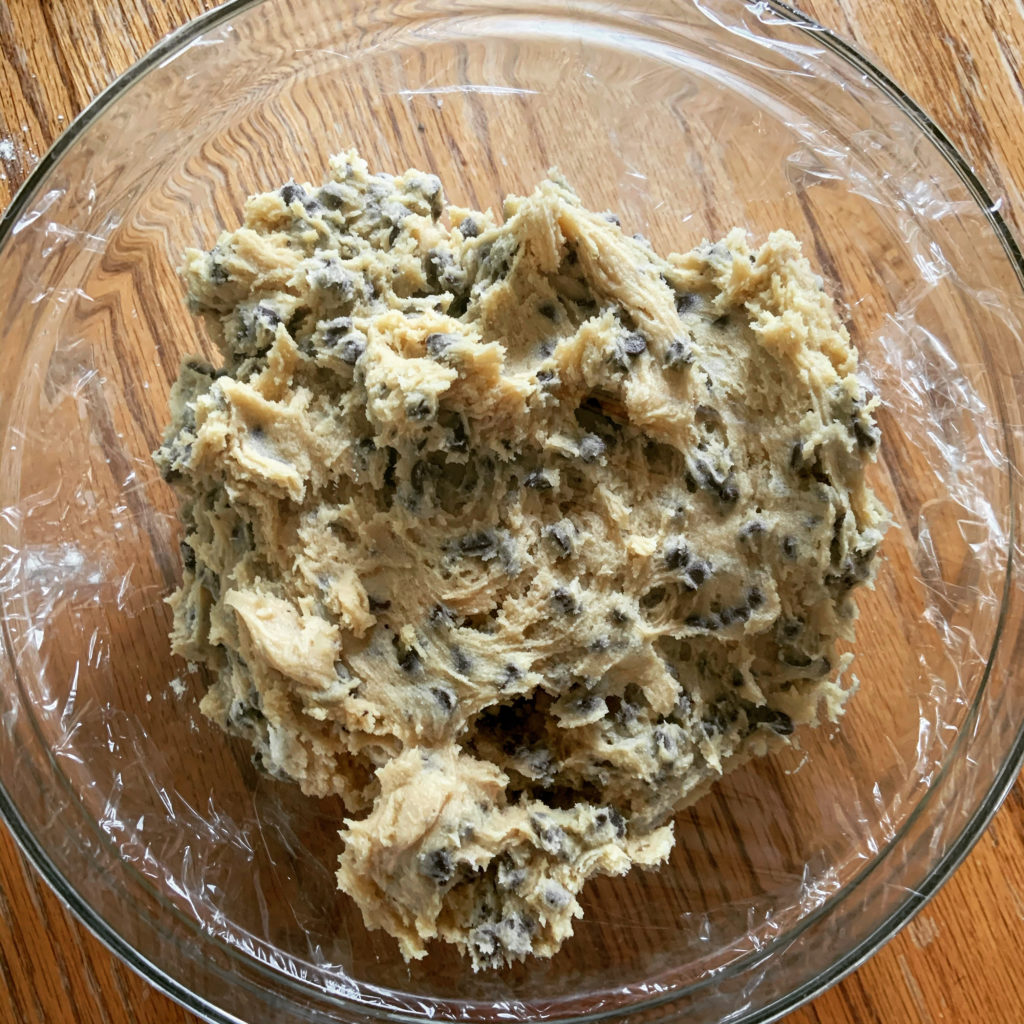 After letting them hang out in the fridge overnight (and then some, if I'm being honest), I scooped them onto cookie sheets using my large scoop. I can't remember the size, but she recommends using a 3-tablespoon scoop to make 24 cookies and I ended up with about 24, so I think it must've been exactly what she suggested.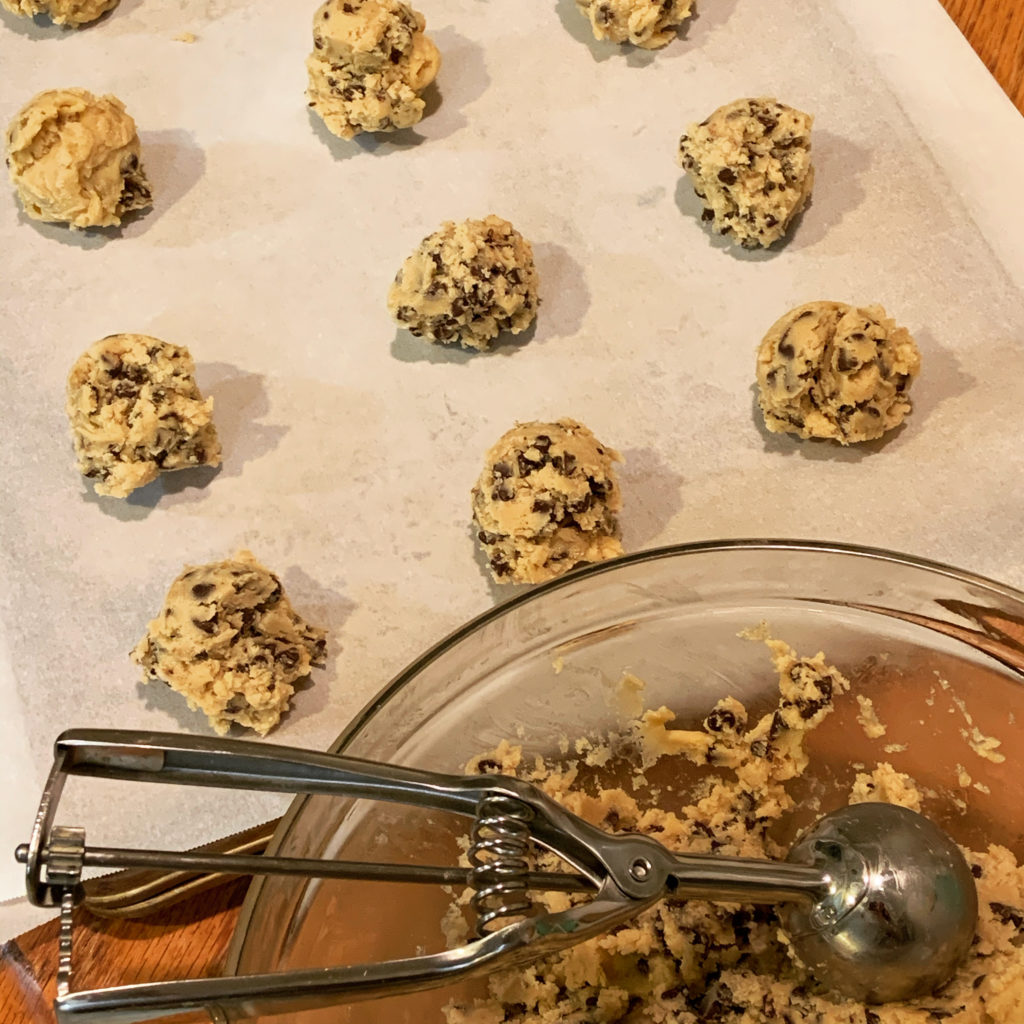 Before popping them into the oven, I sprinkled them with flaked sea salt (thankfully I had some leftover from when I made salted caramel ice cream). This is entirely optional, and she doesn't mention at which point to add the flaked salt, but this seemed like the most logical spot.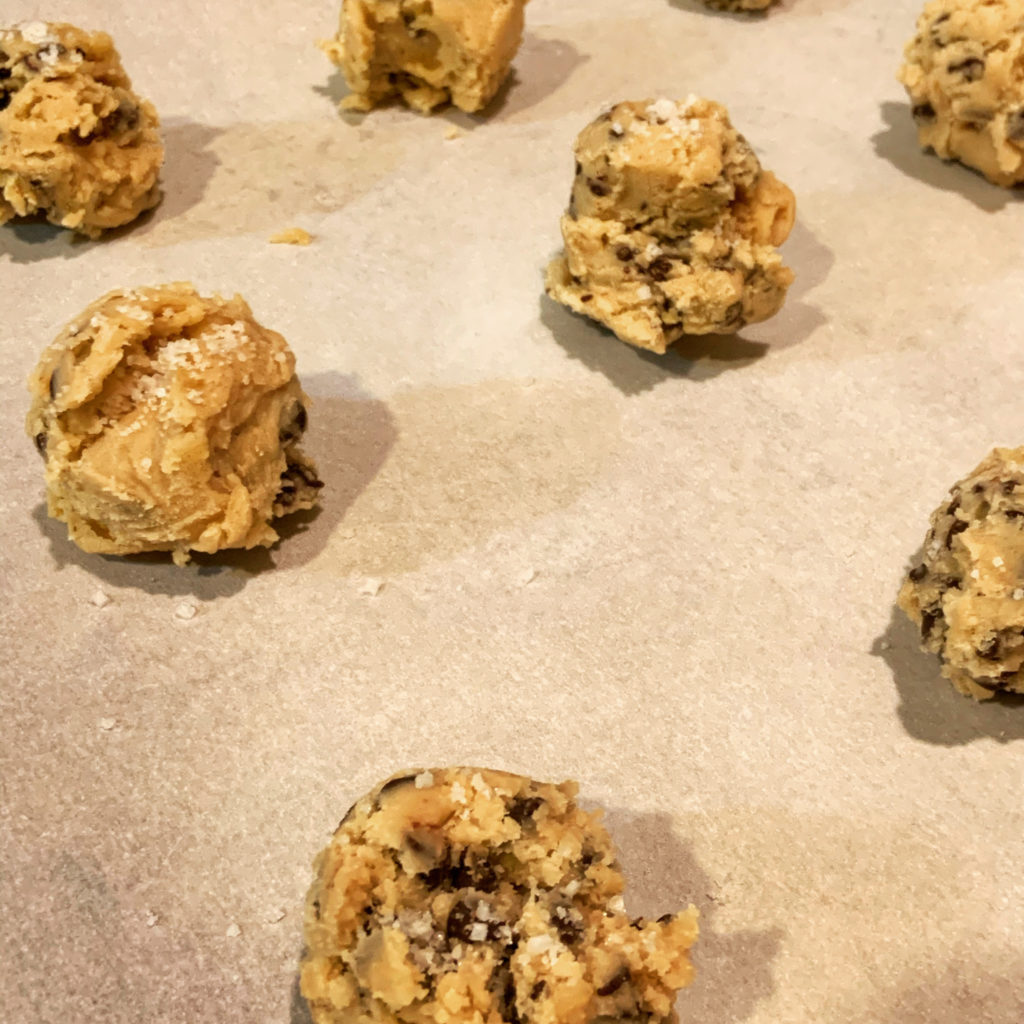 The cookies baked at 350-degrees for about 12 minutes and turned out beautifully. As I said, my husband couldn't get enough!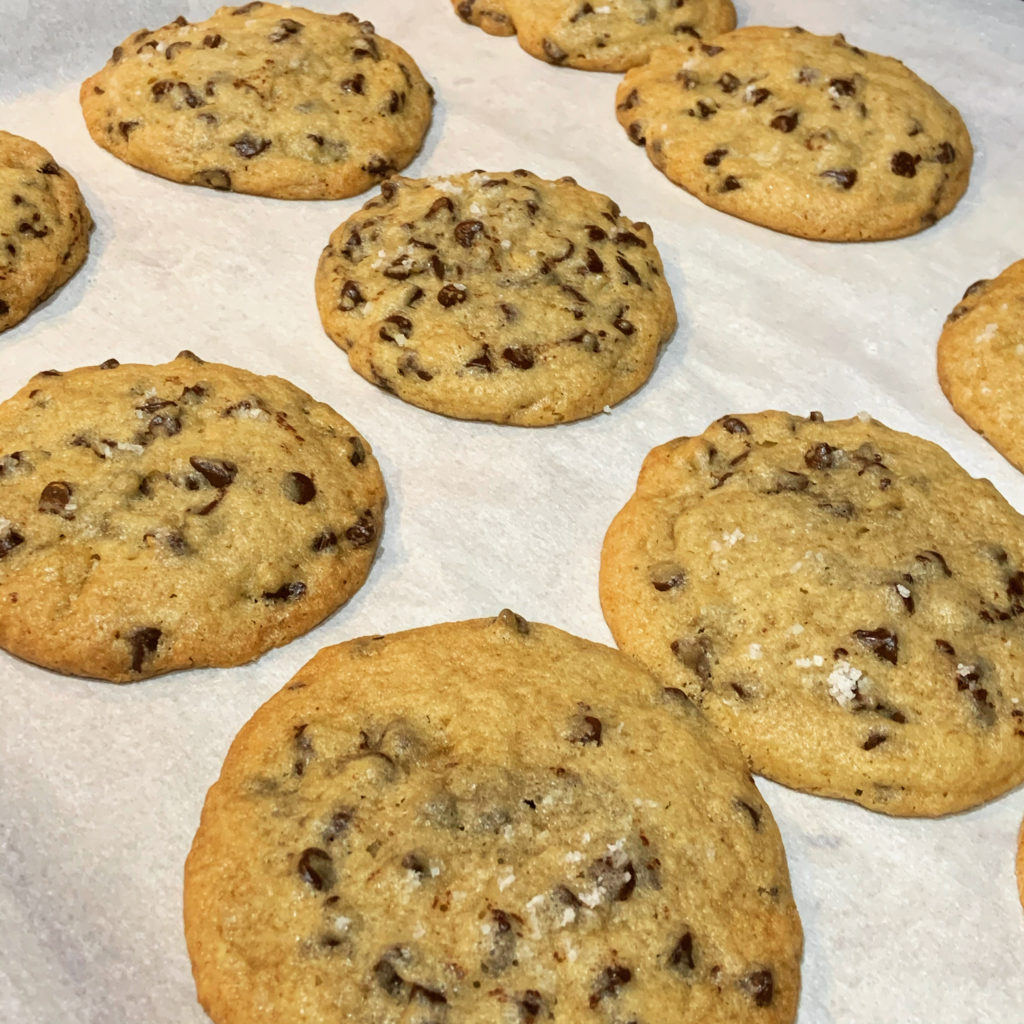 I honestly can't decide if this recipe is better than the other one I made that I proclaimed as my new favorite… I guess I will have to make those again to be able to better judge. I feel like with either one, you can't go wrong.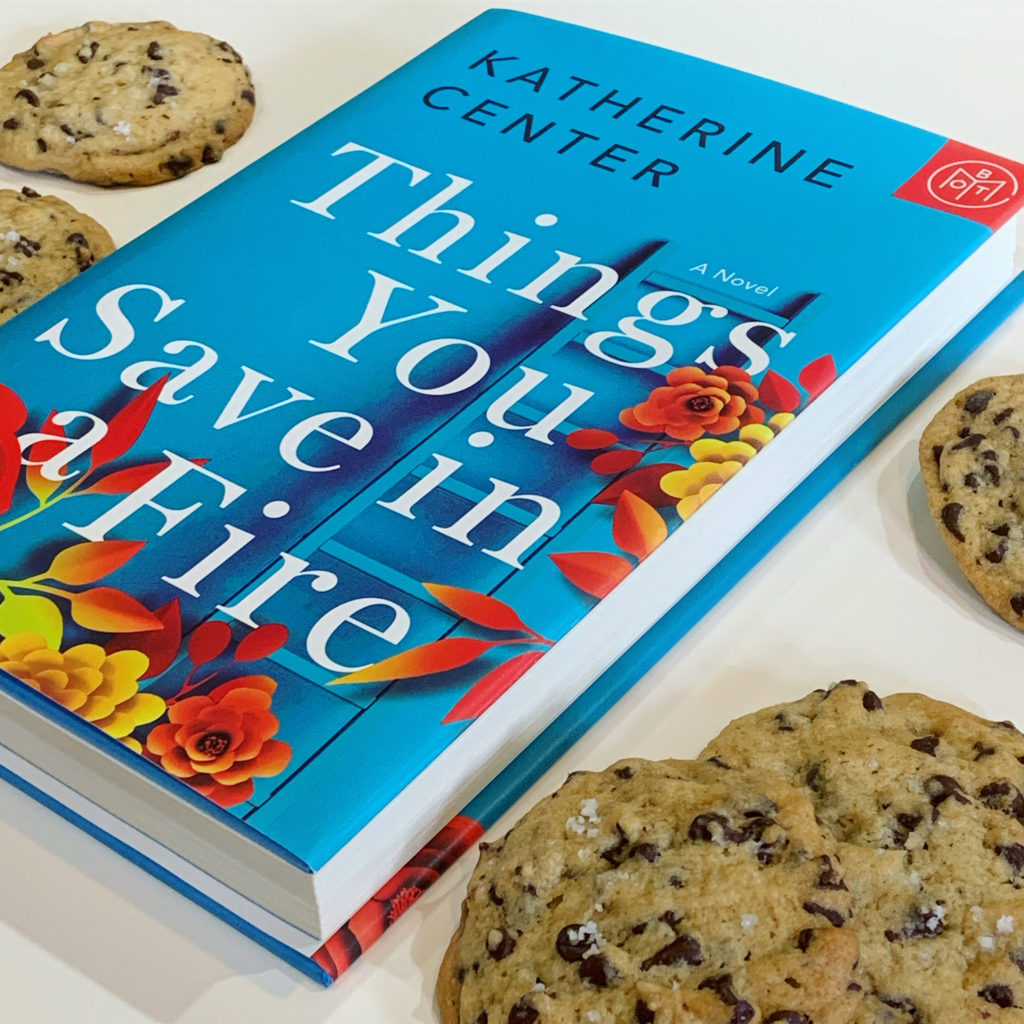 Mini Chocolate Chip Cookies
Ingredients
1

cup

salted butter

room temperature

3/4

cup

light brown sugar

1/4

cup

dark brown sugar

1/2

cup

granulated sugar

2

eggs

1

tablespoon

vanilla extract

1/2

teaspoon

baking soda

1/2

teaspoon

baking powder

1

teaspoon

coarse sea salt

2 3/4

cups

all purpose flour

1

12 oz bag mini semi-sweet chocolate chips

flaked sea salt to garnish

optional
Instructions
In the bowl of your stand mixer fitted with the paddle attachment mix the butter and sugars together for 2 minutes on medium speed, until fluffy and light. Add in the eggs, vanilla, baking soda, baking powder, and salt, and continue mixing until incorporated, scraping the sides of the bowl as necessary.

Turn the mixer to low and add in flour, mixing until just combined.

Stir in all chocolate chips until evenly distributed.

Cover dough plastic wrap and and refrigerate overnight, or up to 48 hours.

When ready to bake, preheat the oven to 350°F. Line a baking sheet with parchment paper and set aside.

Using a large (3- tablespoon) cookie scoop drop the dough 2 inches apart on the baking sheet. Sprinkle with flaked sea salt, if using.

Bake for 12 minutes, or until the edges are golden. Remove from the oven and let cool on baking sheet for 2-3 minutes before transferring to a wire rack to finish cooling.
---
This post contains affiliate links. This does not increase the price you pay, but I may receive a small commission for any products you choose to buy. Purchases made through affiliate links help to cover my blogging costs. Thank you for helping to support The Hungry Bookworm! Full disclosure here.