I remember when Golden State was offered up as a Book of the Month selection earlier this year. I didn't choose it, since my friend Deanna did (and we like to share books), but then I sort of forgot about it again until I saw it on my library's new releases shelf recently. I scooped it up and asked her if she wanted to do a buddy read. Of course, she immediately said yes. It was the first buddy read experience for both of us, and honestly, it couldn't have gone better! It also helped that the story was pretty much a page-turner from beginning to end.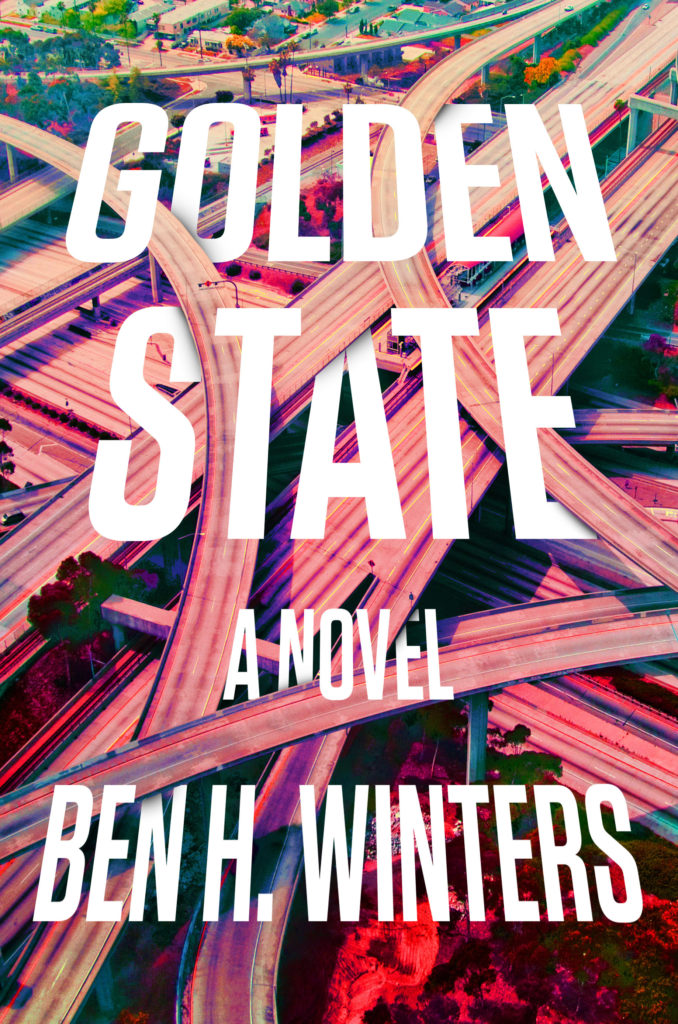 Ben H. Winters's novel takes place in a dystopian future in a California that is now separated from the rest of the country, where residents retreated when lies overtook the world as they knew it. The Golden State is its own nation where truth is valued above all else and the primary functions of society revolve around maintaining the Objectively So. Unlike in the movie The Invention of Lying, lying is definitely possible — it's just punishable.
We see The Golden State primarily through the eyes of Lazlo, an experienced law enforcement official who works for the Speculative Service. His goal (and that of the service) is to stop crimes against truth — to determine what is and punish those who are guilty of lying. When a mysterious death happens during his shift, he must figure out if it was truly an accident or part of a greater conspiracy against the State. 
What Deanna and I liked the most about this story was the thought-provoking nature of the world Winters set up. (It was similar, in that way, to The Word Exchange, which we also both enjoyed.) At the outset, of course, a world in which truth is valued seems to be ideal, especially given the state of current society where the word "fake" is tossed around with abandon and no one trusts anyone. But, as you delve into society, a strict adherence to the truth removes many elements of privacy and hampers creativity. 
It certainly gets you thinking, and in that way, would make an excellent book club selection — lots to talk about for sure! Winters writing style is also quite engaging, and my only real complaint was the somewhat abrupt ending, but even that provides more food for thought.
Though we start the story in a diner and Lazlo mentions a few restaurants in passing, food is not the focus of the narrative. Still, I really wanted to talk about this one on the blog, and so I found a food pairing that I think works out quite well, in the end. One of the places Lazlo mentions is a food truck, the Dirty Dog. He always sees it coming and going but never quite makes it to place an order. 
I thought I would create a food truck worthy hot dog to satisfy Lazlo's craving, and I topped it with a Garden State variety of toppings. Though the society they now live in is quite different than right now, I imagine the landscape of California is quite the same. There is mention of various farms, and so fresh vegetables are bound to be quite abundant. On this California Hot Dog, I went with some fresh toppings and Southern Californian-type flavors. 
To start, I made sure I had everything handy, including whole wheat buns, all-natural beef hot dogs, chipotle mayo (which you could make from scratch, if you wanted to), cayenne pepper, and the ingredients for a simple guacamole (avocado, cilantro, lime) and pico de gallo (tomato, onion and cilantro). Despite the "fancy" product at the end, this recipe is super low-fuss, but if you wanted to buy pre-made guacamole and pico, it could be even easier.
First, I got my hot dogs on the grill (and didn't take a picture...oops). Then, I got everything else lined up in the kitchen, including opening the buns to make sure they were hot dog ready. Once the hot dogs were grilled and heated through, I added them to the buns and then topped with a line of chipotle mayo.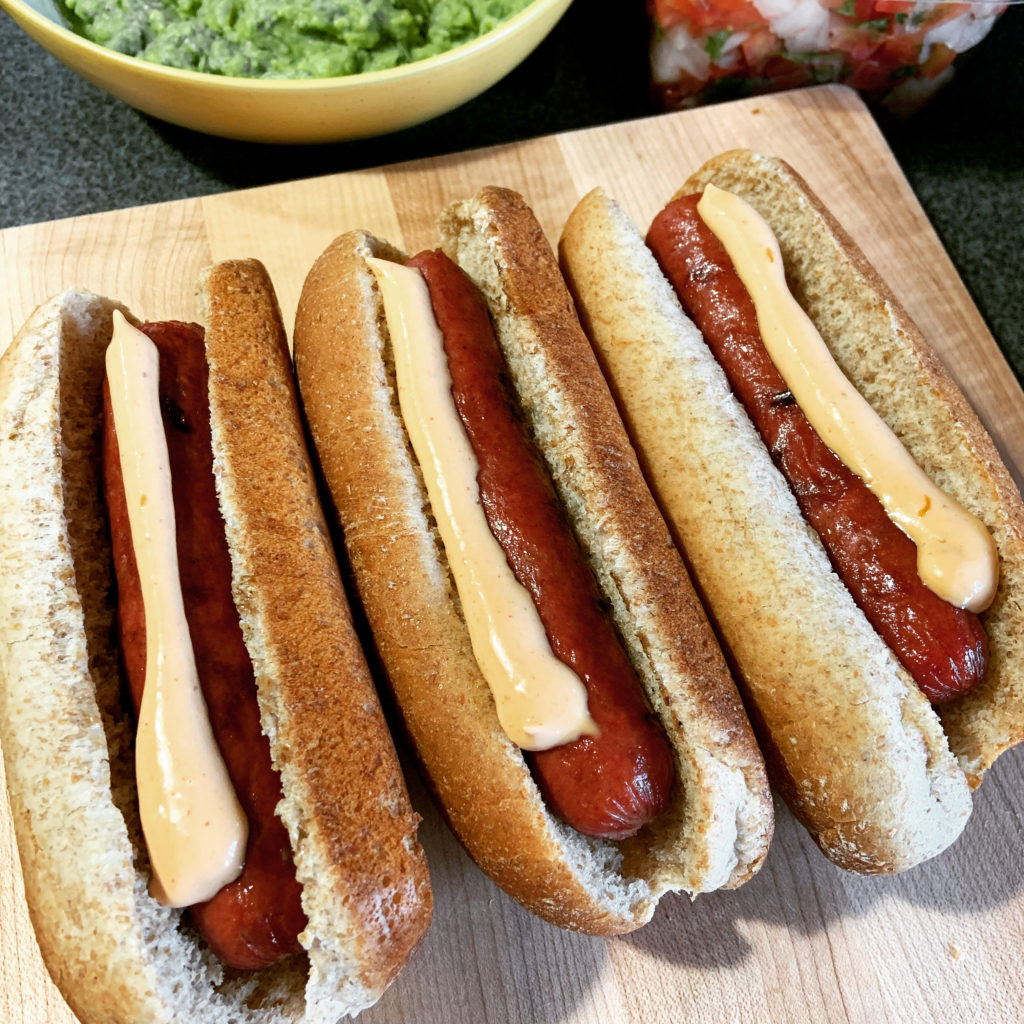 Then, I added a generous helping of guacamole and a few spoonfuls of pico de gallo, and finally, a dash of cayenne pepper on top. (Though, if you don't like any spice, feel free to leave the cayenne out.) The result was colorful and delicious.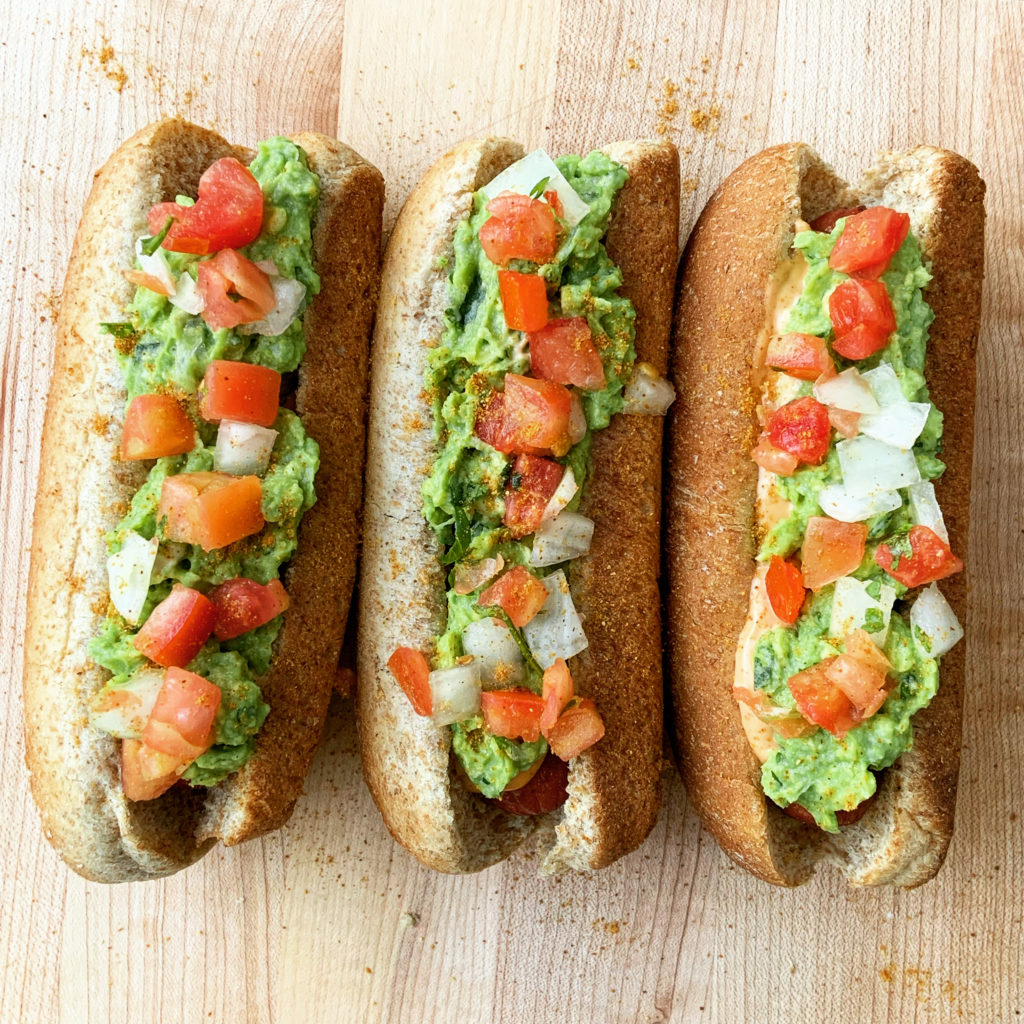 It was the perfect meal to wrap up summer, and it was probably the last meal we'll eat on the deck until spring rolls around. These hot dogs would also be a fun and easy food to serve at your book club — just cut them in thirds or in half to let everyone have a taste.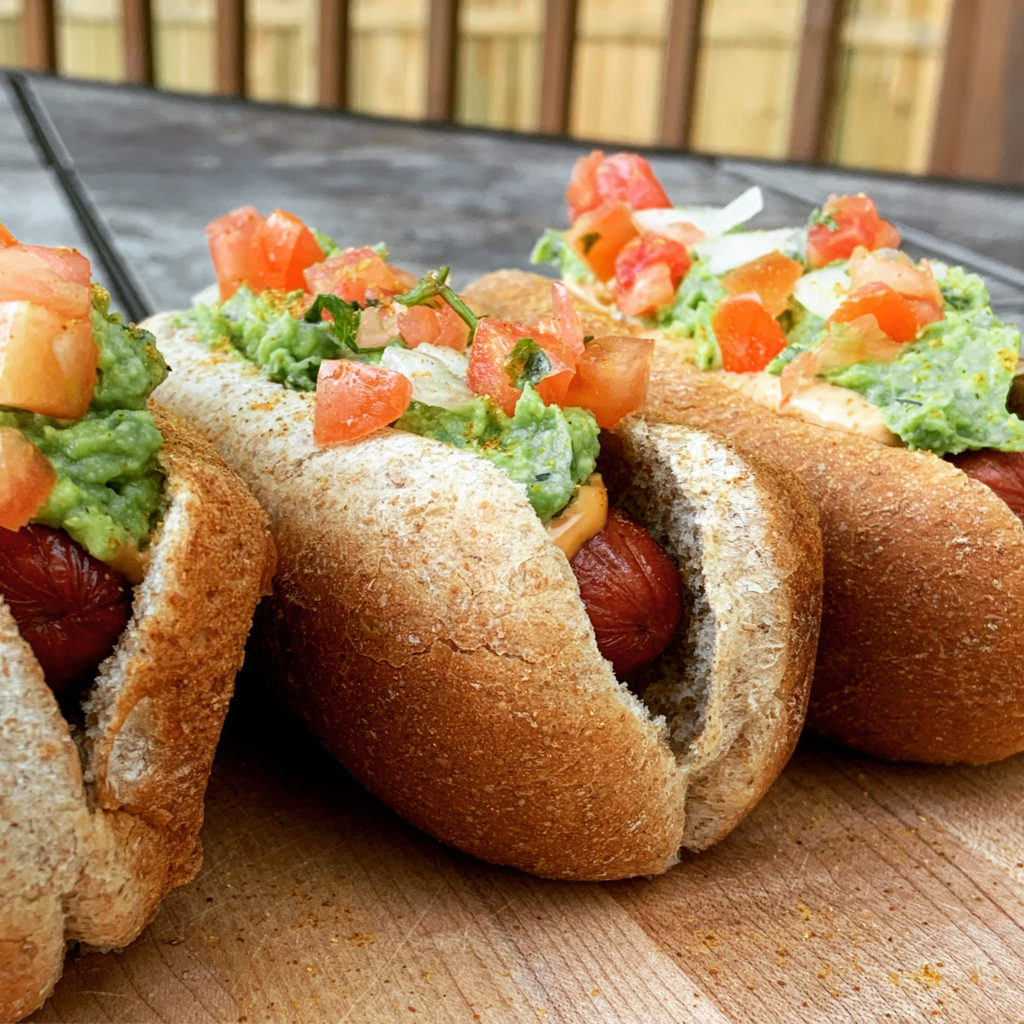 California Hot Dogs
Food truck-style hot dogs with fresh ingredients inspired by the Golden State.
Ingredients
All-beef hot dogs

Whole wheat buns

Chipotle mayo

see notes

Simple guacamole

see notes

Pico de gallo

see notes

dash

Cayenne pepper

optional
Instructions
Grill hot dogs until fully heated through.

Place grilled hot dogs into buns. Top with a line of chipotle mayo, a generous amount of guacamole, a few spoonfuls of pico de gallo and a dash of cayenne pepper (if using).
Notes
This recipe can be more or less homemade, depending on your preferences — the chipotle mayo, guacamole and pico de gallo can all be bought at the store or can easily be made at home. 
To make chipotle mayo, add one finely diced chipotle pepper to 1/2 cup of mayonnaise. Stir until thoroughly blended. This should make ample chipotle mayo for these hot dogs. Store any remaining in a covered container in the fridge for up to 3 days. 
To make a simple guacamole, mash an avocado, sprinkle with salt and some lime juice, and stir in chopped cilantro. One avocado should make enough guacamole for 3-4 hot dogs.
To make pico de gallo, dice a Roma tomato, a small onion and cilantro. Stir together. This should make enough for 3-4 hot dogs. 
_______________
This post contains affiliate links. This does not increase the price you pay, but I may receive a small commission for any products you choose to buy. Purchases made through affiliate links help to cover my blogging costs. Thank you for helping to support The Hungry Bookworm! Full disclosure here.