Prior to Victoria Schade's Life on the Leash, I've suffered through two 1-star dog-centric reads.* Thank goodness this light-hearted rom com of a novel has broken my mini-streak of disappointing books about dogs!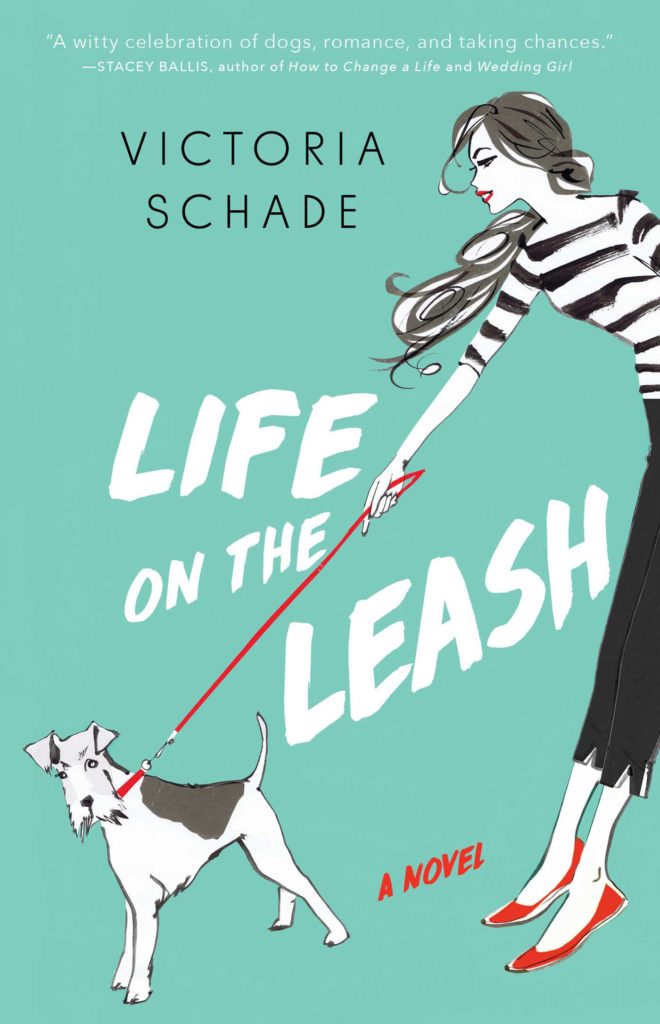 Cora is the owner of a successful dog training business in D.C. She loves filling her days with tricks, treats and training before coming home to her own loveable pup and an amazing supportive roommate. In growing her business (and smarting from a painful breakup), Cora isn't exactly looking for love.

That all changes when she meets a new client, the good-looking owner of a new puppy, Charlie. Cora is torn between professionality and some obvious chemistry. Meanwhile, another client's well-meaning neighbor Eli is poised to become another potential suitor, but is Cora too distracted to notice? Add to all of that Cora's attempt to take down her rival by earning a spot on a new dog-training reality show. She hopes to showcase her positive reinforcement training methods on a larger scale.

As with all rom coms, there's a lot going on to foil our protagonist's attempts to find love (and success). Schade, who is a dog trainer herself, manages to keep it all relatively realistic and moving at a quick entertaining pace. She infuses the story with lots of training anecdotes and showcases a passion for pitbulls and rescues. The result is a playful, easy read any dog lover will enjoy.

Since Cora uses positive reinforcement training techniques (like we used with our pup, Beta), treats show up on the page constantly. I decided to make heart-shaped treats in a nod to the romantic elements of the novel. I found a simple recipe from The Cottage Market, ordered up some heart-shaped cookie cutters from Amazon, and once they arrived, got to work.

First, I ground my oats in the food processor. Then, in the bowl of a stand mixer, I beat two eggs and then added 1 cup of canned pumpkin (not pumpkin pie filling). To that, I added ½ cup of peanut butter. I used a combination of crunchy and smooth natural peanut butter, but you can use whichever type you have around the house -- I assure you, dogs aren't picky.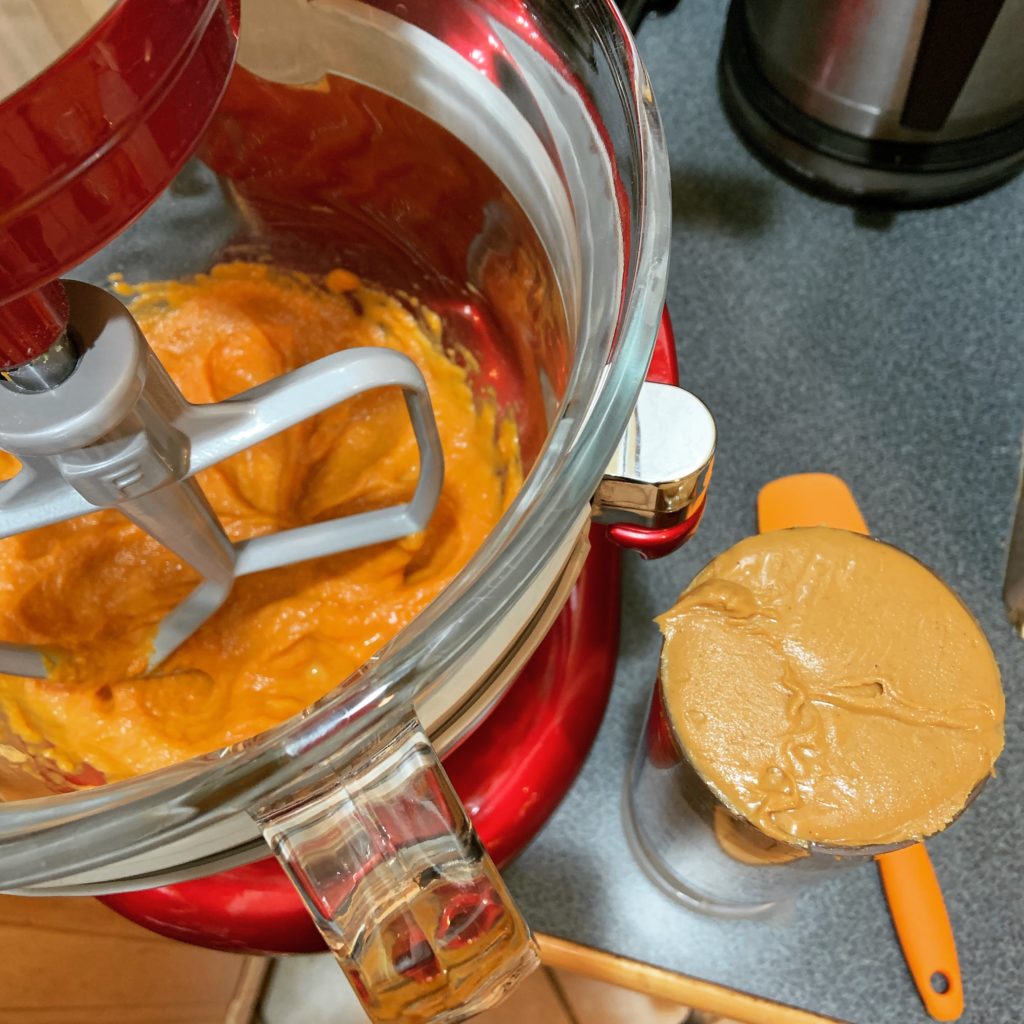 Once the mixture was creamy, I added about a third of the combined flours (oat and whole wheat) and mixed together. With the next third of the flours, I added half of the cranberries.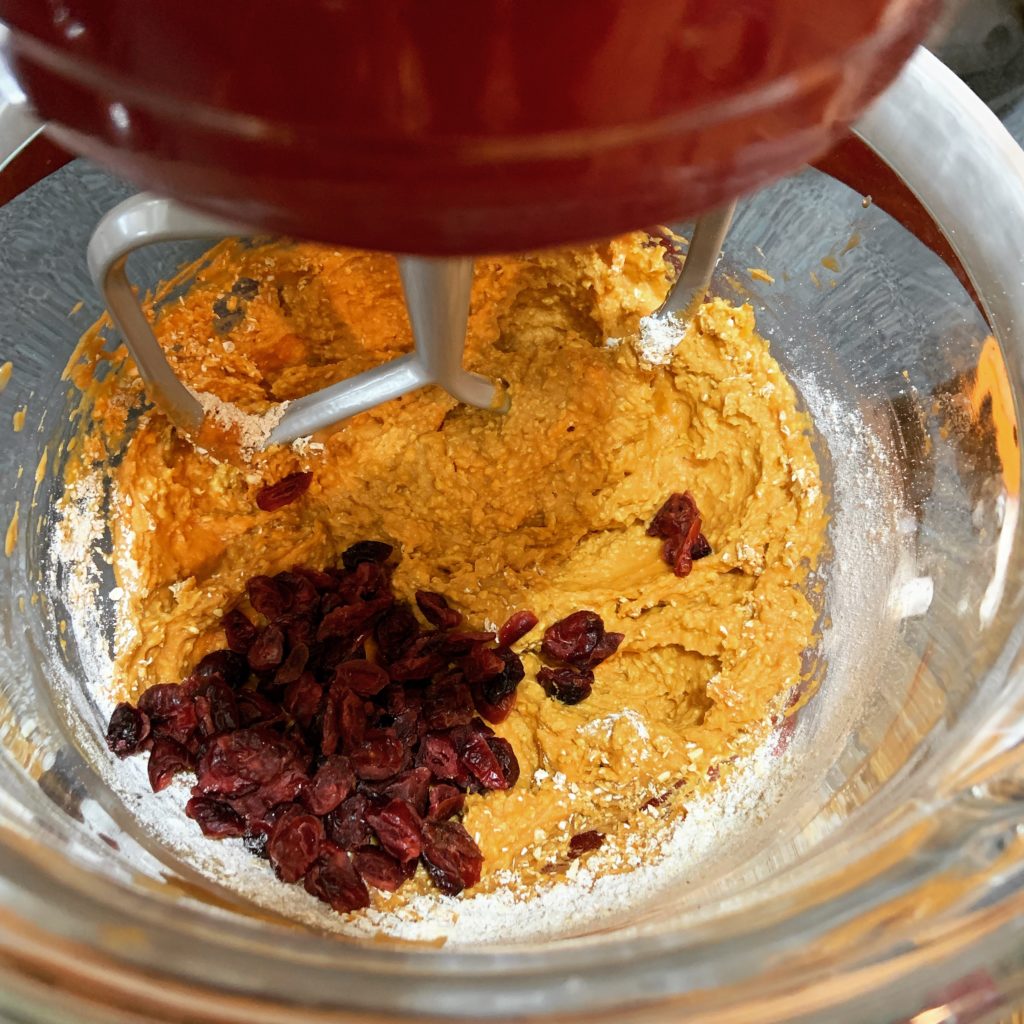 Then, I added the rest of the flour and cranberries, mixing until it forms a thick dough.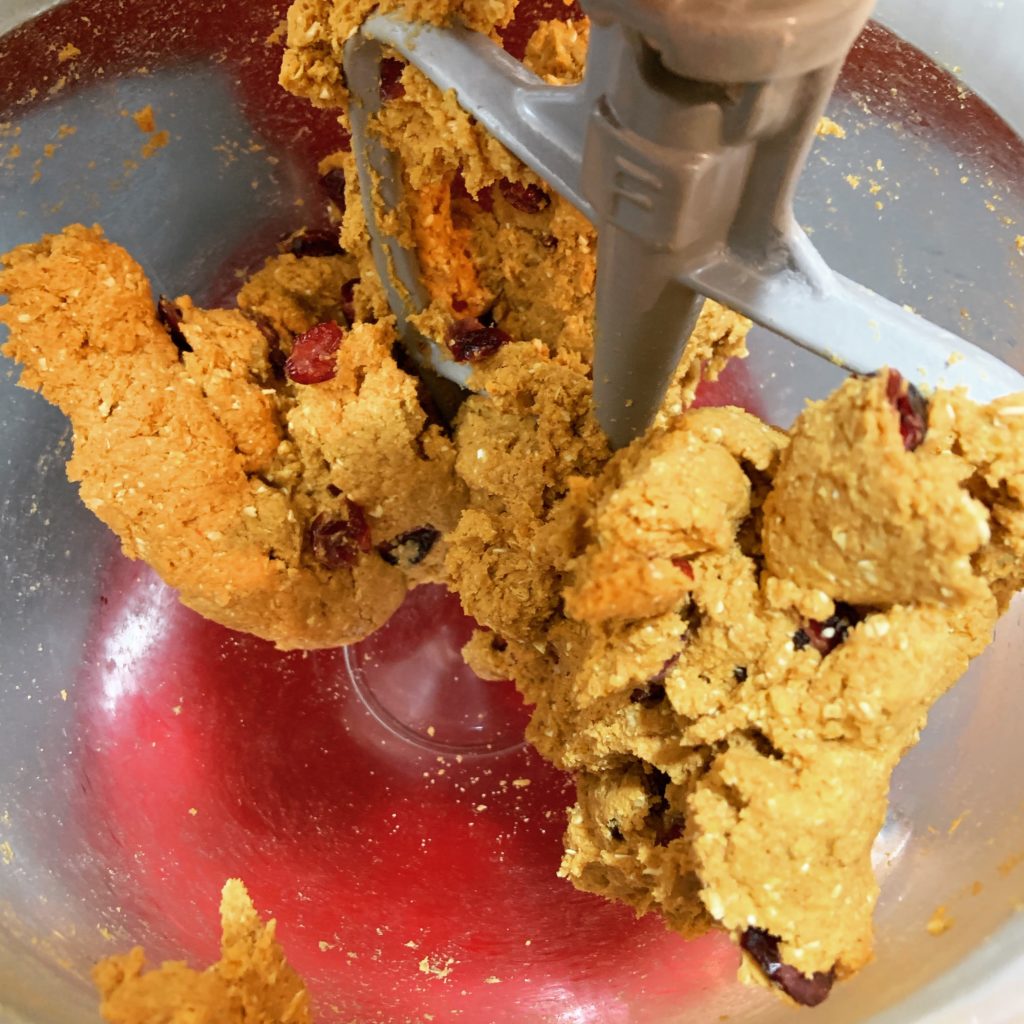 My dough turned out perfect as-is, without any additions, but if yours is too dry or too sticky, please follow the adjustments in the recipe below. In fact, this was one of the easiest doughs I've ever worked with -- another plus for this recipe!

I rolled it out onto a floured silicone mat, though I honestly don't think the flour was necessary as the dough wasn't sticky at all. Using an approximately 1-inch heart-shaped cutter, I began stamping out the treats.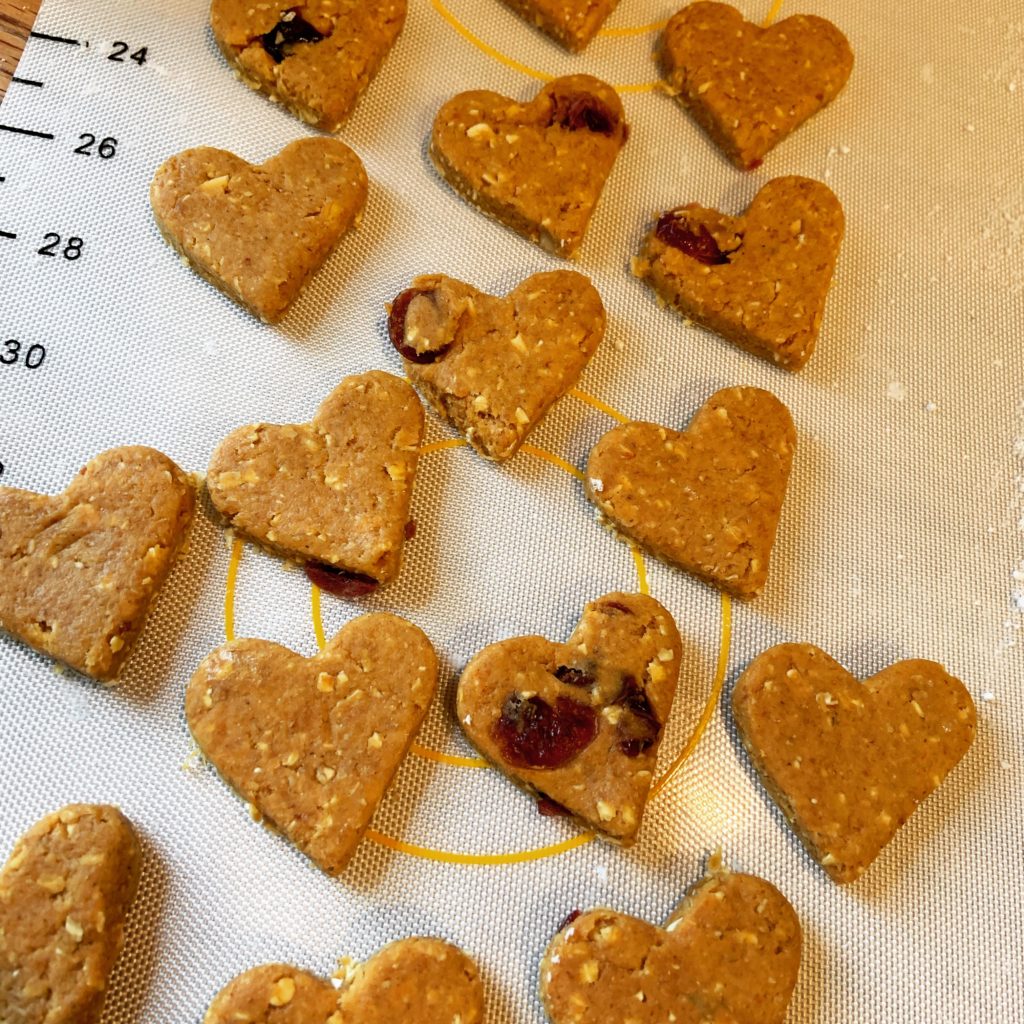 I made sure to use as much of the dough as possible, re-rolling whatever was left until there wasn't enough to fill a full cutter. I placed them on parchment paper-lined cookie sheets to bake in the oven. I didn't put them super close, but they didn't spread at all, so you could definitely put them on a bit tighter if you wanted to. This way, I needed 3 sheets in total.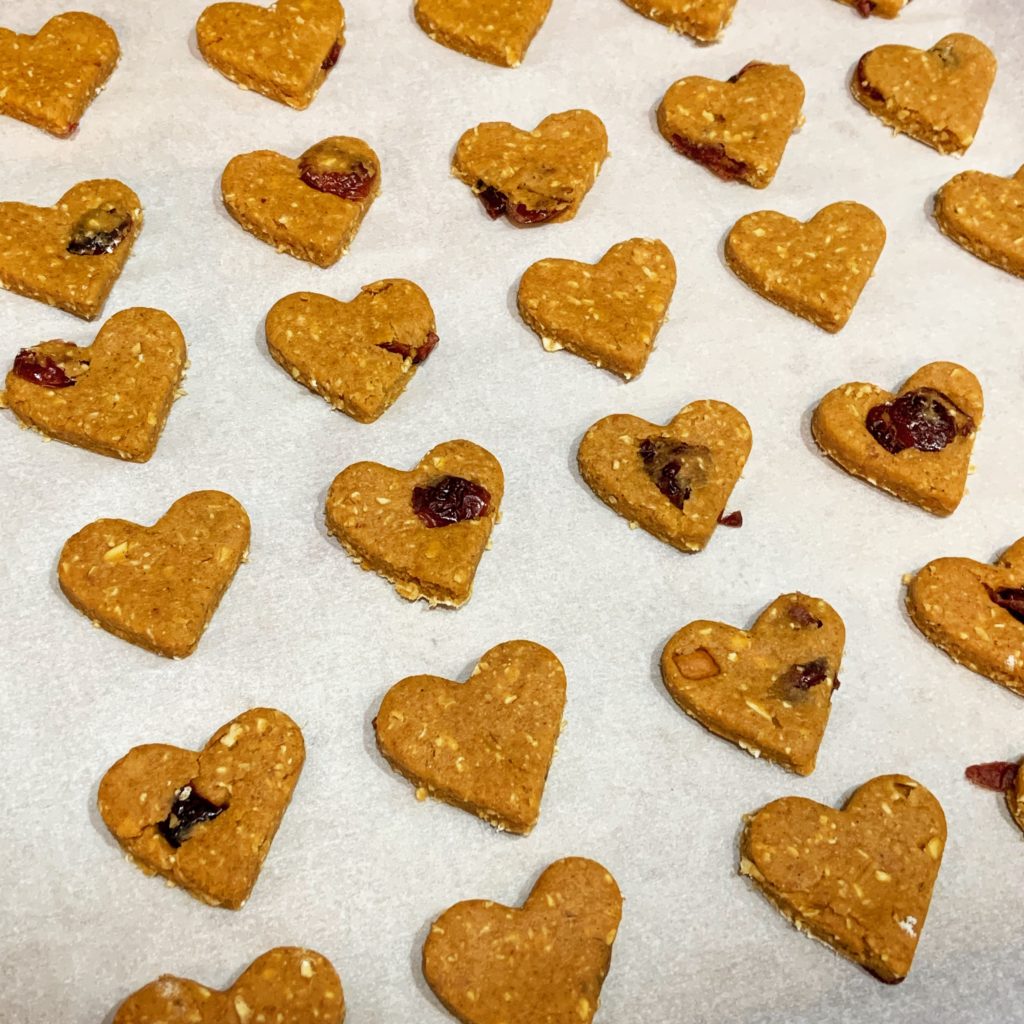 After about 33 minutes, my treats were a nice crispness, though they continued to crisp as they cooled. I find that crispy treats last longer at room temperature (and provide a more satisfying crunch for the dogs, I imagine), but you can cook them a bit less if your dog likes/needs a softer treat.

I allowed them to cool before giving Beta any. (Don't worry, it doesn't take long!)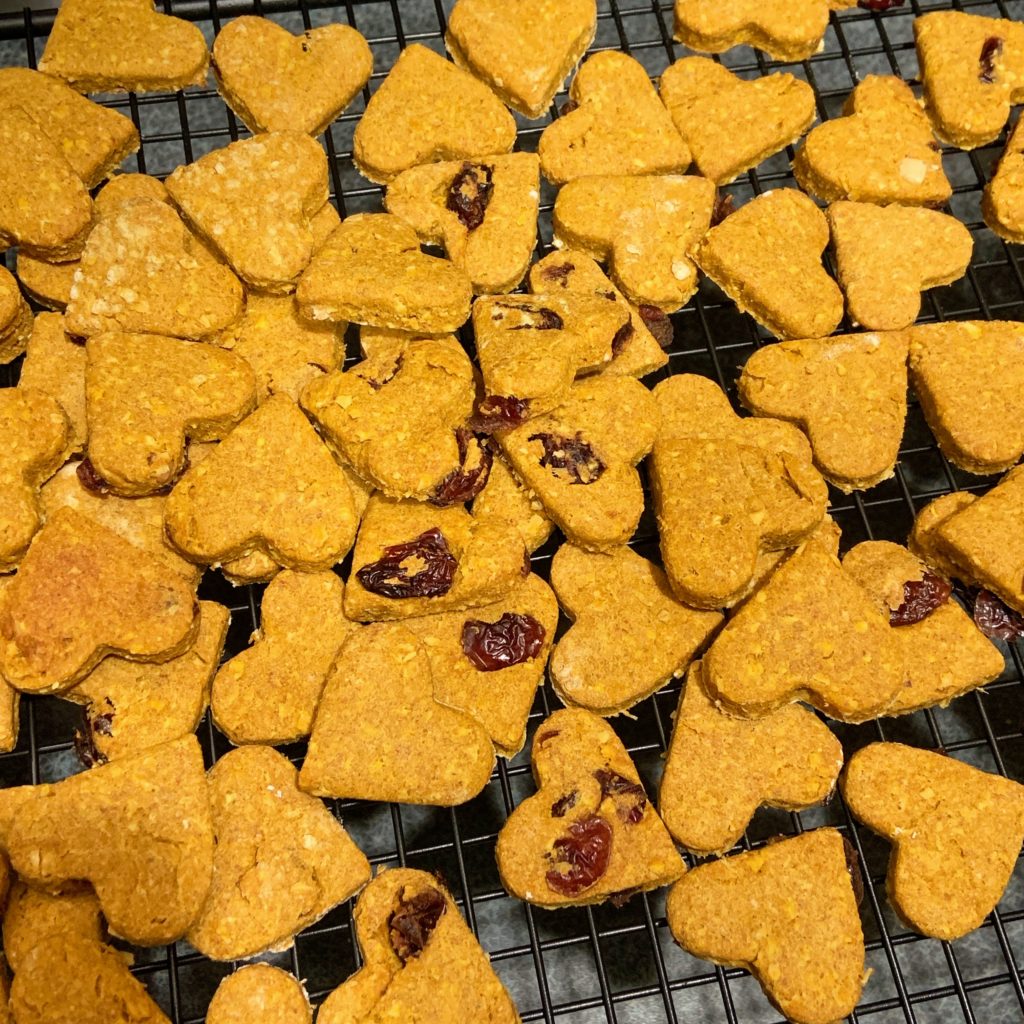 Then, the photo shoot could begin, and boy, was she excited!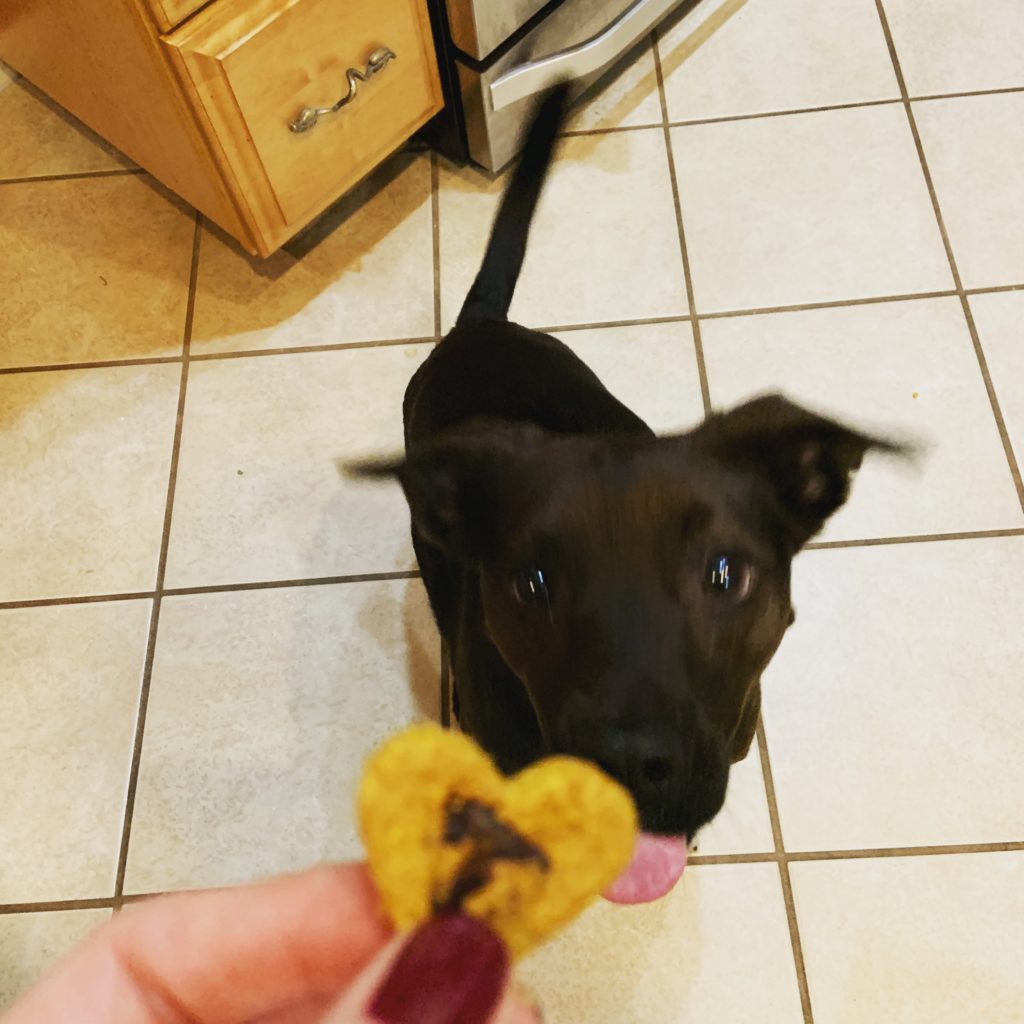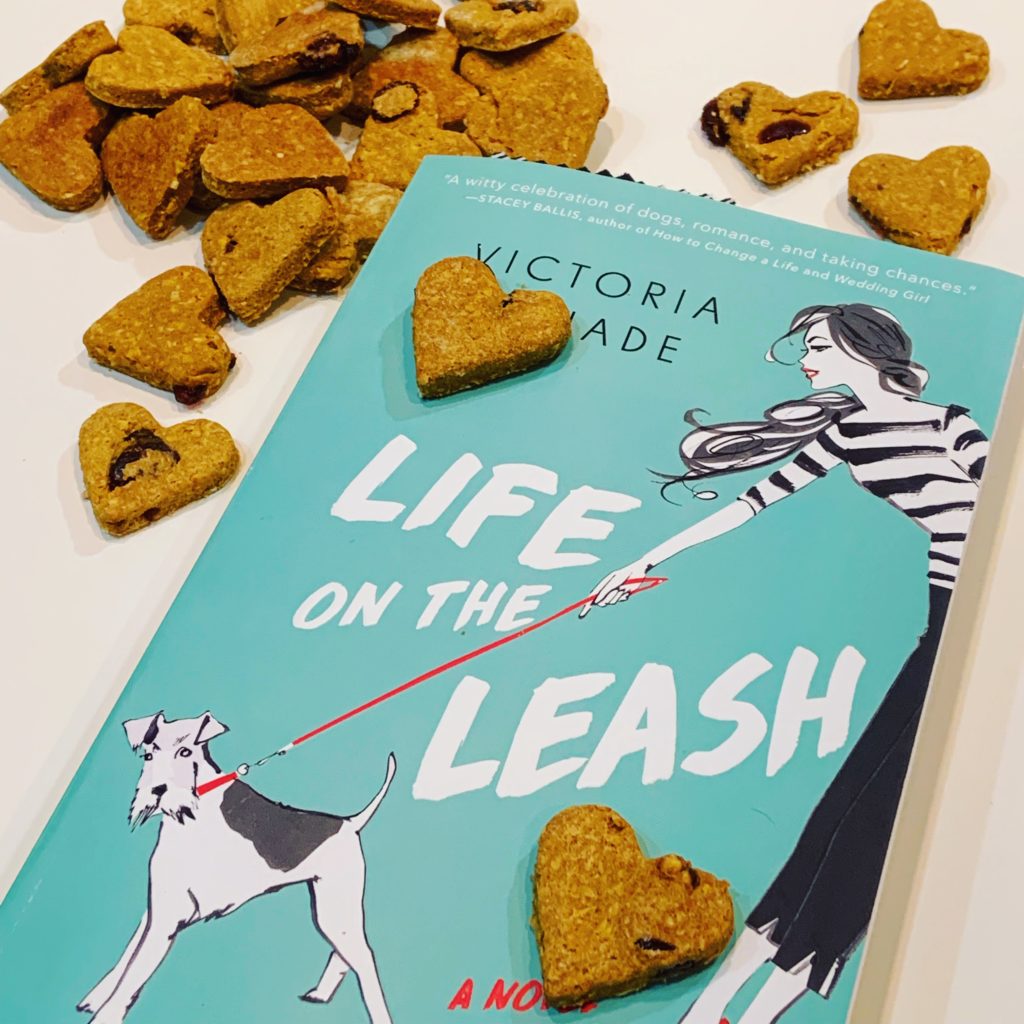 I kept about a third of the treats for Beta, and then packaged up the rest into bags for coworkers and neighbors through my local Buy Nothing group. Word is all the dogs loved them! It's definitely a recipe I'll be keeping around for future use.

Hope the dogs in your life enjoy them as much as Beta does!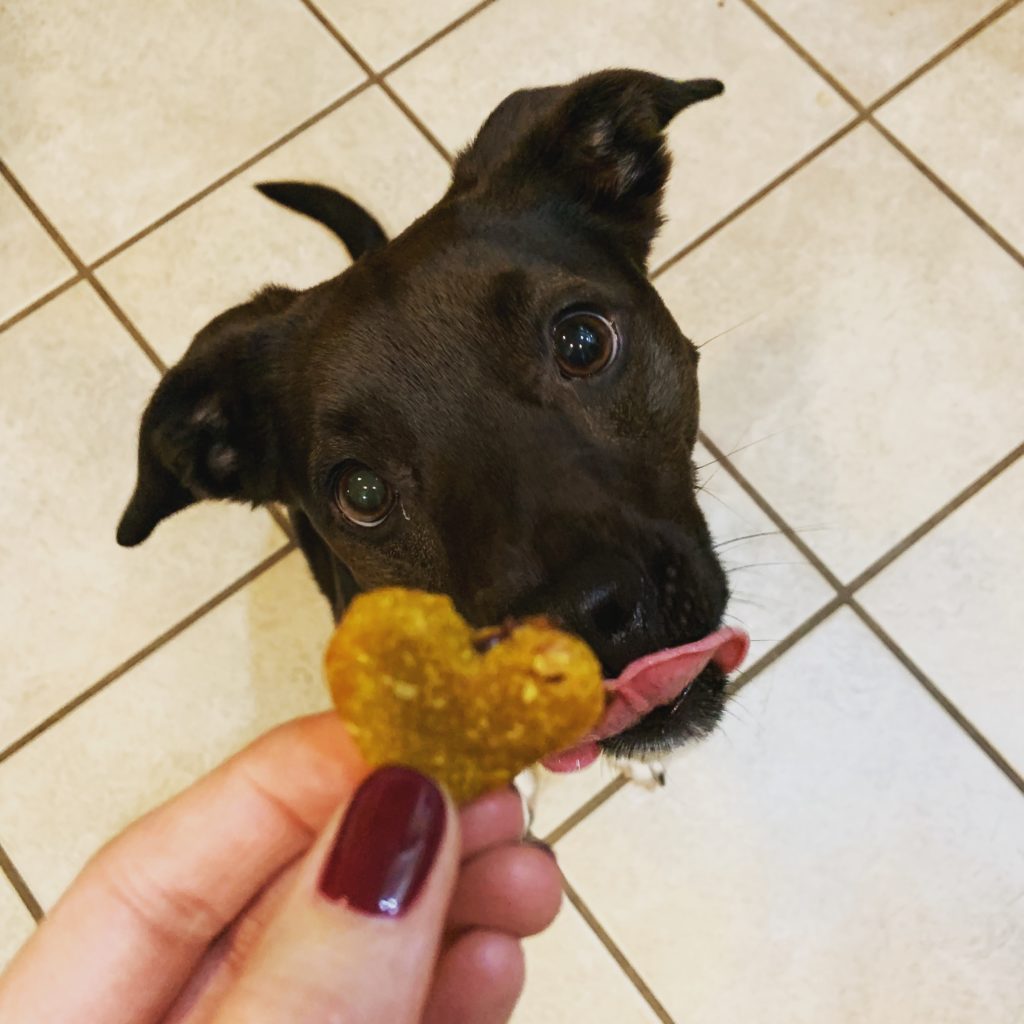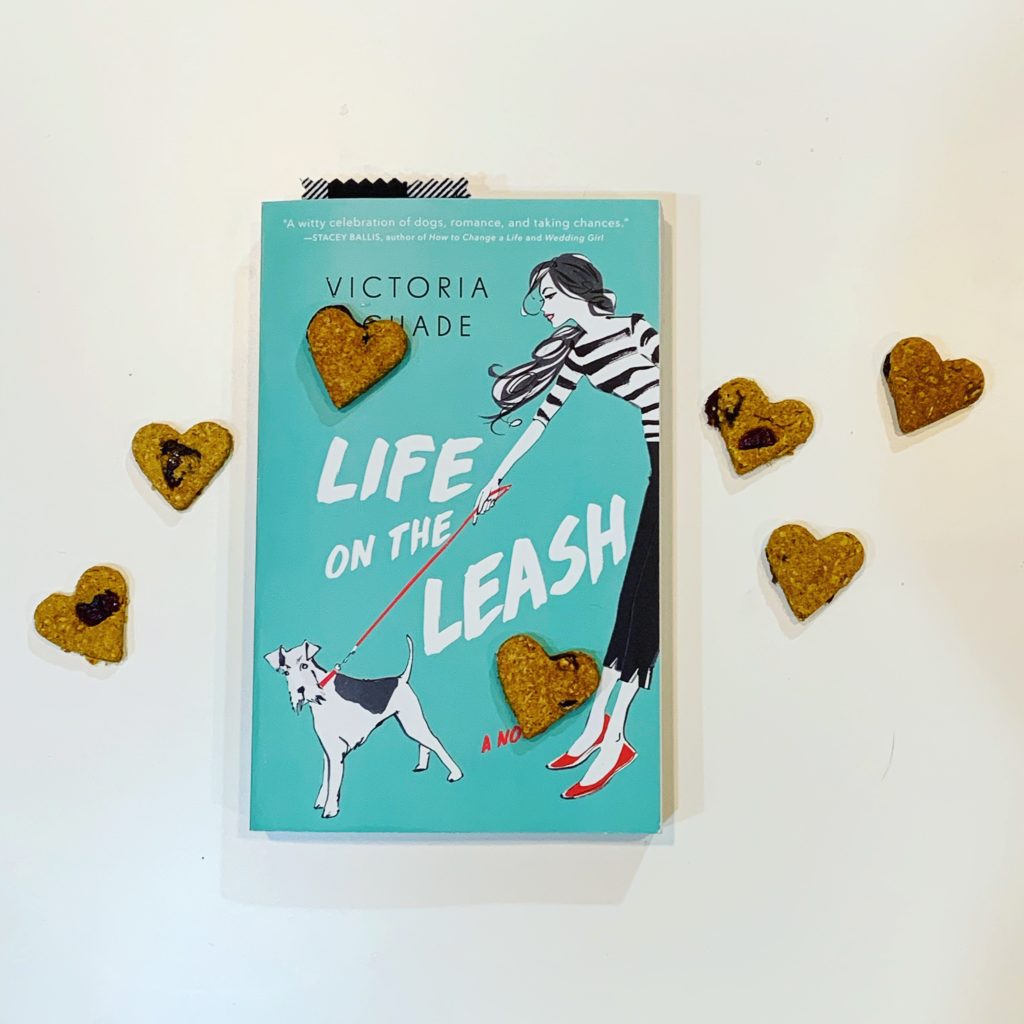 Cran-Pumpkin Peanut Butter Dog Treats
Servings
144
1-inch treats (approx)
Ingredients
1½

cups

whole wheat flour

1½

cups

oats

ground until fine in a food processor

½ - 1

cup

dried cranberries

1

cup

pure pumpkin

canned

2

large eggs

½

cup

peanut butter
Instructions
In the bowl of a stand mixer, crack two eggs and beat for about 1 minute. Add pumpkin puree and mix until combined. Add peanut butter and beat until everything is creamy.

Slowly, add flours and dried cranberries (I used ½ cup), until a thick not-too-sticky rollable dough forms. If the dough is a bit sticky, add more flour. If it's too dry, add a little more peanut butter or some milk.

Preheat oven to 350 degrees F. Line 2 cookie trays with parchment paper.

Flour your work area and place the dough on the floured work surface. Cut the dough in half and roll one half to approximately ¼" thickness. Use your favorite cookie cutters to cut into shapes. Place on the parchment paper. (Close together is fine, as the treats shouldn't expand or rise.) Repeat until all dough is used.

Bake for approximately 30 minutes, until preferred crispness is achieved. For a crunchier treat, bake for 33-35 minutes.

Let treats cool fully before giving to dogs. Treats will last in a sealed container for about 10 days, or freeze for up to 6 months.
Notes
From: The Cottage Market 
IMPORTANT NOTE: Do NOT substitute raisins for the dried cranberries. Raisins -- even in small amounts -- have been found to be toxic to dogs. Cranberries, however, are healthy for dogs in small amounts. These antioxidant-rich fruits can help boost your dog's immune health and decrease inflammation. As with any treat, please feed only in moderation.
*The award-winning The Friend was so disappointing I almost didn't finish it, and crowd-favorite The Art of Racing in the Rain fell flat for me and most of my book club. I did break my 3-stars or higher rule to write a review of it though, because I really wanted to make some dog treats again. (At the time of my review, I did initially give it 2 stars but later adjusted my rating down after our book club's discussion.) If you're looking for another dog book that I loved, check out my review of Lily and the Octopus. As a warning, it's on the sadder end of the spectrum, but is accompanied by another dog treat recipe.

_______________
This post contains affiliate links. This does not increase the price you pay, but I may receive a small commission for any products you choose to buy. Purchases made through affiliate links help to cover my blogging costs. Thank you for helping to support The Hungry Bookworm! Full disclosure here.