I recently heard about John Marrs' novel The One on the Currently Reading podcast, in an episode about "Books to Blow Your Socks Off." (The episode was also amazing because it included an interview with Delia Owens, who wrote a wonderful recent favorite of mine, Where the Crawdads Sing.) The description was brief but intriguing, and I immediately rushed to get a copy from the library.

It takes place in a "near future," one in which it has been discovered that people can be matched to their soulmates through their DNA. It's 10 years after that discovery, and those who have been lucky enough to find "the one" are considered Matched and those who are still waiting are Unmatched. Because you can be matched to literally anyone, racism, homophobia, and religious and other prejudices no longer exist.

We follow five points of view, and believe me, they all go super quick and they're all equally engaging. Ellie is a wealthy business owner, who for the most part keeps to herself and hasn't made time in her life for love. Nick is engaged to Sally, and though they've found love without the help of testing, they're debating whether or not to check their DNA… just to be sure. Mandy is a divorced thirty-something whose husband has left her for his match while she continues to wait for her own. Jade has been Matched with someone on the other side of the world. Christopher -- last but not least -- is a serial killer whose life takes a turn when he finally gets his own Match notification.

Because of the "near future" element, I thought it would be dystopic, but it's more of a thriller than anything else. If you like Black Mirror, you'll definitely like The One. It's thought-provoking in the same way -- pointing out all the unique issues that could arrive if DNA-matching was indeed a thing.

The chapters are short (usually just 3 to 5 pages) and they often end in a mini-cliffhanger. As a result, I couldn't put it down. By the end, I thought it was just the teeniest bit heavy-handed, so I stuck with a 4-star rating, but I still loved it. I can't recommend it enough.

The thriller pace didn't leave much room for lingering over tiny details like food, so unfortunately, the mentions were few and far between (and never significant). But, I wanted to talk about this book so badly, I decided to make it work by sharing a recipe for "the one," a food I can't live without: macaroni and cheese.

I've eaten a lot of mac 'n' cheese in my day (and even made it a couple of times for the blog), and at this point, I definitely know what I like and what I don't. While both the Spirals and Gilmore Girls-inspired recipes were delicious, I find myself going back to this one time and time again.

This crockpot recipe from Six Sisters' Stuff is extremely easy, super creamy, and a real crowd pleaser. The most you have to do is parboil the noodles. The original recipe has you put in a bit more work, but having made this around a dozen times, I don't think it's necessary. I've tweaked the recipe here a little bit to reflect my less-fuss method. (Plus, if you do it my way, you can just boil the noodles, toss everything in the crockpot, bring it to work, plug it in and have it ready to go for a potluck lunch!)

First, I bring my water to a boil, salt it generously and then toss in the elbow macaroni. (I have used other noodles, but elbow tends to work the best. With orecchiette, for example, you need more like 3 cups, for it to be not too saucy.)

While the macaroni is boiling, I get the crockpot ready. I toss all of the rest of the ingredients into the crockpot.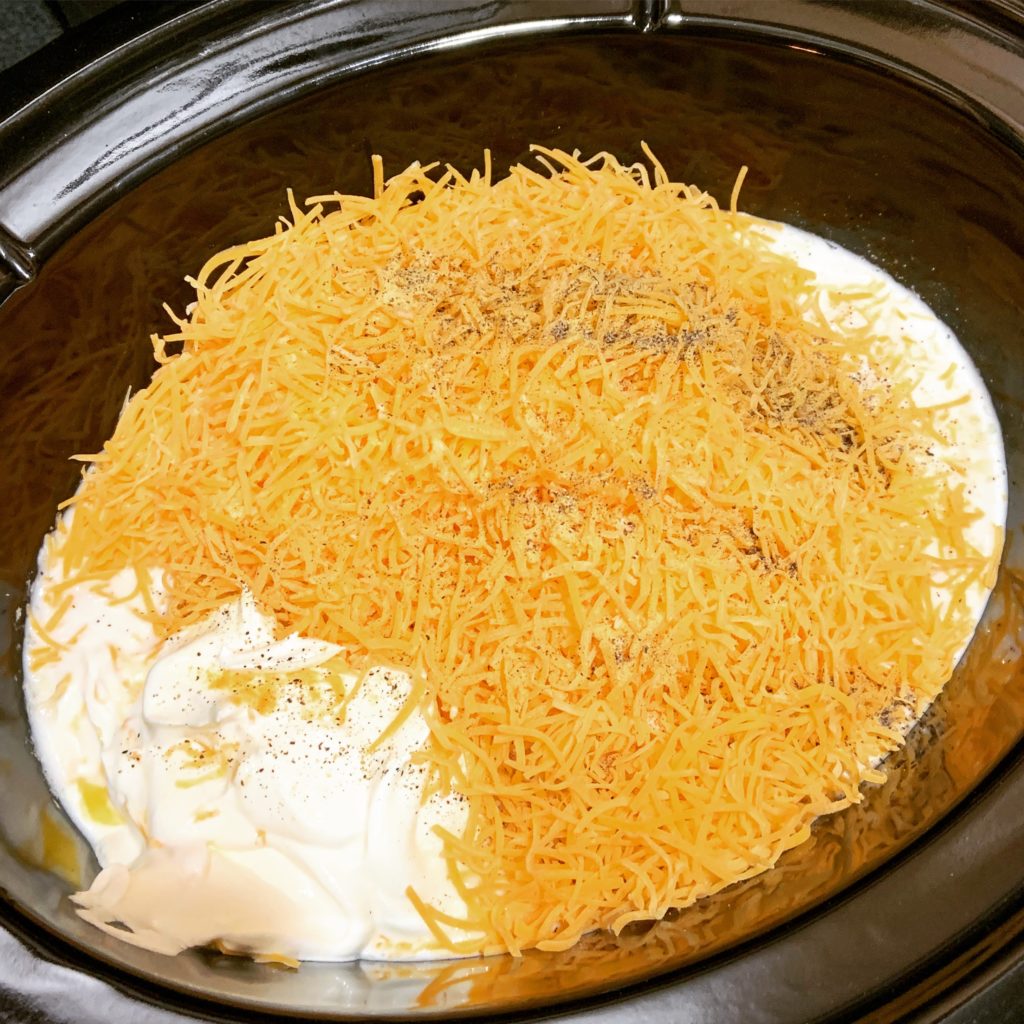 Give it a good stir.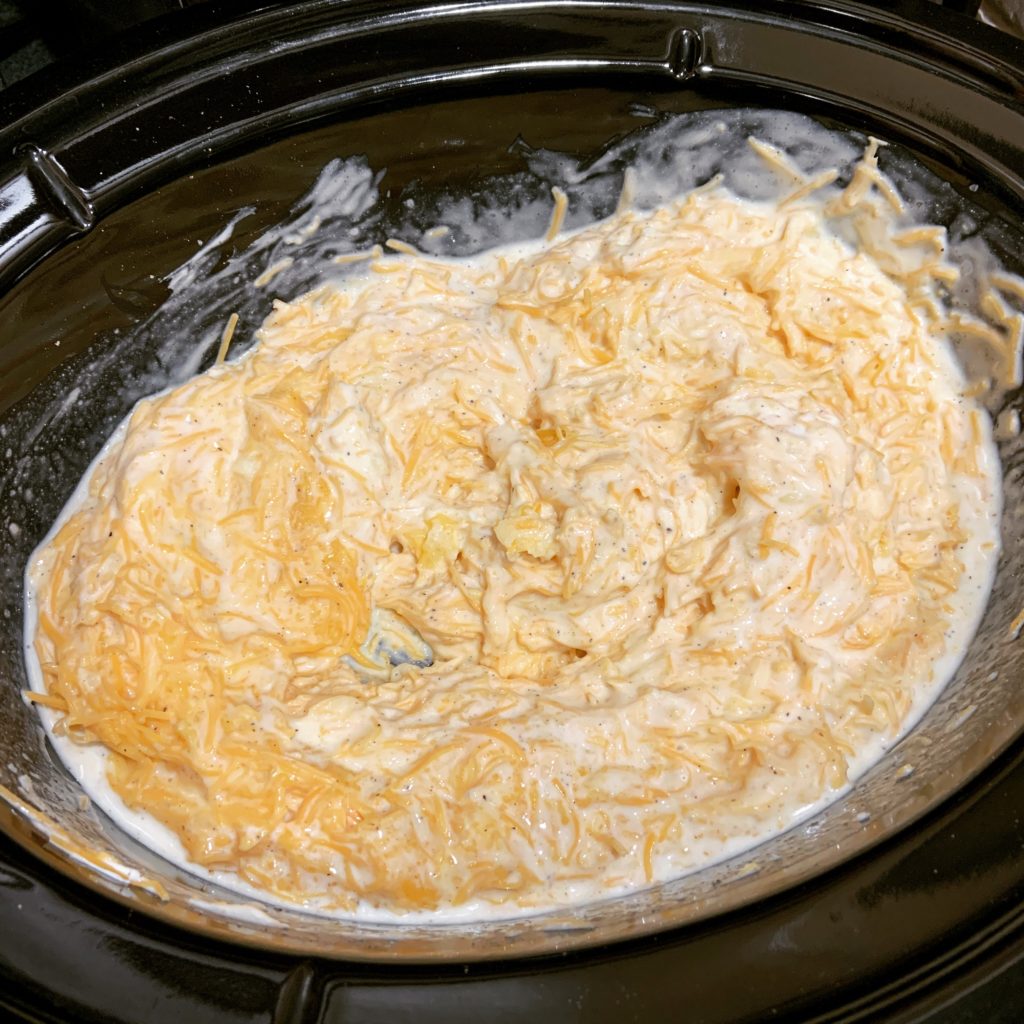 When the noodles have cooked for 6 minutes, I drain them and add them to the crockpot. It gets another good stir.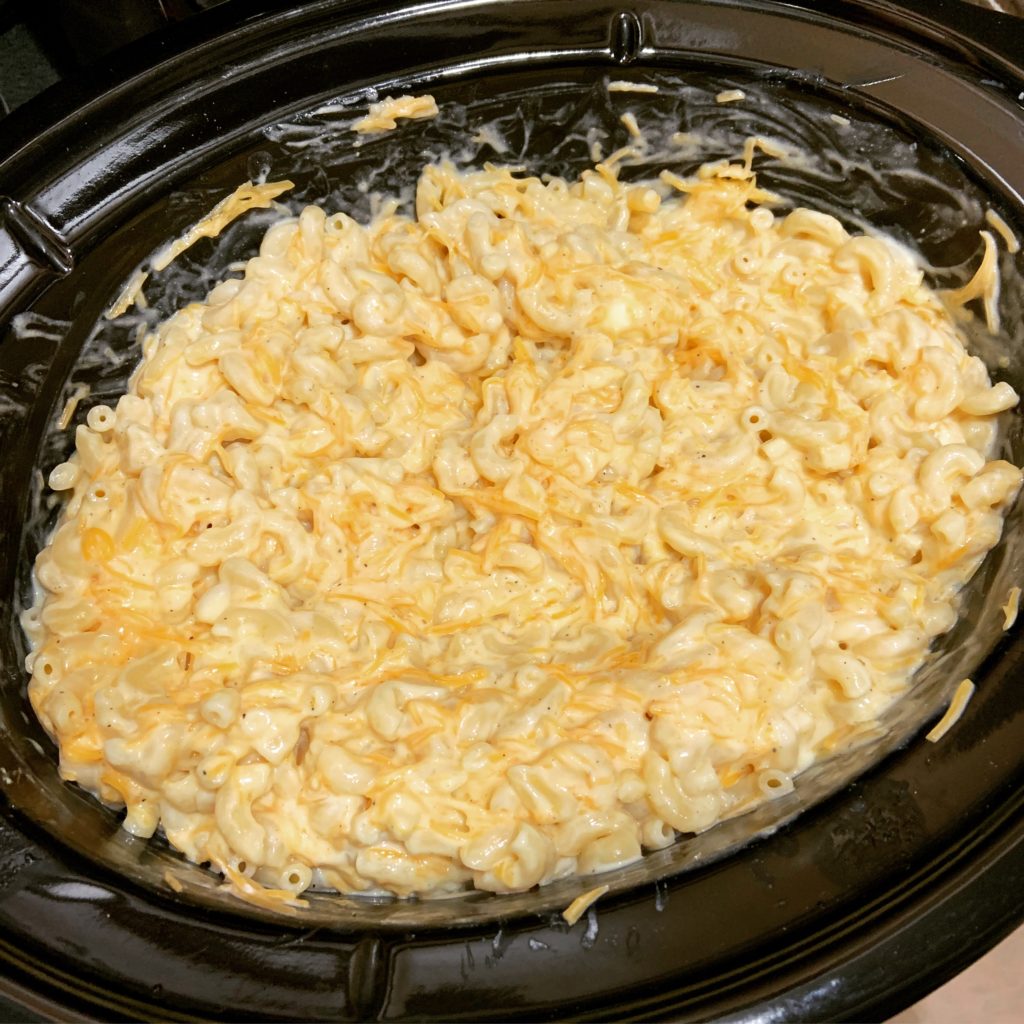 Add the lid, and let it go for 2-ish hours, stirring a couple of times during that time. Then it's ready, easy as that.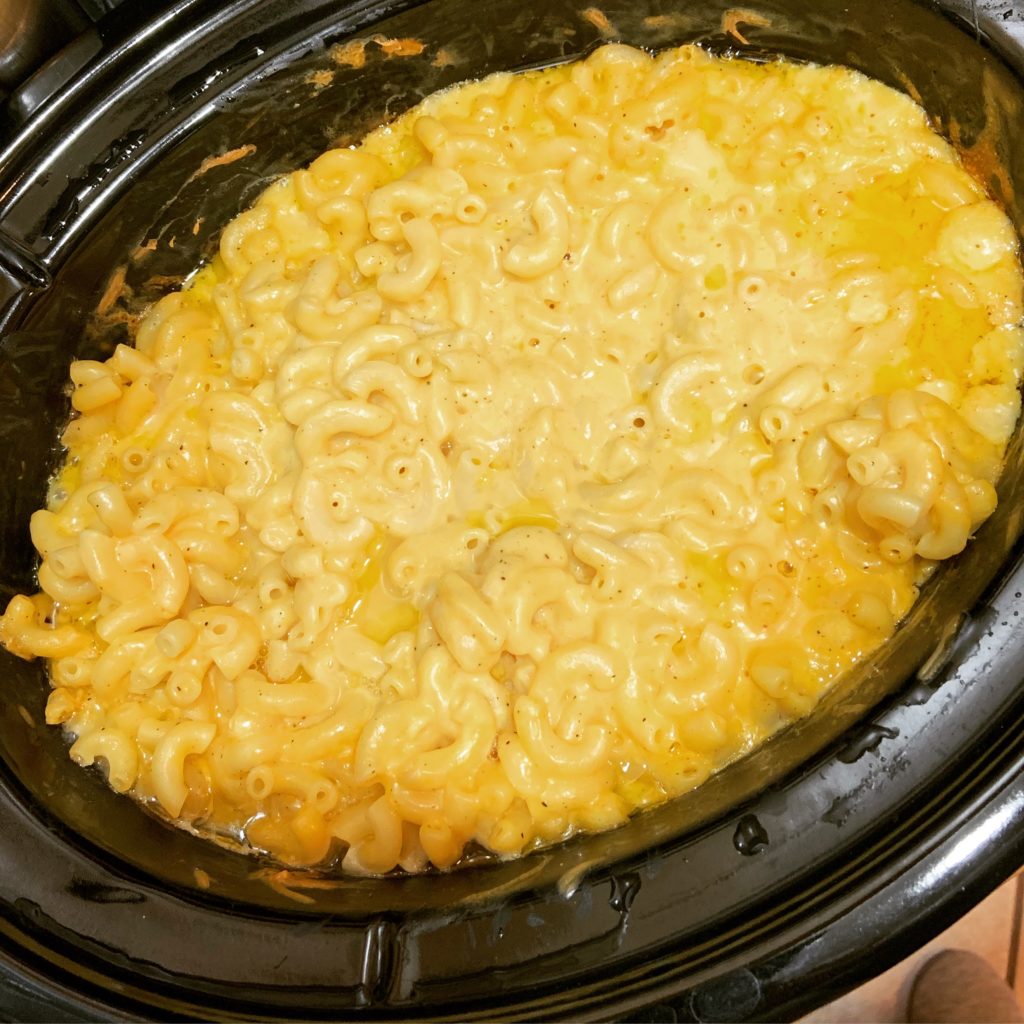 I like to give it one last good stir, and then of course, taste-test it before serving. It never lets me down! Delicious.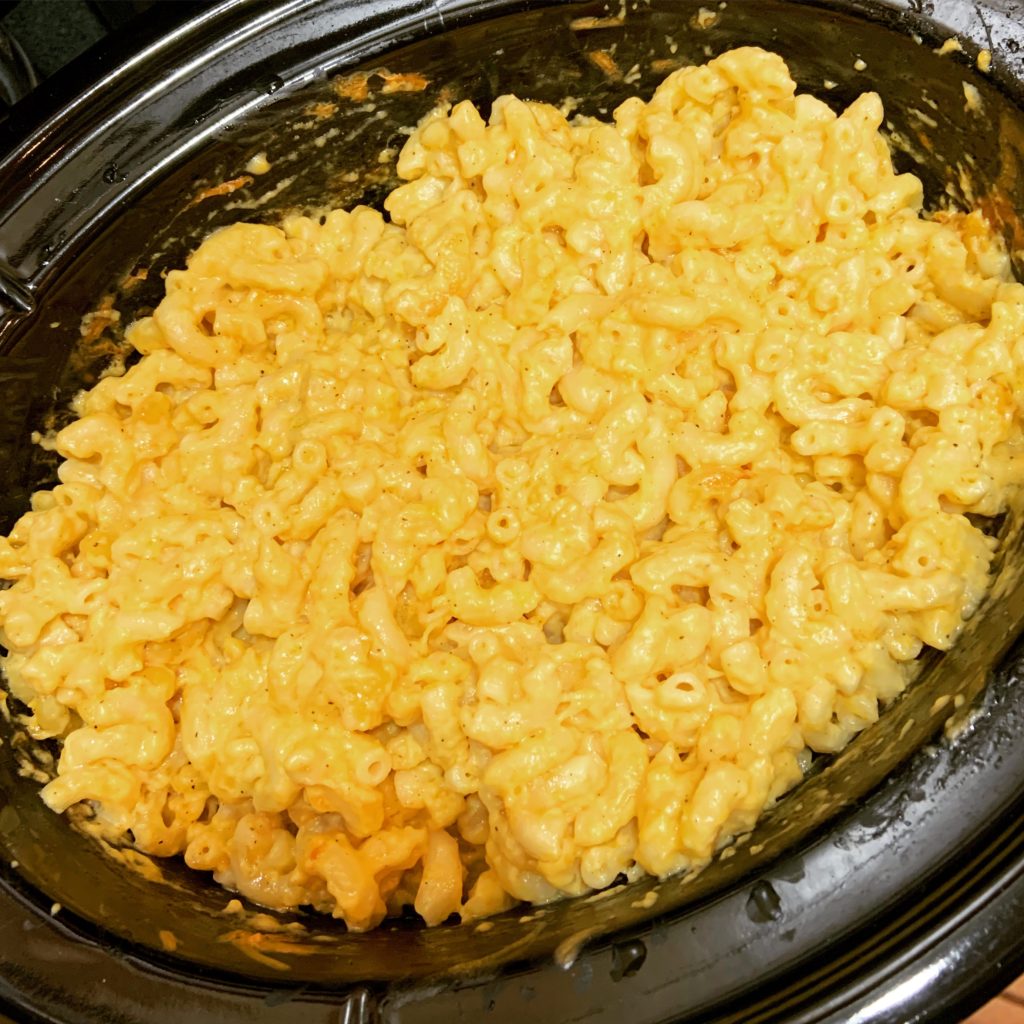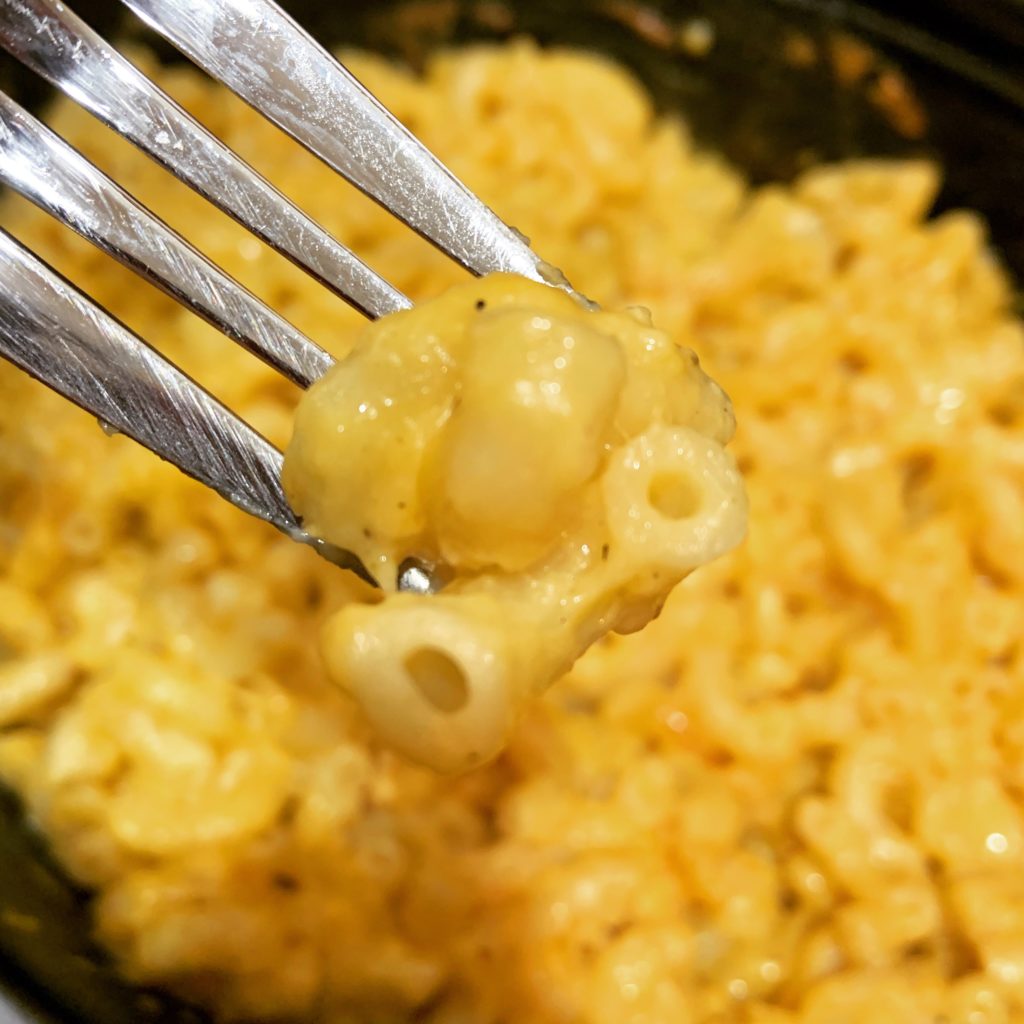 What's the one food you can't live without? Let me know in the comments!

Creamy Slow Cooker Macaroni and Cheese
Ingredients
2

cups

uncooked elbow macaroni

4

tablespoons

butter

cut into 4 roughly equal chunks

2½

cups

grated or shredded sharp cheddar cheese

½

cup

sour cream

1

10.75 oz can condensed cheddar cheese soup

½

teaspoon

salt

1

cup

milk

½

teaspoon

dry mustard

½

teaspoon

black pepper
Instructions
Boil the macaroni in water for six minutes and drain.

In the microwave, melt the butter.

Spray your slow cooker with non-stick cooking spray.* Combine melted butter, cheese, sour cream, soup, salt, milk, mustard and pepper in your slow cooker. Add the drained macaroni and stir again.

Cook on low for 2 to 2½ hours, stirring occasionally.**
Notes
Slightly adapted from: Six Sisters' Stuff
*If you prefer more of an oven-baked quality to the finished dish (i.e. some crispy bits and browning), I skip the spray. It will require a bit more scrubbing when you're cleaning your crockpot, but I don't mind.
**Two hours is usually the perfect amount, but a little extra time never hurts it. I usually stir twice -- once after 45 minutes and again after an hour -- but I've also forgotten to stir it and it turns out just fine.
This post contains affiliate links. This does not increase the price you pay, but I may receive a small commission for any products you choose to buy. Purchases made through affiliate links help to cover my blogging costs. Thank you for helping to support The Hungry Bookworm! Full disclosure here.