When Delia Owens' Where the Crawdads Sing was selected for Reese Withersoon's book club, it became an instant must-read. Equal parts coming-of-age story, mystery, legal drama and love story, I can see why! I came by it through my first HealthTea Book Crate, in which I received a signed copy, and I was excited that it was selected as one of my recent book club reads.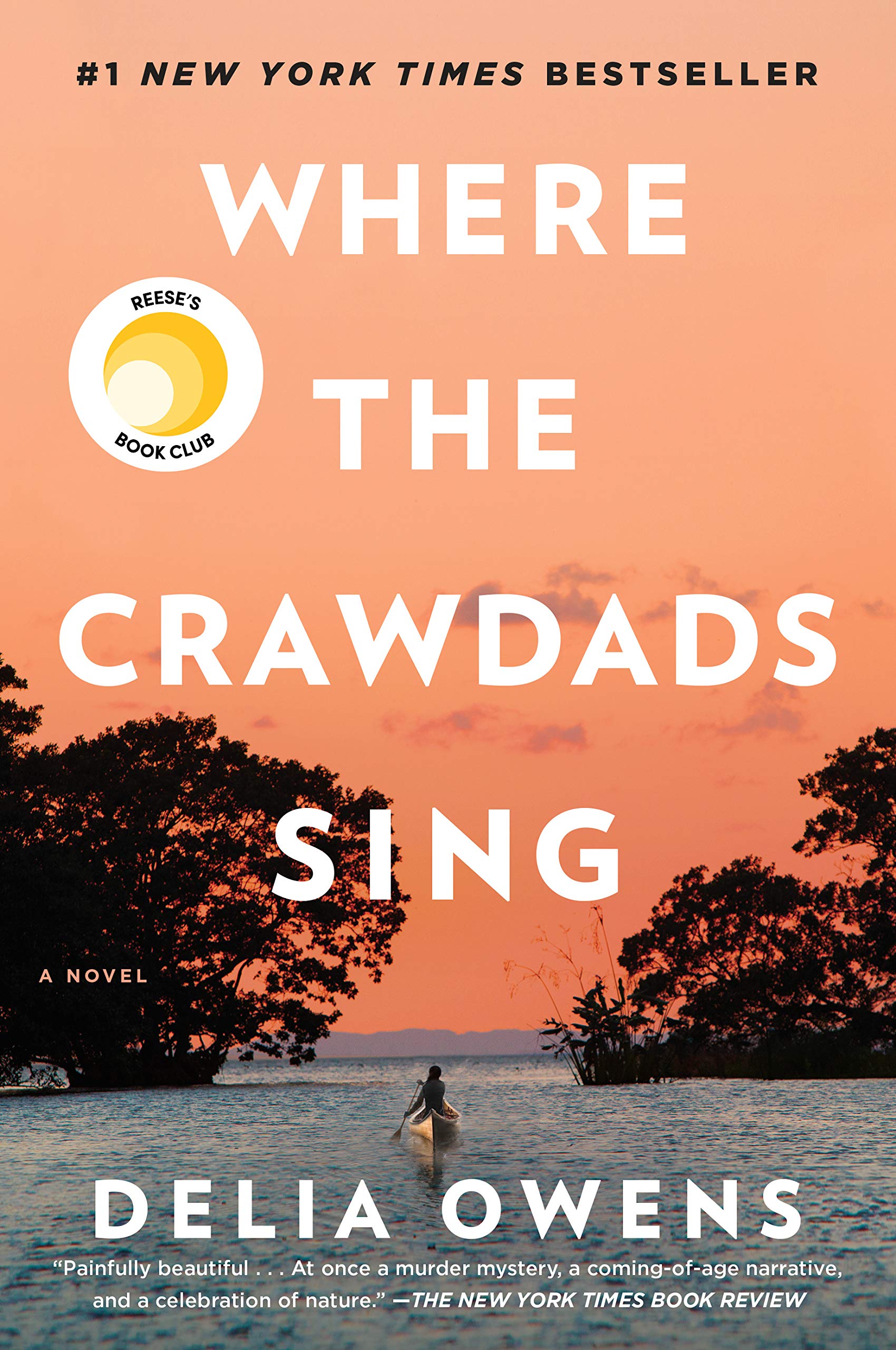 Kya Clark lives in Barkley Cove, North Carolina, and has watched her family leave her one-by-one, until -- at the age of 10 -- she is left quite alone. As she grows up, Kya chooses to stay close to home, preferring to get her supplies from a small store on the docks, where she can also fill up her boat with gas, rather than venturing into town. This fierce independence earns her the nickname Marsh Girl.
On her boat, Kya runs into an old friend of her brother's, Tate, and they bond over the nature surrounding them. Though she's hesitant, Kya eventually lets him in. Using science textbooks, Tate teaches her to read and encourages her to educate herself. When he leaves for college, Kya finds herself alone once again and aching for companionship.
Through a series of events, Kya finds herself at the mercy of the Barkley Cove residents, who continue to look down on her as a swamp dweller who is different from the rest of them. Will their judgment be fair?
As a scientist, Owens has published nonfiction books in the past, but Crawdads is her first novel. The story was beautifully written and immersive, and Delia Owens' wildlife expertise is brilliantly integrated. It made for excellent book club discussion, and I will be recommending it often.
For much of her life alone, Kya depends on grits for sustenance, at one point musing, "I don't know how to do life without grits." Tate comes from a shrimping family, and at a popular diner in town, one of the cook's famous specialties includes shrimp served with pimiento-cheese grits. So, to accompany our discussion, my book club (which met at a member's apartment) worked together to make shrimp and pimiento-cheese grits.
I was determined to use a North Carolina-based cheese spread, and luckily, I came across Red Clay Gourmet's here in Michigan. I would've preferred to use the classic cheddar flavor, but flame roasted jalapeno was the only type available at my local grocery store. It was still super delicious, but a heads up that it was also spicier than we all expected!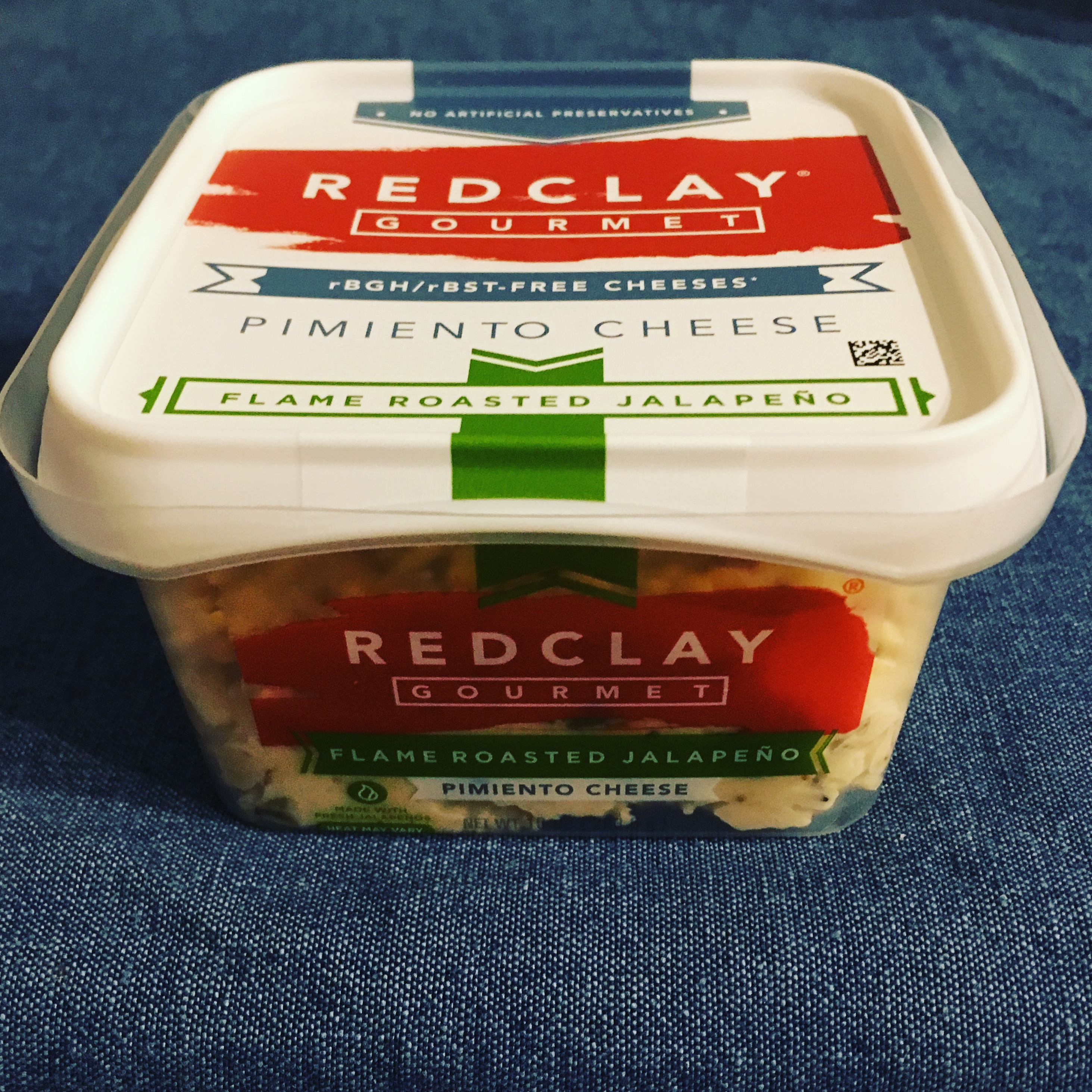 To start, we made the grits - bringing water and some salt and pepper to a boil in a medium saucepan. Then, we added the grits themselves, whisking over low heat until they were thick and creamy.
Meanwhile, we cooked the bacon in a large skillet until crispy, removing it onto paper towels. In the same skillet, we cooked the shrimp -- just a minute or two per side. To a large bowl, we added the bacon, shrimp (we ignored the recipe and opted to leave them whole), some sambal oelek, lime juice and chopped fresh parsley and tossed until combined.
To the cooked grits, we stirred in 1 cup of the pimiento cheese spread, some sambal oelek and a bit of salt and pepper. Then we were ready to eat!
Using wide bowls, we spooned a few scoops of grits into the bottom and added a handful of shrimp on top.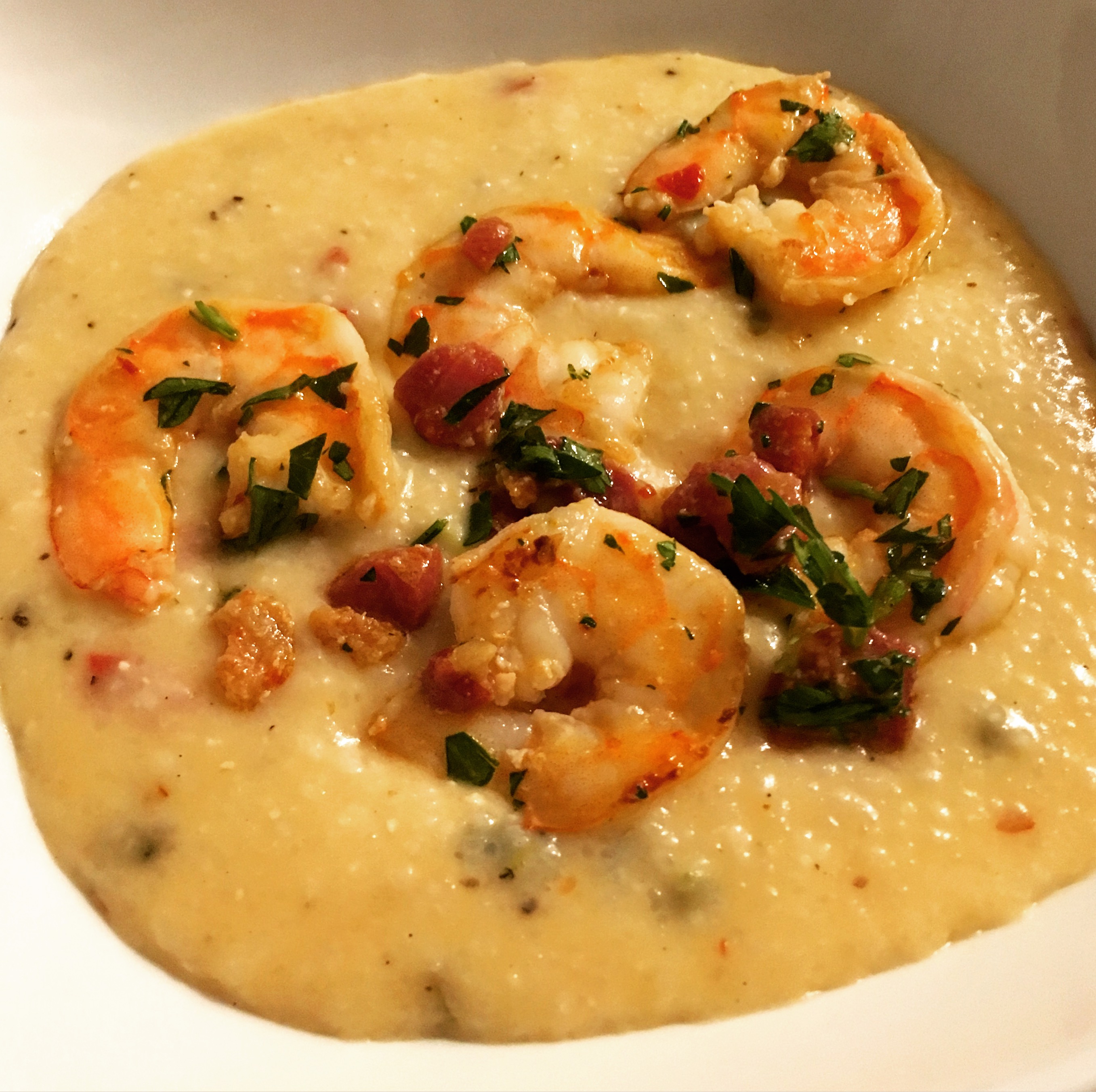 I've always been a fan of shrimp and grits, but this was my first time making it myself or having pimiento cheese grits. I was surprised at how easily it came together (and how hard it was to mess up)! The entire book club loved the meal, which we served with some cornbread and honey to help offset the heat. I'll definitely keep this in mind for a quick weeknight meal.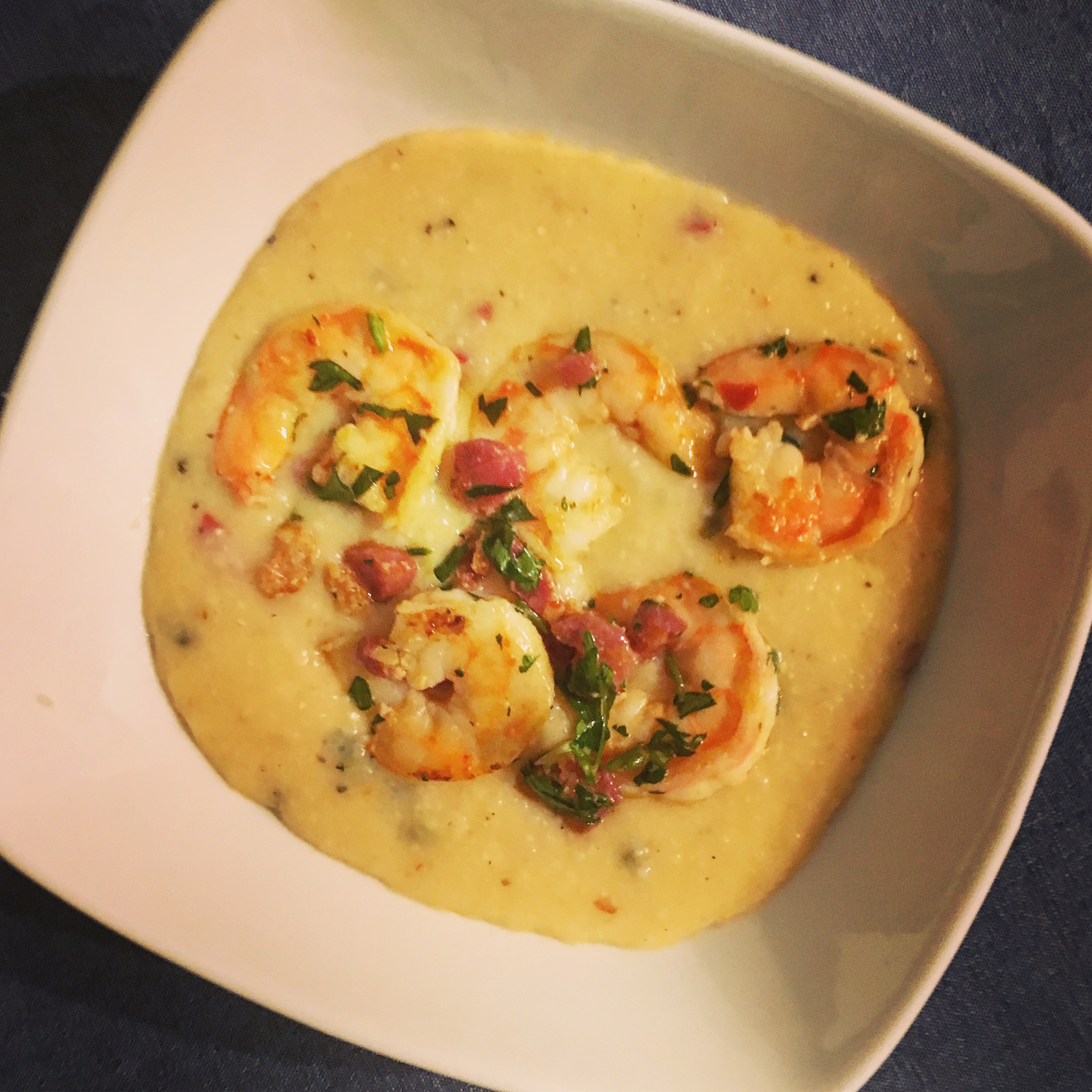 And, as a tasty end to our dinner, we whipped up a simple blackberry cobbler -- also mentioned in the novel -- topped with vanilla ice cream. We used Ree Drummond's recipe with fresh blackberries. (See link and a note below.) It was also delicious!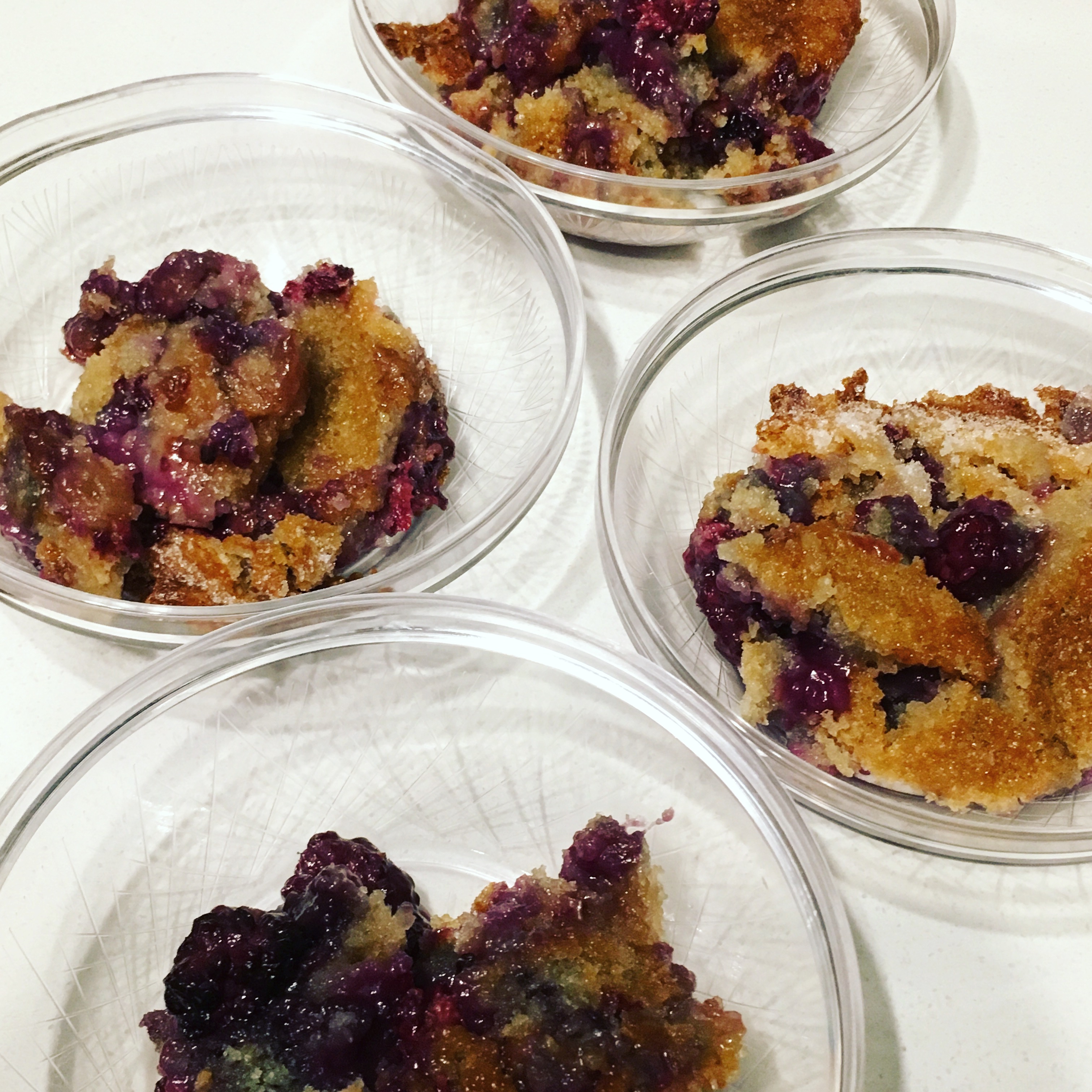 Shrimp and Pimiento Cheese Grits
Ingredients
1

cup

medium-grind grits

not instant

1

cup

pimiento cheese spread

4

teaspoons

sambal oelek

divided

1

tablespoon

olive oil

4

ounces

thick-cut bacon

cut crosswise into ¼-inch strips

1

pound

large shrimp

about 20, peeled, deveined, divided

⅓

cup

parsley leaves with tender stems

chopped

2

teaspoons

fresh lime juice

Kosher salt

freshly ground pepper
Instructions
Bring 2 tsp. salt, ¼ tsp. pepper, and 4¾ cups water to a boil in a medium saucepan. Whisk in grits. Reduce heat to medium-low, cover, and cook, whisking occasionally, until grits are thick, tender, and creamy, 10–12 minutes. Increase heat to medium, stir in cheese and 2 tsp. sambal oelek, and cook, stirring, until cheese is melted and mixture is smooth, about 2 minutes. Season with salt and pepper; cover and remove from heat.

Meanwhile, heat oil in a medium skillet over medium-high. Cook bacon, stirring occasionally, until crispy and golden brown, about 5 minutes. Transfer to paper towels. Do not eat all the bacon.

Increase heat to high and cook half of shrimp in same skillet until lightly browned and just cooked through, about 1 minute per side. Transfer to a medium bowl; repeat with remaining shrimp. Cut shrimp into ½" pieces; discard tails. Return shrimp to same bowl, then add parsley, lime juice, bacon, and remaining 2 tsp. sambal oelek; toss to combine. Season with salt and pepper.

Divide grits mixture among bowls and top with shrimp mixture.
Notes
From: Bon Appetit
Quaker brand grits work really well in this recipe, and they are distributed very widely. If you can't find them, use any other white, medium-grind, long-cooking grits.
Bonus Recipe:
Blackberry Cobbler from Ree Drummond on Food Network
Note on the cobbler: If you don't have self-rising flour, you can substitute this recipe by placing 1½ teaspoons baking powder and ½ teaspoon salt in a measuring cup. Add all-purpose flour to measure 1 cup.
__________________
This post contains affiliate links. This does not increase the price you pay, but I may receive a small commission for any products you choose to buy. Purchases made through affiliate links help to cover my blogging costs. Full disclosure here.