Like much of America, I've been looking forward to Michelle Obama's book Becoming since the moment it was announced. As much as I've admired her from afar, I honestly never knew much about Michelle and was excited for the opportunity to learn more -- from her, in her own voice.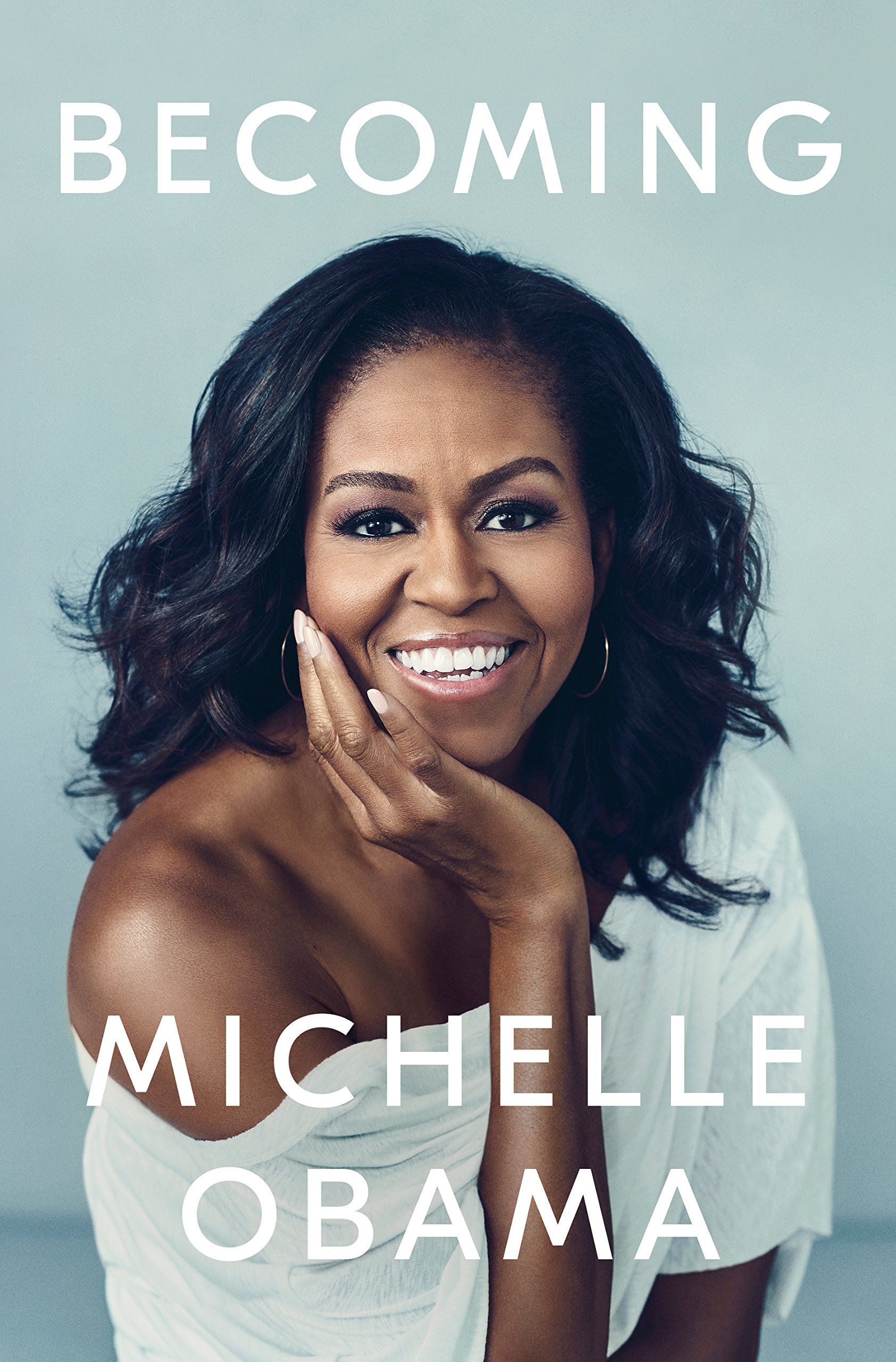 Michelle's writing is as engaging as expected. From the beginning of the memoir -- a section entitled "Becoming Me," in which she describes her life growing up on the South Side of Chicago -- to the end of "Becoming More" -- the final section in which she discusses her and her family's life in the spotlight while Barack held office -- it was a joy to get to know her better.
Though politics certainly find their way into the book, especially the last section where it's nearly unavoidable, it is much more about a woman's life. It's relatable and truthful. I appreciated Michelle's openness; she didn't hold back as she shared the ups and downs of trying to get pregnant as well as the difficulties of living life in the spotlight as a politician's wife. I've always felt Michelle was a breath of fresh air, and her memoir was just what I needed in this current political climate. I put it down refreshed and hopeful.
Part of what I loved about Michelle's point-of-view was her unique experience balancing motherhood with her career and Barack's political aspirations. From the outside, she made it look easy, but "having it all" rarely is. Pulled in all directions, Michelle couldn't always fit in workouts and make healthy, homemade meals.
She made the conscious decision to do better by herself and her family and eventually brought in personal chef Sam Kass to help lighten her load. Sam Kass prepared a few meals a week at the house and provided ready-to-go meals she could make when he wasn't around. He taught the Obamas to eat with the seasons and how to create delicious meals that weren't time-consuming or bland. Eventually, Sam accompanied them to the White House (and helped with Michelle's famous garden) and rose to his own fame.
It was through Sam I came across the recipe I made today. One of the Obama family's favorites, it's featured in his 2018 cookbook, Eat a Little Better: Sweet Potatoes in a Hurry. No surprise, it's quick and easy to make as well as flavorful. I served it alongside the Perfect Baked Chicken Breast, which is also a recipe I will be filing away for the future.
To start, I prepared my sweet potatoes, peeling them and cutting them into half inch cubes.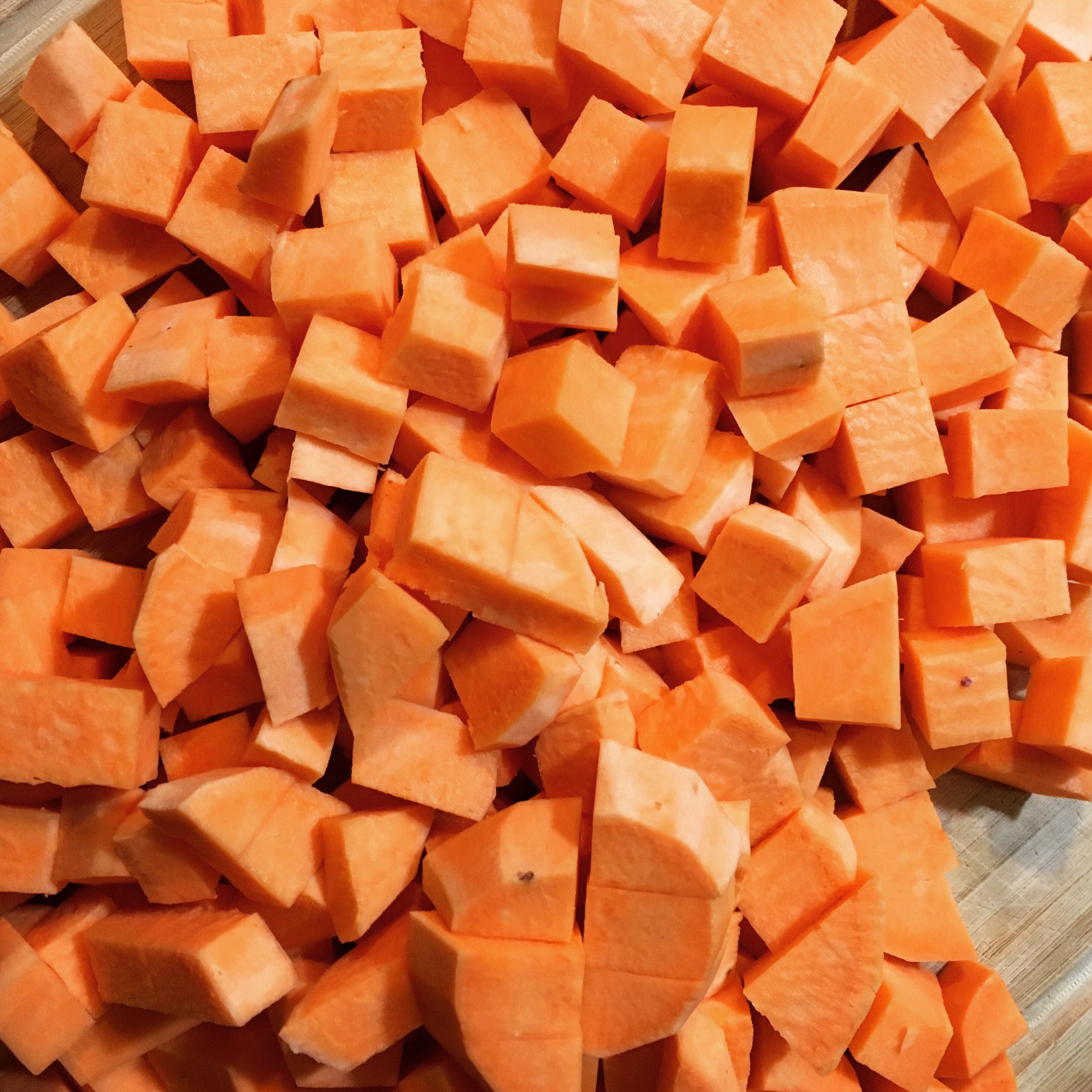 I poured them into a large skillet with preheated olive oil, covered it and allowed them to cook, stirring occasionally. Once, they were tender, I added fresh spinach leaves, allowing the mixture to cook until the leaves were wilted.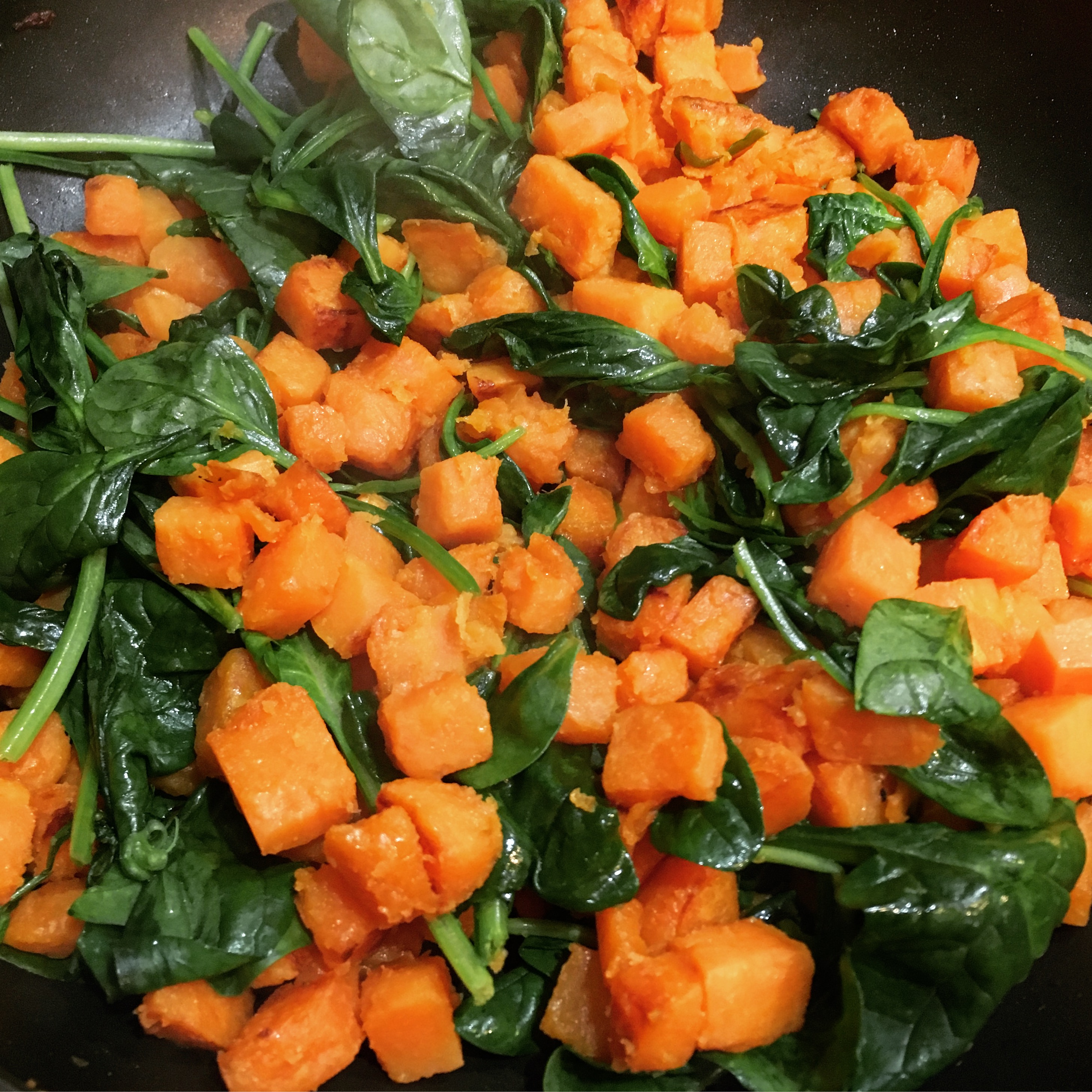 Then, I added the finishing touches -- pine nuts, golden raisins, salt, pepper and a bit of balsamic vinegar.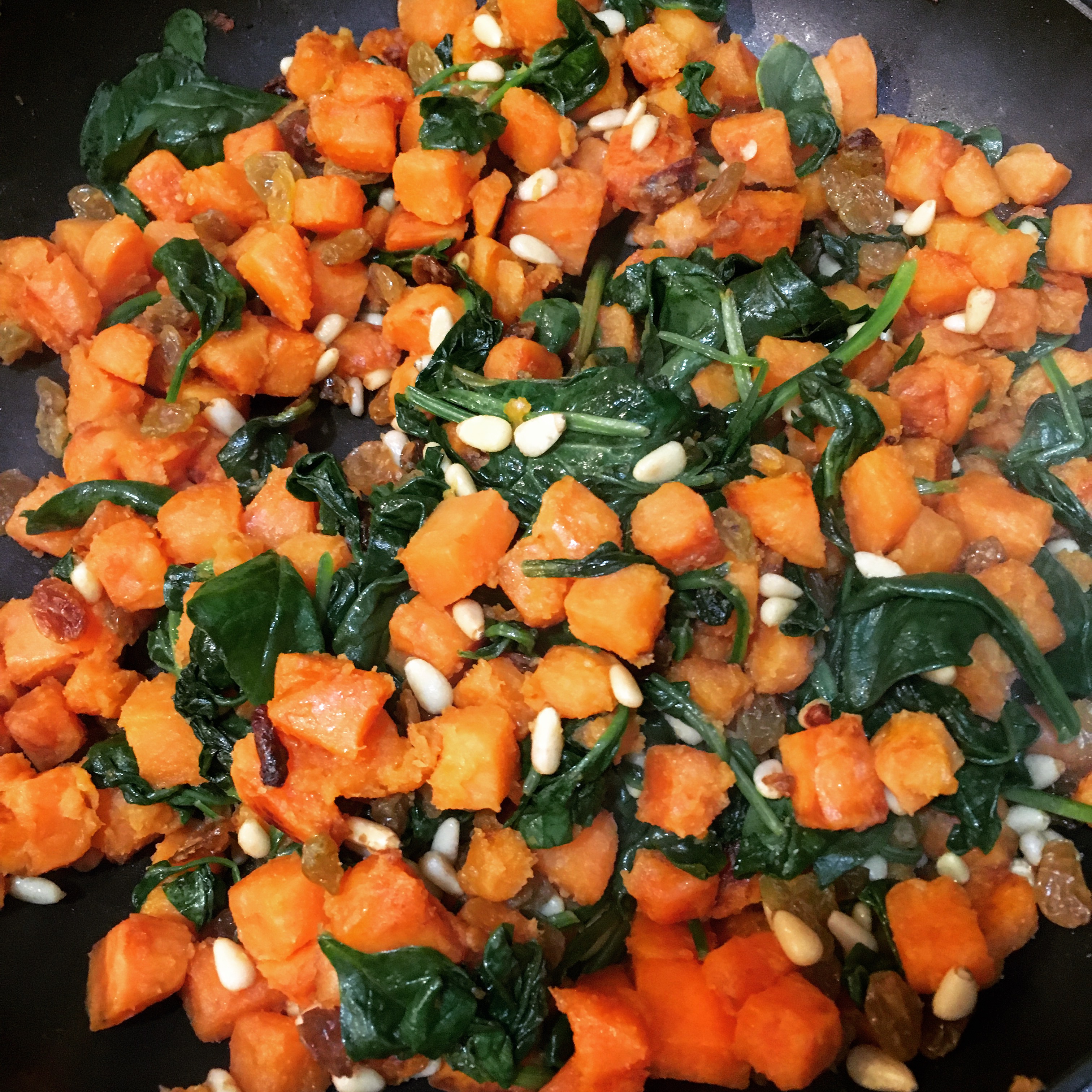 Paired with the chicken (and a fresh salad), Scott and I enjoyed a filling and tasty meal with enough leftovers for the next night as well. I love a good two-in-one cooking session!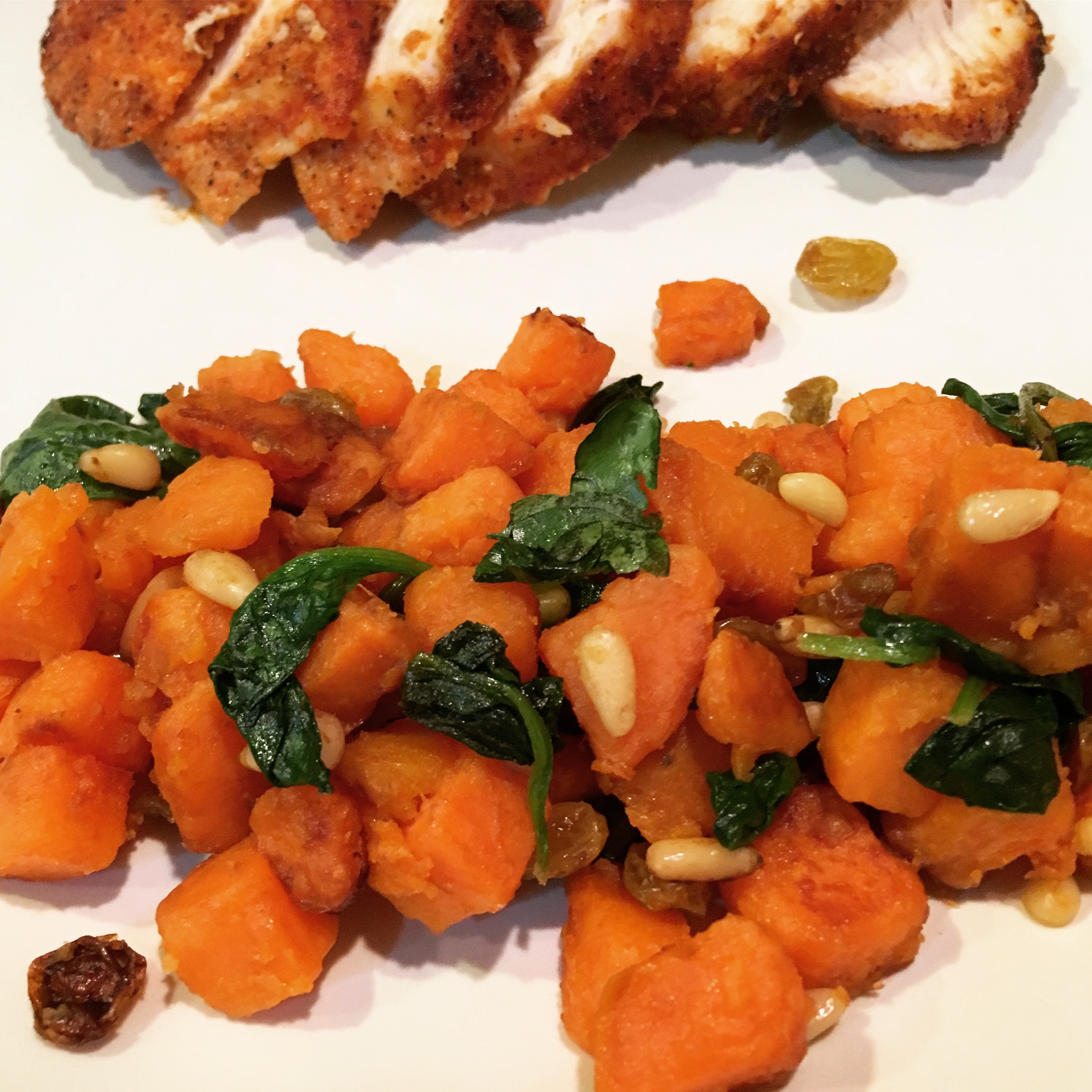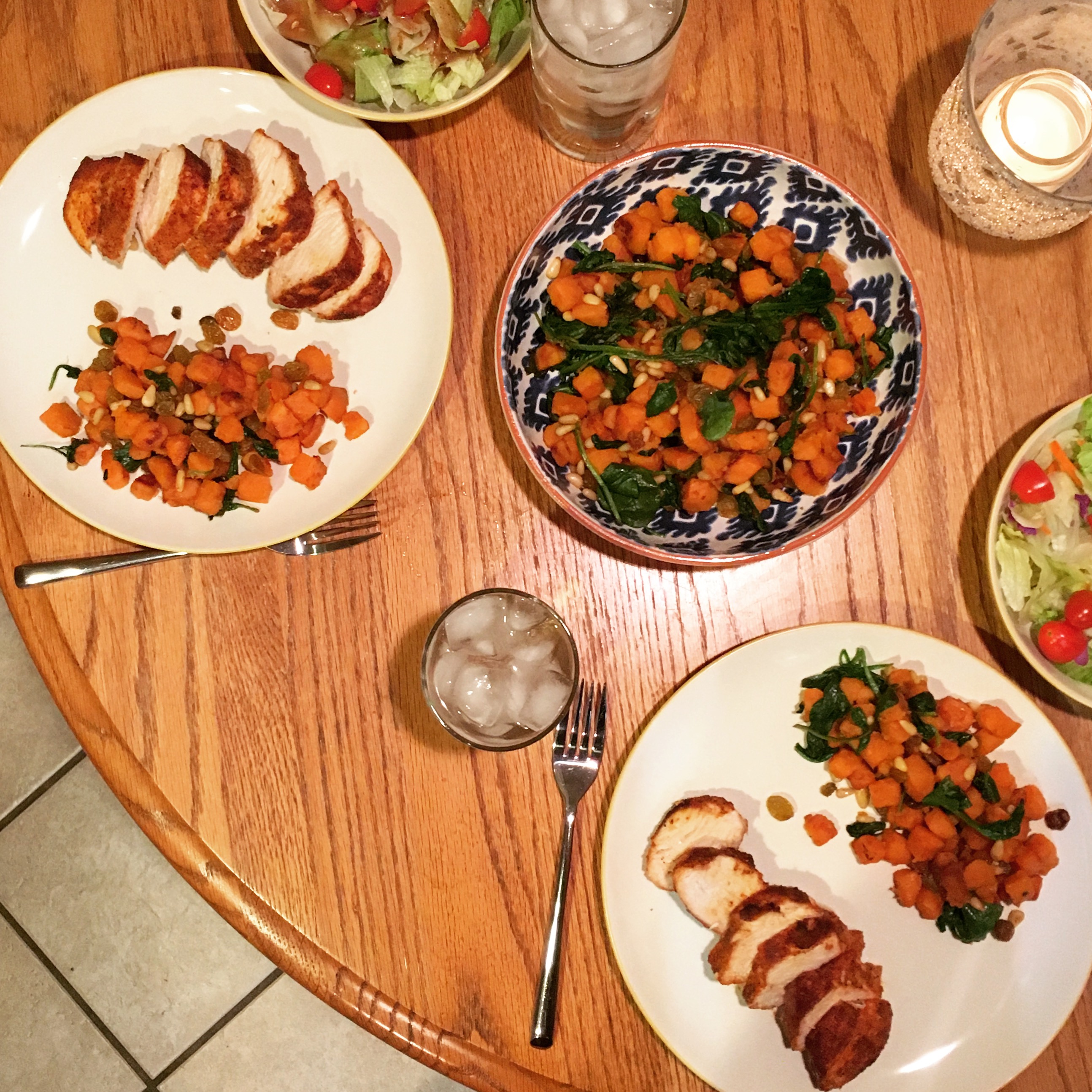 Have you read Becoming? What did you think of Michelle's story?
If you've tried any of Sam Kass's other recipes, I'd love to hear about it in the comments below!
Sweet Potatoes in a Hurry
Ingredients
3

tablespoons

extra-virgin olive oil

2½

pounds

sweet potatoes (4 medium)

peeled and cut into ½-inch cubes

Kosher salt

6

ounces

baby spinach

½

cup

dried currants or golden raisins

¼

cup

pine nuts

toasted

2

tablespoons

balsamic vinegar
Instructions
Heat the oil in a large heavy skillet with a lid over medium-high heat until it shimmers, then stir in the sweet potatoes and ½ to ¾ teaspoon of salt. Cover and cook, stirring occasionally and lowering the heat if the potatoes take on color too quickly. If the potatoes are browned but not yet soft, add ¼ cup water to the pan and cook until evaporated. Repeat as needed until the potatoes are tender, 12 to 15 minutes total.

Add the spinach, gently tossing until wilted, 2 to 3 minutes. Stir in the currants, pine nuts, and balsamic and season with salt to taste.
This post contains affiliate links. This does not increase the price you pay, but I may receive a small commission for any products you choose to buy. Purchases made through affiliate links help to cover my blogging costs. Full disclosure here.