I included Chloe Benjamin's novel The Immortalists on my list of Books I'm Looking Forward to in 2018 over eight months ago. It's been sitting on my shelf for nearly as long (shortly after it came out in January), and I just -- finally! -- got around to reading it. I'm happy to say it lived up to expectations!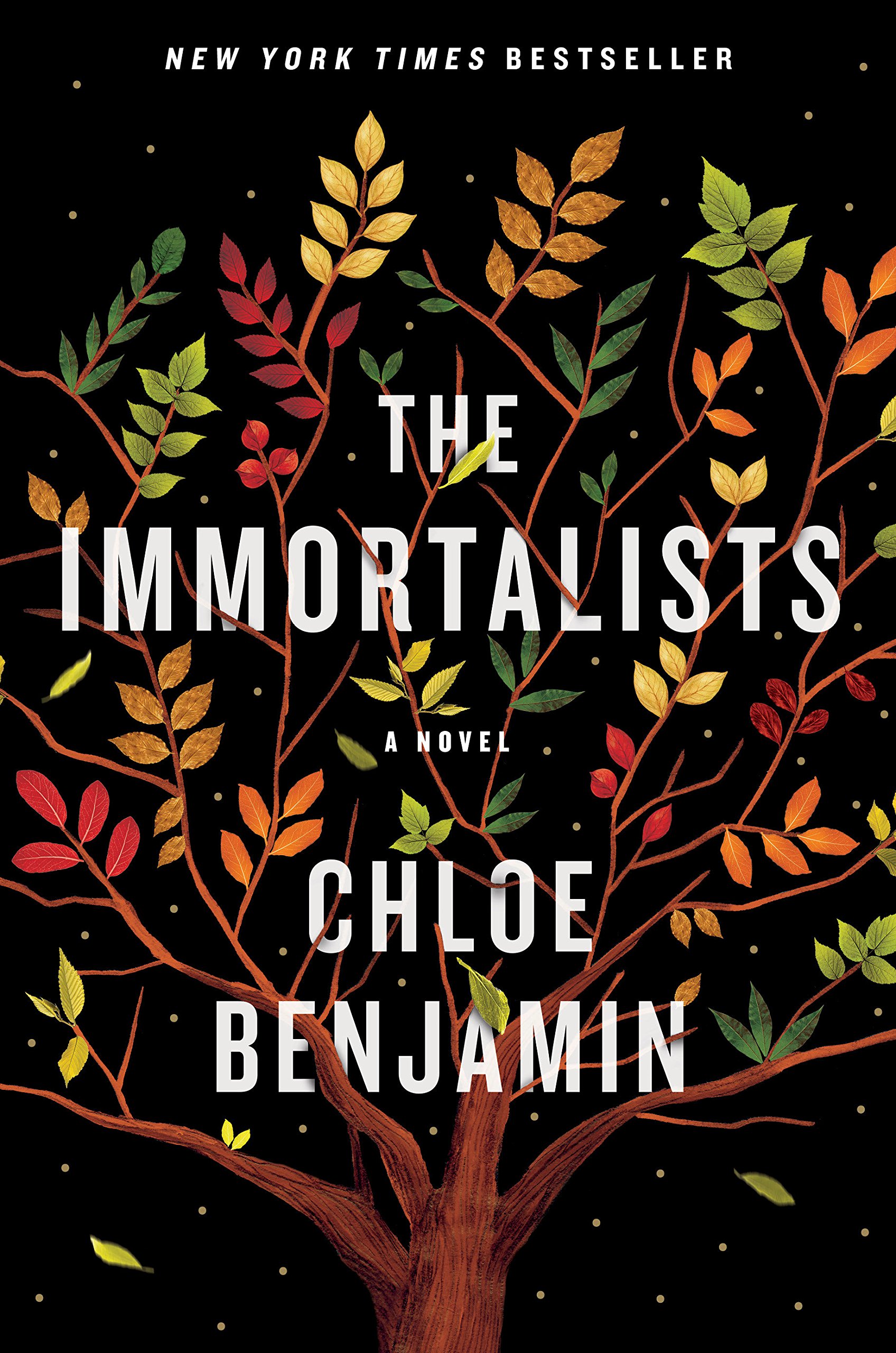 The novel follows the four Gold siblings: Varya, Daniel, Klara and Simon. In 1969, when they're still quite young -- Varya, the oldest, is thirteen and Simon, the youngest, is only seven -- they visit a mysterious psychic because Daniel has heard she is able to tell anyone the day they will die. They leave shaken but armed with a glimpse into their futures.
Simon and Klara head to the West Coast, where he searches for love and she cultivates a career as a magician. Back in New York, Daniel and Varya pursue the sciences. He becomes a military doctor and she researches longevity. Though each sibling lives in a way that is very true to themselves, you can't help but wonder if they would've lived the same lives without learning their death dates.
Benjamin's writing was immersive, and though certain aspects of the story were expected, I was happy to go along for the ride. I also thought it raised some very interesting questions about the role of fate versus free will that I can't wait to discuss with my book club!
Kugel was a food that appeared in the story a few times, when the siblings were together visiting their mother and during the Jewish High Holy Days. The girls chopped the apples while their mom cooked the noodles. For those of you who don't know, kugel is a casserole, typically made with noodles or potatoes. It can be sweet or savory. I had never eaten kugel before let alone made it, but I was excited to try it out.
Since I knew the Golds used both apples and noodles for their kugel, I started there and landed on a recipe from Savory Simple. To start, I greased a 9x13 baking pan and partially boiled the noodles.
In a large bowl, I whisked together the sour cream, cream cheese, eggs, sugar, butter and cinnamon.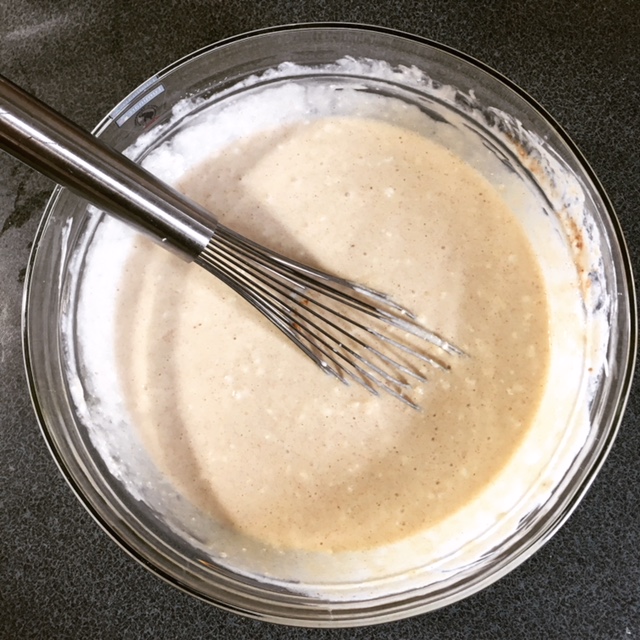 To that, I added the chopped Granny Smith apples, golden raisins, and of course, the noodles.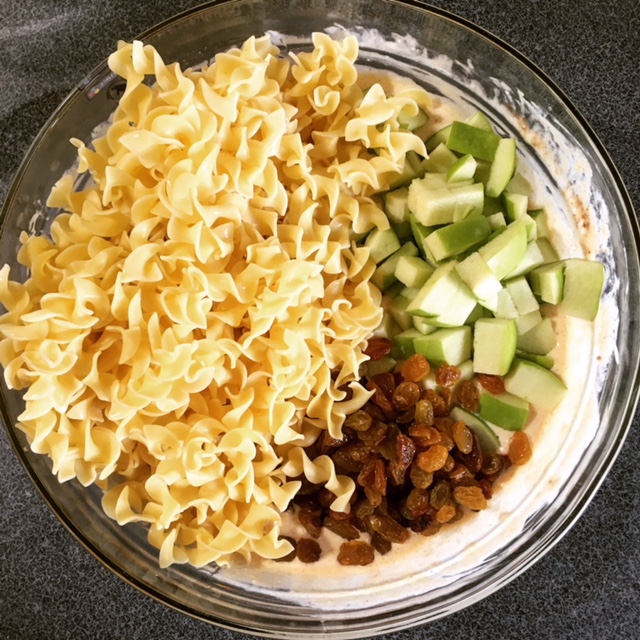 Once it was well-combined, I poured the mixture into the prepared baking pan and covered the top with a mixture of sugar, cinnamon and a bit of salt.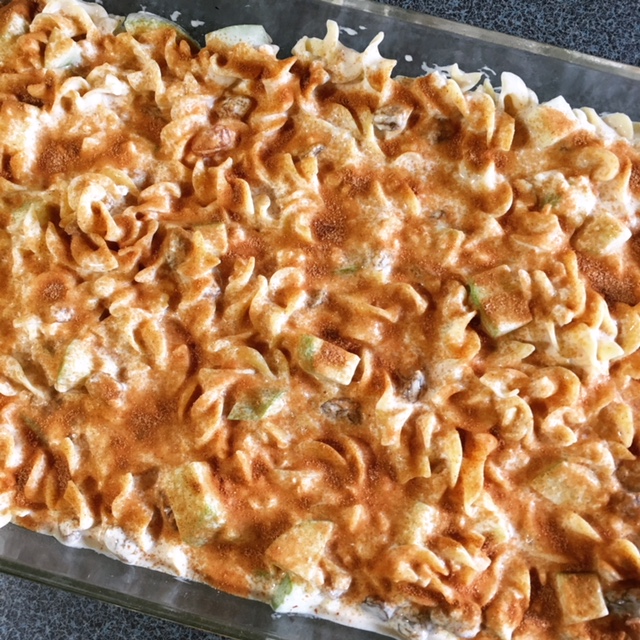 I put it in the oven to bake until the custard was set and the top was golden brown, about 40 minutes. The baked apples smelled delicious.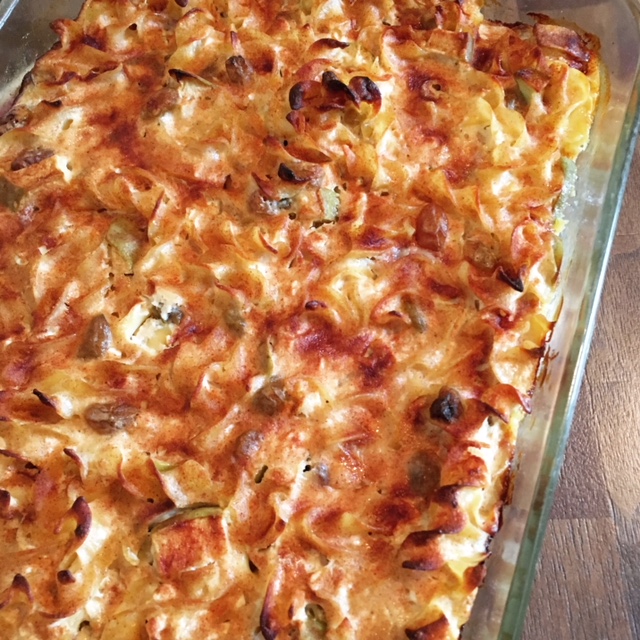 Once it cooled, I sliced it into squares and we ate it slightly warmed. I can see why this comforting dish is a holiday favorite. I'd definitely be interested in checking out some other kugel recipes.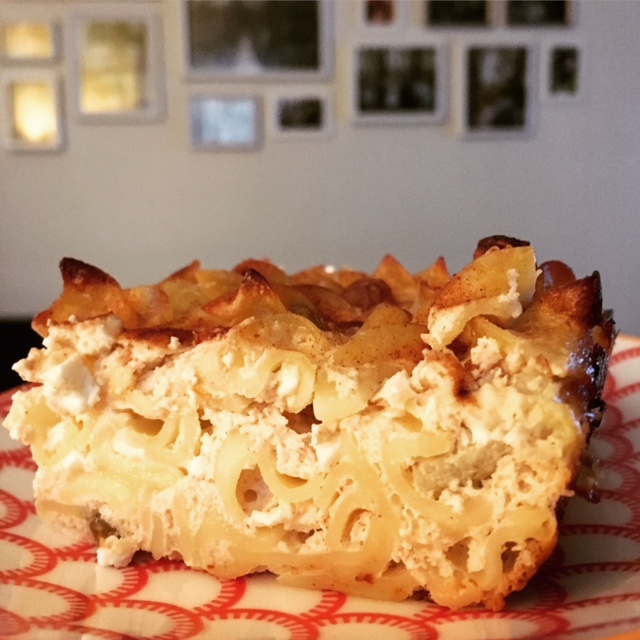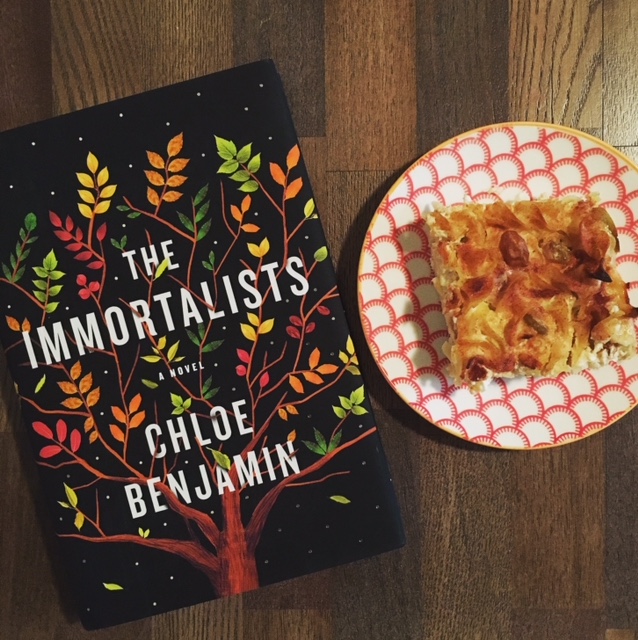 Apple Noodle Kugel
Ingredients
For the kugel:
½

pound

wide egg noodles

2

ounces

unsalted butter

melted

1

pound

cottage cheese

2

cups

sour cream

½

cup

granulated sugar

6

large eggs

1

teaspoon

ground cinnamon

½

cup

golden raisins

2

cups

Granny Smith apples

coarsely chopped (about 2 small apples or 1 large)
For the topping:
2

teaspoons

granulated sugar

1

teaspoon

ground cinnamon

Pinch

of kosher salt
Instructions
Preheat oven to 375 degrees F. Grease a 9 x 13 inch casserole dish with butter or baking spray.

Bring a large pot of salted water to a boil. Cook the noodles for 4 minutes, then drain and set aside.

In a large mixing bowl, Whisk together the butter, cottage cheese, sour cream, sugar, eggs, and cinnamon. Stir in the noodles, raisins and chopped apples.

Prepare the topping: in a small bowl, combine the sugar, cinnamon and salt using a fork.

Pour filling into the prepared casserole dish, and top evenly with the cinnamon sugar mixture.

Bake until custard is set and top is golden brown, approximately 40 to 45 minutes.
Notes
From: Savory Simple
Noodle kugel can be prepared up to 48 hours in advance. Reheat it at 300 degrees F for 15-20 minutes, or until warm in the center. Alternately, you can prepare the recipe up to Step 5 (omitting the cinnamon sugar topping). Cover the casserole dish and refrigerate unbaked for up to 24 hours, then add the topping and bake it just before serving.
This post contains affiliate links. This does not increase the price you pay, but I may receive a small commission for any products you choose to buy. Purchases made through affiliate links help to cover my blogging costs. Full disclosure here.