For those of you stopping by as part of the blog tour for The Afterlife of Walter Augustus, welcome! I was so pleased to be given the opportunity to read and review Hannah Lynn's latest novel (review + book-inspired recipe here), which I found charming and original. I was also excited to be able to interview Hannah and learn a little bit more about her process and the book in my first ever author interview.

Have you always been a big reader?
Yes, in away. I remember getting my school's suggested reading lists for the holidays and trying to get through as many as the titles as possible. I then moved on to binge reading different authors, which I still do occasionally. During university, I fell out of the habit of reading for pleasure, and it took a while to find my way back. Fortunately I met my husband, who is an English teacher, shortly after, and we instantly bonded over books.
As a reader, does the reader's experience influence how/what you write, or do you write more for yourself / to get an idea out of your head?
First, I write for myself, then I adjust accordingly. It's a hard balance to find, as I was recently discussing with a friend of mine who has just written his first book. Sometimes I find I don't explain concepts as clearly as I think; while they are all mapped out in detail in my head I haven't conveyed them to the reader. If you want someone to truly appreciate your books, you need to give them access to as much as is in your head as possible, even if that means added a few extra phrases here and there that you hadn't particularly planned on.
What's your writing process like?
Focussed. As I work full time and have a family I don't get as much time to dedicate to writing as I would like, therefore whenever I get the chance, my head is down and I try not to look up from my laptop until I've hit my word goal for the day. I also tend to write in the morning, that way I feel much happier going about the day.  
Now onto your latest novel. Your concept of the Interim seems more modern day-esque than I would've expected. What prompted you to create this more pleasant version of purgatory?
I was inspired by a watching five minutes of a television clip about a medium. I started thinking how full the afterlife must be if everyone who has ever died is still over there. That lead to the idea that perhaps people weren't always there; perhaps there was an option of moving on at some point.
I loved your description of the Athenaeum. What was your inspiration?
I am the type of person who can lose days in libraries and bookshops. Just wandering around them makes me happy. When you stop and think how much information all of those books contain it is staggering, yet some of the books stay untouched on the shelves for years. In a way, I think that's similar to the mind. We have far more information in there than we use and lots of comments and pieces of knowledge that we never call upon. I don't like the idea of memories and moments just being forgotten. I wanted it to be stored somewhere, like a library.
I noticed that smells play an important role throughout the novel. For example, the afterlife is described as smelling like "freshly cut grass and clean laundry," after trying out several other smell combinations. I have to agree those smells are quite comforting, but why was smell the sense you used most prominently to describe things?
I have always been acutely away of smells and aromas. As a child I would have to go into the school canteen with a handkerchief over my nose which my teacher had doused in her perfume. (That poor teacher. I feel for her now!) I also remember things through scent and taste, equally, if not more so than the other senses. For example, last year one bite of a coconut tart brought me straight back to my grandmother's kitchen and spooning cake mix into trays. Before that bite of tart, I probably hadn't thought about that particularly memory for at least a decade. Smells remind me of places I love or people I miss. For me aromas are nostalgic, I think that is why I include them so much.
Who was your favorite character to write/create? As a reader, do you have a favorite character?  
Hector was probably the most fun to write. He was almost a free for all, particularly when it came to his clothing. However, as a reader, I would say my soft spots are for Pemberton and Letty. I think they showed me that you don't have to be an outstanding person to do outstanding things.
Sadly, the Interim doesn't seem to include much food. If you were stuck in the Interim, which one food (or type of food) would you definitely want to be there?  
Oh I love food. Mango and sticky rice would be my ultimate interim choice. I lived in Thailand for four years and I never got bored of this dish. I would have eaten it every day — and probably did during mango season — if I could.
I've heard that, like me, you also enjoy cooking. What's your favorite thing to cook and why?  
I love baking for people; surprising people at work with brownies is always a great one. If I have people over for dinner I make a pretty excellent creme brulee too, although I haven't done that for a while. In the summer, I love making Gazpacho; right now I'm just waiting for my tomatoes to ripen. It will be the first time I've made one with home grown produce.
Do you have any advice for other aspiring writers?
Read a lot and do don't expect everything you write to be perfect. Not all writing is for publishing, a lot is for learning.
Thank you, Hannah, for inviting me to participate in The Afterlife of Walter Augustus book tour, and for being so accommodating with the interview as well! It was wonderful getting to know you 🙂
For anyone who is interested in checking out her novel for yourself, it's available on Amazon for only 99 cents (or pence, if you're in the UK) through the end of the tour, July 31.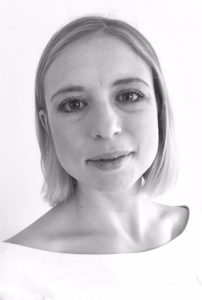 More about Hannah:
Hannah Lynn was born in 1984 and grew up in the Cotswolds, UK. After graduating from university, she spent ten years as a teacher of physics, first in the UK and then around Asia. It was during this time, inspired by the imaginations of the young people she taught, she began writing short stories for children, and later adult fiction. Her first novel, Amendments, was published in 2015, her latest novel, The Afterlife of Walter Augustus, is out July 2018. Now as a teacher, writer, wife and mother, she is currently living in the Austrian Alps.
________
This post contains affiliate links. This does not increase the price you pay, but I may receive a small commission for any products you choose to buy. Purchases made through affiliate links help to cover my blogging costs. Full disclosure here.
I received a free digital copy of this book from the author in exchange for an honest review.