Many have commented on the beauty of this book cover. Indeed, Ruth Hogan's The Keeper of Lost Things does feature some gorgeous floral artwork on the cover, and actually that's part of what brought me to it in the first place. The title, too, is intriguing. What exactly is a keeper of lost things? What sort of lost things are being kept?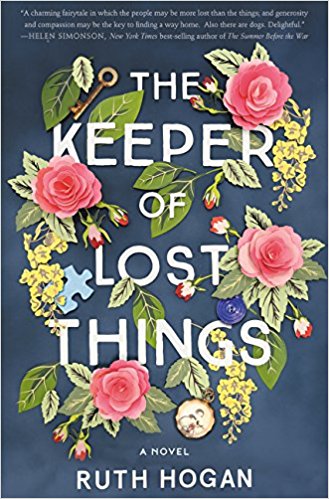 In the novel, Anthony is an elderly man who has become a self-appointed keeper of lost things. Since losing something very important decades earlier, he has made it his mission in life to rescue discarded, dropped or forgotten things. He brings them home, where they live safely and quietly in his study, until they can be reunited with their owners someday, somehow.
His assistant Laura is drawn into the task, moving into his home so she can help carry out his life's mission. As Laura struggles with her purpose and her past, she still desperately tries to make Anthony proud. She enlists the help of a young neighbor, Sunshine, and the gardener, Freddy, and together, the trio breathe new life into the project.
Throughout the modern tale, Ruth intersperses a story taking place in the past -- that of Eunice and her employer turned best friend Bomber -- as well as short stories about the lost objects themselves. While I found the lost object stories to be charming, I was less excited about the breaks that involved Eunice. Still, Ruth does a lovely job of tying them all in nicely, and she's able to present the reader with a truly heartwarming story that's full of hope.
Besides making "the lovely cup of tea," food wasn't much featured in the modern day tale, with the exception of some jarring combinations (a tuna fish and banana sandwich, for example) that didn't sound very appealing. I actually warmed to one of the characters in Eunice's story -- and that was Bomber's dog who had a love for sweet baked goods. I found it funny (but totally understandable) that Eunice would make it a point to stop at the local bakery in order to get some of his favorite treats. One such treat was an iced bun.
I hadn't heard of iced buns before, but they seem to have originated in the United Kingdom, where this book takes place. I pictured a sort of iced donut, and when I looked them up, that's pretty much what they are. Though, in making and eating them, they're more of a cross between a iced/glazed donut and a dinner roll -- not too sweet but nice and soft. I found them to be quite enjoyable.
I began by making the dough. I mixed all of the ingredients, adding the water slowly as I mixed everything together with my hands. It came together and was quite sticky - I had major dough hands. As promised, though, it got less sticky the more I kneaded it.
The recipe calls for kneading the dough for about 15 minutes, until it becomes smooth and elastic. It was definitely an arm workout! I put the dough back into the bowl, covered it with a damp cloth and allowed it to rise for about an hour - until it had doubled in size.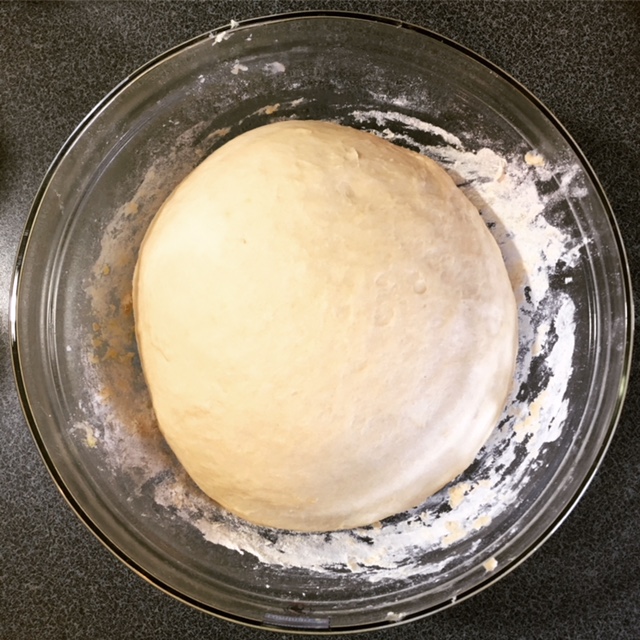 I took the dough out of the bowl and divided it into 12 pieces.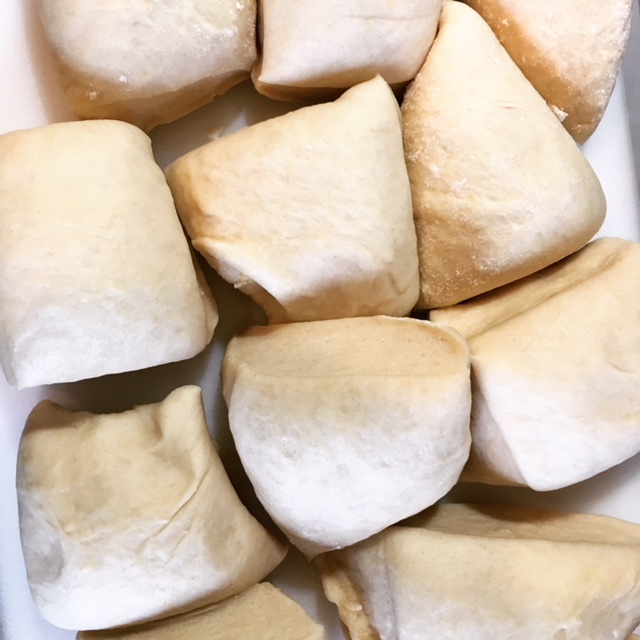 Then, I rolled each piece into a ball and rolled and folded the edges, tucked into the bottom in a "flower" shape.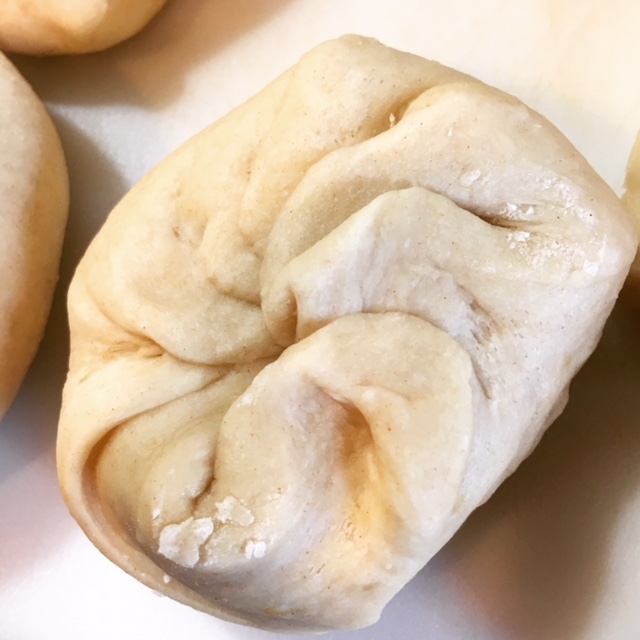 I flattened and stretched each ball as best I could into an oblong shape, about 5 inches long, and placed them on a cookie sheet, making sure to leave space so they could double in size.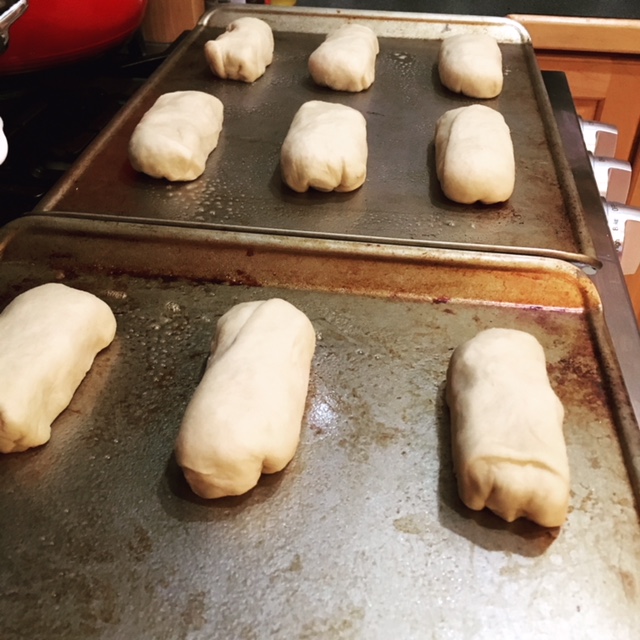 After about 40 minutes, the buns were proofed and I put them into the oven to bake for 10 minutes. I let them cool, and while they were cooling, I made a simple icing with powdered sugar and water.
I iced the cooled buns by dipping them upside down into the icing, and then I covered them lightly in rainbow sprinkles.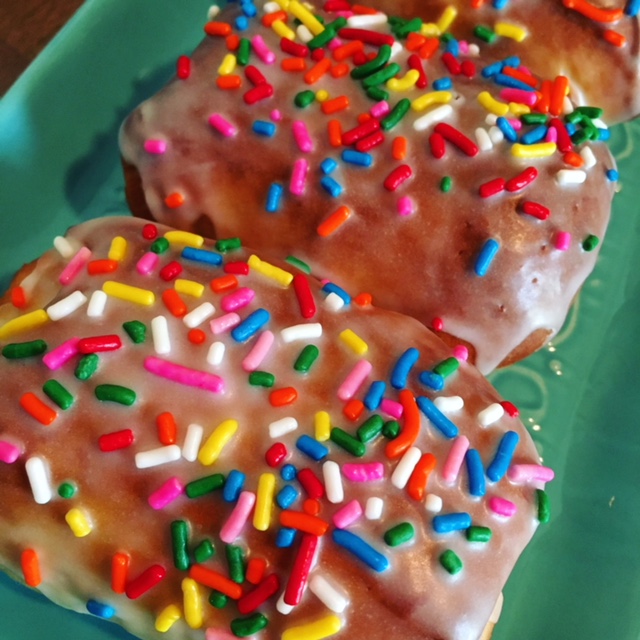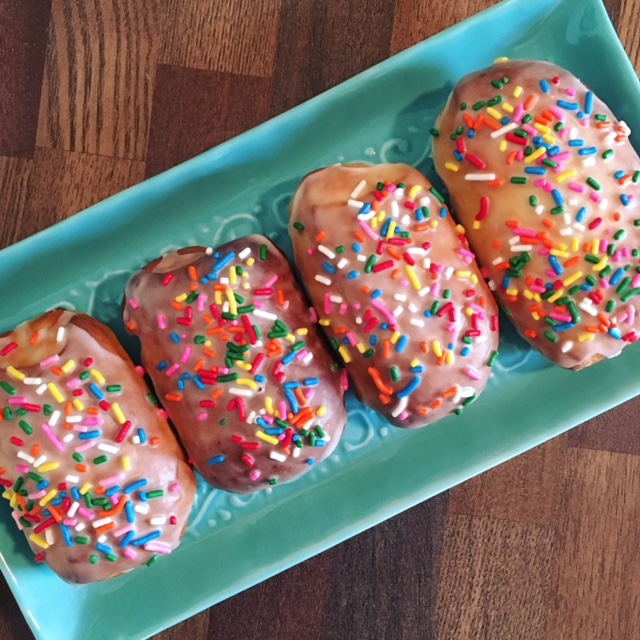 These colorful treats were a little time consuming, but were actually quite simple. The fact that they weren't overly sugary was nice as well.
Iced Buns
Ingredients
4

cups

all-purpose flour

¼

cup

granulated sugar

3

TBS

unsalted butter

2

eggs

14

g

instant fast-acting yeast

2 packets

2

tsp

salt

5

oz

warmed milk

½

cup

water

at room temperature

1½

cup

powdered sugar
Instructions
Begin by making the dough. Place the flour, caster sugar, butter, eggs, yeast, salt and milk into a large bowl. Add about half of the water and slowly mix everything together with your hands.

Add the remaining water slowly to make a soft dough. It will be sticky at this stage but it will become smooth as you knead it.

Turn the dough out onto a lightly floured work surface and knead for about 15 minutes, or until smooth and elastic.

Place the dough back into the bowl, cover with a damp tea towel and leave it to rise in a warm place for 1 hour or until doubled in size.

Divide the dough into 12 pieces. I do this but cutting it in half, then each half in half and so on until you have 12 pieces.

Roll each piece into a ball, flatten slightly and then roll the edges over into the middle with your fingers.

Flatten again slightly and then gently stretch each piece into a finger shape about 5 inches long.

Grease a baking tray lightly with butter or baking paper and place the dough fingers on top. Remember to leave enough space for them to double in size.

Set them aside in a warm place for 40 minutes and preheat an oven to 425 degrees F.

Bake the buns for about 10 minutes, then remove from the oven and leave to cool.

When they are completely cool, make the icing. Sift the icing sugar in a large bowl and gradually stir in about 5 teaspoons of cold water to form a smooth, thick paste – it should be thick enough so it won't slide off the bun but not so thick that you need to use a knife to spread it.

Dip the top side of each bun in the icing to evenly coat and arrange across a tray. Working quickly before the icing dries, decorate the iced tops with your chosen sweets and garnishes.
Notes
From: Great British Chefs, with conversions to U.S. ingredients names, measurements and temperatures by me
This post contains affiliate links. This does not increase the price you pay, but I may receive a small commission for any products you choose to buy. Purchases made through affiliate links help to cover my blogging costs. Full disclosure here.