In the Literary Feast Reading Challenge, March's task was to read a book that was made into a movie I'd already seen. Choosing the book was a lot more difficult than I expected. In most cases, I'd gone the traditional route, reading the book first and then watching the movie (and complaining about the discrepancies). In a few cases, there was a book I wanted to read that would've qualified...except I hadn't seen the movie yet either.
So, when I was perusing a used book sale recently, I noticed Lauren Weisberger's novel The Devil Wears Prada, and thought "I've seen that." I grabbed it. But, like most people are hesitant to see a book they love ruined by a poor movie adaptation, I was instead hesitant to have a movie I knew maybe a little too well ruined by a book that I'd heard was nothing like it. I eventually decided to forge ahead, and here we are.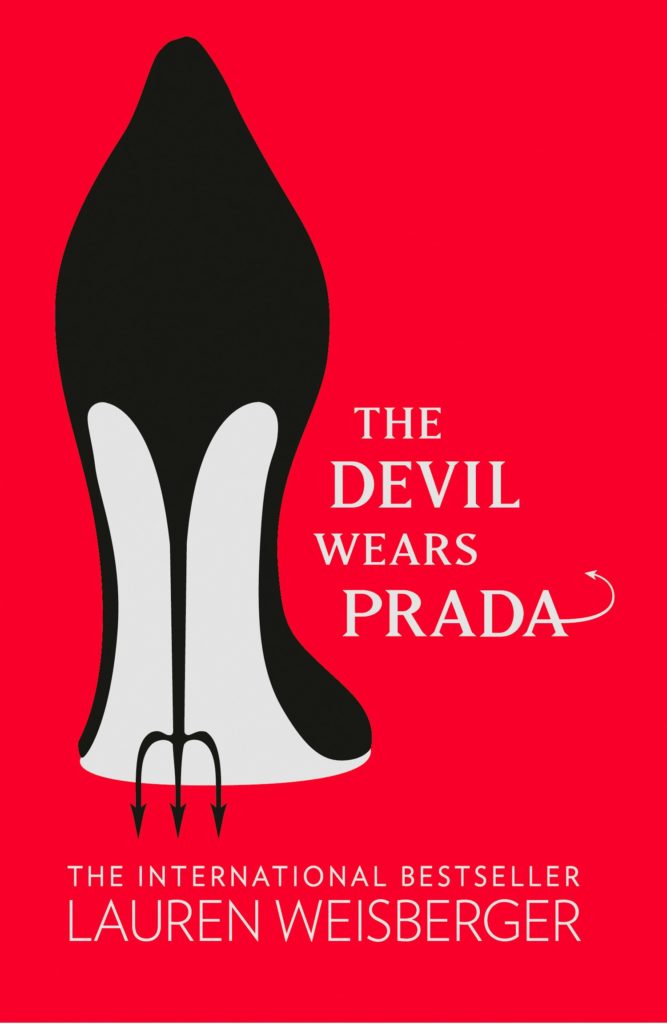 Whether you've read the book or seen the movie, the plot is similar. Andy, a recent journalism graduate, moves to NYC, determined to write for the New Yorker. She struggles to find a writing job but is ultimately granted "the job a million girls would die for" as the junior assistant to Miranda Priestly, the editor of Runway. Though she knows nothing about fashion, Andy is assured that putting in one year of work as Miranda's assistant will all but guarantee her a job anywhere in publishing, and she takes it. At her best, Miranda is exacting and unreasonable, and it probably goes without saying, the job is anything but a dream.
I was perhaps understating it when I said "I've seen that" because I've probably actually seen The Devil Wears Prada movie at least dozen times. When I was just starting my advertising career in New York City, I watched it constantly. It reminded me that, though my job wasn't easy and my new life meant I rarely saw my loved ones, it would all be worth it in the end.
In many ways, I think this book is better as a movie. The sometimes-too-long descriptions of clothes and accessories are more appealing as eye-catching montages. And since it's extremely hard to visualize runway shows, fashion week is much better served up on the screen than on the page. Some parts of the book were clearly cut out or rearranged to streamline the story, and specifics of characters were changed (in some cases, combined). As with all books-turned-movies, they were clear differences. I liked them both in different ways.
Not surprisingly, the few scenes in the movie that revolved around food are forever ingrained in my memory. The book provided inspiration for a few, including the infamous scene where Miranda no longer wants her freshly prepared steak lunch
and the corn chowder Andy chooses from the cafeteria. In the book, the chef in charge of the soup corner uses only full-fat, full-flavor ingredients. In the movie, Nigel insists this particular soup's main ingredient is cellulite.
Some only appear in the movie, but are memorable nonetheless.
Movie-Emily eats nothing except the occasional cube of cheese - all in the name of fashion. (Thankfully, book-Emily has her head on a little straighter and eats actual meals.)
In the book, Andy's boyfriend Alex is a teacher with Teach for America. In the movie, his job as a chef comes in handy for some late night grilled cheese, including this one, which he insists contains $8 worth of Jarlsberg.
That Jarlsberg grilled cheese sandwich, along with a memorable scene from the book, in which Miranda sends Andy on a wild goose chase all over Paris to find an "American turkey sandwich," served as the inspiration for today's recipe. I pulled out my dependable grilled cheese-only cookbook, Grilled Cheese, Please!, and found the perfect recipe: the Creamy, Cheesy, Smoky Croissant. It calls for smoked turkey slices, melty Swiss cheese (or expensive Jarlsberg, if you prefer), and some French ingredients, Brie and croissants. I'm dubbing it the Fashion Week Grilled Cheese.
To start, I made the mustard aioli, combining mayo, dijon mustard, minced garlic, rosemary and a bit of salt in a small bowl. I set it aside while I sliced the croissants and cheeses. I also drained the sun-dried tomatoes and gave them a rough chop. Then, it was time to assemble the sandwiches.
I spread the aioli on the croissants and added the chopped sun-dried tomatoes. On top of that, the Brie, the Swiss, the turkey and finally the top of the croissant.
I added the sandwiches to a skillet that had been preheating for 2 minutes, covered it and cooked for 3 minutes on the first side.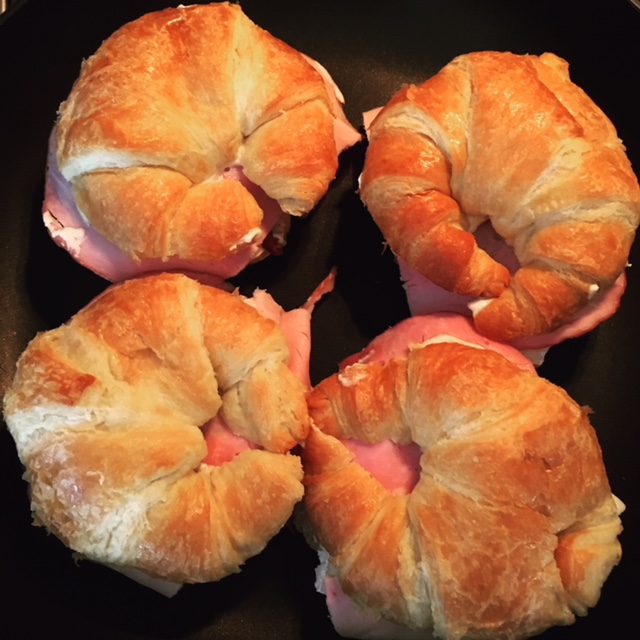 I flipped the sandwiches, pressing down with the spatula, and cooked them again for 2-3 minutes on the other side while covered. Finally, I flipped them one last time, press and cooked for one last minute.
The hardest part was waiting 5 minutes before cutting them in half so we could eat! These sandwiches were so full of flavor, the cheese was perfectly gooey, and the croissant was wonderfully crispy and flaky.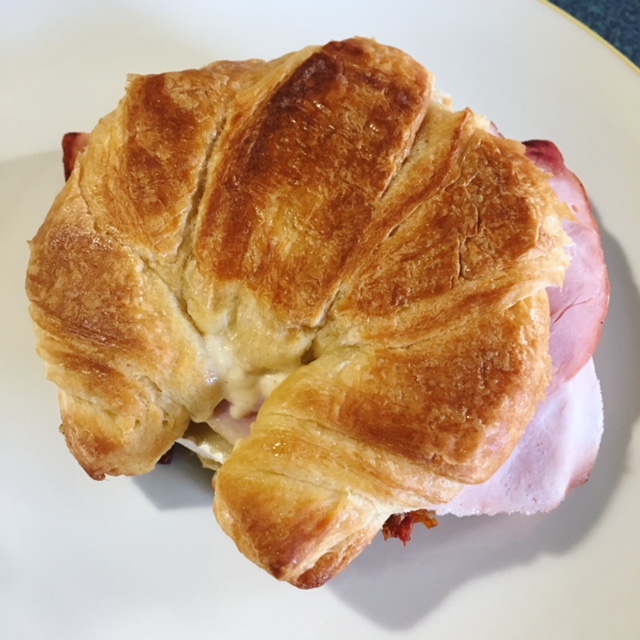 Fashion Week Grilled Cheese
Ingredients
6

tablespoons

mayonnaise

2

tablespoons

Dijon mustard

2

medium garlic cloves

minced

1

teaspoon

finely chopped fresh rosemary

Salt

to taste

4

large croissants

halved lengthwise

¼

cup

oil-packed sun-dried tomatoes

drained and roughly chopped

6

ounces

Brie cheese

sliced

6

ounces

Swiss cheese

sliced

4

1-ounce sliced smoked turkey
Instructions
In a small bowl, mix together the mayonnaise, mustard, garlic, and rosemary. Add a little salt to taste. Set aside for up to 30 minutes at room temperature or up to 1 day refrigerated.

To assemble, place the bottom half of each croissant on your work surface, cut side up. Spread 2 tablespoons of the aioli on each croissant half, followed by the sun-dried tomatoes. Lay the Brie slices on top, followed by the Swiss cheese and turkey. Top with the remaining croissant halves, cut side down.

To grill, heat a large nonstick skillet over medium-low heat for 2 minutes. Put the sandwiches into the pan, cover and cook for 2-3 minutes, until golden brown. Carefully turn the sandwiches, pressing each one with a spatula to compress the bread and filling. Cover and cook for 2 to 3 more minutes, until the undersides are golden brown. Turn the sandwiches once more, press with the spatula again, and cook for 1 minute. Remove from the pan. Let cool for 5 minutes. Cut in half and serve.
Notes
From: Grilled Cheese, Please!, "Creamy, Cheesy, and Smoky Croissant," pages 51-52
If you can only find regular-size croissants, you may end up with filling for more than 4 sandwiches. Also, be aware that because of their high butter content, croissants can burn easily. Watch carefully.
The original recipe calls for the Brie's rind to be removed and the Swiss cheese to be grated. When eating Brie, some people like the rind and some people don't. If you normally eat the rind, I suggest keeping it as it will help the cheese hold together well under grilling. With the Swiss cheese, slicing it rather than grating it makes it easier to flip, so the choice is yours. Mine still melted well when sliced but created less mess during cooking.
If you're interested in trying another book-inspired grilled cheese, check out my guest post on A Literary Feast where I made Hog Island Grilled Cheese to go with Robin Sloan's novel Sourdough.
This post contains affiliate links. Full disclosure here.