I chose Taylor Jenkins Reid's The Seven Husbands of Evelyn Hugo as my Book of the Month in June last year because people were raving about it, and at the time, it seemed like a perfect summer read, light and juicy. Summer came and went and I never picked it up. The book's cover and its title struck me as a little more salacious than I must have initially thought, and the longer it sat on my shelf, the less I wanted to read it.
Still, I kept hearing about it and it was always in the back of my mind. Finally, when I joined the Book Challenge by Erin (8.0), I decided to add it as my "book with a character's name in the title." I am SO glad I did, and I am SO sorry I judged it by its cover for so long. I devoured this novel, which told a beautiful and unexpected story cleverly executed.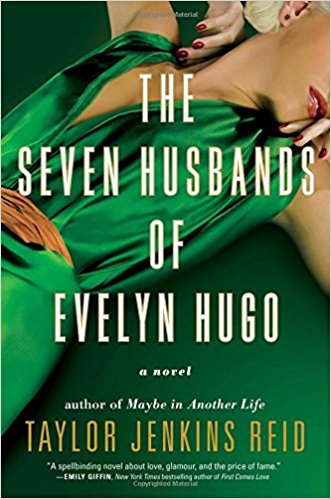 Evelyn Hugo was a glamorous actress whose success looked easy from the outside, though it often came at a price. She became entangled - and disentangled - with various men throughout her career, sometimes for love and sometimes with a different endgame in mind. This, of course, is the premise of the novel and the story Evelyn decides to share with an obscure reporter - one of the great loves of her life, both known and unknown.
Far from being the gossipy celebrity story I expected, Evelyn surprised me in every way. It's a story of balancing a successful career with personal goals, of being a woman in a man's world and using that to your advantage, of taking calculated risks and sometimes jumping in with reckless abandon. Above all, it is a story of being true to yourself and doing what it takes to find happiness.
You may think the combination of a strawberry milkshake and a dirty martini is a bit odd, and it may be unconventional, but so was Evelyn Hugo. I chose these drinks to represent two very different relationships in her life, a Machiavellian marriage and one with a sweeter, more wholesome start.
In honor of Evelyn's fierceness, I chose a dirty martini recipe from Women's Libation! Cocktails to Celebrate a Woman's Right to Booze by Merrily Grashin. I went with the Dirty Bettie-ni Page, inspired by 1950s pinup model Bettie Page, who like Evelyn had a body-positive sense of feminism. I doubled the recipe to make two martinis. In a shaker - though it can also be stirred - I mixed 6 ounces vodka, 1 ounce dry vermouth, and 1 ounce green olive juice. I poured it equally into the martini glasses, garnishing with a few olives, and voila! my first martini experience.
For the strawberry milkshake, I first purchased some old-fashioned ice cream soda glasses. Presentation is everything, just ask Evelyn. Strawberry milkshakes are my favorite, and I was a little worried they wouldn't turn out as flavorful as I expected, so I spent a lot of time searching for the perfect recipe. This one from The Kitchn promised to be delicious.
To start, I hulled my strawberries, sprinkled them with some sugar and vanilla extract, and placed them in the freezer for an hour. I put them in a blender - including all of the gooey syrup that formed at the bottom of the bowl - with ¾ cup of milk and pulverized them.
Then, taking the jar off the base, I added about 1 pint of strawberry ice cream to the blender and stirred it in by hand, before returning to the base and blending thoroughly. I ended up adding close to another ¼ cup of milk - you only need to add this if it's getting stuck or having trouble blending well.
I poured the milkshake into two glasses and topped each with whipped cream and half a strawberry. They turned out to be as delicious as I had hoped! I will definitely be keeping this recipe around for future milkshakes.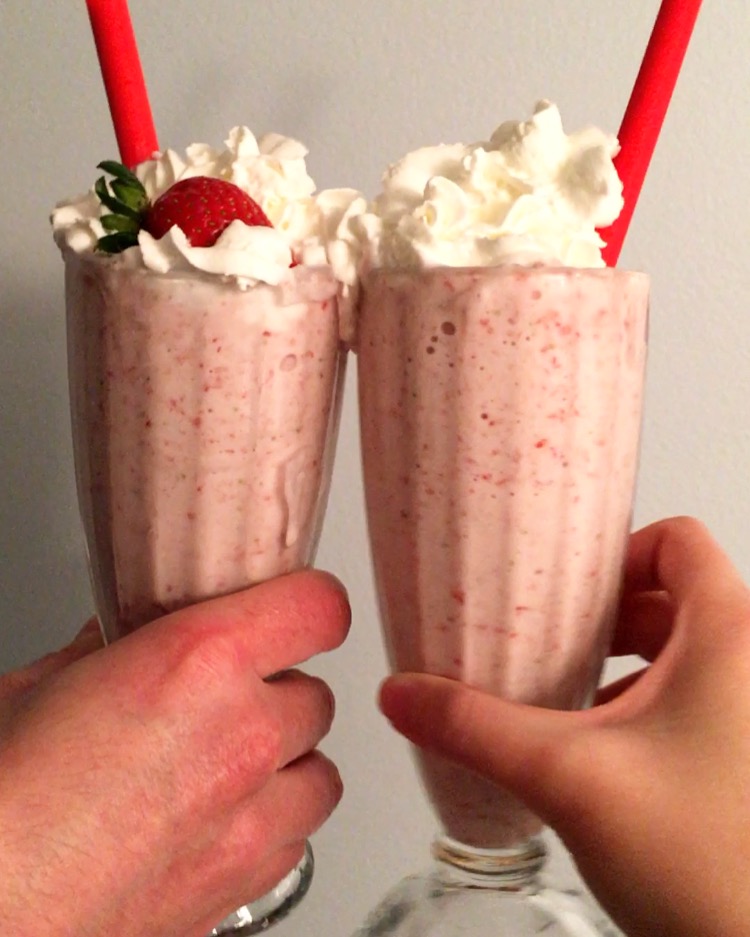 I love when a book completely blows me away. I wish I hadn't put off reading Evelyn Hugo for as long as I did, but if nothing else, it reinforced for me that I should never judge a book by its cover (or title). I could've enjoyed this book (and these shakes) so much sooner!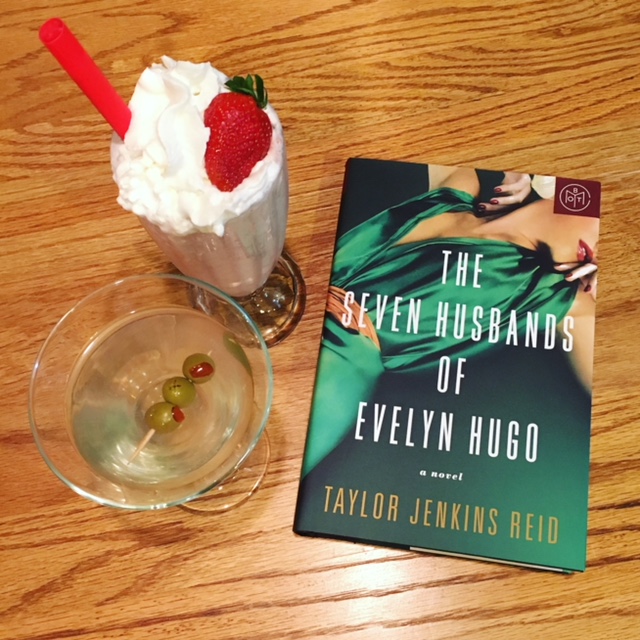 Have you read Evelyn Hugo? What did you think?  
Dirty Martini
Ingredients
3 oz vodka
½ oz dry vermouth
½ oz olive juice
green olives, for garnish
Directions
In a chilled martini glass, combine vodka, vermouth and olive juice.
Stir and garnish with 3 olives. Serve.
Strawberry Milkshakes
Ingredients
½ pound fresh strawberries, plus more to garnish
2 tablespoons white sugar
1 teaspoon vanilla extract
¾ to 1 cup whole milk
1 tablespoon malted milk powder OR regular powdered milk (optional, see notes)
1 pint strawberry ice cream
Directions
Gather your ingredients. Hull the strawberries and slice them. Sprinkle the sugar over them and stir in the vanilla. Put the strawberries in the freezer for about an hour.
Put two pint glasses (or four smaller glasses) in the freezer to chill.
When the strawberries have frozen solid, pull them out and put them in the blender with ¾ cup milk. (Make sure you scrape in all the syrupy juice that has accumulated at the bottom of the bowl.) Blend until the strawberries are pulverized. There should be no big chunks left at all.
Take the blender jar off the motor, and add the entire pint of ice cream. Stir it into the milk and strawberries by hand. Put the jar back on the motor and blend thoroughly. If it won't blend very well or gets stuck, carefully add as much as ¼ cup more milk. Stir or shake if necessary.
Pour the milkshake out into the chilled glasses and garnish with strawberries.
From:
The Kitchn
Recipe Notes: If using malted milk powder or powdered milk, add it after pulverizing the strawberries. Blend thoroughly before adding the ice cream. The malted milk powder gives just a bit of extra depth and a hint of malty flavor without turning the shake into a true malt. If you opt to use regular powdered milk this also will just add a bit of richness and creaminess. But the powders are not necessary.
This post contains affiliate links. Full disclosure here.